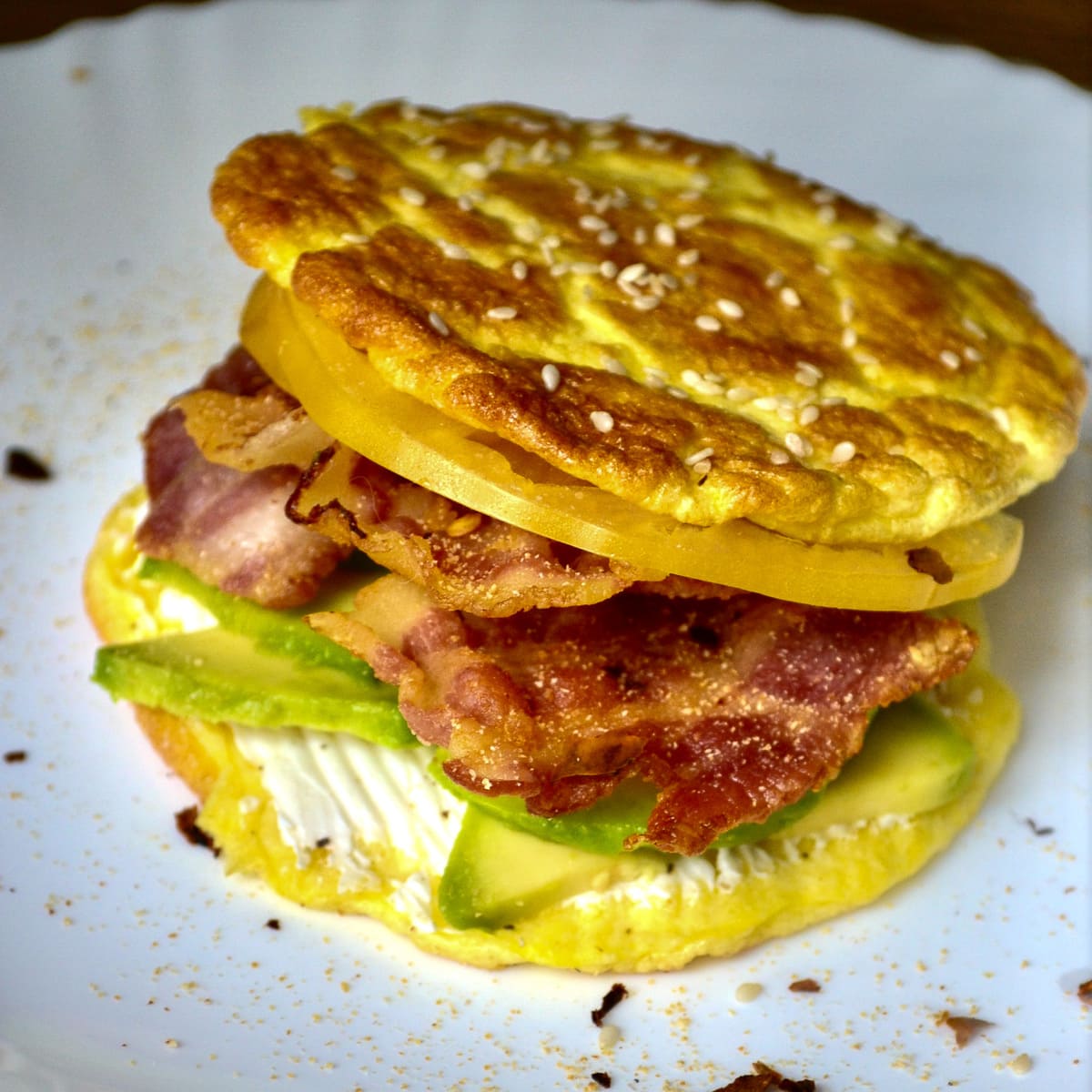 Keto cloud bread is a lot of things: low-carb, gluten-free, and grain-free. It sounds impossible, right? But, it's true, and this cloud bread is also delicious and unbelievably easy to bake.
From time to time, I get insane cravings for a nice sandwich. At those moments, this low-carb cloud bread is the best option there is. Of course, it is not equal to a nice slice of sourdough, but it is a great, healthy, and keto-friendly alternative.
You can combine it with different ingredients to make delicious low-carb sandwiches that are perfect for a quick on-the-go breakfast. Whether you like bacon, ham, chicken, sausage, avocado, tomatoes, pickles, or cheese, you can place almost anything inside the cloud bread sandwich.
Table of Contents
Is Cloud Bread Healthy?
The person that came up with cloud bread is a genius. I wish I knew who that person was, so I can give credit for this low-carb bread alternative. It is not the same as traditional bread, but it is an excellent option for those days when you're craving a delicious sandwich.
This cloud bread has almost no carbs and is extremely low in calories, which is why it is perfect for those on a keto diet or who are eating only gluten-free or grain-free food.
So the answer is YES; this cloud bread is healthy and keto-friendly.
What Does Cloud Bread Taste Like?
As I've already mentioned a few times, this keto cloud bread is quite different from store-bought bread. If you taste it right after making it and letting it cool down, you'll see that it has a souffle-like texture.
But if you put the cloud bread aside for a couple of hours, it'll then resemble the traditional bread texture a bit more. But still, there will be a difference.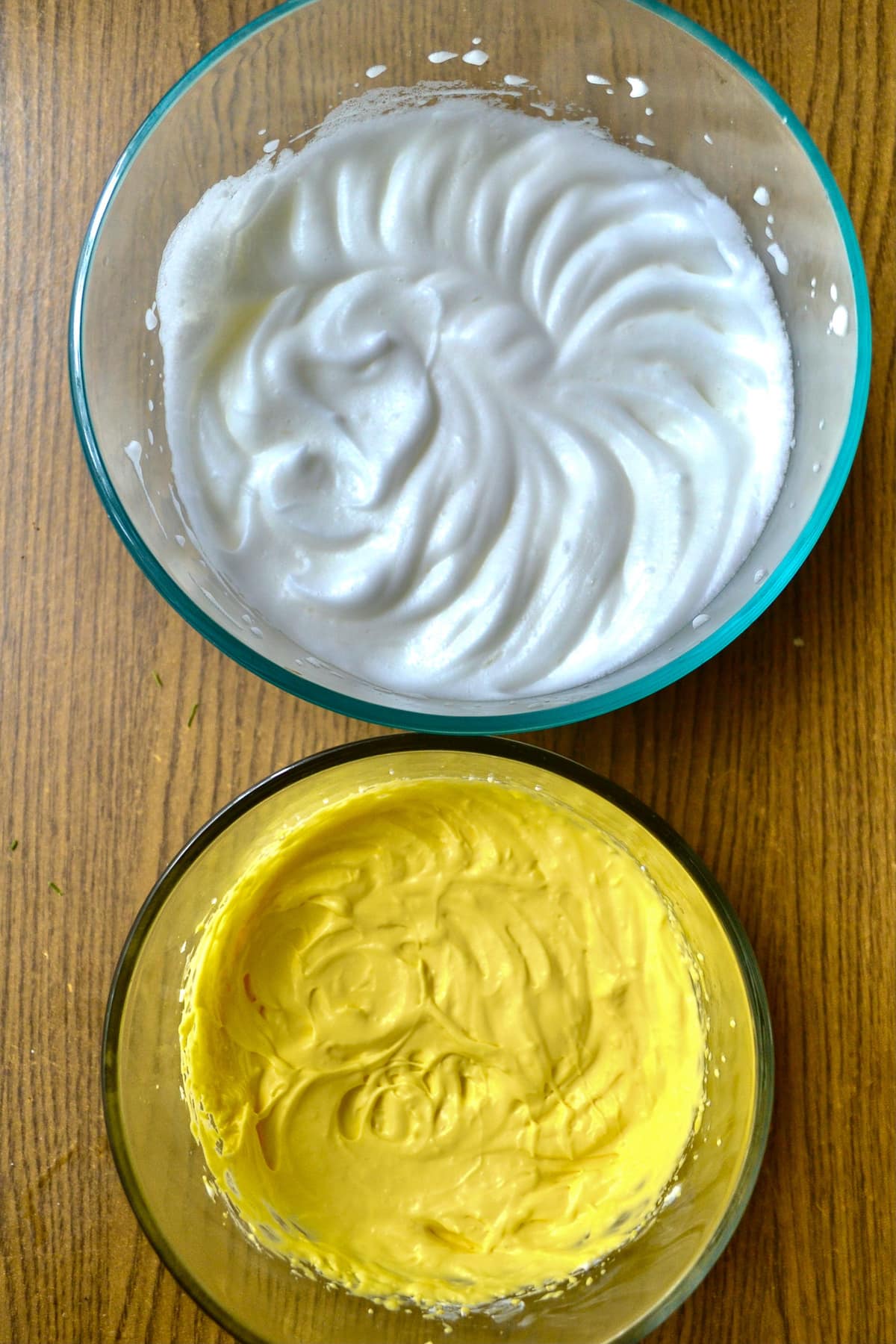 How to Make Cloud Bread
It's insanely quick and easy to make this keto cloud bread. You can find detailed step-by-step instructions on the recipe card below. But here are some tips that may be helpful for you if this is your first time baking such bread:
Separate the egg whites from the yolks. This is a highly important step, and if you skip it, there is a great chance that you'll fail with the cloud bread.
Beat the egg whites until they form stiff peaks. It is best to use room-temperature eggs to make sure that they beat properly and get stiff faster.
Fold the yolks, not mix in. After you've prepared the egg yolks and whites, you'll need to combine them into one. Simply place the yolk mixture into a bowl with the whites and fold them in using a spatula. The batter should be fluffy and smooth.
You can skip the cream of tartar. If you don't have it in your kitchen and are in a hurry to make this cloud bread, it's okay not to add cream of tartar to the batter. Of course, this ingredient is important since it acts as a stabilizer. But if you beat the eggs properly, you can skip it.
Storing Tips
You should store your low-carb cloud bread in the refrigerator. It is fine to keep it there for up to 3 days in an airtight container or wrapped in plastic food wrap. But, here's my honest opinion—it is best to eat the cloud bread within 24 hours because the texture will be different after that. The bread will taste good, but not as good as when it was just baked.
Once, I tried to freeze the cloud bread…but it was not a great idea. After thawing the bread, it tasted a bit weird, so I do not recommend you freeze it. And since it takes just around 20 minutes to make it, maybe there is no need to freeze it after all.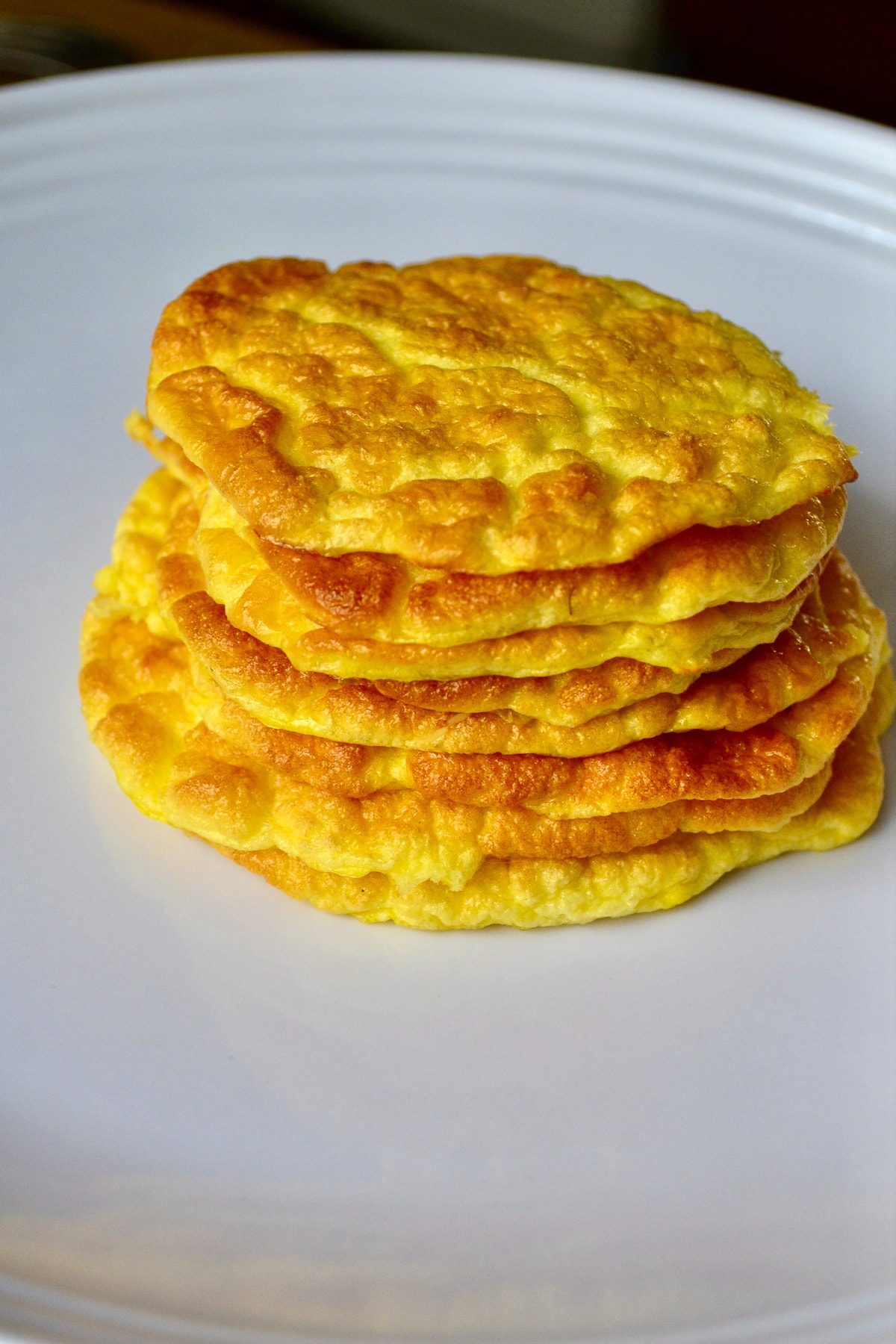 Cloud Bread Sandwich Options
You can add almost anything inside your cloud bread sandwich. If you are seeking some inspiration, here are some keto-friendly options that you can try:
Bacon + avocado + tomato + cream cheese
Shredded chicken + creamed spinach + mozzarella cheese
Ham + provolone cheese + dill pickles
Scrambled egg + bacon + cream cheese
Chicken salad + lettuce
Sausage + lettuce + Colby jack + mayonnaise
After you've assembled your cloud bread sandwich, you can toast it to melt the cheese and let the bread become crispy.
You can mix and match your favorite ingredients to assemble a cloud bread sandwich. Truth be told, I'm a fan of bacon; I can never say no to it, which is why almost every cloud bread sandwich that I make has this ingredient inside.
You can even use this keto cloud bread recipe as the basis to make a sweet sandwich. Simply swap the salt with any kind of low-carb sugar sweetener. I usually go with either erythritol or stevia. You can also add some cream cheese, low-carb fruits or berries, and even some keto chocolate inside the sandwich.
Recipe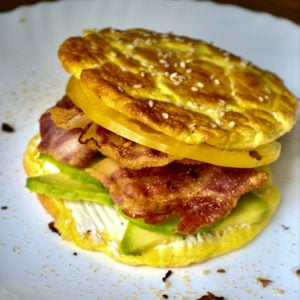 Keto Breakfast Cloud Bread
Keto cloud bread is a lot of things: low-carb, gluten-free, and grain-free. Whether you like bacon, ham, chicken, sausage, avocado, tomatoes, pickles, or cheese, you can place almost anything inside the cloud bread sandwich.
Ingredients
3

large

eggs

2

oz

mascarpone

or cream cheese

⅛

tsp

cream of tartar

optional

⅛

tsp

salt
Instructions
Preheat the oven to 350 F. Take a baking pan and line it with a piece of parchment paper.

Crack the eggs and separate the whites from the yolks.

Beat the egg whites together with the cream of tartar using an electric mixer. Mix until you get stiff peaks. Set the bowl aside.

In another bowl, mix the mascarpone or cream cheese together with the egg yolks and salt. Continue beating until it is of smooth texture.

Using a spatula, fold the egg yolks mixture into the egg whites.

Place the cloud bread mixture on the baking pan and form circular discs of any desired size. Bake in the oven for about 10-15 minutes. When the bread turns golden, you can remove them from the oven.
Nutrition
Calories:
36
kcal
Carbohydrates:
0.2
g
Protein:
2.4
g
Fat:
2.7
g
Saturated Fat:
3
g
Polyunsaturated Fat:
1
g
Monounsaturated Fat:
1
g
Trans Fat:
1
g
Cholesterol:
77
mg
Sodium:
67
mg
Potassium:
34
mg
Sugar:
1
g
Vitamin A:
200
IU
Calcium:
20
mg
Iron:
1
mg