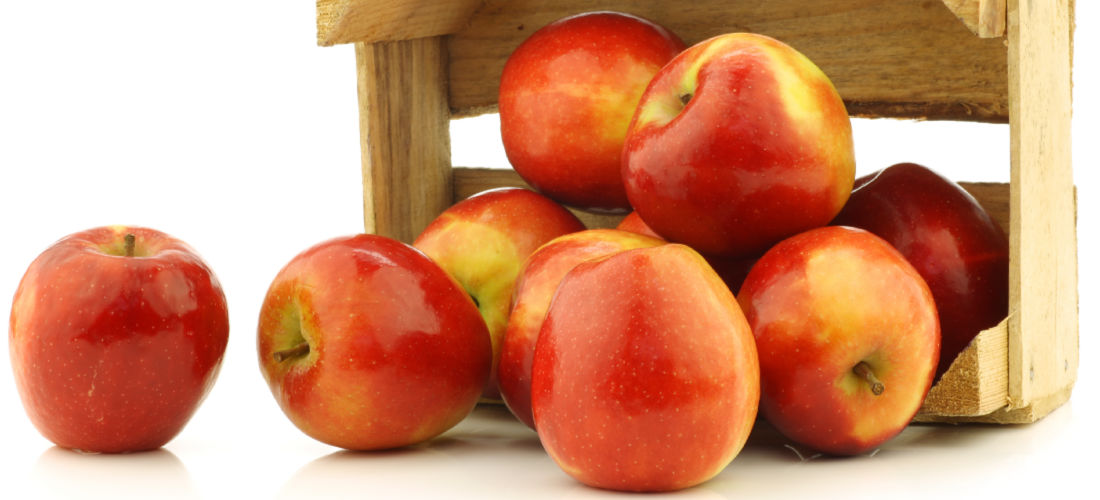 Apple varieties are on the increase¹ as growers seek to create the perfect apple. Taste, appearance, texture, and shelf life are all taken into consideration as varieties are crossed to create exciting new types of apple.
Have you ever wondered what do Jazz apples taste like? Are they better than a McIntosh or Granny Smith? There has been a lot of hype in the U.S. surrounding this brand of apple², so let's take a look at its flavor, uses in the kitchen, and lots more.

Table of Contents
What does a jazz apple taste like?
Jazz apples have a sweet tart flavor with a mild pear undertone. They contain an abundance of aromatic, sweet juice with a pleasant balance of bright acidity. The jazz apple has a dense, fine-grained texture that is delicious eaten out of hand.
When are jazz apples in season?
In North America and Europe, locally grown apples will appear in shops in November and December. However, they're available most of the year from the grocery store as the fruit are grown all over the world. In the southern hemisphere, fresh Jazz is available in-store around May.
Selection and storage
When picking up an apple off of the stand at the market or grocery store, always check that it is firm when squeezed. Look for fruits with vibrant-looking skin that is free from wrinkles, bruising, or soft spots.
Apples can be stored in the fruit bowl for up to one week before they begin to soften and shrivel. When refrigerated in the vegetable crisper, they can last up to 8 weeks. Keep them in their original plastic bag or, better still, wrap each piece of fruit individually in plastic.
Best uses for Jazz Apples
Fresh, in-season Jazz apples are crisp and perfect for eating out of hand. They provide a sweet, thirst-quenching treat, ideal for kid's lunches or a healthy office snack.
When used in cooking, the Jazz apple holds its color and shape nicely. Use the fruit in most popular baking recipes like apple pie and muffins. They also make a tasty apple crisp, which is great for kid's lunches.
If there's one chink in the Jazz apple's armor, it'd be apple sauce. When we cooked it using a simple apple sauce recipe, it didn't have a smooth texture as you'd expect. The apple retained a slightly crunchy texture, which wasn't ideal. There are better apples on the market like Fuji or Cox's Orange Pippin for making sauce.
Apple Pie Recipe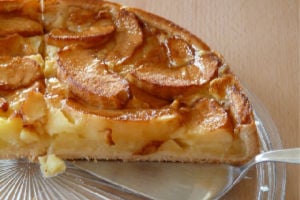 Serves: 6
Ingredients
Filling
7 cooked Jazz apples (peeled, cored, and cut into slices)
Pastry
2 cups self-raising flour
4 ½ oz butter
2 Tbsp sugar
1 egg, lightly beaten.
2 Tbsp water
Method
Grease and flour a pie dish.
Using a large mixing bowl, add flour, butter, and sugar and rub with fingers until the texture is similar to crumbs.
Mix in beaten egg and water.
Place half the dough on a flat surface, sprinkled with flour. Roll out the pastry to a suitable size and then transfer it to the pie dish.
Cover dough with apple.
Roll out the second half of the dough and place it on top of the apple.
Use a knife to cut off the excess pastry from the top of the pie then press the edges together.
Brush the pastry with a small amount of milk and lightly sprinkle it with sugar.
Bake the pie at 350°F or 180°C for 50-60 minutes.
Note: You can also leave the top layer of pastry off and freeze for later use.
Apple Muffins
Makes 10 muffins.
Ingredients
1 cup plain flour
¾ white sugar
2 tsp baking powder
½ cup milk
⅓ cup vegetable oil
1 large egg
2 Jazz apples
1 tsp vanilla extract
Method
Preheat oven to 355°F (180°C).
Place patty tins onto a muffin tray.
Add flour, sugar, and baking powder to a large bowl. Set aside.
Peel, core, and cut the apples into small cubes.
In a separate bowl, mix the milk and oil then combine with flour mixture.
Stir in vanilla and apple then scoop spoonfuls into each patty tin.
Bake for 20 minutes or until a skewer inserted comes out clean.
Related reading:
If you enjoy muffins, check out our feijoa muffin recipe which is one of our favorites.
Best substitutes for Jazz apples
| For a similar flavor | For apple sauce | For baked desserts |
| --- | --- | --- |
| Envy | Fuji | Granny Smith |
| Braeburn | Cox's Orange Pippin | Suncrisp |
| Golden Delicious | Gala | Arkansas Black |
| Honeycrisp | Ambrosia | Goldrush |
| Jonagold | Fameuse | Sierra Beauty |
| Pink Lady | | |
Jazz apples vs Fuji: Jazz apples have a tarter flavor than Fuji, with a firmer texture. They will also stay white for longer when sliced, which makes Jazz a popular sliced-up snack.
Jazz apples vs Honeycrisp: Honeycrisp apples are a little sweeter than Jazz apples, although the difference isn't huge. They are both excellent choices for eating fresh but we think that Jazz apples are best for baking.
Fast facts about jazz apples
Compared to varieties like Granny Smith, the Jazz apple is a newcomer to apple-loving nations. Developed during the 1980s in New Zealand, it took until the year 2000 to hit the shelves.
The Jazz apple is a cross between a Braeburn and Royal Gala.
They are hard-textured apples, so if you have weak teeth then slice them into bite-sized pieces first.
In the United States, Jazz apples are grown by farmers in Washington State under license from ENZA.
Jazz apples are GMO-free and were created in New Zealand using natural breeding methods.
Are Jazz apples nutritious?
Jazz apples are a useful source of vitamin C and fiber and are low in fat. As with most fruit, they should be consumed in moderation due to their high sugar content. You can see from the table below that Jazz apples have a high level of sugar compared to many other popular apple types. If you'd like to learn more about apple sweetness, then we highly recommend that you check out our guide to the sweetest apple types.
Sugar content in popular apple types
| Apple Variety | Sugar per 100g |
| --- | --- |
| Jazz | 16g |
| Golden Delicious | 10g |
| Fuji | 12g |
| Red Delicious | 10g |
| Gala | 10g |
| Granny Smith | 9.6g |
Source: https://www.nutritionvalue.org.

Summing up
Jazz apples are juicy, sweet, and tart, making them ideal for eating out of hand. Kids love this bright red snack which is easily transported to school and will take an occasional knock in the school bag. They are also useful in cooking and will fit into most popular apple recipes.
Jazz apples have a high sugar content (16g/100g). That is almost twice the sugar content in a Granny Smith so don't eat too many. They're a better option than candy but munching down more than one apple a day isn't recommended.
A popular alternative is the Granny Smith which contains more sourness. You may also want to consider buying Gala apples which have less sugar but still have a delicious flavor. To learn more about Gala apples and their taste check out our article.
References:
[1] https://www.goodfruit.com/new-apple-varieties-excite-consumers/
[2] https://en.wikipedia.org/wiki/Jazz_(apple)