Everyone knows that "an apple a day keeps the doctor away."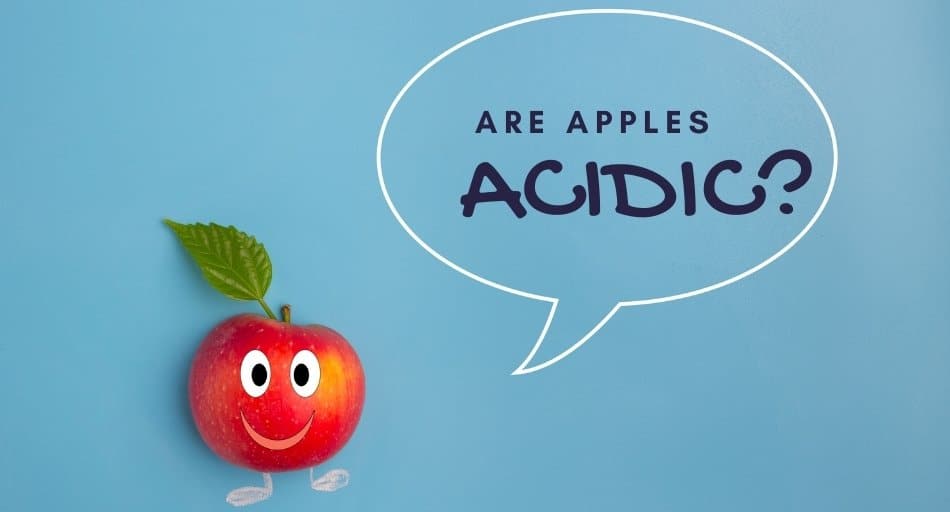 Apples are delicious and nutritious, and eating plenty of fruit is excellent for your general health.
However, fruits tend to be acidic, and many people suffer from acid reflux and have to follow a low-acid diet to avoid triggering their symptoms. How well do apples fit into their meal plans?
Apples are acidic, although their pH varies with variety. Delicious apples have a pH of 3.9, golden delicious 3.6, and Johnathan apples 3.3.
Mcintosh apples have a pH of 3.34, and Granny Smith's 3.2.
Table of Contents
The Health Benefits of Apples
It's recommended that people have two servings of fruit daily, and one apple provides around one and a half of these.
Apples are rich in fiber (mainly in the skin), vitamin C, vitamin K, and potassium.
Eating apples can help weight control, as their fiber makes you feel full longer after eating. One study showed that people who ate an apple before a meal felt fuller than those who didn't and consumed 200 fewer calories.
Apples contain soluble fiber that can lower your bad cholesterol levels, reducing your risk of heart disease.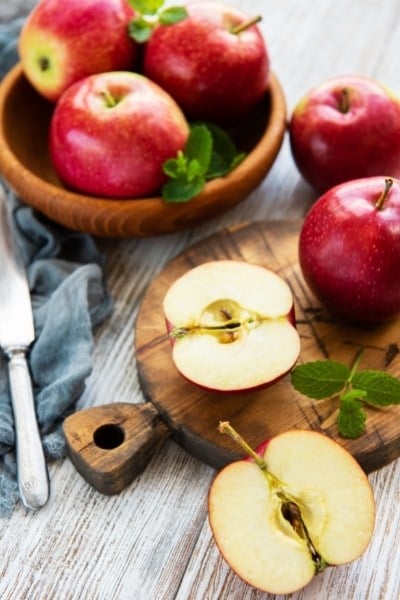 Apples have been linked to a reduced risk of developing type 2 diabetes. One study concluded that eating an apple daily reduced the risk by 28%.
There is some evidence that eating an apple every other day or a few times a week can have similar effects.
Some health professionals believe that the polyphenols in apples can help prevent tissue damage from beta cells. Beta cells produce insulin and are usually damaged when someone has type two diabetes.
Apples are rich in antioxidants that protect your lungs from oxidative damage.
A study of 68,000 people concluded that those who ate a large number of apples had a lower risk of asthma.
Apple skin supports your immune system and reduces inflammation, reducing the risk of asthma and allergies.
Does Eating Apples Cause Acid Reflux?
As they're acidic, apples may trigger acid reflux symptoms in some people.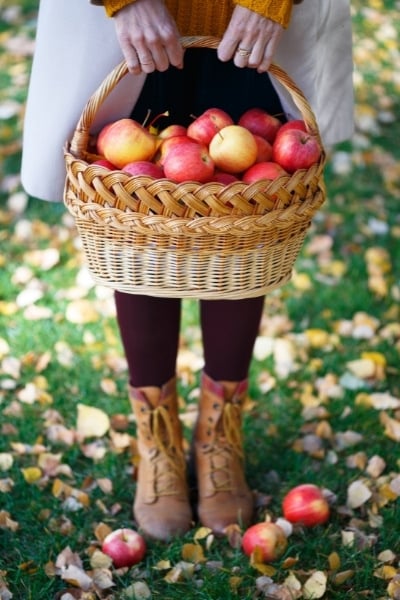 However, apples are high in magnesium, potassium, and calcium, all alkaline minerals, which may alleviate the symptoms of acid reflux.
Some people react more severely to acidity, so they should choose a less acidic apple.
Which States Produce the Most Apples?
The top apple-producing states are Washington, Michigan, Virginia, New York, California, and Pennsylvania.
Washington produces about 130 million boxes (2.3 million tons) of apples annually from 175,000 acres of orchards.
How Long Does it Take for an Apple Tree To Bear Fruit?
From seed, an apple tree takes three to eight years to begin bearing fruit.
How many apples does it take to make apple cider?
It takes around 36 apples to make one gallon of cider.
How many types of apples are there?
There are over 7,500 types of apples, and the U.S. grows 2,500 of these. The red delicious is the most common variety.
Are apple sauce and juice acidic?
Apple sauce and juice are acidic, with pH levels from 3.1 to 3.6 and 3.3 to 4.0, respectively.
Don't know what to drink? Check out these articles: 20 Most and Least Acidic Juices and 20+ Alcoholic Drinks Ranked by Acidity Level