In most parts of the world, we're spoiled for choice when it comes to apples. There is a flavor for everyone, but which variety is right for you? We have created an apple sweetness chart that makes it easy to see which apples are the sweetest and tartest. Choosing an apple has never been so easy.

Table of Contents
Popular apples - from tartest to sweetest
We took some of America's favorite apples and ranked them from tartest to sweetest. Remember that seasonal factors and how long the apple has been left on the tree to mature will impact sweetness. But this list will give you a good idea of what to expect from each fruit variety.
15. Granny Smith
The Granny Smith looks impressive with its perfectly smooth, shiny green skin and white flesh. They have a tart and tangy flavor with a pleasant crunch. A Smith is a popular choice for practically any use including snacking, baking, salads, and adding to pies. Cooking the fruit will help to caramelize the sugars and develop a richer flavor.
Tip: If you ever buy too many Granny Smiths or any variety, you can learn how to freeze apples by following our guide. We show you four easy methods to get the best out of every apple.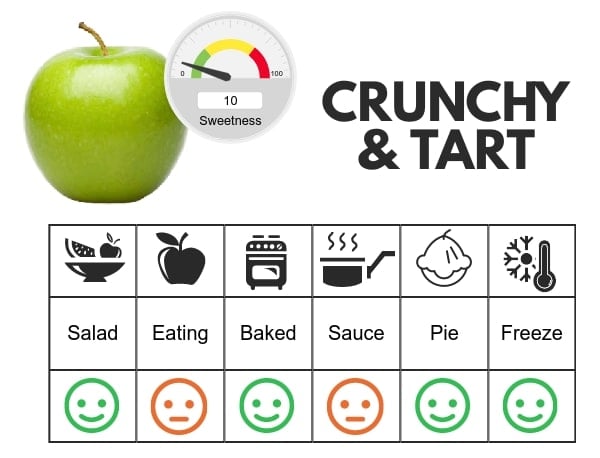 Allowing the fruit to ripen for as long as possible will enhance the sweetness and ease the harsh tartness. They also last for weeks in a fruit bowl, maintaining their quality better than many other varieties.
The Granny Smith may be at home in the classic American dish, apple pie, but it originated from Australia and didn't arrive in Washington State until the 1960s.
Season: Mid-Late October
14. Pacific Rose (or Sciros)
The Pacific Rose gets its name from its rosy, pink complexion, and the fact that it was developed in New Zealand, a country surrounded by the Pacific Ocean. Considered a high-quality dessert apple, it offers a sweet and refreshing flavor with a crisp bite. Its taste is a unique combination of Gala and Splendour.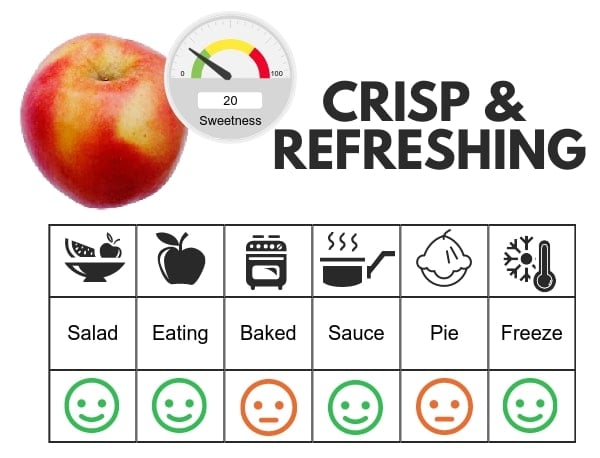 A Pacific Rose Apple is an excellent choice for eating fresh out of hand and also works well in baked goods. A visually appealing fruit, it is perfect for a wine and cheese board.
Grown in NZ and Washington state, the Pacific Rose's popularity has grown in North America and also Asia thanks to its large size and unique color.
Season: Nov-Apr
13. McIntosh
McIntosh apples have been munched down by North Americans since 1811 when John Macintosh first discovered one of the fruit's seedlings. This variety has dark red or crimson-colored skin with bright white flesh. It is revered for its crunchy bite and sweet, simple flavor profile. A McIntosh is unique in taste, with its refreshing acidity and vinous (wine-flavored) undertone.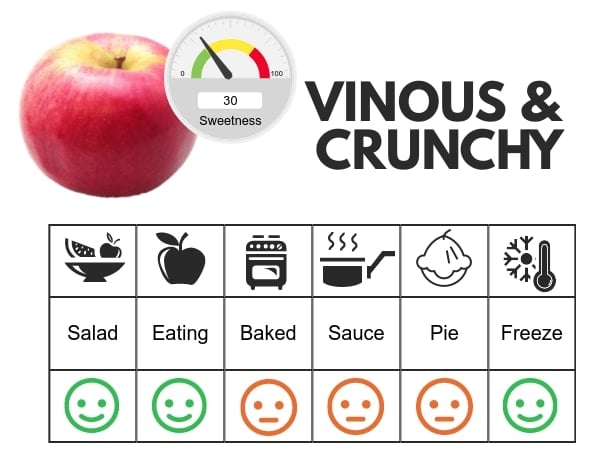 This overly juicy fruit also has plenty of tart flavor which makes it suitable for use and sauces and for adding a tangy hit to salads and pies. The texture of a McIntosh apple is quite tender and will cook down quickly once heated.
To get the best flavor from a McIntosh apple try to source your fruit from a local grower. Although the fruit store as well, it loses its dominant vinous flavor characteristics quickly.
Season: September
12. Pink Lady
The Pink Lady offers a lovely sweet-tart flavor and is a cross between a Golden Delicious and Lady Williams. This cultivar began its life in Western Australia back in the 1990s and since then has taken the world by storm.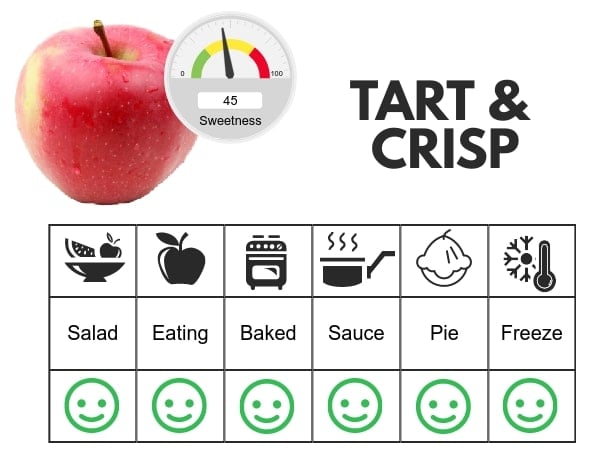 It is enjoyed by apple snackers for its lovely bright pink skin and clean white flesh. Supermarkets commonly sell Pink Lady apple slices in bags for their visual appeal. Bakers also find the fruit a versatile ingredient for adding to a wide range of sweet treats.
Season: Mid-Late October
11. Braeburn
The Braeburn apple is a sweet and juicy cultivar that has a unique flavor made up of pear, cinnamon, and nutmeg. Its flesh is a pale yellow or golden shade and firm with a few seeds in the center.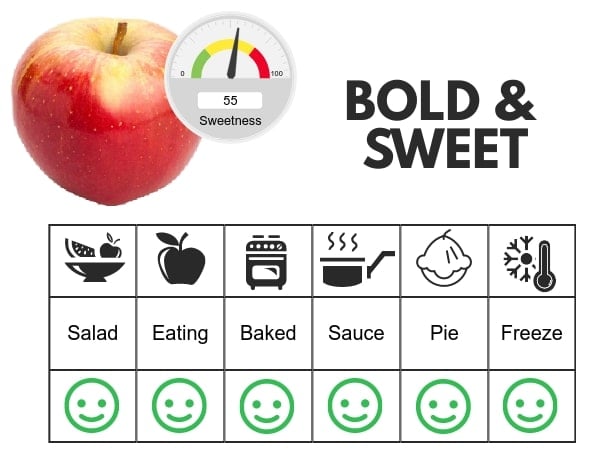 This fruit can be recognized by its yellow-based skin with a pinkish-red flush and additional stripes of red. Depending on where the fruit is grown and the temperatures it is subjected to, its appearance will vary in color.
Season: Early-Mid October
10. Idared
The Idared apple is a lovely combination of tart and sweetness in one bite. They have a uniquely aromatic, refreshing taste with a texture that is firm and crunchy. For those that enjoy a subtle tasting fruit without any dominant flavors, this is a great choice. It is a medium-sized apple that has a green-based skin color with an overcoating layer of bright red. Its flesh is a yellowish-green shade.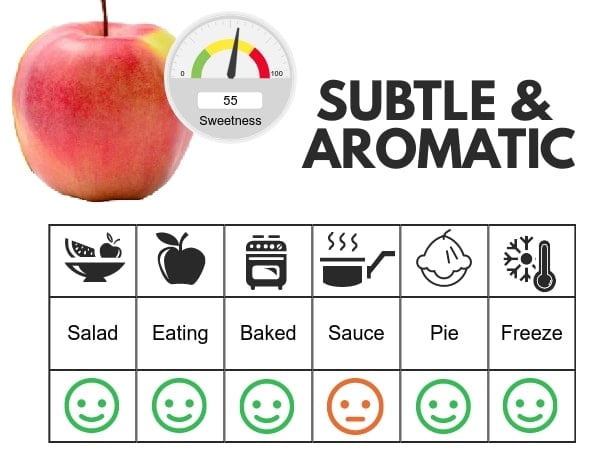 For the old-fashioned lovers of traditional baked apples, the Idared should be your go-to option. They have excellent baking qualities and hold their shape perfectly throughout the cooking process. If you prefer eating apples fresh then add them to a cheese platter; they pair deliciously with pungent, strong-flavored cheeses like blue or Roquefort.
The Idared is a cross between a Wagener and a Jonathan and has been cultivated since 1791 in the United States.
Season: October
9. Jazz
The Jazz apple is revered for its dense, crispy texture and sweet-tart flavor which has hints of pear. The fruit's skin is rosy red with the occasional splash of orange, green, or yellow. Jazz is a hard, fine-grained apple that is delicious eaten out of hand. It is also a strong contender for being baked as it holds its color nicely. To find out more about this apple variety take a look at our Jazz apple flavor guide.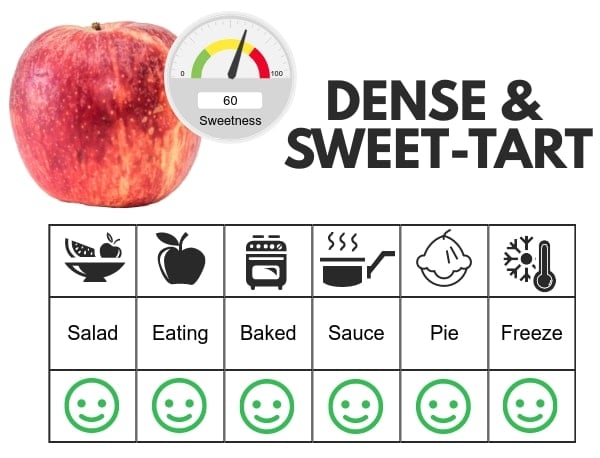 A Jazz apple has a natural resistance to bruising thanks to its firm texture. This is good to know if you are buying from the supermarket because you're less likely to spend money on unexpected bruised apples.
Season: Early-Mid October
8. Macoun
The Macoun is an aromatic type of apple with plenty of sweetness. It has a snowy white flesh that is tender, crispy and a lovely addition to a fruit salad or cheese platter. Of course, if you enjoy baking cakes, muffins, puddings, or pies then the Macoun won't let you down in the kitchen.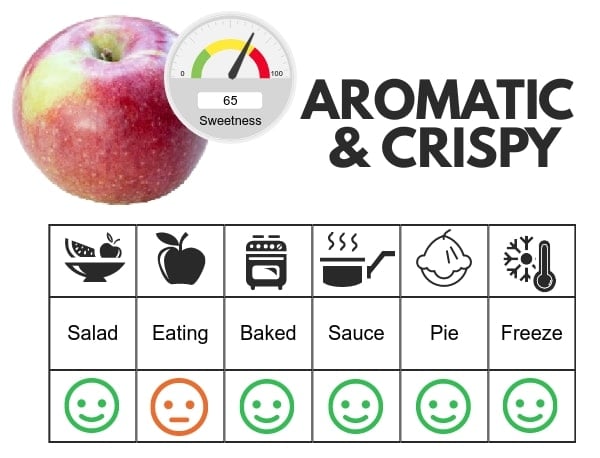 Macoun apples were developed in Geneva back in 1932 and are named after a well-known fruit breeder from Canada. If you're going to use this fruit in your cooking or eat fresh then make sure you buy them in the fall. This is the best season for growing Macouns and buying them at other times of year will probably disappoint.
Season: Mid-Late October
7. Opal
The Opal apple has a unique yellow skin that makes them easily identifiable at an orchard or on the shelf in-store. This fruit is another sweet-tart variety that has creamy colored flesh that is soft yet crispy at the same time. An Opal looks a little like a Golden Delicious but is best compared to a Honeycrisp in flavor. It has subtle hints of banana, pear, and coconut.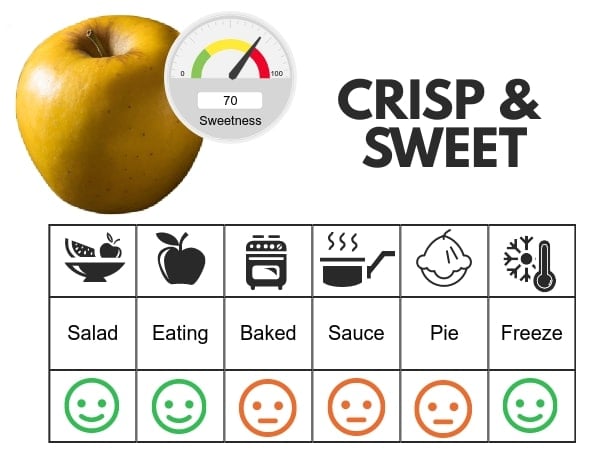 An Opal is best eaten out of hand but also has its place in the kitchen. Once chopped up and exposed to air the fruit does not oxidize which means it doesn't brown quickly. This feature makes it suitable for fruit salads and cheese boards. Its crisp texture will also hold up well in baked goods.
Season: Mid-Late October
6. Honeycrisp
Who can say no to fruit with a name like Honeycrisp? This is a popular apple with lovely bright colored red skin that contains speckles of pale green. Choose a Honeycrisp if you're looking for an extra crunchy, creamy white-fleshed apple. Most people enjoy its sweet-tart flavor that is aromatic and complex.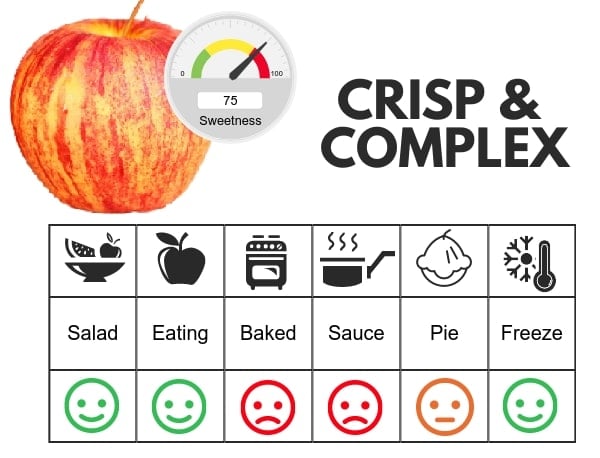 A Honeycrisp apple will maintain its sweet flavor during cooking and they're tasty baked in a pie. The skin can be removed before slow cooking into apple butter, applesauce, or preserves. Burgers, sandwiches, and salads all benefit from the apple's crisp, flavorsome characteristics.
Season: September
5. Red Delicious
In the United States (and most of the world) the Red Delicious is a hugely popular apple variety, easily identified by its heart shape and deep red skin. This fruit has a mild flavor which is a nice mix of sweet and tart.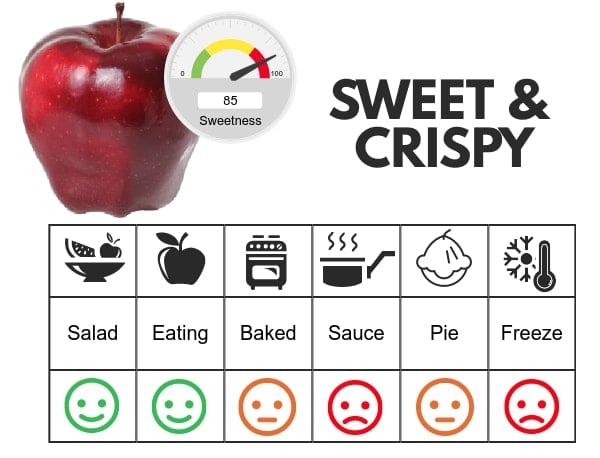 Although not ideally suited to cooking, a red delicious is an excellent choice for snacking and for adding to fruit salads. The Red Delicious apple stores well, and if it is not peeled, it maintains its appearance. This feature makes it a good option for festive centerpieces, decorations, and wraiths.
Season: Mid-Late September
4. Ambrosia
Ambrosia apples have a conical shape with glossy skin that is a combination of golden yellow and reddish pink color. This apple is juicy, tender, and sweet with a subtle honey flavor. Its flesh is creamy white or light yellow and is low in acidity.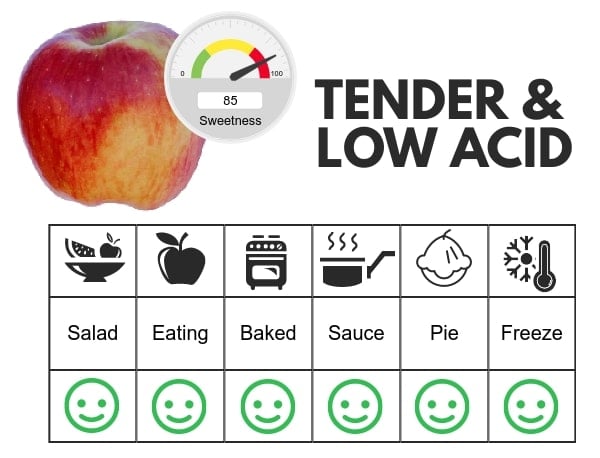 Choose Ambrosia apples for sweet and savory recipes. The texture and flavor lend themselves towards couscous, rice, or polenta dishes. The sweetness level is perfect for donuts and muffins, while its texture holds shape nicely when baked in tarts and pies. This is another apple variety that is slow to brown and is mouth-watering layered into burgers, sandwiches, or included with sharp cheeses on an antipasto platter.
Season: Mid-Late September
3. Golden Delicious
No relative of the red delicious, the Golden Delicious is a versatile fruit that is crisp, sweet, and mellow tasting with a subtle honey undertone. Its golden skin is tender and thin and most enjoy leaving it on when snacking.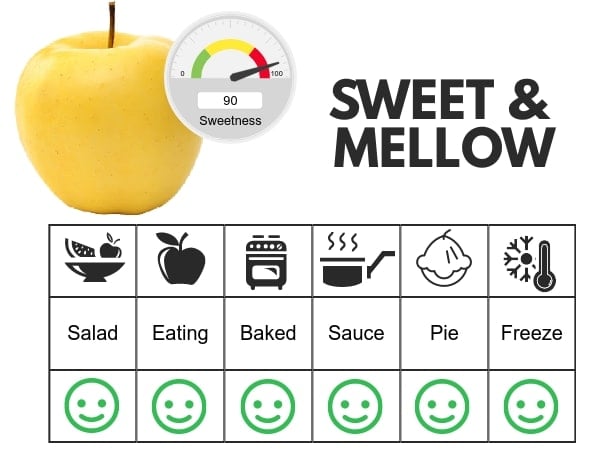 Use the Golden Delicious in a variety of recipes including sauces, baking, and salads. Its sweetness is useful when added to desserts as it allows the cook to reduce the sugar added to the dish.
Season: Mid-Late September
2. Gala
Gala apples carry a pleasant floral aroma and have delicious sweet, crispy flesh. A popular choice with kids, this variety was developed in New Zealand and is fast growing in popularity in the United States. It is another apple cultivar that is best suited to eating raw but it will also hold its own when cooked.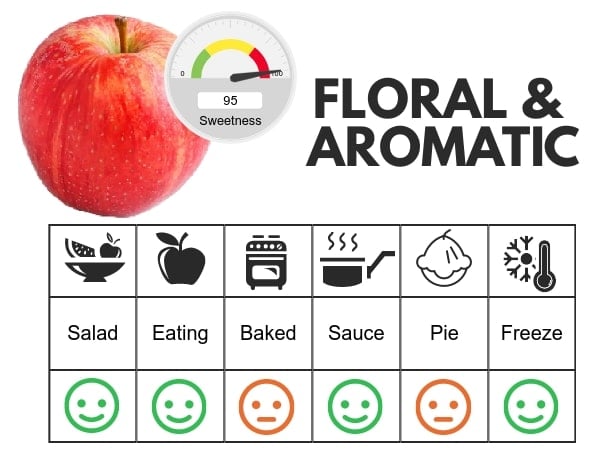 To find out more about this apple variety, check out our gala apple flavor guide. This article takes a close look at the fruit's flavor, substitutes, storage, and culinary uses.
Season: Mid August to early September
1. Fuji
Fuji apples are one of the sweetest apples you will have the pleasure of eating. With their waxy, thick skin, this apple is a crunchy, low acid variety that has citrus and honey notes. It has a yellowish-green colored base with a pinkish-red blush and stripes.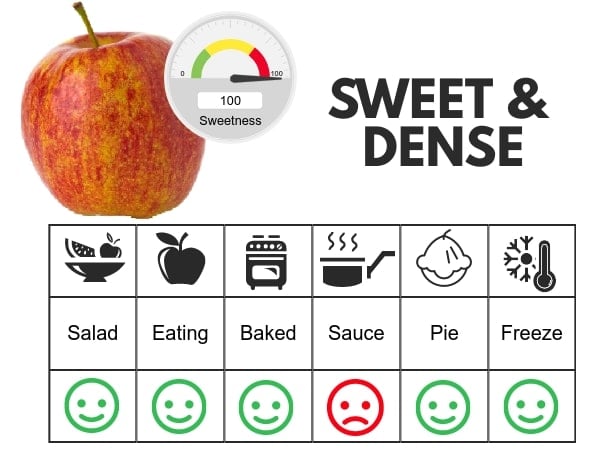 This apple has a fine-grained texture that is dense and well suited to eating out of hand or being cooked. Stewing, roasting, and baking are all good options for the Fuji Apple. It can be diced into coleslaw and is delicious grated into Bircher muesli, cereal, or pancakes. The Japanese commonly use Fuji apples at festivals - skewering them onto a stick and dipping into a candy or caramel coating.
Dating back to 1793, the Fuji has been around a long time and is in good company with its parents being the Ralls Janet and Red Delicious.
Season: Mid to late October
Best uses for each apple type
Some apples are better for certain jobs in cooking. Use the table below to decide whether your apples are suited to baking, using for sauce, and much more.
| Apple Variety | Salad | Eating | Baked | Sauce | Pie | Freeze |
| --- | --- | --- | --- | --- | --- | --- |
| Granny Smith | Excellent | Fair | Excellent | Fair | Excellent | Excellent |
| Pacific Rose | Excellent | Excellent | Fair | Excellent | Fair | Excellent |
| McIntosh | Excellent | Excellent | Fair | Fair | Fair | Excellent |
| Pink Lady | Excellent | Excellent | Excellent | Excellent | Excellent | Excellent |
| Braeburn | Excellent | Excellent | Excellent | Excellent | Excellent | Excellent |
| Idared | Excellent | Excellent | Excellent | Fair | Excellent | Excellent |
| Jazz | Excellent | Excellent | Excellent | Excellent | Excellent | Excellent |
| Macoun | Excellent | Fair | Excellent | Excellent | Excellent | Excellent |
| Opal | Excellent | Excellent | Fair | Fair | Fair | Excellent |
| Honeycrisp | Excellent | Excellent | Not Recommended | Not Recommended | Fair | Excellent |
| Red Delicious | Excellent | Excellent | Fair | Not Recommended | Fair | Not Recommended |
| Ambrosia | Excellent | Excellent | Excellent | Excellent | Excellent | Excellent |
| Golden Delicious | Excellent | Excellent | Excellent | Excellent | Excellent | Excellent |
| Gala | Excellent | Excellent | Fair | Excellent | Fair | Excellent |
| Fuji | Excellent | Excellent | Excellent | Not Recommended | Excellent | Excellent |
Summing up
Apple sweetness isn't an exact science and we've probably all had examples of sweeter than usual Granny Smiths or tart Gala apples. In most cases though, we think our apple sweetness chart is useful for the home cook and hope that it will help you too. Apples come in a diverse range of colors, flavors, and textures so we recommend testing them all out in your cooking to decide what works best. Combinations of two varieties can also work well, especially pairing up a sweet and tart apple.
Below is a summary chart of all the apples ranked by sweetness. Feel free to share it or use it on your own website, with a reference back to us 😉