Jump to Recipe
When feijoa season rocks up, there's usually a wave of fruit that needs to be eaten. Once you've had enough of eating them on their own, try making these feijoa muffins. It's a good way to use a pile of fresh fruit.
This is what you'll need to make your muffins:

Table of Contents
Interactive Recipe
Click or tap one of the pictures below.
Recipe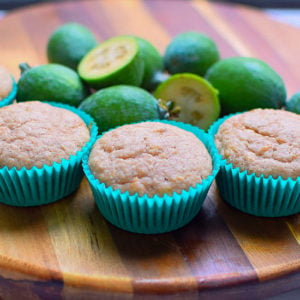 Feijoa Muffins
When feijoa season rocks up, there's usually a wave of fruit that needs to be eaten. Once you've had enough of eating them on their own, try making these feijoa muffins. It's a good way to use a pile of fresh feijoa fruits.
Ingredients
1 ½

cups

all-purpose flour

plain flour

½

cup

dessicated coconut

¾

cup

brown sugar

2

tsp

baking powder

1

cup

feijoa flesh

6-8 medium feijoas

2

large

eggs

½

cup

vegetable oil

or 100g melted butter

1

tsp

vanilla essence

1

lemon

juiced and zested
Instructions
Preheat oven to 356°F (180°C) and position an oven shelf in the middle of the oven. Line a muffin tray with patty pans.

Add flour, desiccated coconut, brown sugar, and baking powder in a large bowl. Whisk until combined and lump-free, set aside.

Scoop the flesh out of the feijoas into a separate medium bowl and then use a fork to roughly mash.

Add egg, oil, vanilla, lemon zest, and lemon juice to the feijoa and mix well with a whisk.

Pour the wet ingredients into the dry ingredients and stir with a wooden spoon until a batter forms.

Spoon the feijoa batter into the muffin tin and transfer to the oven. Bake for 20 minutes or until golden brown. They should also bounce back if a finger is gently pushed into the muffin.

Remove tray from the oven and allow them to cool or eat while still warm.
Notes
If the muffins won't be eaten immediately, store them in an airtight container or freeze them in a suitable freezer-proof container for up to 6 months.
Useful resources
After you've baked your muffins if you still have leftover fruit, then check out our handy guide to freezing feijoas. If you've never eaten a feijoa then find out everything there is to know about a feijoa's taste.

What's good about this recipe?
A light and airy muffin with a delicious welcoming aroma.
Sweet tasting batter that's slightly tart from the fruit.
Relatively low in sugar compared to many similar recipes.
A no-fail recipe that uses everyday pantry ingredients.
No expensive mixers or other appliances are needed.
Tips for baking better feijoa muffins
If the batter is a little dry, add extra oil or milk.
For a better, more even rise select the classic bake function on your oven rather than fan-bake.
Check your baking powder's expiry date. If it's been sitting in the pantry too long, you're more likely to get an uneven rise.
To improve the presentation of your muffins, add thin slices of feijoa to the top of each one and sprinkle with brown sugar.
Increase the fiber, riboflavin, folate, protein, and iron content by using wholemeal flour in place of regular flour.
To avoid muffins with a tough texture don't overmix the batter. Stir it just long enough to combine the ingredients evenly.
Ingredient substitutes
The most commonly asked ingredient substitute in this recipe is flour. If you want to make gluten-free feijoa muffins then simply replace the wheat flour with a gluten-free flour blend, bought from the store.
Alternatively, make your own gluten-free flour by combining 3 cups rice flour, 1 cup potato flour, ½ cup tapioca flour, and 1½ tsp xanthan gum. This will provide you with enough flour to make three batches of these delicious muffins!
Other substitutes you may want to consider include:
Coconut: use additional sugar or leave it out
Lemon: use lime or else leave it out
Brown sugar: use any other sugar of choice
Oil: use melted butter as an excellent replacement
Commonly asked questions
What goes well with feijoa?
Feijoas are excellent paired with coconut, banana, lime, ginger, dark chocolate, white chocolate, and apples. They are commonly used in sweet dessert recipes and baked goods, but they also are excellent in savory dishes like pork.
What temperature is best to bake muffins?
For standard-size muffin tins, we suggest baking at 356°F (180°C) for around 20 minutes. Mini muffins can be baked at the same temperature but will only require 10-12 minutes of cooking.
Summing up
You're going to love this feijoa muffin recipe. It is made for those that enjoy easy cooking without having to worry about their baked goods not working out. Feijoa works so well with other common kitchen ingredients like apple, cinnamon, and chocolate chips so feel free to toss in some extras.
If you've got a busy schedule, then bake a massive batch of these muffins and freeze them. They are freezer-friendly snacks that, once thawed, are almost as good as the freshly baked ones. Of course, you can toss them back in the oven for 5 minutes to bring them back to life.