Making pastry dough can be frustrating on a kitchen bench that isn't made of marble or granite. Whether you're a home baker or a professional chef, a pastry board is an essential piece of kit if you enjoy working with dough.
We've recently conducted tireless online research to track down the best pasty board. The team then dedicated an entire weekend to test the shortlist. Keep reading to discover what we learned.
Quick tip: If you're too busy in the kitchen to read this entire review then save time and check out this Zelancio Reversible Wooden Pastry Board on Amazon. Its beast-like size, stability, and handy features will make life in the kitchen a little easier. It also doubles as a massive chopping board for everyday food prep. You can end your search now, or continue to get more options.
Table of Contents
What are the top pastry boards?
1. Zelancio Reversible Wooden Pastry Board
Category: Best overall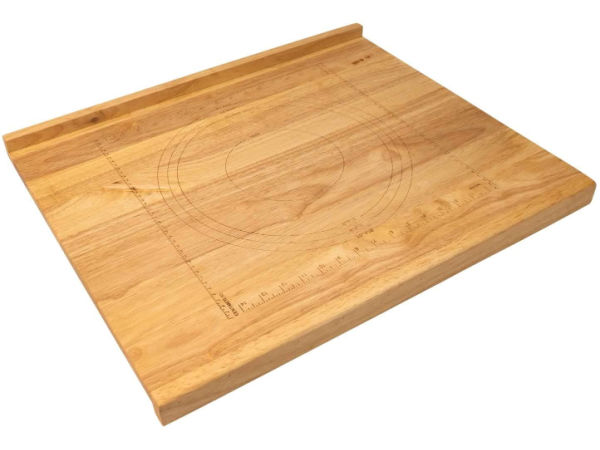 The Zelancio Reversible Wooden Pastry Board is like a regular wooden chopping board on steroids. Made from 100% Acacia wood, it is stylish-looking and functional. We tested it out with a large batch of cookies and found its impressive 24"x20" surface was more than enough space to get the job done.
As the name suggests, the board is reversible which is super-helpful for anyone that multitasks in the kitchen. Use one side to knead the dough, then flip it over to prepare vegetables for dinner that night. There's no longer any need to have multiple chopping boards.
The Zelancio is more than a board though. It is purpose-built for the home baker with a range of handy features. Each side has a lip: the one on the bottom positions against the edge of the bench, keeping your board in position. This will be a massive relief for anyone who's ever used a pastry board that doesn't stay still when you're vigorously kneading dough. The second lip is on the top of the board and acts as a backsplash for a mess-free experience. No more annoying bits of dough and flour slipping off the back of the board onto your clean bench.
The designers of the Zelancio have thought of everything. There are ruler markings to help you precisely measure perfect-sized biscuits or filo pastry sheet. Circles are also marked into the surface to accurately measure pizza bases, shortcrust pastry for pies, and any other circular culinary treats. Say goodbye to rulers or guesswork when it comes to rolling out the right-sized pastry sheet.
Pros
Nice-looking timber
Big working space
Lips keep the board stable
Measurements on board
Cons
Heavier than the alternatives
2. Thirteen Chefs Marble Pastry Board
Category: Best marble

It's easy to understand why marble kitchen benchtops are sought after. They look stylish and provide a nice solid workspace when you're cooking. The same logic applies to marble pastry boards. They're an excellent non-stick surface for rolling out pastry and they look impressive in any kitchen.
You'll find there are plenty of options on the market for pastry boards made of marble slab, but the Thirteen Chefs Marble Pastry Board is one of the best. Its rectangular 16"x12" surface area is big enough for most jobs and six raised rubber feet prevent slipping. Boards without these feet cause you to almost lose a nail trying to pick them up. But this one is raised, making it easy to grasp.
This product is made from quarry-harvested marble, without the addition of composite materials. It'll take a beating without scratching or chipping. Best of all, it stays cool. This is useful for keeping pastry cool and for working with chocolate.
For anyone that enjoys entertaining, the Thirteen Chefs Board doubles as the perfect cheese platter, keeping deli meat, cheese, and fruit cool, even in warmer rooms.
It is covered in a polished gloss which makes cleaning a breeze. That means less time spent scrubbing, and more time gazing at your latest baked goods cooking in the oven.
Pros
Stylish looking appearance
Multipurpose board has many uses
Easy to clean materials
Extremely durable
Cons
Marble can damage or blunt knives
3. Greenrain Silicone Pastry Mat
Category: Best Budget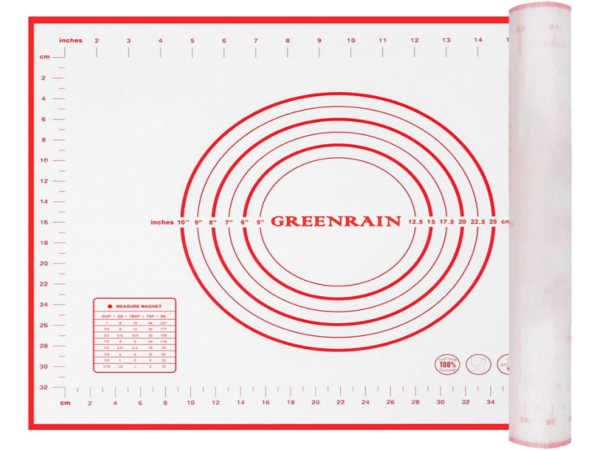 The GREENRAIN Extra Large Silicone Pastry Mat is an excellent option for bakers looking for an affordable pastry making surface. This 24"x32" surface is made from food-grade silicone and glass fiber that won't allow your dough mixtures to stick.
We tested this pastry mat out by making a loaf of bread and also a batch of shortbread. Although it lacks the style and weight of some of the larger products on this list, it held its own well. The bottom of the mat adheres to the kitchen countertop and won't move around while you're working the dough.
While this product is likely to appeal to the budget-conscious, we think this option is also a brilliant choice for people with small kitchens. Space is always a struggle and the last thing you need is another board clogging up cupboard space. The Greenrain can easily be rolled up after use and stowed away in a small space.
Out of interest, we tried to see if we could damage the mat by roughing it up and trying to tear it. We also tried to stretch it to see if the ruler measurements would get all messed up. No success, it's stretch-proof and built tough.
A helpful ruler makes it easy to measure even-sized pies, bread rolls, pizzas, and tarts. Circle measurements ranging from 5"-12" in diameter are also useful. You can also forget the hassle of checking online to convert weight measurements as there is a conversion table included.
Pros
Easy to store, ideal for small kitchens
Affordable option
No-slip, non-stick materials
Also available in 24" x 16" size
Cons
Not as good-looking as other options
4. KORVOS Chopping Board
Category: Best metal option
Measuring in at a sizeable 23.6"x 19.7", the KORVOS Chopping Board is a sleek looking piece of equipment. It is made from high-quality stainless steel that jazzes up any kitchen space.
The KORVOS is good for protecting your kitchen bench and is suitable for slicing vegetables, fruit, and other food preparation work. It also provides a workspace that's similar to a commercial workbench – a non-stick surface that's easy to clean with a damp cloth.
For those that enjoy making other delicious treats like fudge and chocolate, this surface is an excellent option. It is super smooth and resistant to high and low levels of heat. Cake decorating is also well-suited to this product.
The KORVOS Chopping Board is reversible which helps avoid food cross-contamination or awkward flavors. Say goodbye to strawberry macarons with a hint of onion.
We also thought the carrying handle was a nice touch. It doubles as a useful hole for hanging up the board when not in use. Of course, you could leave it on the bench permanently, without the need for packing it away after use.
Our kitchen is small and the steel sheet was a challenge to fit into place. We had to slide it under the toaster to make it work, like the Zelancio. Thankfully, there are a range of sizes available so measure out your space and choose the right one for you.
Pros
Mimics working in a commercial kitchen
Easy to hang up when not in use
Stays cool when it's needed
Cons
What to look for in a pastry board
Not all pastry boards are created equal, and with a range of different features, it's important to choose a product that fits your needs. Let's take a look at what to consider before forking out any money.
Stability
Pounding out pastry for pizza or bread can get physical. The last thing you want is for your surface to move while you knead. While most pastry boards are made to stay in one place, be sure to check that yours won't let you down. Every brand listed on this page was very stable.
If you look at other products outside of this list, then here's what we've found over the years: silicone mats tend to be very stable; thicker, heavier boards tend to stay in place better than many lighter options.
Size
Even if you only churn out small batches of dough, it's nice to have a large working space. We suggest opting for the largest board or mat you can get your hands on, that'll fit into your kitchen. Keep in mind that mats can be folded up so they aren't a space hog.
Materials
Pastry boards come in a range of materials including plastic, wood, marble, stone, granite, and silicone. We didn't include a plastic option in our list as they aren't as durable.
We found that marble was our favored option out of all the materials available. There's something pleasing about working dough on a cool, sturdy marble surface and they look impressive too. If you struggle with heavy appliances then you may not want to deal with large marble slabs.
Hardwood is another attractive looking material that sits nicely on the bench without moving. Like marble, it can also be cumbersome to move around the kitchen.
Measurements
While not essential for baking, measurements marked on the surface are really handy. We found it useful for rolling out even sized pizza bases.
Ease of cleaning
Few people enjoy cleaning up after cooking. Pastry boards that feature non-stick surfaces will make cleanup quick and easy. Usually, a damp cloth is all that's needed. Some wood products won't be suitable for dishwashers and will take a little extra work to wash up in the sink.
Frequently asked questions
What is a pastry board?
A pastry board is a large surface used for mixing, kneading, and rolling out pastry and dough. They are usually non-stick surfaces that are smooth and excellent for rolling very thin pasta sheets. Some products also include measurements to help roll out pastry with precision.
Is a marble or wood pastry board best?
Whether you choose a pastry board made out of wood or marble will come down to personal preference. They both make excellent bases for rolling pastry and kneading dough.
One difference we did notice was that wood tends to "catch" the flour better when dusting the surface, so you get a nice even coverage. Scattering flour onto marble can result in piles of flour which streaks the dough. The pizza base made using wooden pastry boards produced a better final product.
Whichever option you choose, remember that pastry is better when it is rolled out on a cool surface. If you can chill the board in a freezer or with ice first, the final pastries will be better.
Should I buy a pastry mat or board?
Silicone mats are a popular option thanks to their heat resistance. You can roll out your pastry on the mat then transfer it straight to the oven to bake. They're also easy to clean and store.
Pastry boards will help regulate the temperature of your pastry, resulting in a better end product. They're also nicer to look at, but storage can be a challenge and some wooden products require some upkeep, like applying butcher oil occasionally.
Granite offers similar benefits to silicone; it is non-stick and temperature-resistant. Granite has the added bonus of making a useful pizza stone.
Why should I use both sides of a pastry board?
People often like to use their pastry board for slicing other ingredients, which can damage its smooth surface. As pastry should be rolled out on a smooth surface, you're best to use one side for chopping and keep the other side untouched for pastry.
Are wooden pastry boards dishwasher safe?
Wood is a porous material that can degrade over time if used in a dishwasher. Although some brands claim to have products suitable for the dishwasher, in general, it is best to wash them by hand.
What is the difference between a pastry board and a cutting board?
Although the two types of boards can generally be used interchangeably, a pastry board is usually smooth with a non-stick surface to make pastry work easier. A cutting board is designed for chopping fruit, vegetables, herbs, meat, and other ingredients. It doesn't need to be as smooth or stable on the bench as a chopping board.
Summing up
If you make lots of dough or pastry related recipes, then a pastry board will make your life a lot easier. More importantly, you'll be able to turn out better bread, pasta, pizza bases, and cookies.
Of all the products we tried, the Zelancio Reversible Wooden Pastry Board was a fantastic allrounder that most home bakers will enjoy. If marble is a better fit for your kitchen and you've got the space, the Thirteen Chefs Marble Pastry Board is hard to beat for its looks, heat resistance, and pleasant tactile feel.
Not everyone needs the fanciest product on the market. If you're searching for a functional pastry mat that's affordable and easy to fold up and store, look no further than the GREENRAIN Extra Large Silicone Pastry Mat.
Honorable mention: We weren't able to get our hands on the Williams Sonoma reversible pastry board as there isn't a store near our office. However, we had to mention it as it has also had some good reviews.
That's a wrap, folks. Get yourself a pastry board, grab that rolling pin, and start creating delicious homemade food.