More and more people worldwide are suffering from acid reflux, GERD, and associated symptoms like heartburn. Although these conditions can be quite mild in some people, for others, the symptoms can be severe enough to dramatically impact their quality of life.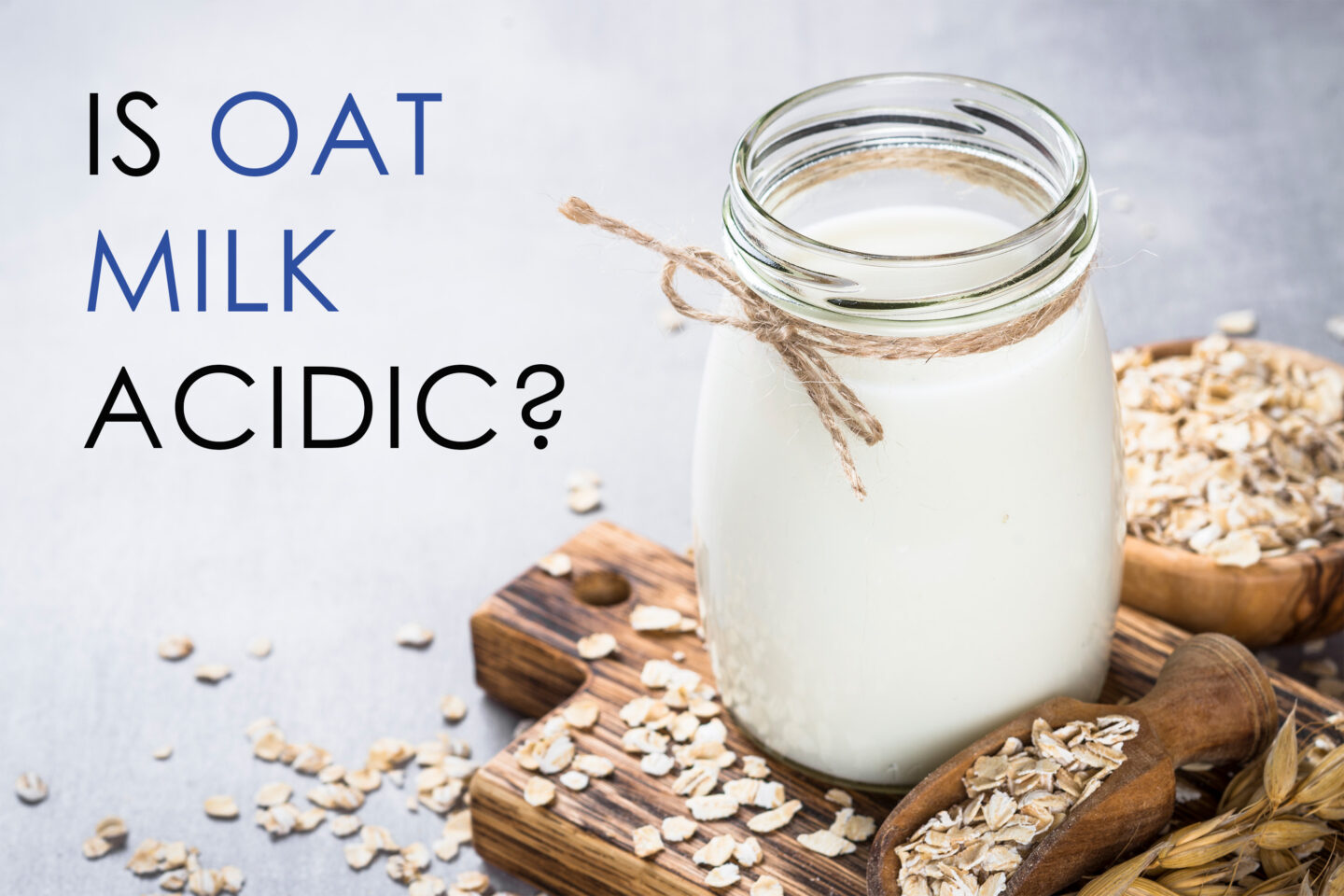 Sufferers often follow a diet low in acidic foods and drinks to avoid triggering or worsening their symptoms. These diets can be challenging, as followers must know the acidity of common foods and how each affects their symptoms.
With the rise in the number of people following plant-based diets, plant milks are becoming more common. But are they safe for those on a low-acid diet?
Table of Contents
Is Oat Milk Acidic or Alkaline?
Oat milk is only slightly acidic but is acid-forming, so it may trigger or worsen acid reflux and GERD symptoms.
However, it's highly nutritious and is an excellent addition to a healthy, balanced diet for those who can tolerate it.
What Is the pH of Oat Milk?
Oat milk has a pH of around 5.00 to 6.00. However, like most kinds of milk, it's acid-forming and is likely to stimulate gastric acid production. This means oat milk may trigger acid reflux symptoms like heartburn, nausea, or bloating.
Is Oat Milk Healthy?
Oat milk is a healthy, non-dairy, lactose-free milk that contains only 120 calories per cup. It also has less fat than cow's milk.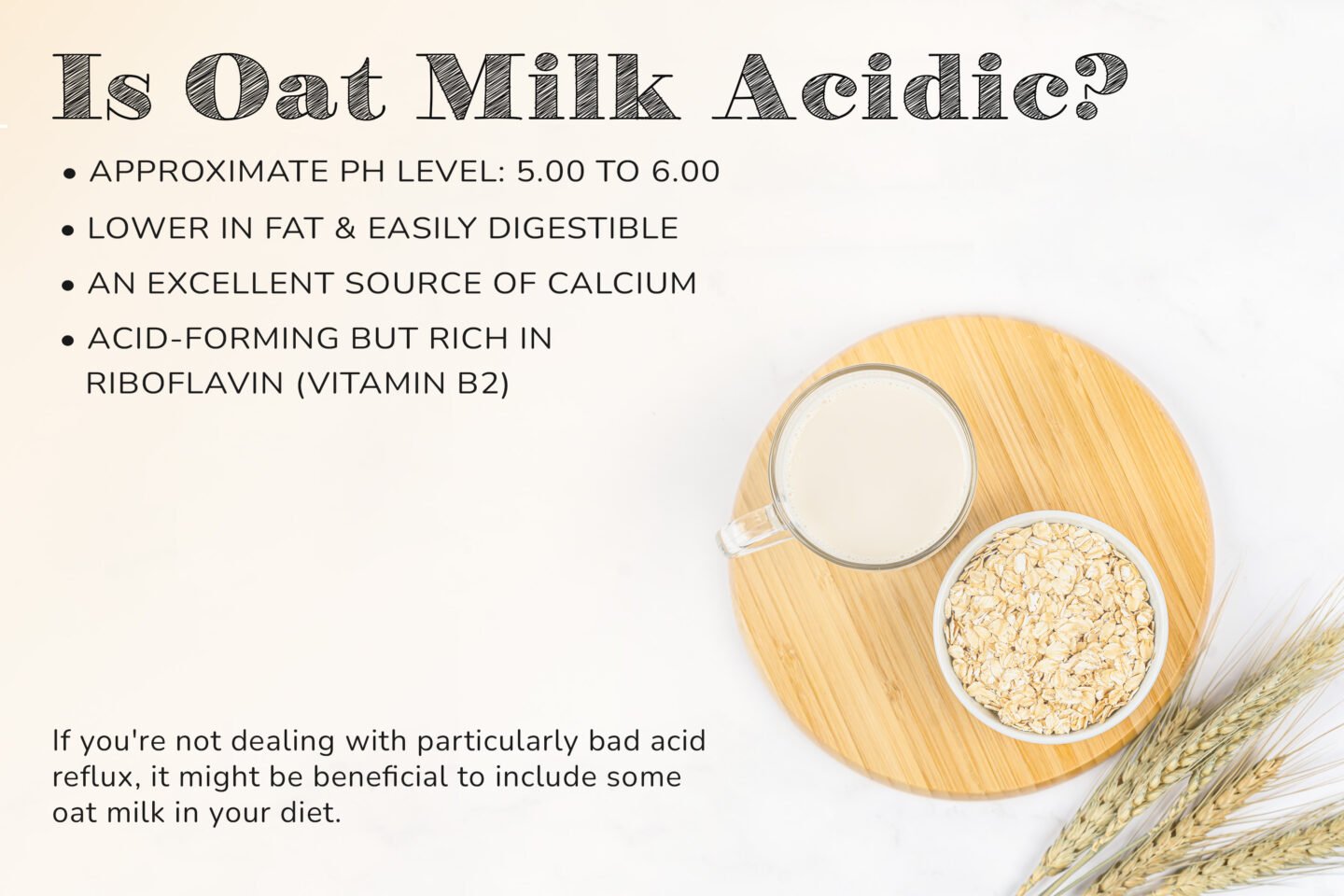 Although it's less nutritious than oatmeal, many enriched varieties are available. Enriched oat milk is an excellent source of calcium, which is essential for strong bones and prevents arthritis and osteoporosis.
Calcium also supports a healthy cardiovascular system, preventing heart attacks and valve obstructions. It's particularly important for the brain function of children.
Oat milk contains almost half the recommended daily intake of riboflavin (vitamin B12), which supports carbohydrate, fat, and protein metabolism.
Can You Drink Oat Milk While Suffering from Acid Reflux?
Like other kinds of milk, oat milk is acid-forming and may aggravate your acid reflux. However, everyone's symptom triggers are different, and some may be able to tolerate more than others.
It's also low in fat and sugar, which slow digestion.
Enriched oat milk is rich in vitamins and minerals that help fight inflammation and protect your stomach and esophagus from damage.
Is Cow's Milk Better for Acid Reflux Than Oat?
Cow's milk has a pH of around 6.40-6.80 and is acid-forming, so it's just as likely as oat milk to trigger your symptoms but is more nutritious.
However, cow's milk contains more fat, which slows digestion and stimulates gastric acid production, making acid reflux more likely. Fat also relaxes the lower esophageal sphincter, which causes gastric acid to flow back to the esophagus.
This easy-to-use cookbook contains over 100 delicious dairy- and lactose-free oat milk recipes.
Is Almond Milk Less Acidic Than Oat Milk?
Almond milk is also slightly acidic, with a pH of around 6.00. However, it's alkaline-forming, so it may be a better choice for those with acid reflux.
It's higher in fat than oat milk, which may lead to heartburn but contains fewer calories.
Don't know what to drink? Check out these articles: 20 Most and Least Acidic Juices and 20+ Alcoholic Drinks Ranked by Acidity Level