If you love grilled food, chances are you are familiar with Japanese hibachi cuisine. This cooking style, usually found in a Japanese steakhouse, is popular in the United States. Even though Japanese hibachi is very popular, a good question would be whether or not it is healthy.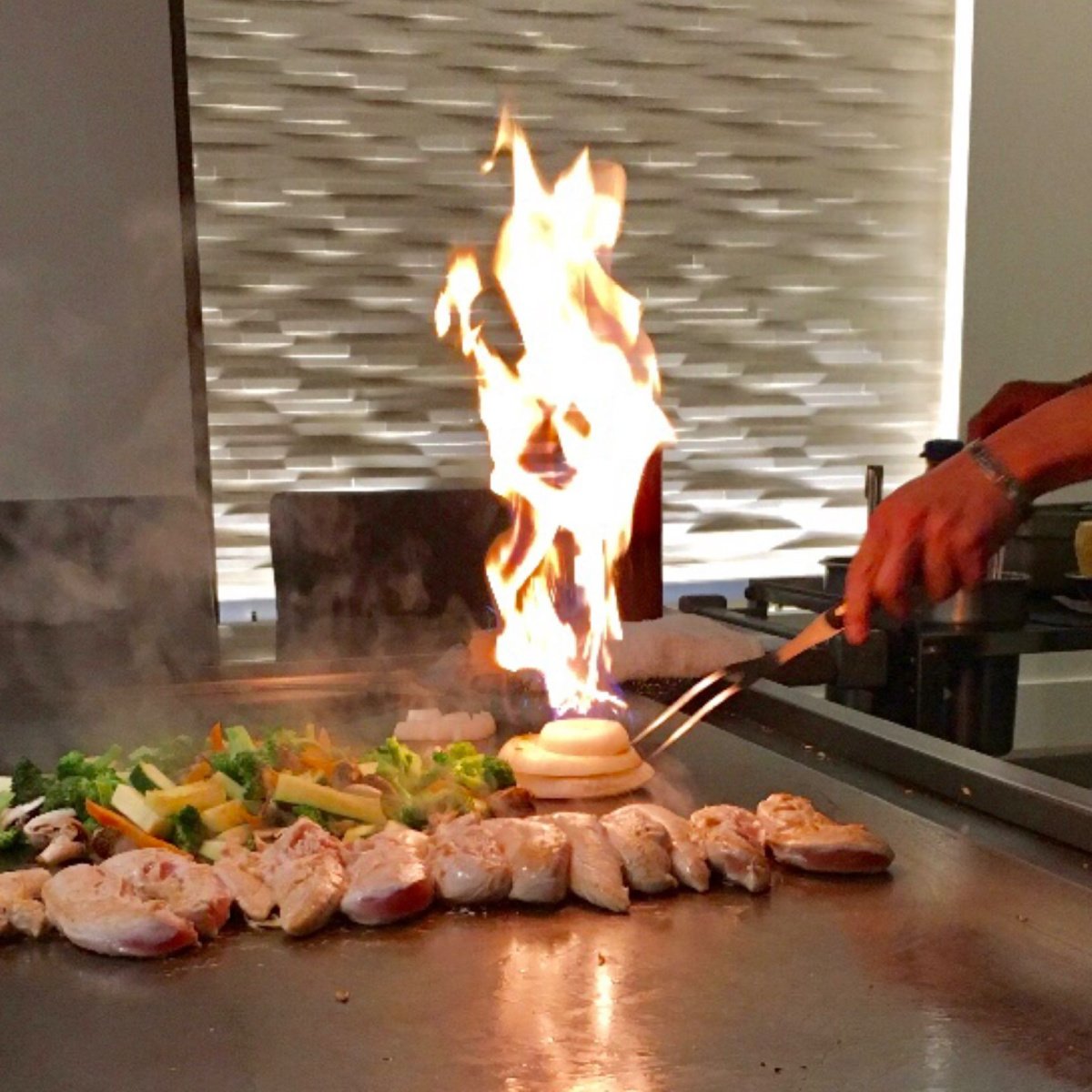 Unfortunately, there is no simple yes-or-no answer to that question. Because hibachi cuisine can be made from various dishes and not just from specific Asian foods, whether it is healthy would depend on the main ingredients, the sauces, and the amount of sugar, salt, or oil used.
Read on to learn more about hibachi, what makes it healthy, its ingredients and benefits, and some related questions.
Table of Contents
What Is Hibachi?
Hibachi, a Japanese term that means "fire bowl," technically refers to an open-topped pot or box used for heating a room. It originates from the Heian period (794 to 1185 AD).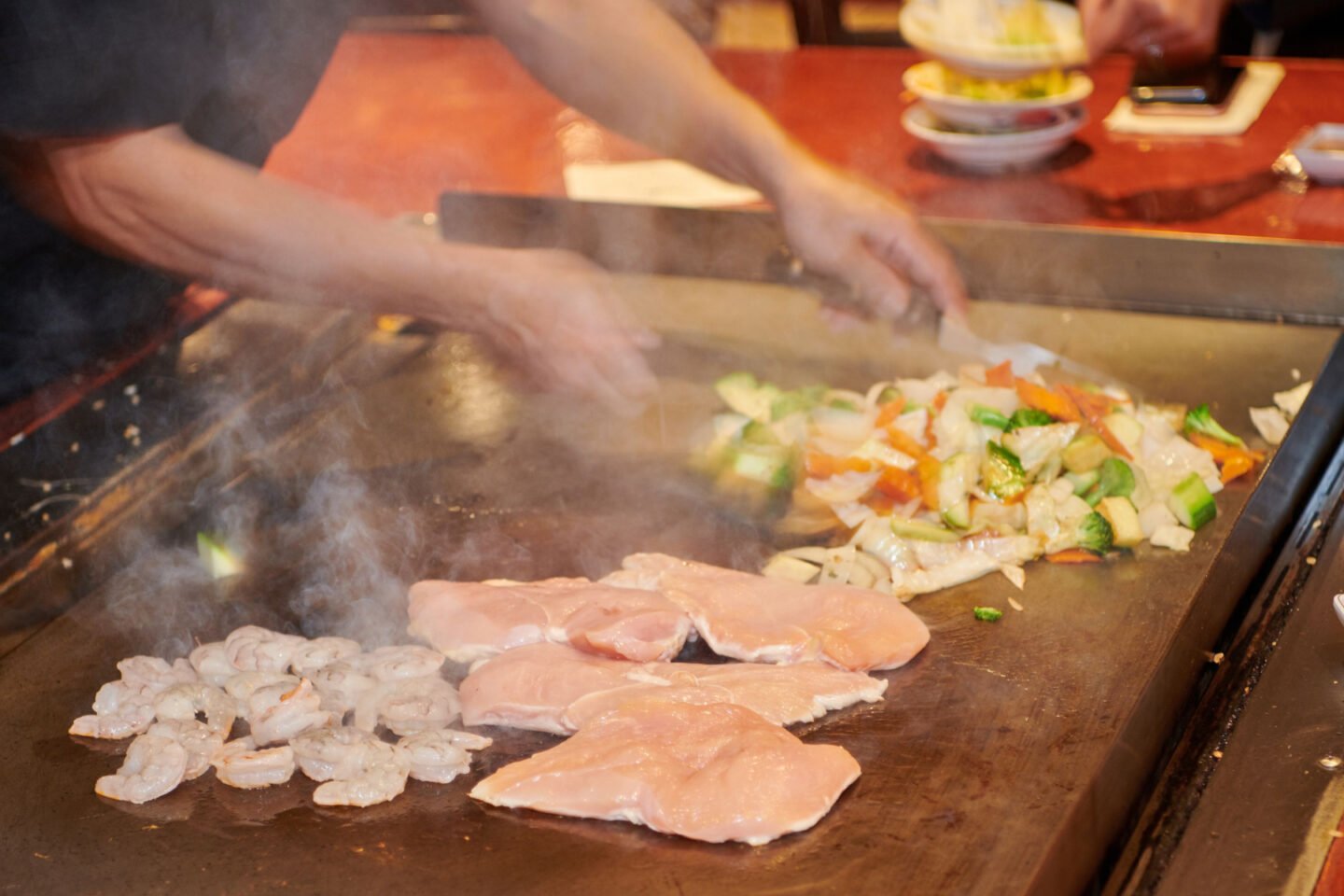 The word "hibachi" is now used to describe any kind of Japanese food that is cooked on an open, flaming grill. It may also refer to the cooking style, the grills used, or even the Japanese restaurants. That is why terms such as "hibachi restaurant," "hibachi dishes," "hibachi cooking," and "hibachi grill" are also commonly used.
In the United States, "hibachi" may mean "teppanyaki," which is another Japanese cooking style that uses a large iron skillet. Because the word "hibachi" is often misused when referring to cooking styles, the Japanese restaurant you are eating at is most likely a teppanyaki restaurant instead of a hibachi restaurant.
Is Hibachi Healthy?
Whether or not your hibachi dishes are healthy depends on your food selection. Here are some things to consider when determining the healthfulness of your hibachi cuisine.
The Type of Meat
Choose skinless chicken, fish, turkey, or shrimp. Lean beef is also a healthy option if it is available.
Include vegetables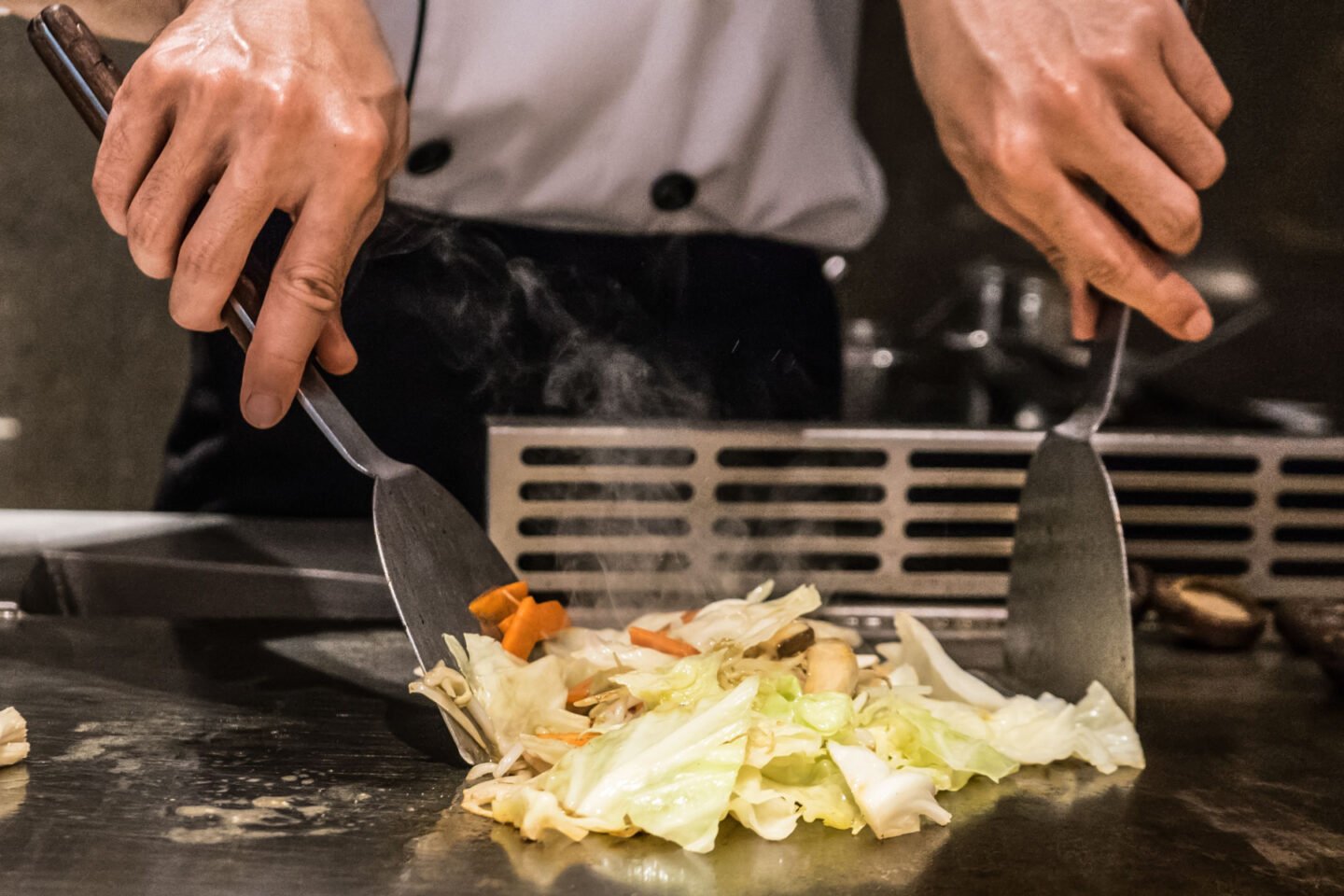 Adding a vegetable or, even better, more vegetables to your meal will always make it healthier. Grilling your vegetables rather than frying them is a healthier option, and you should limit any additional oil or sauce.
Sauces
Choose sauces that are low in saturated fat, calories, and sodium. Typical healthy options are mustard sauce and ginger sauce. Soy sauce and teriyaki sauce aren't as healthy due to their increased salt and carbs, so you must use them in smaller amounts.
Oils
Like in selecting your sauces, choose oils low in saturated fat. Popular healthy oils include olive oil and sesame oil. Coconut oil and sunflower oil are also good alternatives.
Hibachi Rice
Hibachi fried rice is also a standard inclusion in a hibachi restaurant. Although hibachi fried rice is famous, a healthier option would be to choose steamed or cooked rice so there would be no additional oil.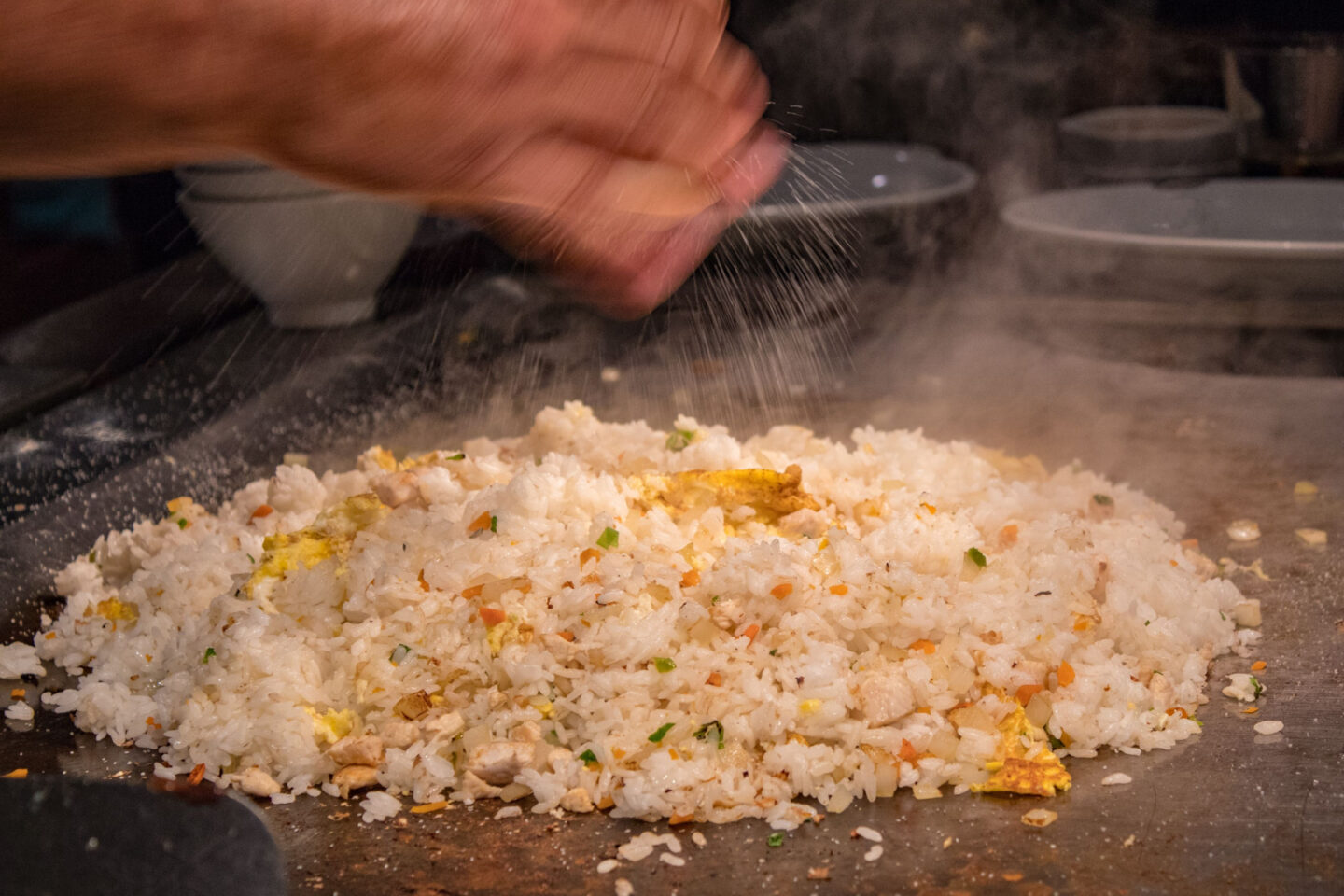 It is better to use day-old or leftover rice when cooking fried rice than freshly cooked rice. If brown rice is available, choose brown rice over white rice to get more fiber. White rice is also more processed, so brown rice is the healthier option.
Common Hibachi Ingredients
Yum Yum Sauce
It is also known as shrimp sauce, hibachi sauce, or simply "yum" sauce. Yum yum sauce is a famous Japanese steakhouse hibachi sauce. The sauce includes mayonnaise, garlic, ketchup, sugar, paprika, vinegar, and water to thin out the sauce. It has a light, sweet, and tangy taste. It can be drizzled on other cuisines or used as a dip.
Ginger Sauce
The ginger sauce is another popular sauce found in hibachi restaurants. This sauce contains ginger, soy, vinegar, lemon juice, garlic, and onions. The ginger sauce is an excellent addition to your vegetables and salads, as well as a dip for your other dishes.
Noodles
Although hibachi noodles can be a stand-alone dish, they can also be a side dish in hibachi restaurants. The hibachi noodles are a great addition to the hibachi chicken, hibachi steak, or hibachi shrimp. Yakisoba noodles are the main type served, but ramen and udon are good alternatives.
Is Grilling Food A Healthy Option?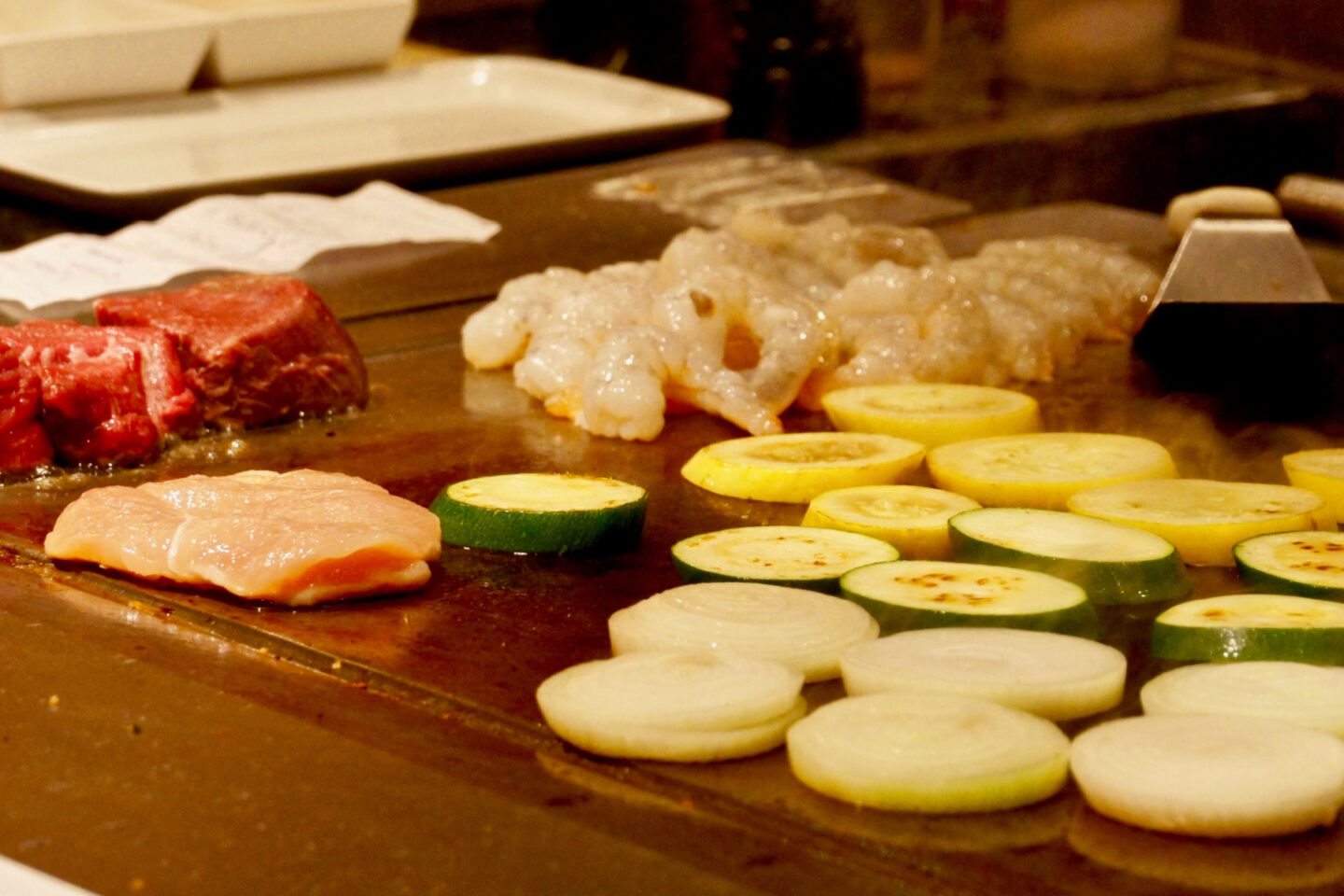 The chemicals heterocyclic aromatic amines (HCAs) and polycyclic aromatic hydrocarbons (PAHs), which both cause cancer, are linked to grilling. The most common PAH is benzopyrene. These chemicals may also be present in the smoke.
The good news is that you can decrease your exposure to such chemicals as long as you shorten your grill time and flame exposure time, grill more vegetables instead of meat, and eat your grilled food in moderation.
Related Questions
What is the healthiest thing to eat at a hibachi?
For healthy choices, choose chicken, fish, or shrimp over red meat, but lean beef is also a healthy option. Any vegetable or fruit is also a good choice, and standard options are bok choy, cucumber, green onion, garlic, mushroom, and broccoli.
Is hibachi high in calories?
It depends on your hibachi food selection. For instance, a 4-ounce piece of hibachi chicken has an average of 160 calories, or about 40 calories per ounce. But the number of calories would be easily increased by adding hibachi-fried rice, more oil, and more sauce.
Can I eat hibachi while on a diet?
Yes, as long as you eat more vegetables and white meat in your hibachi meals. Avoid too much oil and carbs to decrease your daily caloric intake.