In Japanese, small, portable cast iron barbecue grills are called shichirin. In other parts of the world, we call them hibachi grills. Traditionally, a cast iron hibachi grill uses charcoal for cooking. These handy little grills have an open-grate design that allows chefs to cook food over an open flame.
Modern U.S. hibachi grills are sometimes electric so that food can be cooked indoors. It's great to have a handy little grill available for quick and easy outdoor grilling. Let's dive in and learn all about cooking with a cast iron hibachi grill.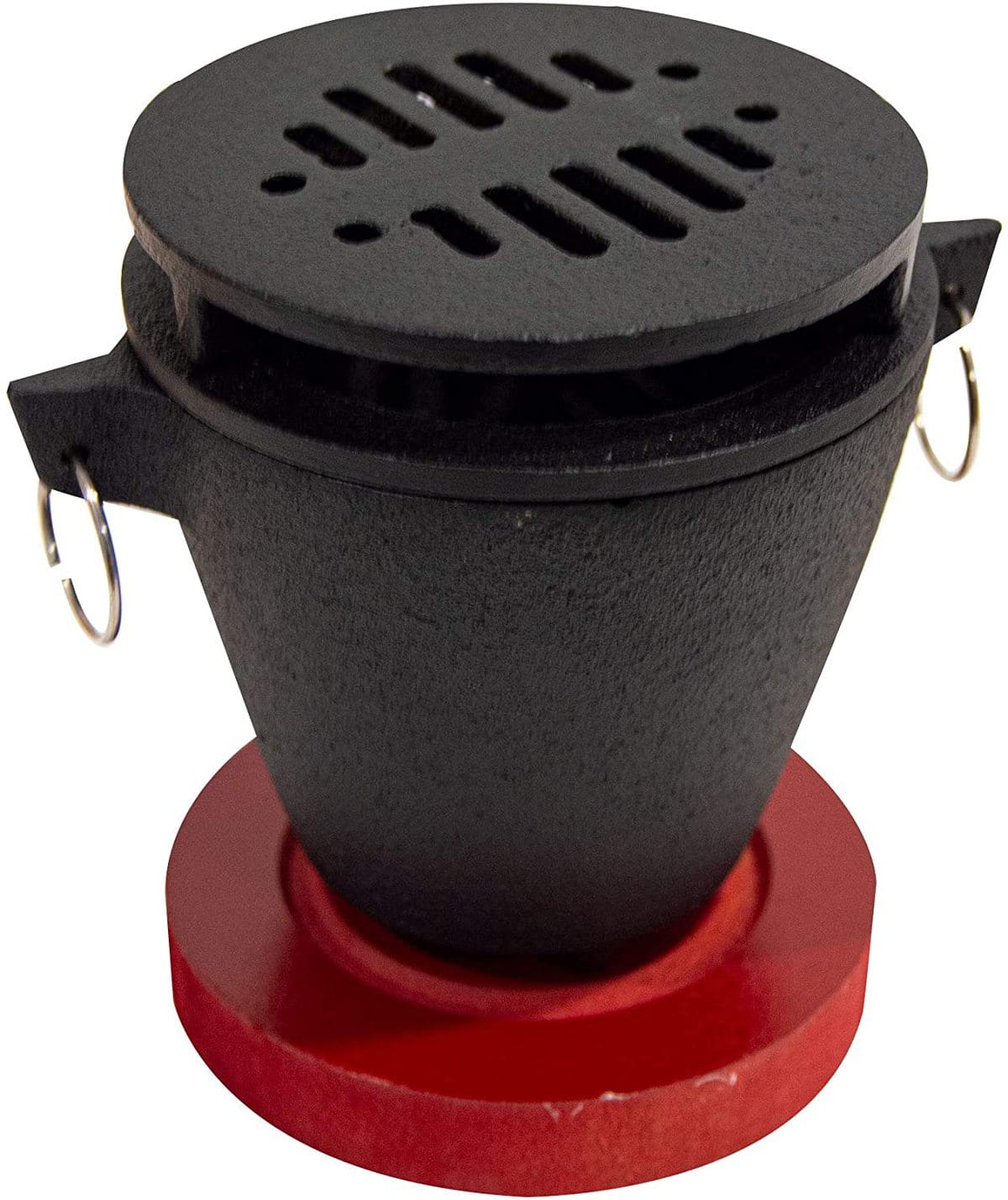 Table of Contents
What Is a Hibachi Grill? What Makes Them So Special?
The word hibachi translates to "fire bowl" and specifically refers to the shape of the container, which is cylindrical with an open top. Some hibachi grills also have vents. Hibachi grills are designed so that they can burn charcoal or wood.
In most cases, hibachi grills are not just efficient for heat and grilling, but they are also decorative. Sometimes they are even built into furniture stands so that they are easier to use.
However, what makes a cast iron charcoal hibachi grill so special is that it can deliciously sear your food because of the high heat it produces.
History of the Hibachi Grill
Historians believe that the hibachi grill dates back to between 794 and 1185 A.D. This period in history is known as the Heian period.
In Japan, the cast iron hibachi grill has a rich history. However, authentic hibachi grills have grown in popularity worldwide as people become more interested in creating authentic meals.
Why Is Cast Iron the Best Material for Hibachi Grills?
People who are devoted to cast iron hibachi grills love that some of these grills will last a lifetime. Outdoor cooking enthusiasts who love grilling insist that cast iron hibachi grills are far superior to those made from other metals, such as aluminum, which tends to become rusty over time.
Hibachi grills need solid construction, largely because they are designed to be portable and produce a lot of heat. When you are transporting a grill, you don't want one that is going to fall apart because it is moved frequently.
A portable gas grill or propane grill won't usually hold up to being moved around a lot. Because of this, a cast iron hibachi grill is your best bet.
Is Electric or Charcoal Hibachi Grill Best?
The decision to choose a charcoal hibachi grill or an electric hibachi grill depends entirely on how and where you're going to use the grill. Also, how much heat you need can play a role in choosing your hibachi grill.
If you want to cook indoors, you will need to go with an electric hibachi grill. Also, be sure to know what type of vents your hibachi grill should have.
How to Use a Cast Iron Hibachi Grill
Usage of your cast iron hibachi grill will vary widely depending on which one you choose. It's a good idea to follow the manufacturer's instructions and seek guidance from other customers who have reviewed the grill online.
What Type of Foods Are Best Cooked in Hibachis?
Hibachi grills provide close and direct heat, so they are best suited for cooking small items. For example, thin strips of meat and kebabs are ideal for cooking on a hibachi grill.
You can also cook other types of meat on your hibachi BBQ grill, including hot dogs, chicken, steaks, hamburgers, and similar items. Of course, cast iron hibachi grills are great for grilling more than just meat. They grill veggies beautifully.
Also, a lot of people love using their hibachi grills for making s'mores or toasting marshmallows.
How Best to Clean Cast Iron Hibachi Grill
Keep in mind that when you're cooking with cast iron, you have to take special care with cleaning. Cast iron cookware will rust if left in water, so it's best to soak your cooking grates for a few minutes and then use a brush to get them clean.
Additionally, like any cast iron product, you need to regularly oil your cast iron hibachi grill to protect it from corrosion. If you can oil your grill after each use, you will greatly extend its lifespan.
How to Store a Cast Iron Hibachi Grill
To make sure your cast iron grill lasts a long time, you need to minimize its exposure to water. When you're not using the grill, store it in a covered area after the heat goes down. If you can't bring it inside, you will need to invest in a waterproof cover for the grill.
Where to Buy Authentic Cast Iron Hibachi Grill
Below, we take a look at some of the best cast iron hibachi grills we found online.
The Update International Cast Iron Hibachi Set is about as simple as it gets in terms of hibachi grills. The high-quality little grill has quality construction and has an elegant wooden base. Measuring 4 x 4 x 6 inches, the Update International hibachi grill has the smallest cooking surface of all of the cast iron grills on our list.
Because of the way it's made, you can put this tabletop grill in the center of a platter that measures between 12 and 14 inches so that you can replicate the classic pu pu platter that is often found at restaurants.
You can remove the grill to easily clean out residue and crumbs. This small hibachi grill is completely non-electric. It comes with a fuel holder.
What Reviewers Say
Reviewers on Amazon have rated this hibachi grill an average of 4.2 out of 5 stars. Customers who like the grill say it's the perfect size for cooking when you're on the go, and some of them use fire gel as a starter.
Other reviewers commented that food sticks to the top of the grilling surface. However, this may be a simple matter of a lack of knowledge about cooking with cast iron. On the other hand, more than one reviewer said that after soaking the grill grate, some black paint flaked off.
Since this grill is spray painted, there are concerns about using it to actually grill food because the heat seems to make the paint peel. Nevertheless, people who bought it for making s'mores and other treats like that seem to love this cast iron hibachi grill.
This larger hibachi grill by IronMaster has a nice-sized grilling surface and meets FDA food-grade standards and the stricter California Proposition 65 test. The structure is completely cast iron. There isn't a chemical coating on this grill and it can be used indoors if used with a Sterno or similar heat source. As always, never use a hibachi grill indoors if you're cooking with wood or charcoal grilling.
Besides being highly functional, this cast iron hibachi grill has a nice retro shape, so it's decorative. The grill has two adjustable heights and a door (vents) that opens so that you can pass charcoal through to raise the heat. This grill is excellent for camping, tailgating, picnics, or a quick dinner on your patio.
In terms of size, the IronMaster cast iron hibachi grill weighs 22 pounds and measures 16 x 10.5 x 7.9 inches. These dimensions equate to about 109 square inches of valuable cooking surface. Generally, a hibachi grill this size can provide food for up to five people.
The IronMaster cast iron hibachi grill comes pre-seasoned with 100% vegetable oil and has been polished 3-4 times.
What Reviewers Say
This cast iron hibachi grill has a rating of 4.8 out of 5 stars on Amazon and 81% of the reviews are 5-star reviews.
Customers like that it has a reversible grill plate. The grill is made from heavy cast iron, and some reviewers say you can expect to use this grill for a lifetime.
One thing that a reviewer suggested would make this grill perfect: a carrying handle.
With a stainless steel carrying handle, the Bruntmore Heavy Duty Pre-Seasoned Cast Iron Grill is designed for portability and the handles don't have a problem with heat. As one of the best-cast iron hibachi grills, this grill doesn't have a chemical coating. It is simply heavy-duty cast iron.
Weighing 38.9 pounds, the Bruntmore cast iron hibachi grill is one of the heavier hibachis on our list. It is solid cast iron except for the handles.
The seller of this grill recommends that it not be used indoors.
What Reviewers Say
Because of the weight, some customers say that this cast iron hibachi grill is too heavy to be a portable grill. Using this grill for tailgating or at the beach is unrealistic. However, they noted that it would be a great, sturdy grill if you plan to put it on a table outside and leave it there to be ready for use.
This grill has a lower rating than some of the other grills on this list. The average Amazon rating is 3.9 out of 5 stars.
If you're looking for a lightweight portable cast iron hibachi grill with a large grilling surface, the Giantex is an excellent choice because it only weighs 20 pounds.
However, being lightweight doesn't mean that it's smaller than other hibachi grills. The dimensions of this grill are 15.5 x 10.5 x 7 inches, with the grilling net (cooking surface) measuring 12.5 x 8.5 inches.
For ease in adjusting the fire, all you have to do is slide the air-regulating door right or left. The grill also has a front fire gate so that it's easy to add more charcoal as needed. The design is safer and you can avoid accidents like scalding or burning.
The grilling net is double-sided and the two heights are adjustable. Both the charcoal net and grilling net are detachable, which means that they're easier to clean.
What Reviewers Say
The Giantex Hibachi Grill has the best rating of all of the grills on this list. This grill has 150 reviews on Amazon and is rated an average of 4.4 out of 5 stars.
Customers love the big grilling size and say that it can accommodate a family of six easily. They also like that this grill comes with a handle that stays cool to the touch. However, the handles are also cast iron, so caution must be used when moving this hibachi grill.
One detailed review noted that this cast iron hibachi grill is different from others because of the sliding hatch that controls airflow.
One reviewer noted that this grill has the California Prop 65 warning of containing harmful chemicals.
The Son of Hibachi cast iron grill by Mr. Flame has a whopping 170 square inches of cooking service. Moreover, this grill can serve as a convertible roasting oven.
When you're done cooking, this grill folds easily into a self-extinguishing barbecue and a self-cleaning oven. Also, this grill saves the charcoal that was unused so that you can use it another day.
If you're looking for a retro hibachi grill, this is one you will thoroughly enjoy because it's made in the vintage 1980s style.
One downside is that this grill doesn't come with a snuff-out pouch. Additionally, you have to clean it before using it.
Note that this grill has cast iron adjustable cooking grids, but the rest of the grill is constructed of carbon steel. The Son of Hibachi has carrying handles that convert to sturdy legs that fold down.
What Reviewers Say
With a rating of 4 out of 5 stars on Amazon, this unique grill has a lower rating than the other cast iron hibachi grills on our list.
Customers noted what the company points out, which is that there is no snuff-out bag provided, making grilling more challenging. Another reviewer complained that the pan is too shallow on both sides, pointing out that even a slight breeze will blow out the flame when you're grilling.
The process for lighting this hibachi grill is unusual. A reviewer described the process as like closing a book, with both sides stuff with your charcoal.
Summary
Which cast iron hibachi grill is best for your needs? It depends largely on where and how you plan on using your grill. Now that you know about all of your options, you're all set for grabbing your grill and hitting the road or cooking a quick burger in your outdoor cooking space or cooking area.