Grape juice is a staple in every kitchen. Its sweet and sour taste is famous among kids and people of all ages and races. As you might have already guessed by its taste, grape juice has a pH level of 3.2-4.0, making it an acidic drink. However, you might wonder if grape juice is way too acidic and unsafe to drink every day, and the answer is no.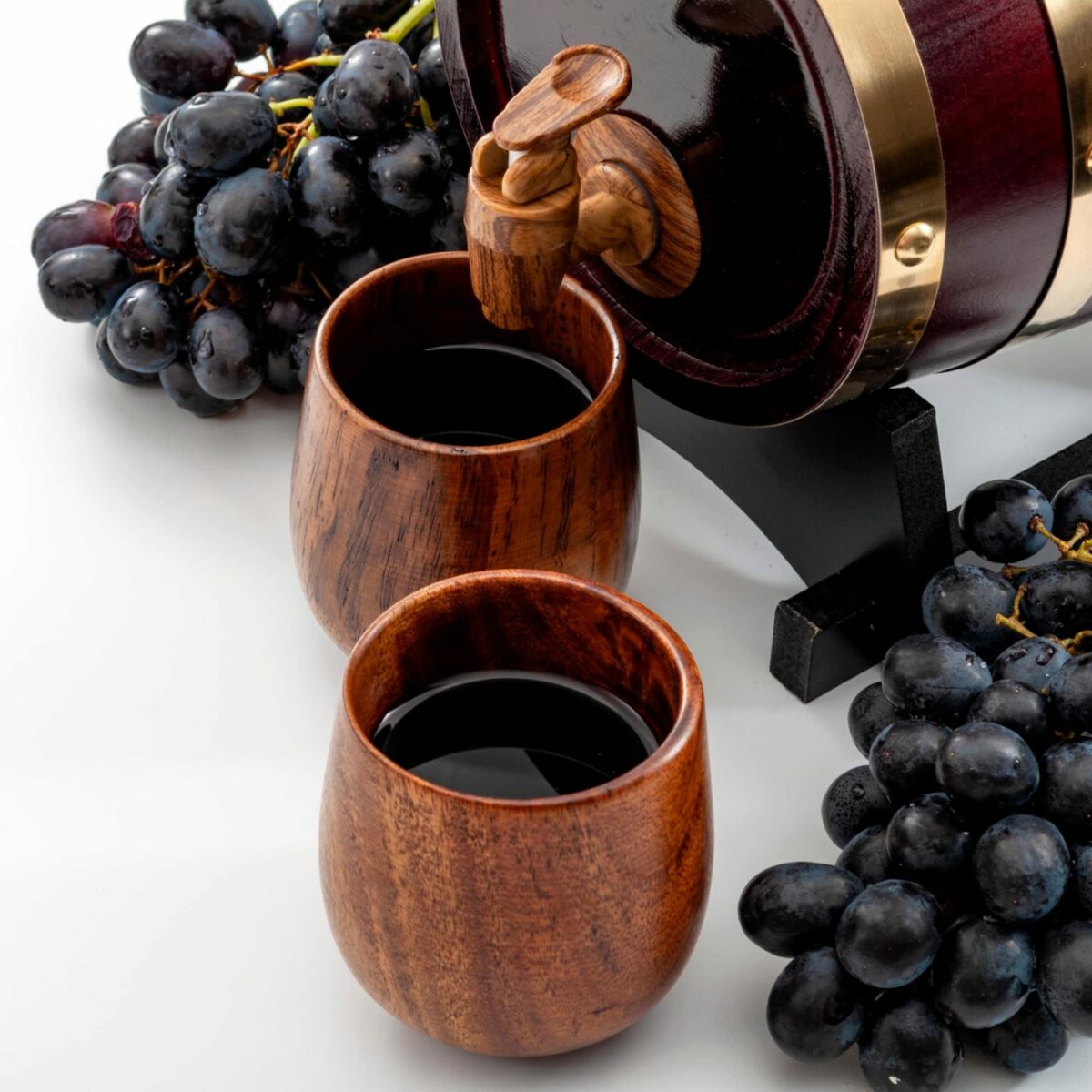 The stomach's pH is 1.5-3.5, meaning it's way more acidic than grape juice, and drinking grape juice does not alter your stomach's pH. Drinking too many acidic drinks like carbonated drinks has been linked to several health issues. However, grapes contain vitamins, minerals, and antioxidants that make them a healthier drink than commercial drinks such as soft drinks.
This article will help you learn everything you need to know about grape juice's acidity levels, how their pH affects the body, and other important information you should know.
Table of Contents
What Makes Grape Juice Acidic?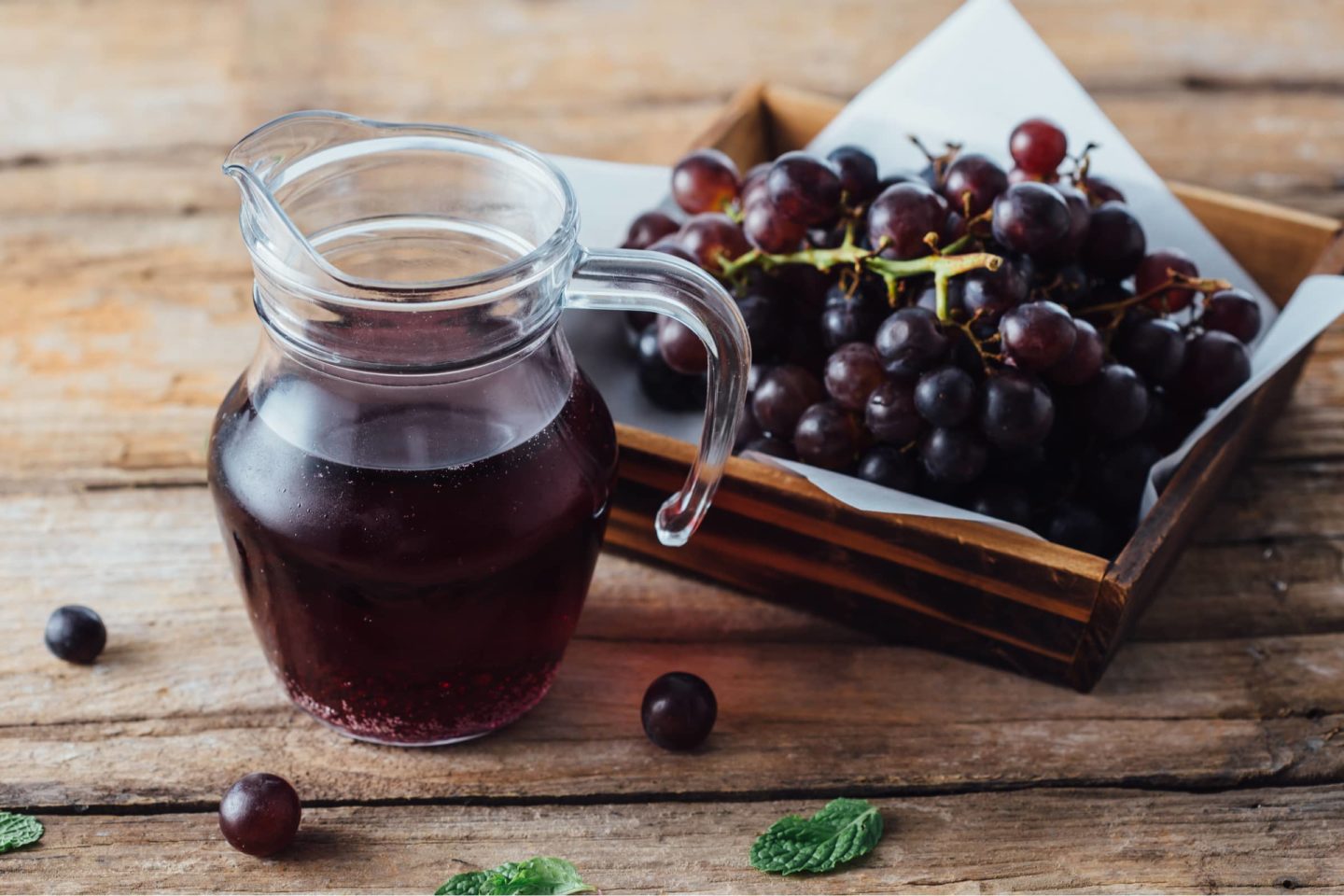 After pressing, the pH of the grape juice and the grape must is acidic, ranging between 3.2 and 4.0. This pH level is mainly caused by malic and tartaric acids, which account for nearly 90% of grape acidity during harvest.
Malic Acid
Malic acid is present in various fruits and vegetables, including apples, plums, and peaches. This organic acid in mature grapes is mainly determined by the grape type and the growing region's environment. Grape juice's malic acid content can reach 8 g/L in cold climates and between 1 and 2 g/L in warmer areas.
Although a powerful organic acid, at controlled levels, malic acid has shown health benefits like treating renal stone disease, relieving tiredness and fibromyalgia, and can also be used to treat dry skin and mouth.
Tartaric Acid
Although you can find tartaric acid in various juices, such as apple juice and pineapple juice, grape juice is the only fruit juice that contains a considerable amount of it, ranging from 3 to 9 g/L. Tartaric acid is more potent and found in more significant amounts than malic acid, making it a bigger factor in acidity. In addition, it's considered a potent antioxidant, which boosts immunity and improves digestion.
Citric Acid
Citric acid is an organic acid also found in grapes, but in lesser amounts. Levels in typical, healthy grapes do not exceed 300 mg/L, but they can reach 1 g/L in grapes infected with Botrytis cinerea, a type of plant pathogen. Citric acid aids in the metabolism of energy, mineral absorption, and the prevention and even treatment of kidney stones.
Other Acids
Other acids that contribute to grape juice's acidity include ketoglutaric acid, oxaloacetic acid, fumaric acid, pyruvic acid, gluconic acid, and ascorbic acid, also known as vitamin C. However, they are found in relatively small quantities and do not contribute much to acidity. Although they are weaker than tartaric acid, they do participate in various cellular mechanisms, such as the Krebs cycle.
Does Grape Juice Cause Acidic Blood?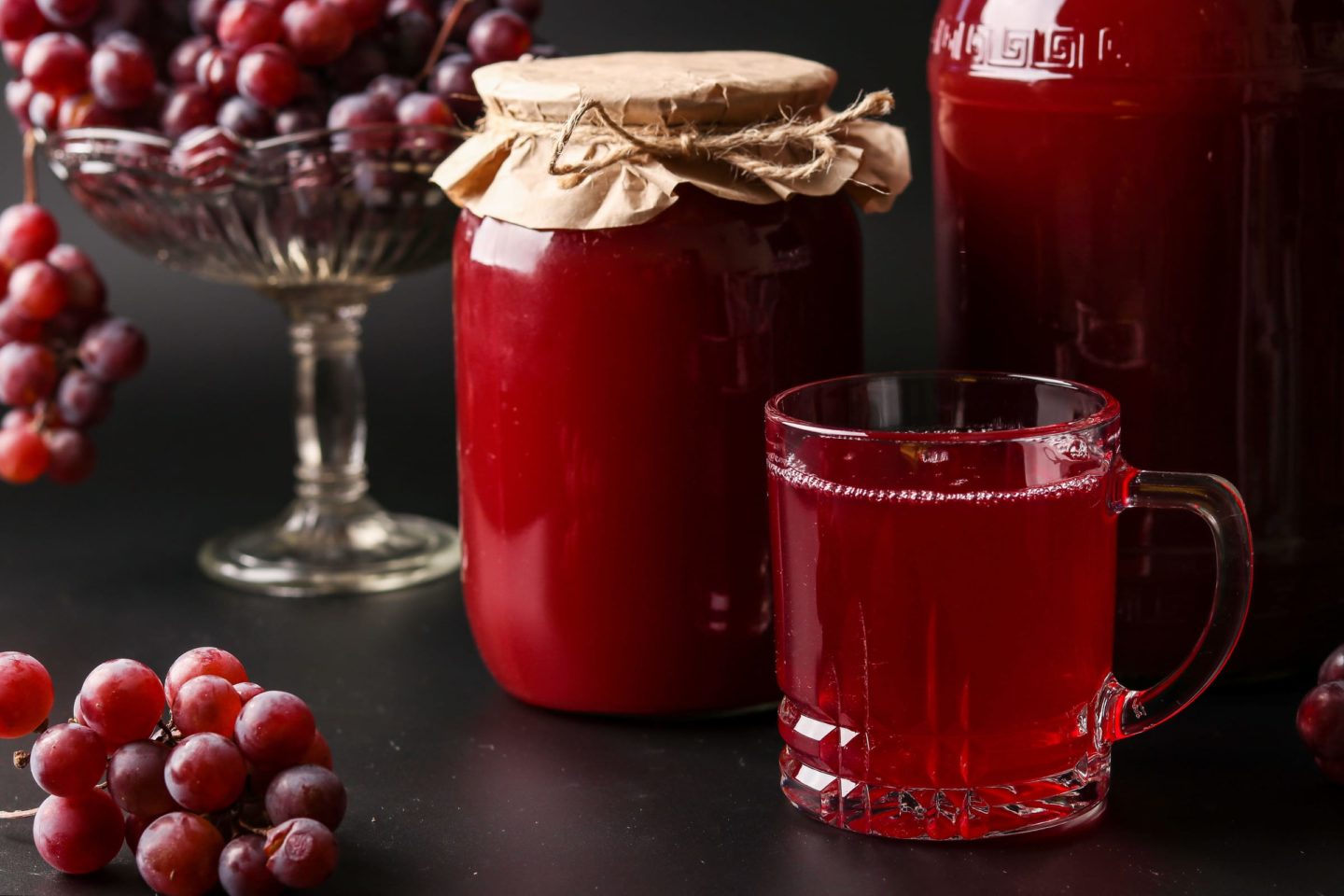 Although your diet may impact the acidity level of your urine, research shows that eating acidic food or alkaline meals has little to no effect on the acidity level of your blood. Acidosis is mainly caused by underlying health issues like unmanaged diabetes, kidney problems, and lung problems.
The Acid-Base Homeostasis
Before you convince yourself to eliminate every acidic food in your diet, you must understand how the body maintains its pH level. The lungs and the kidneys mainly regulate the acid-base balance in the body. That means eating acidic food does not directly affect your blood's pH value or cause acidity per se.
Lung's Function
When there is too much carbon dioxide in the blood, the lungs try to eliminate it as much as possible to bring back the pH level to normal. This mechanism is carried out by hyperventilation. On the other hand, when the blood pH is too high, the body will conserve carbon dioxide through hypoventilation or decreased respiratory rate.
Kidney's Function
The kidney controls the release of base compounds, also known as bicarbonate, and acid molecules, also known as hydrogen ions. When the blood is too acidic, the kidneys release hydrogen ions through your urine and conserve bicarbonate compounds and vice versa to bring back the normal pH value.
Acidic Juices vs. Alkaline Juices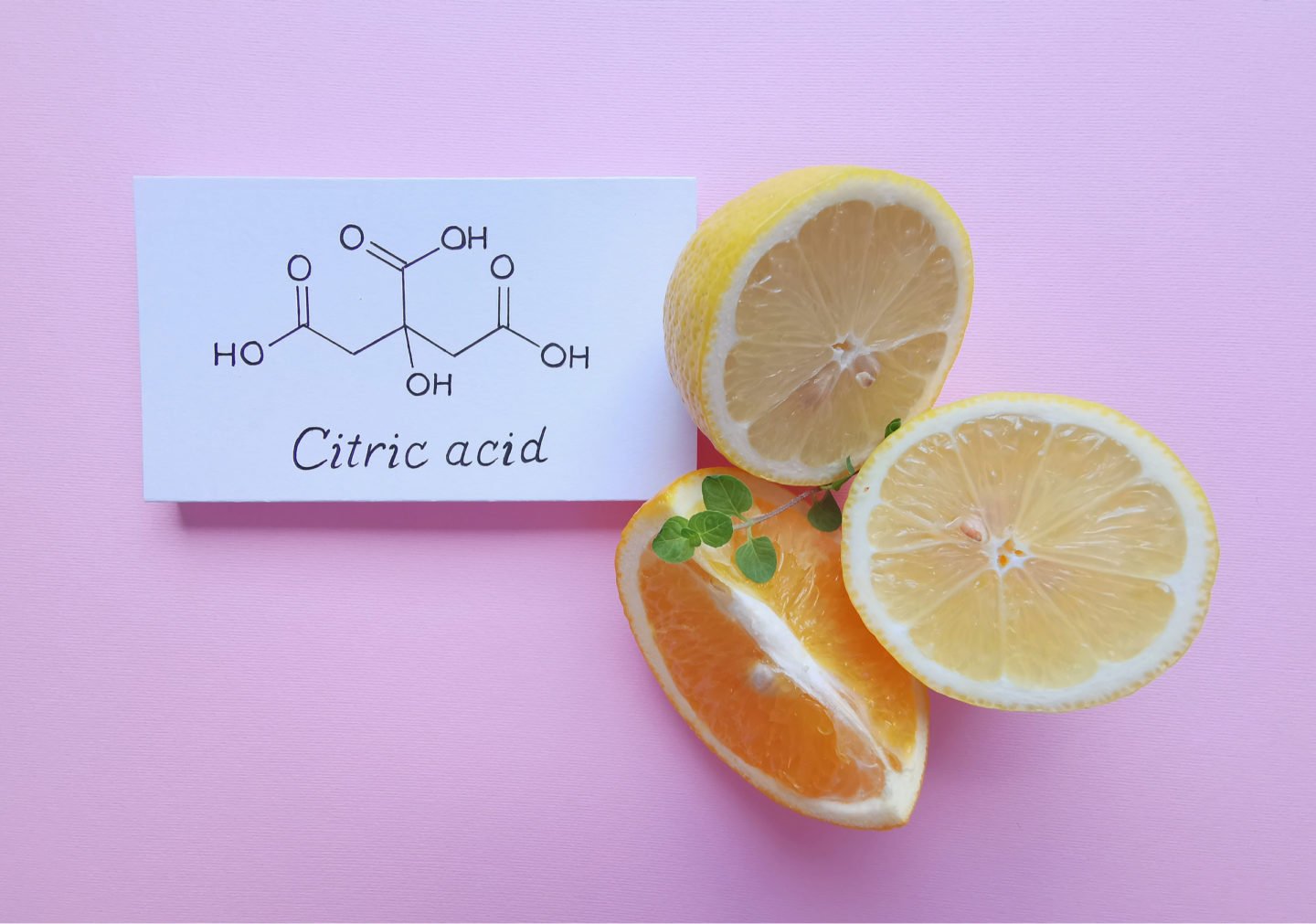 According to Healthline, the fruit juices that are highly acidic include the following:
Lemon Juice (pH: 2.00–2.60)
Lime Juice (pH: 2.00–2.80)
Blue Plum Juice (pH: 2.80–3.40)
Grape Juice (pH: 2.90–3.82)
Pomegranate Juice (pH: 2.93–3.20)
Grapefruit Juice (pH: 3.00–3.75)
Blueberry Juice (pH: 3.12–3.33)
Pineapple Juice (pH: 3.20–4.00)
Apple Juice (pH: 3.30–4.00)
Peach Juice (pH: 3.30–4.05)
Orange Juice (pH: 3.69–4.34)
Tomato Juice (pH: 4.30–4.90)
Cranberry Juice (pH: 2.3–2.5)
Despite being initially acidic, most fruits have organic acid. That gives an alkalinizing effect and does not alter the stomach acid. On the other hand, fruits with higher pH levels include watermelon, mangoes, papaya, kiwi, bananas, pears, and pear juice. Cantaloupe is also an alkaline fruit.
While the alkaline diet hypothesis states that acidic fruit increases the risk of developing cancer and inflammatory diseases, grapes have proven to do otherwise. As a great source of antioxidants, grapes and purple grape juice prevent inflammation and cancer and have been shown to lower glucose, cholesterol, and triglyceride levels.
Related Questions
Can grape juice trigger acid reflux?
Acid reflux, also known as heartburn or acid indigestion, is mainly caused by weakness of the esophageal valve, causing acid to rise back to the esophagus, resulting in reflux. While it rarely happens, acidic fruit juices like lemon juice, lime juice, cranberry juice, and even purple grape juice can trigger acid reflux and heartburn.
Is grape juice more acidic than other juices?
Cranberry juice has a pH value of 2.3–2.5, making it more acidic than grape juice. On the other hand, apple juice, pineapple juice, and orange juice are less acidic than grape juice.
Are all grape-derived products acidic?
Grape wine, such as red wine and white wine, and grape juice have the same pH level, making them acidic. Concord grapes, Concord grape juice, and white grape juice have a pH value of 3-4, almost the same as regular grape juice. However, grape's acidity falls as they ripen, so unripe grapes (including white grapes) are more acidic than ripened grapes.
Are acidic fruits healthy?
Lemon juice, lime juice, cranberry juice, orange juice, and citrus fruit juice, apple juice, and purple grape juice are all acidic and bring much to the table. In addition, they are rich in ascorbic acid or vitamin C and other vitamins. However, do note that it is best to make fresh juice than purchase bottled fruit juice as they may contain added sugar which may cause increased weight and sugar spike.
What acids are in wine grapes?
Wine grapes (red wine and white wine) have three major acids: tartaric acid, malic acid, and citric acids. In addition, acetic acid, butyric acid, lactic acid, and succinic acid all play a part in the winemaking process and the wine grapes' end product.