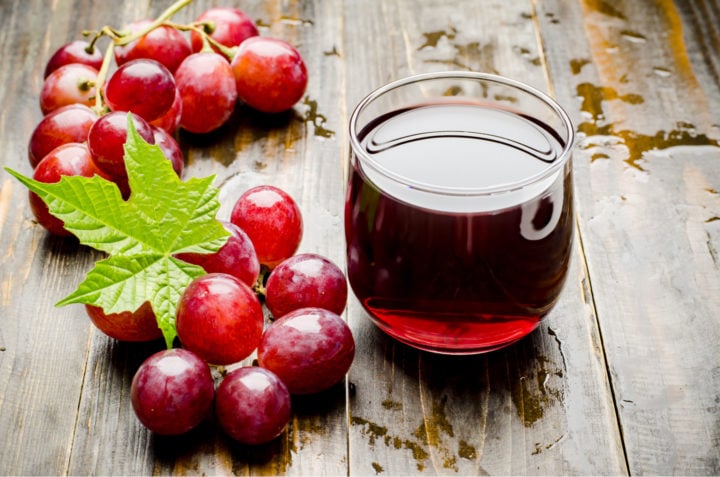 When it comes to fruit juices, grape juice is the most popular. Its naturally sweet flavors with a bitter aftertaste are a winner among kids and adults, making it a popular option in the drinks aisle. Unfortunately, while many companies advertise an "all-natural" grape juice brand, most contain added sugar or preservatives.
Grape juice is famous not only for its taste but also for its health benefits. Some of its benefits include the ability to lower blood sugar, blood pressure, and cholesterol levels, reduce the risk for developing heart disease, maintain a healthy digestive system, and act as a super antioxidant.
If you're someone who drinks grape juice daily or starting a habit of drinking that juice each day, finding the healthiest options is a must. As a rule of thumb, always check the label for added sugar or preservatives when choosing products to buy. Welch's, Lakewood, and other brands that offer 100% grape juice are the best options for you. Keep on reading to find out what brand is best for you.
Table of Contents
Best Grape Juice
1. Overall Best: Welch's 100% Grape Juice
If you're looking for 100% real grape juice with no added sugar but loaded with Vitamin C, Welch's 100% Grape Juice is perfect for you. Welch's real grape juice is one of the most trustworthy and best-selling grape juices, and this brand proves true to its claims.
As the bottle's nutritional facts reveal, each serving (240mL) of juice contains a whopping 120% of vitamin C, 20% manganese, traces of magnesium and calcium, with only 36 grams of sugar. In addition, natural grape juice contains 14% sugar, while Welch's real grape juice contains 15%, confirming no added sugar in these bottled juice.
Moreover, Welch's grape juice is made from Concord grapes and contains no added flavor or colors. Each bottle is rich in antioxidants, nutrients, and flavonoids that promote stronger immunity and heart health and prevent age-related cognitive decline. However, people might find it somewhat bland due to the lack of added sugar and flavorings. Nevertheless, we all love a healthy drink that serves 100% goodness.
2. Best Nutritive: Lakewood Organic Grape Juice
While grape juice naturally contains traces of essential nutrients like potassium, iron, and calcium, Lakewood organic grape juice is enriched with more, making it the perfect option for maintaining heart health. Each serving (240 mL) has the following nutrients and their daily value contribution.
Manganese (10%)
Phosphorus (2%)
Vitamin B6 (6%)
Magnesium (4%)
Moreover, each serving contains 1 gram of protein and 36 grams of sugar, indicating that no added sugar is present. Although some consumers complain about this real grape juice undergoing pasteurization, it is expected that fresh-pressed juices to be pasteurized to prevent discoloration and kill bacteria.
Nevertheless, Lakewood organic offers reliable quality, nutrients, and taste. It is gluten-free with no preservatives added, allergen-free, and has no sulfites. As a pure Concord juice, you might notice crystals settling at the bottom of the glass when left standing, which is perfectly normal.
3. Best Concord Juice: Kirkland Signature Concord Grape Juice
Made purely from Concord grapes. There are no additional flavors and preservatives, best mixed with white or red grape juice.
Pros: 100% pure, not from concentrate. No added sugar and preservatives.
Cons: No vitamin C and other nutrients.
While other brands that advertise their juice as "100% Concord juice" actually contain water and juice concentrate, Kirkland Signature Concord Grape Juice is known to be purely made from Concord grapes and not from concentrates.
Although the brand offers pure Concord juice and has no added sugar, one downside to the product is its lack of added vitamins. The only nutrient included in the nutritional fact sheet is 6% potassium. Since this is a pure Concord grape juice, you can use this to mix with white or red grape juice for a milder taste.
4. Best Affordable: Tropicana Grape Juice Drink
If you're on the hunt for a handy and affordable grape juice drink, you should consider Tropicana Juice Drink. For each bottle, also considered one serving, you'll get 450 mL of grape juice, a total of 114 mg of vitamin C (130% daily value).
However, the main downside for this product is its high sugar levels, with 31g of added sugar in each serving. That brings the total sugar levels to 62%, compared to natural grape juice's 15% sugar content. Although this can get you through a rough day, high-sugar drinks are not advisable for kids and diabetic patients, and regularly drinking this might cause more harm than good.
5. Best Low-Calorie: Welch's Light Concord Grape Juice
If you're on a calorie deficit diet, you will enjoy Welch's Light Concord Grape Juice. You will still enjoy the 90 mg of vitamin C (100% of daily value) while only intaking 45 calories per serving (240 mL).
Since this is a low-calorie drink, you can't expect to have 100% grape juice. Other ingredients have been added to maintain the fruit-like appearance and flavor of the juice. This product includes malic acid for tartness, ascorbic acid, vegetable juice for color, natural flavor, and water.
However, it is important to note that they only use natural flavors and that this is a gluten-free product. This is a cholesterol-free and low-sodium beverage that is safe for everyone. With its low-calorie count and only 4% sugar, this is definitely a diet-friendly drink.
6. Best Organic: De La Rosa Organic Red Grape Juice
De La Rosa Organic Red Grape Juice
Contains only water and grape juice concentrate. No added sugar, preservatives, and flavor.
Pros: All-natural. No additives.
Cons: Lack of vitamins.
As the name implies, De La Rosa Organic Red Grape Juice is 100% organic with only water and organic grape juice concentrate in its ingredients list. There are no preservatives, artificial flavors, or sugar added to this product. With that, there are also no vitamins infused, unlike other brands.
However, despite the lack of vitamins, you will still enjoy this low-sodium levels and cholesterol-free drink. Every serving contains less than 20 grams of carbohydrate (15% of daily value) and 200 mg of potassium (4% of daily value). Low-sodium drinks are good for the heart, lower blood pressure, and bring many other health benefits.
7. Best Concentrated: FruitFast Concord Juice Concentrate
If you want to create your own grape juice mix, we recommend FruitFast Concord Juice Concentrate. The 32 fl oz bottle can last up to 64 days, as the serving suggestion only states two tablespoons of the concentrate. Each serving contains 114 calories, 10% sugar, and only 1% sodium.
According to the packaging, you can mix two tablespoons of the concentrate into your water, tea, and other juices to enhance the taste. There was no indicated amount of water needed, but note that two tablespoons of the concentrate already contain 10% of sugar, and adding too much can cause a sugar rush among kids.
Since this comes in a smaller bottle than regular grape juice bottles, you can save space in the kitchen, and there will be no need to store lots of bottles as one bottle can last for months, depending on your consumption.
8. Best for Kids: Honest Kids Organic Grape Juice
If you're on the look for a perfect drink for your kids, we're sure they will love the Honest Kids Organic Grape Juice. This product comes in a 200 mL pouch that fits perfectly into any small snack bag. Despite being marketed for kids, this product claims to be all-natural, containing no added sugar, preservatives, and artificial flavoring.
The 200 mL pouch comes with only 9 grams of sugar, surprisingly very low. That would mean this drink has been diluted with water, aiming to prevent giving kids a sugar rush after drinking this. However, because of that, the product tastes like how it would—watered down. Nevertheless, this is a safe and healthy drink for kids that you should consider.
9. Best for Weight Loss: Ocean Spray Cran-Grape Juice
If you wish to get the combo for a faster metabolism, try Ocean Spray Cran-Grape Juice. Cranberry juice and grape juice have been separately known to promote weight loss due to the numerous antioxidants that boost metabolism and remove toxins in the body. In addition, it is worth the mention that the product is designed to be travel-friendly so that you can bring one to your workout session.
Aside from aiding metabolism, this cran-grape juice also contains 100% Vitamin C, boosting the immune system. However, the main downside of this product is its additives. For each serving, there's a whopping 22 grams of added sugar. There is also citric acid, fumaric acid, sodium citrate, and vegetable concentrate for color in the ingredients list.
10. Best for Curing Constipation: Langers Apple Grape
If you're suffering from constipation or prone to developing constipation, you should try Langer's Apple Grape Juice. Apple juice is one of the top 3 juices against constipation. In addition, grape juice has been proven to hydrate the intestines and promote digestion, making this apple juice and grape juice combo a must-have among constipated people.
According to the nutrition facts sheet, each serving (8 fl oz) contains 120% vitamin C, no added sugar, no gluten, flavorings or sweeteners, and even colorings. However, the packaging is made with plastic and is not tamper-proof. Make sure the ring and cap are intact before purchasing to secure product quality.
11. Best White Grape Juice: Welch's 100% White Grape Juice
Welch's 100% White Grape Juice, 64 oz Bottle
A crisper and lighter grape juice. A rich source of vitamin C without added sugar.
Pros: Milder and sweeter taste, no added sugar, and rich in vitamin C.
Cons: Other additives present.
We recommend Welch's 100% White Grape Juice if you want a lighter flavored grape drink. Unlike regular grape juice, white grape juice is obtained from skinned grapes, resulting in a lighter, crisp flavored fluid. Although red grape juice contains higher antioxidants, white grape juice is rich in vitamin C and shares the same health benefits as red grape juice.
According to its nutrition facts sheet, each serving (8 fl oz) contains 90 mg of vitamin C, 30 mg of calcium, 140 mg of potassium, and only 36 grams of sugar. No added sugar is noted, although the product contains some preservatives and citric acid for tartness.
12. Best Sparkling Grape Juice: Welch's Bottled Sparkling Red Grape Juice Cocktail
For celebrations that call for a non-alcoholic drink, we recommend Welch's Bottled Sparkling Red Grape Juice Cocktail. Sparkling juices are left to ferment a bit to achieve natural carbonation, causing that sparkly, crisp taste to it. In addition, the fermentation process allows the extraction of more antioxidants, making this drink healthier than alcoholic beverages.
Despite the affordable price, Welch's sparkling grape juice presents elegant packaging. Each 25.4 fl oz bottle can serve up to 3 glasses of goodness, each serving containing 160 calories and 38 grams of sugar. Although it has high fructose corn syrup, it does not pose a serious case as this drink is meant to be drunk only on occasions.
Related Questions
What are the best grape juices for health?
The best grape juices for health have high levels of vitamin C, contain other nutrients, and have no added sugar. This article has included Welch's 100 percent grape juice and Lakewood organic grape juice as our top healthy grape juices. Aside from containing no additives, these brands offer grape juices with high vitamin C contents and other nutrients.
What is the best tasting grape juice?
When it comes to taste, you can expect all-natural grape juices to be blander than those with added sugar. While grape juice is already naturally sweet, other companies incorporate sweeteners like high fructose corn syrup and flavorings to enhance the taste.

However, 100% Concord grape juice like 365 Organic grape juice and Fruitfast concentrated Concord grape juice offers excellent taste without added sugar.
What are the pros and cons of drinking grape juice?
Grape juice is a rich source of antioxidants and vitamins. Because of this, grape juice contributes significantly to one's well-being. However, when taken in massive amounts, fresh grape juice might act as a laxative that can cause diarrhea and stomach pains. Moreover, people with a grape allergy might experience coughing, nausea, and vomiting when given grape juice.
How healthy is grape juice compared to red wine?
Red wine is essentially fermented grape juice that develops alcohol during fermentation. While both contain vast antioxidants that lower risks for heart diseases by lowering LDL or bad cholesterol, red wine has about 14% alcohol, which can be dangerous when taken in massive amounts daily. On the other hand, you can drink fresh grape juice and get the same benefits without the risk of intoxication.
What are the benefits of grape juice?
Some of the known benefits of drinking grape juice include the following: reducing risks for blood clot formation, reducing bad cholesterol levels, protecting the blood vessels in the heart from damages, and aiding in maintaining normal blood pressure.

Since fresh grape juice contains high levels of antioxidants, daily intake can prevent heart disease, reduce the risk of cancer, and slow down aging.
Can you drink grape juice during pregnancy?
Generally, unpasteurized fruit juice should be avoided during pregnancy. However, since most bottled grape juices that you see in stores have been pasteurized, they are considered safe for pregnant women.

Moreover, grape juices are a great source of vitamin C that strengthens immunity and also calcium and iron that aid in the baby's development. They are also rich in antioxidants that bring many health benefits.
How to make homemade grape juice?
Here's what you need to do to make homemade grape juice:

1. Gather your grapes and wash them. Destemming the grapes is also a necessary step. Note that a pound of grapes will only yield a cup of juice, so make sure to prepare more if you wish to extract more juice.

2. Using a potato masher, start mashing the grapes in a bowl. Make sure that you smash every fruit to extract the most juice.

3. Cook the grapes. This will serve as the pasteurization stage. This will ensure that no bacteria will contaminate the juice once you put them in jars.

4. Strain the mixture using a cheesecloth. It may not drain immediately, so you need to wait for a few hours to complete the straining.

5. Place the filtered juice in clean jars. Make sure that no contaminant will spoil the juice. Air exposure will also call for fermentation and cause the liquid to turn sour. Make sure the jars are sealed properly.