Espresso is one of the most popular ways to drink coffee worldwide. It's a small, concentrated drink that forms the base of many popular drinks like lattes.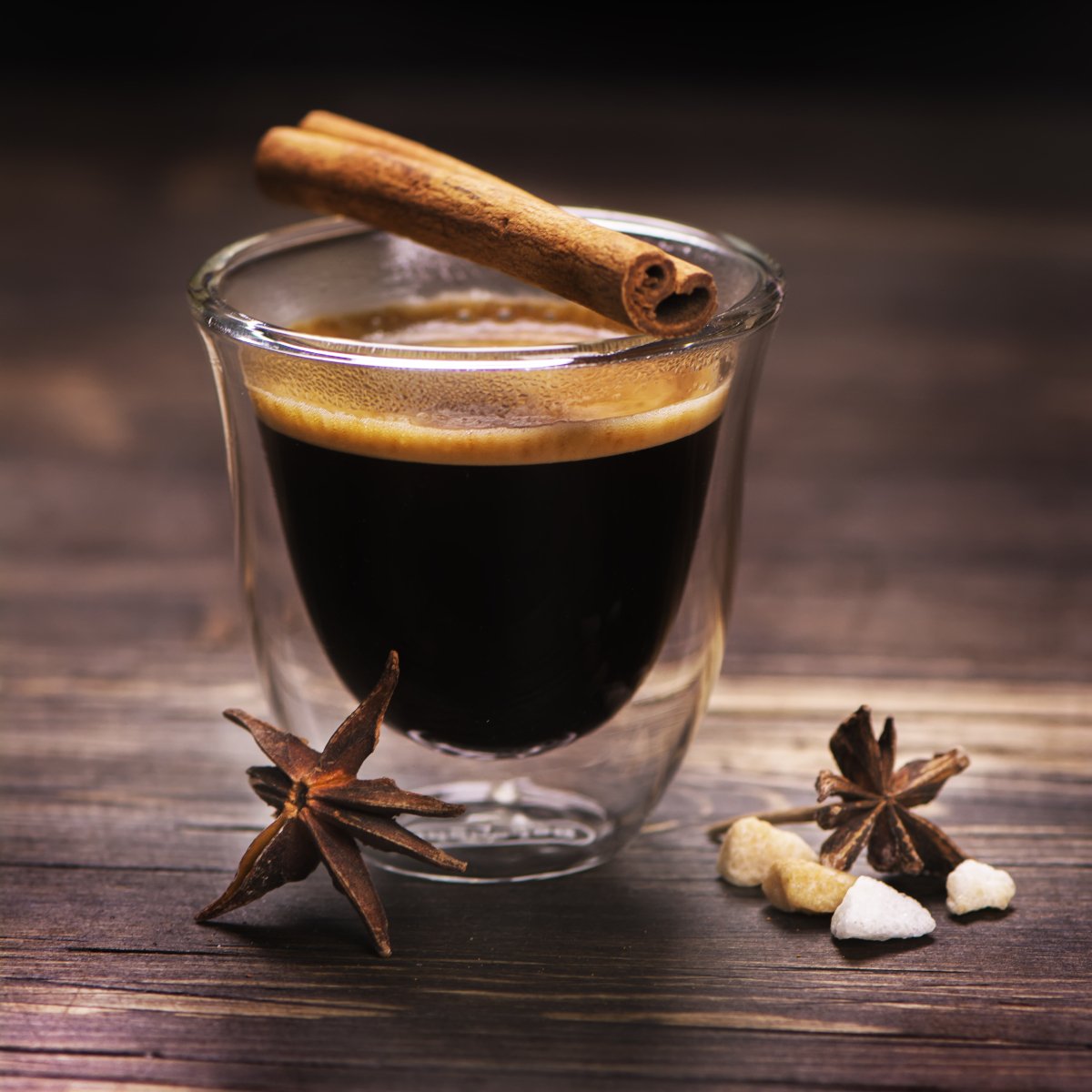 But just how much caffeine is in a shot of espresso?
Generally, one shot of espresso has about 63 mg of caffeine.
While that might not seem like much, remember that one shot of espresso is only about 1 ounce. Many coffee shops use a double shot as their standard, meaning you get about 126 mg of caffeine per drink.
In this article, let's break things down further and examine how espresso can change how much caffeine you're getting in your coffee drinks.
Table of Contents
How Much Caffeine In A Shot Of Espresso?
I'll say right off the bat that it's pretty hard to determine the amount of caffeine in a single shot of espresso.
But there are guidelines and general estimates we can work with to better understand the amount of caffeine we're drinking.
Here is a table showing the approximate caffeine content (in milligrams) of 1-5 shots of espresso:
| Shot(s) of Espresso | Caffeine (mg) |
| --- | --- |
| 1 | 63 |
| 2 | 126 |
| 3 | 189 |
| 4 | 252 |
| 5 | 315 |
The actual caffeine content can vary depending on factors such as the roast of the beans, the brewing method, and the serving size. These numbers are an estimate based on an average shot of espresso.
You might notice that a single espresso doesn't have that much caffeine. This is because of its high concentration.
Let's get into the nitty gritty about espresso and discuss the caffeine content and why it changes from espresso to espresso.
What Is Espresso?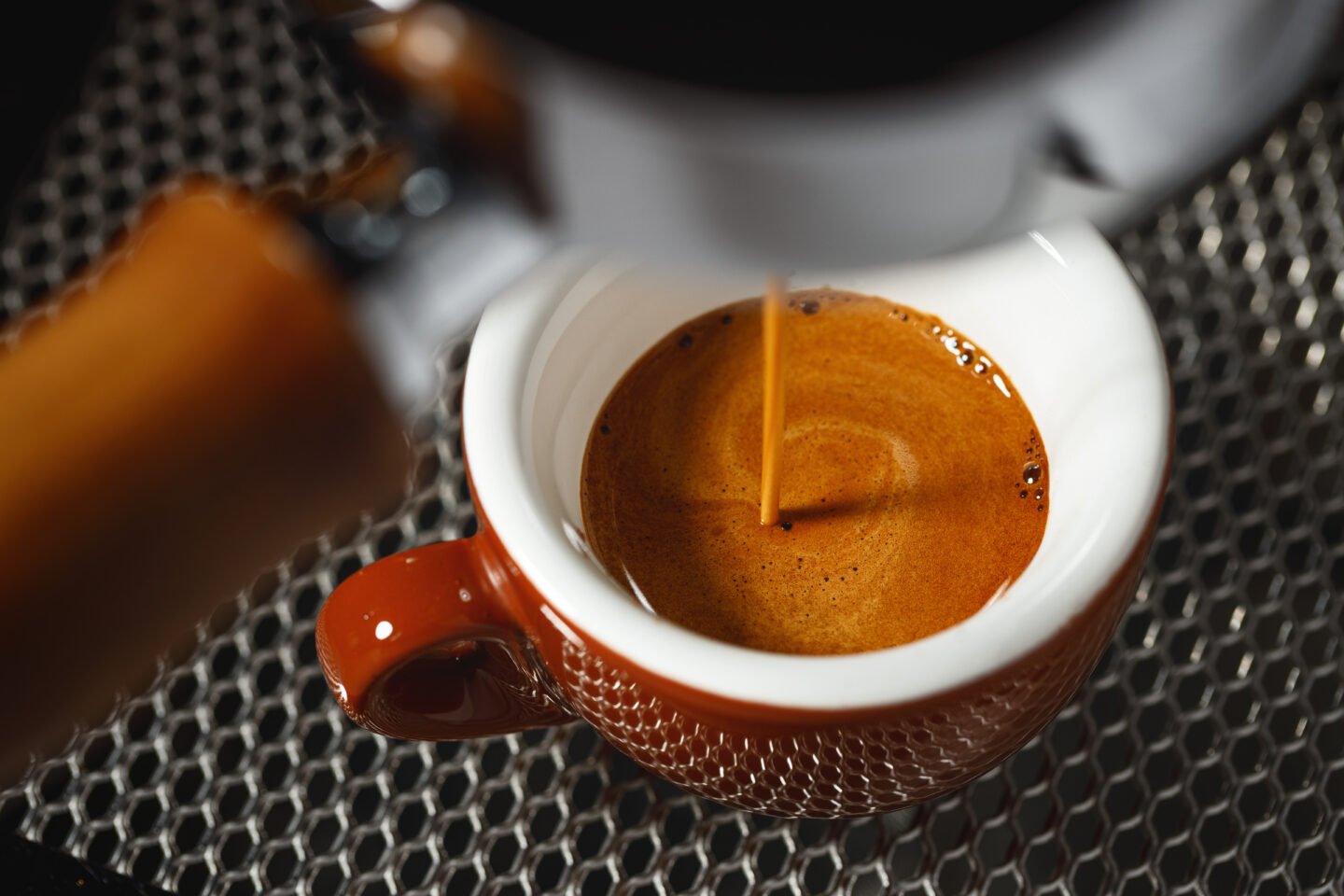 Espresso is a strong, concentrated coffee drink made by forcing hot water through finely-ground coffee beans. Cafes typically serve it in small portions of 1-2 ounces. It's known for its bold flavor and high caffeine content.
Espresso is also the base for popular coffee drinks like lattes, cappuccinos, and macchiatos.
Espressos are a highly concentrated and flavorful coffee rich in aroma, taste, and caffeine. Think of all the taste and flavor of a drip coffee packed into a 1 or 2-ounce drink instead of 8 ounces.
I think it's important to know the process of making espresso because the preparation method greatly impacts how much caffeine is in your drink. Here's a step-by-step explanation of the process of making espresso:
Start with high-quality, freshly roasted coffee beans: To make great espresso, you'll need high-quality coffee beans roasted specifically for espresso. The type of bean, roast level, and grind size will all affect the flavor and aroma of the final product.
Grind the coffee beans: The beans must be ground finely to allow the hot water to extract as much flavor and caffeine as possible. This is why a burr grinder is often used to produce a consistent grind.
Fill the portafilter: The ground coffee is then placed into the portafilter. It's part of the espresso machine that holds the ground coffee while brewing. The portafilter should be filled to the right level and tamped down firmly to ensure that water gets evenly distributed.
Brew the espresso: The portafilter is locked into the espresso machine. Then, the hot water is forced through the ground coffee under high pressure (usually 9 bars or more). This process typically takes 20-30 seconds and results in a shot of espresso that is approximately 1-2 ounces.
Enjoy the espresso: The resulting shot is rich in flavor, aroma, and caffeine. It is meant to be enjoyed immediately after it is brewed. Some people like to add steamed milk or foam to make cappuccinos or lattes. Others prefer to drink it straight.
Espresso is an important component of many coffee-based drinks. It's widely popular because of its rich, bold flavor and energizing effects. Whether you drink it straight or use it as a base for other coffee drinks, it's a staple of coffee culture worldwide.
Espresso Vs. Brewed Coffee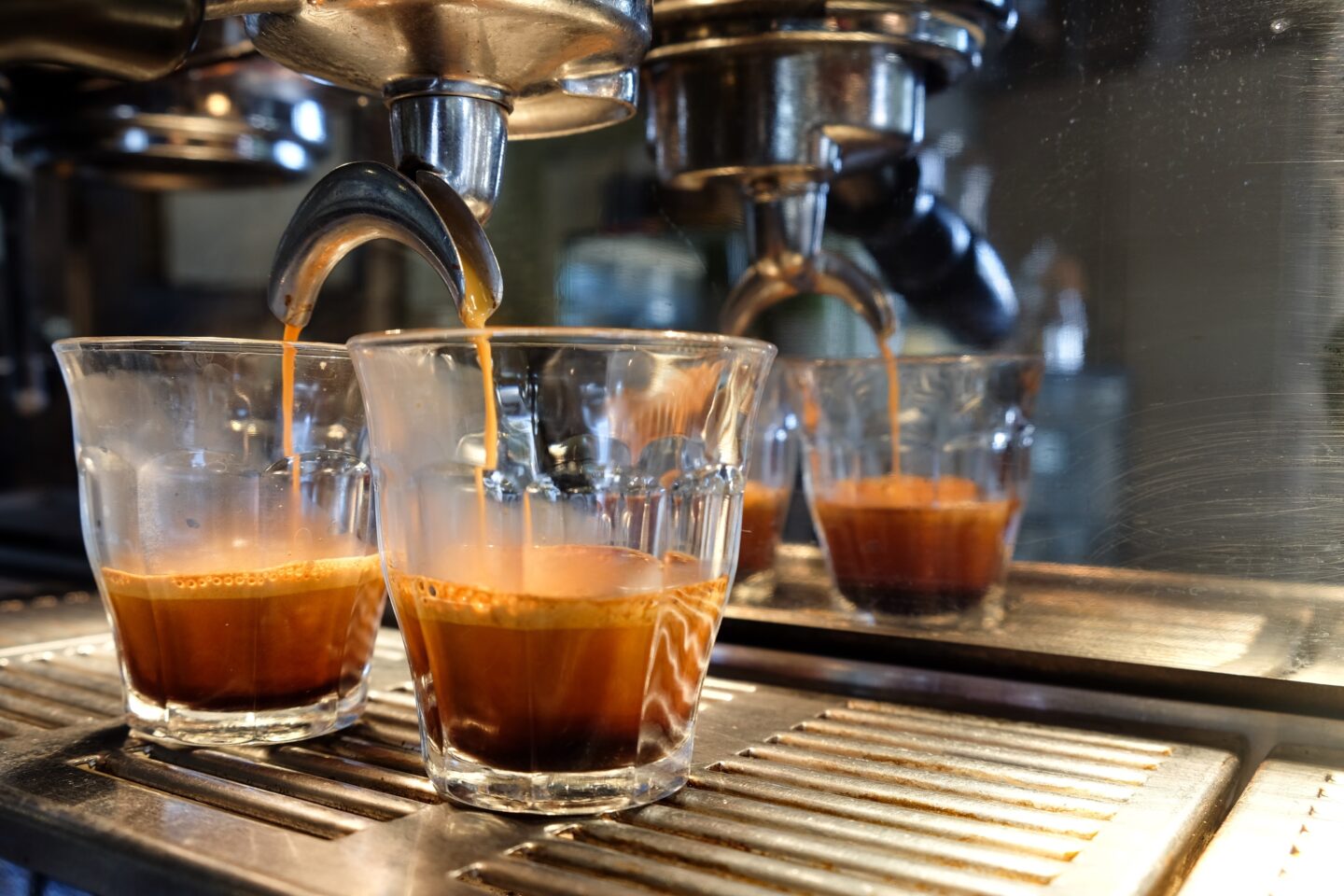 Espresso and drip coffee are not the same things. The differences in preparation, brewing, grind size, and use are on opposite ends of the coffee spectrum.
But does that mean they have a different caffeine content?
Yes, they do. Espresso generally contains more concentrated caffeine than brewed coffee. But not in the way you're thinking.
A shot of espresso typically contains 63 milligrams of caffeine. Meanwhile, an average 8-ounce cup of regular coffee contains about 95 milligrams of caffeine.
This means espresso is more highly concentrated, providing a stronger and quicker caffeine boost than brewed coffee. However, this can vary depending on factors such as the roast of the beans, the brewing method, and the serving size.
The bottom line is that espresso only has more caffeine if measured in caffeine per fluid ounce. But brewed coffee has more caffeine per serving.
Espresso's brewing process extracts more caffeine and flavor compounds than traditionally brewed coffee.
Basically, the high-pressure brewing method and small serving size of espresso result in a more concentrated and potent form of coffee with a higher caffeine level than brewed coffee.
Other Coffee Drinks Vs. Espresso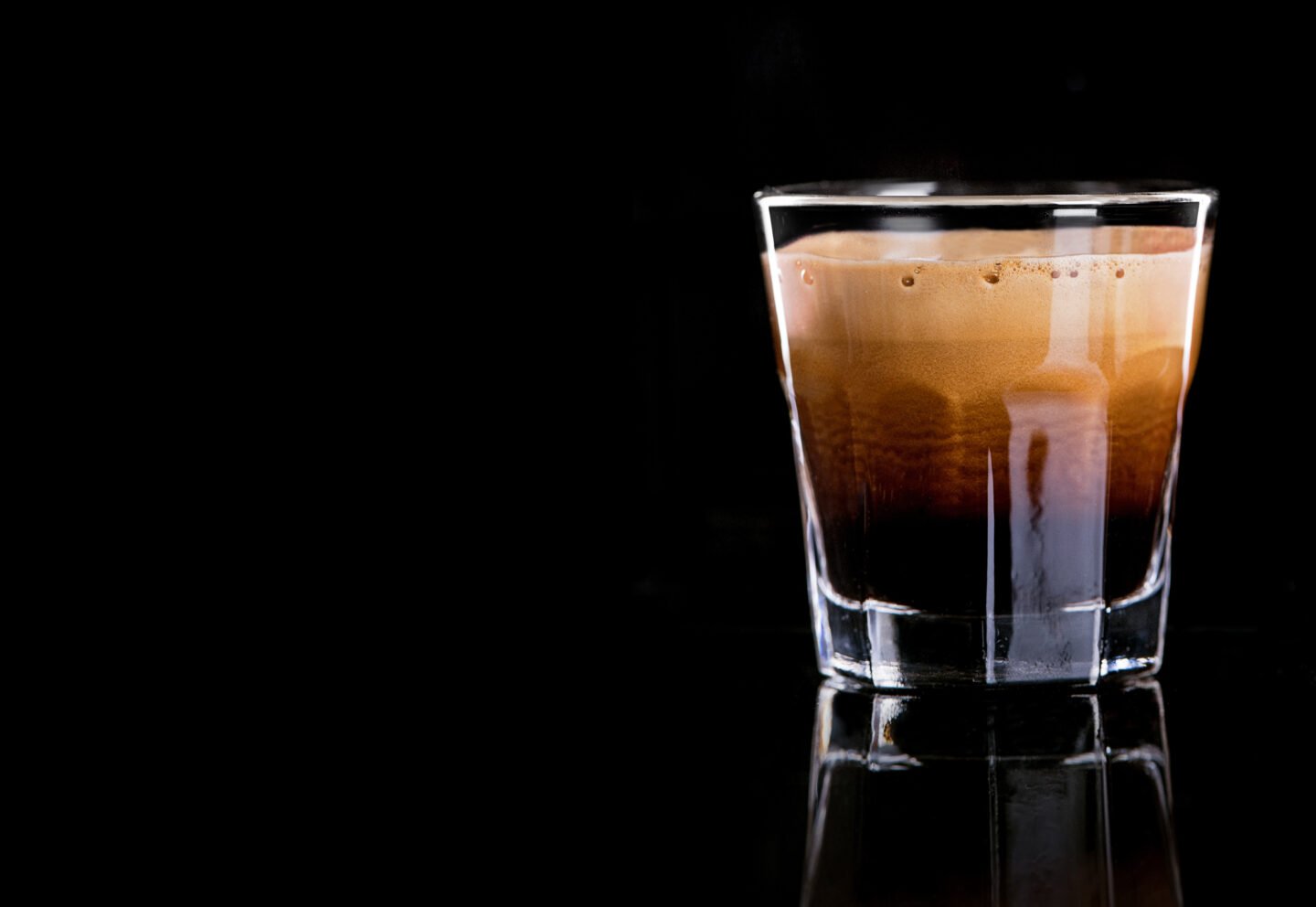 Other coffee drinks have different caffeine levels.
For example, cold brew coffee has about 100 mg of caffeine per 8 ounces. That's similar to but a little higher than regular coffee.
On the other hand, instant coffee has only about 50 mg of caffeine per 8 ounces. That's much less than either drip coffee or espresso.
The bottom line is that preparation, brewing, and the type of coffee will greatly impact the caffeine level.
Things That Change Caffeine Content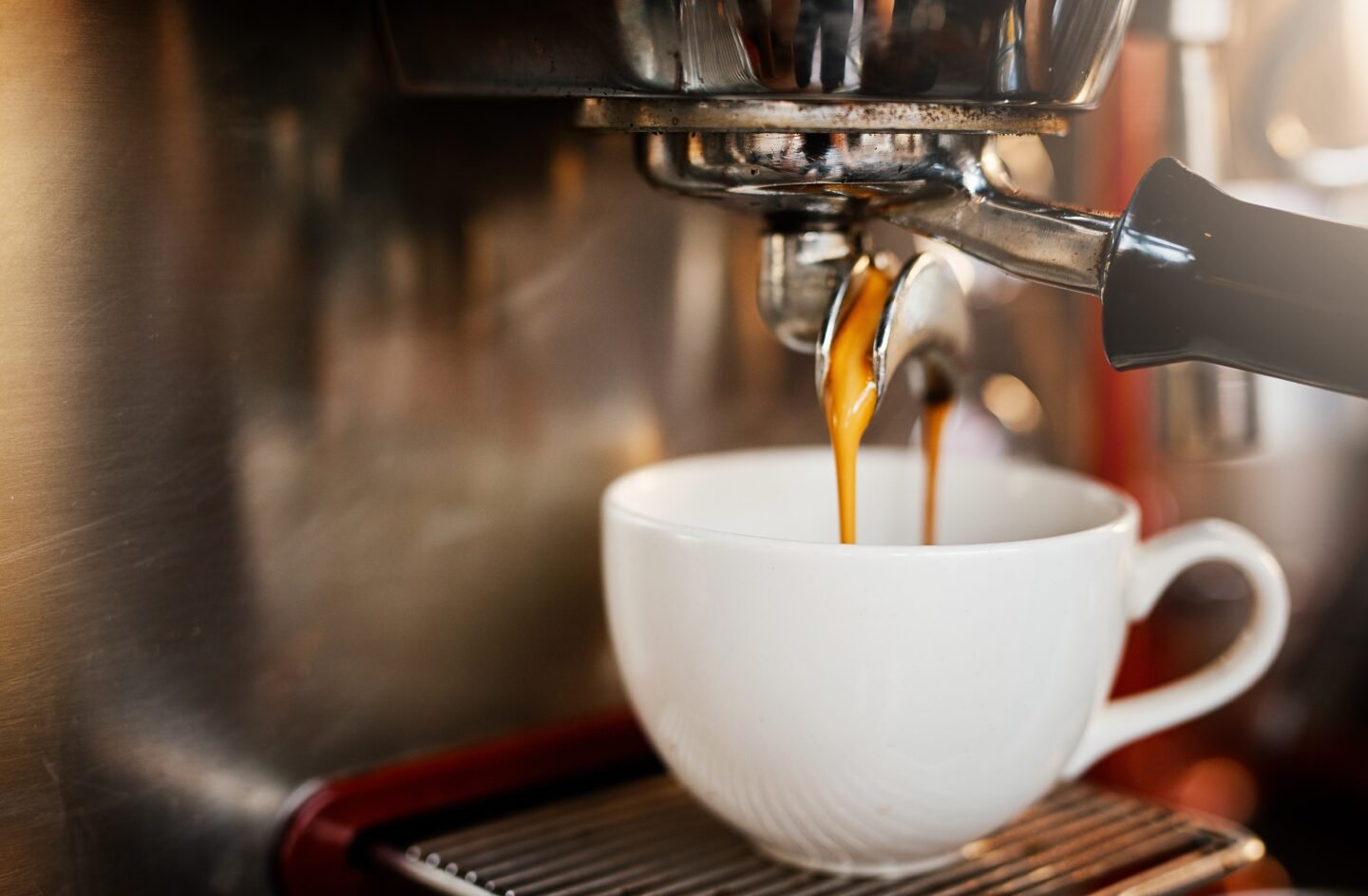 You should be aware that caffeine contents for espresso are general guidelines and estimates. It's nearly impossible to say just how much caffeine is in any shot of espresso.
Many factors change the exact caffeine content of your espresso. Here are a few factors that can affect the amount of caffeine in an espresso:
Type of coffee beans: Different coffee beans have varying levels of caffeine. Some varieties naturally contain more caffeine than others. For example, Robusta beans generally have almost twice the caffeine content of Arabica beans.
Roast level: Lighter roasts generally have more caffeine than darker roasts. The roasting process can reduce the caffeine content of the beans.
Grind size: Finely ground coffee beans release more caffeine into the water than coarser grinds.
Serving size: A larger serving size of espresso will contain more caffeine than a smaller serving size. Some coffee shops use a double shot of espresso as their standard, while others use only one shot.
Brewing method: Different espresso machines and brewing methods can affect the amount of caffeine extracted from coffee beans.
It's important to remember that these factors can interact and affect the final amount of caffeine in espresso. The caffeine content can vary greatly depending on the specific coffee and brewing method.
How Much Caffeine Is Too Much?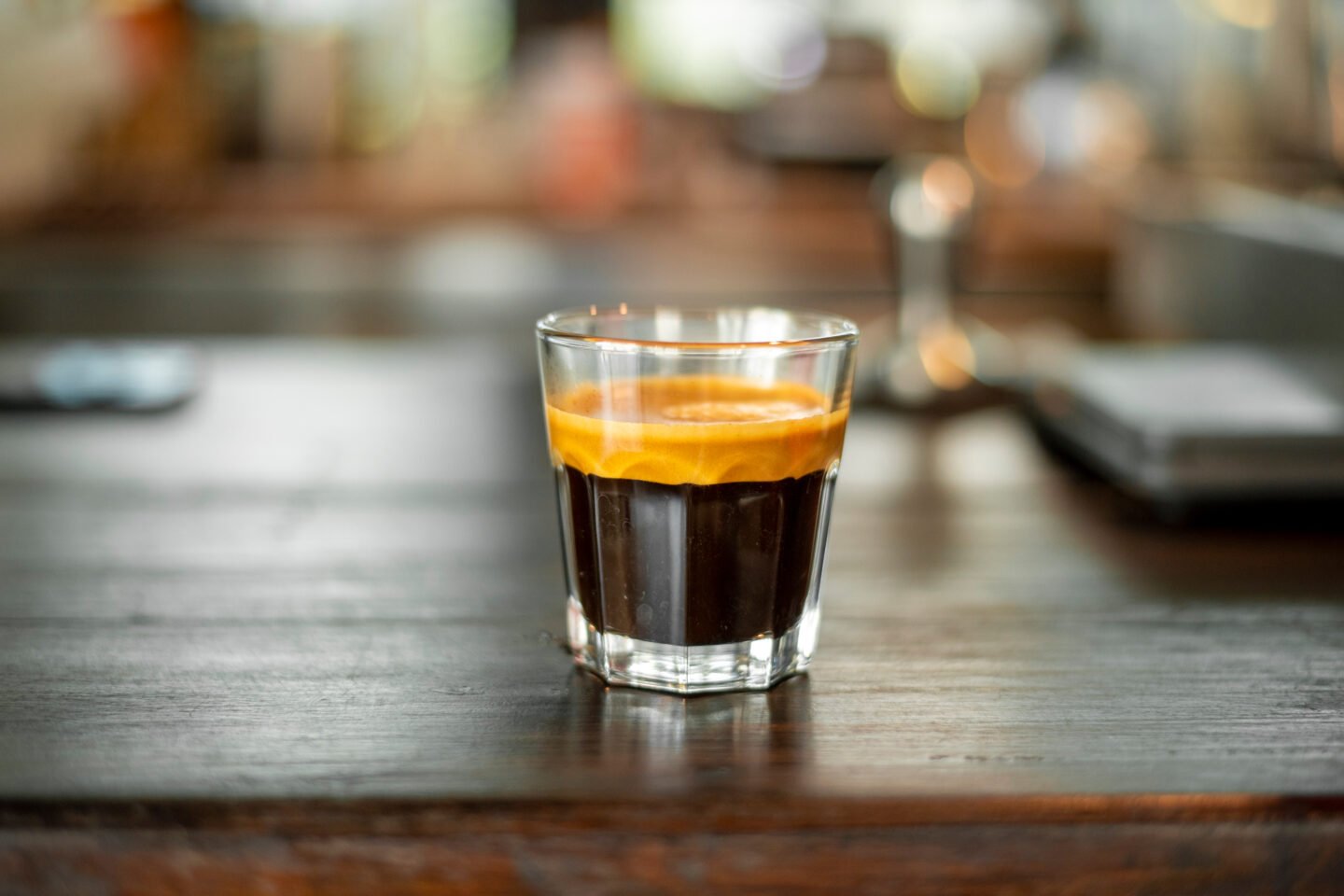 The amount of caffeine considered too much for an individual can vary based on several factors, including age, weight, health, and tolerance.
The most important thing to do is pay attention to how you react to caffeine. And note that caffeine tolerance changes based on how much caffeine you consume.
For example, as a barista, I regularly drank 3-4 espresso shots and a brewed coffee or two throughout a shift. And I found that all that caffeine eventually didn't have much of an effect on me.
But these days, I get jittery if I have more than two cups of brewed coffee. It's best to listen to your body and adjust your caffeine intake accordingly.
However, a general guideline from the U.S. Food and Drug Administration (FDA) is to limit caffeine intake to no more than 400 milligrams per day for healthy adults. That's quite a bit of caffeine.
It's worth noting that excessive caffeine consumption can cause symptoms such as increased heart rate, jitters, anxiety, insomnia, and upset stomach. If you experience any of these symptoms, reducing your caffeine intake is best.
It's also important to remember that some individuals may be more sensitive to caffeine. Some even experience negative effects at lower consumption levels. If you're pregnant, have a pre-existing medical condition, or take any medications, it's best to consult a healthcare professional before consuming caffeine.