Looking for a healthy white fish recipe? Then try out this air fryer walleye! It is easy to make, mess-free, and takes only 20 minutes to cook. Also, this recipe is keto and low in calories.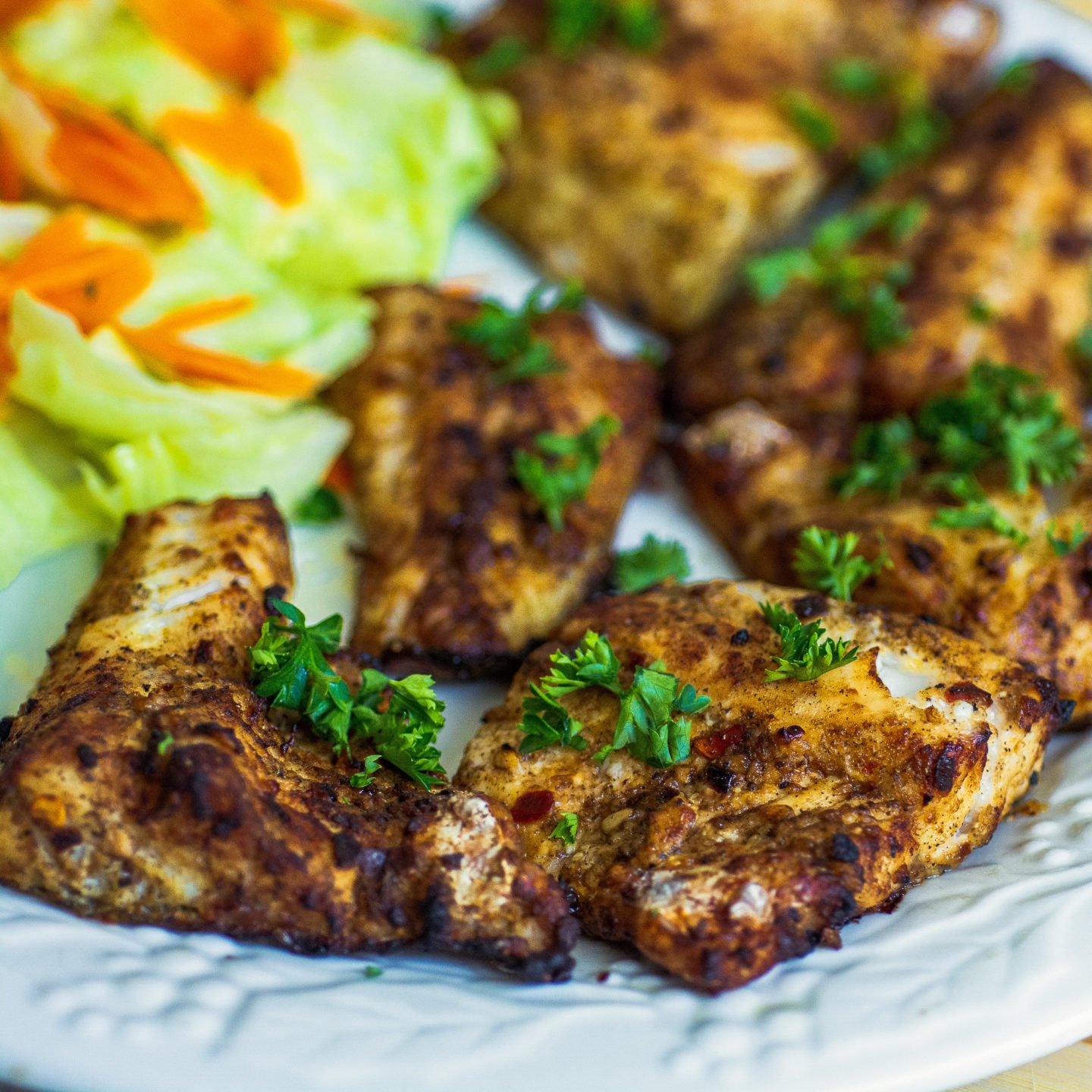 It's possible to serve this air fryer walleye either as a nice and filling lunch or a quick late-night dinner (it all depends on how you choose to serve it). Also, the fish itself is pretty high in protein, which should boost your daily protein intake.
You can mix and match different spices to adjust the flavor of this walleye fish recipe. But trust me, following through with these ingredients is definitely worth it.
Table of Contents
Is Air Fryer Good for Fish?
Yes! Actually, using an air fryer is one of my favorite ways to cook fish. This way, it turns out completely healthy and incredibly delicious (of course, only when you use the right ingredients).
You can cook any kind of fish using an air fryer. If this is your first time making fish in an air fryer, make sure to check out my recipe tips below for more information on how to cook the best possible air fryer walleye.
Ingredients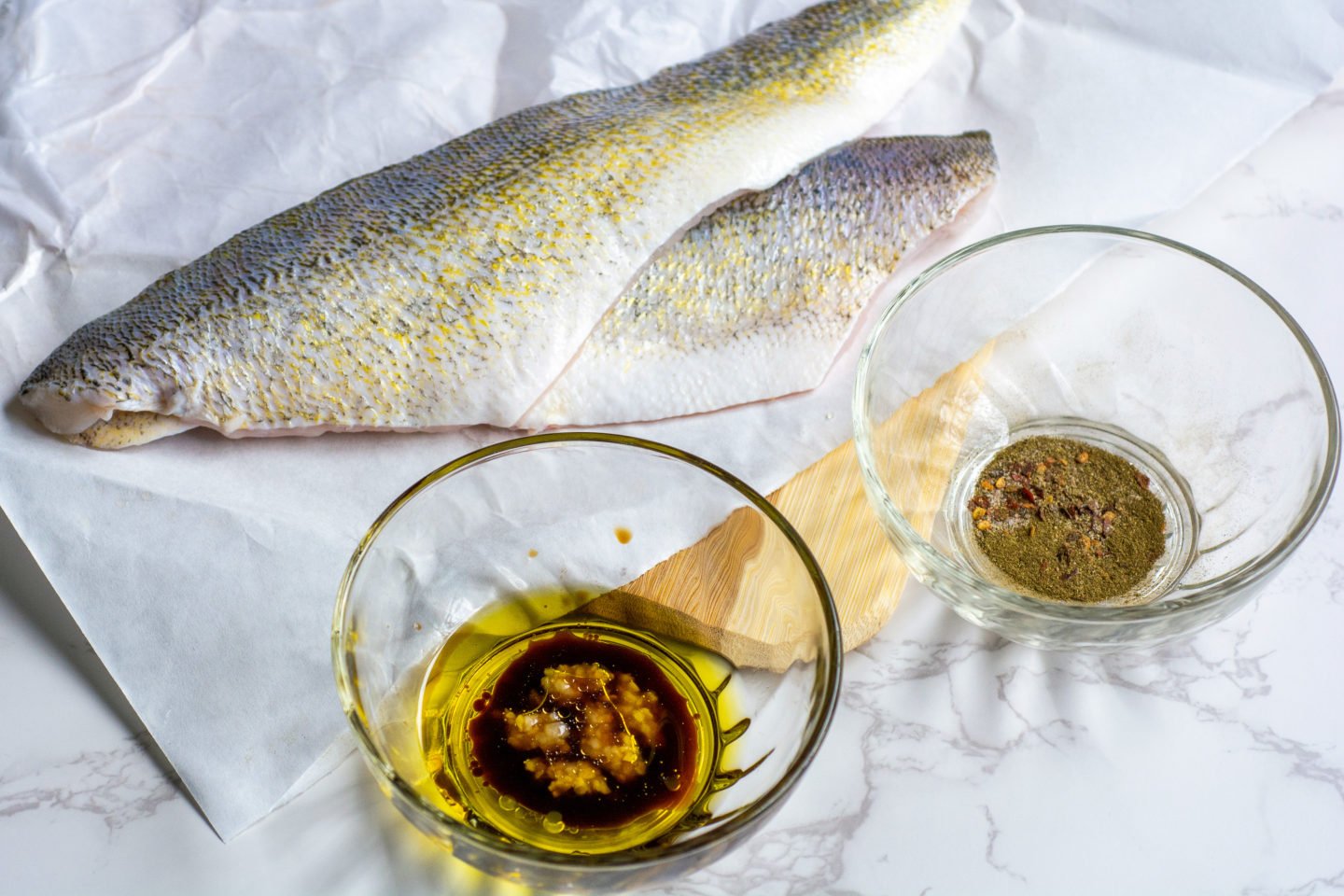 For this healthy walleye air fryer fish recipe, I chose not to use any kind of bread crumbs or flour coating. But instead, I chose to marinate the fish before air frying it. If you've never done this before, then trust me, this is the best possible way to double the taste of your fish and ensure that it's flavorful both inside and out.
For this air fryer recipe, you can use either fresh or frozen walleye fillet. If you go with the latter, remember to thaw the fish before air frying it.
Here's what you should prepare for the fish marinade:
Olive oil: lately, I do almost all of my cooking with olive oil, but if you wish, you can definitely replace it with avocado oil or sunflower oil.
Garlic: only fresh minced garlic should be used. If you use garlic powder or granulated garlic, the walleye would have the needed aroma.
Worcestershire sauce: I love this sauce since it adds a deeper flavor to any sauce or dish, including this walleye fish.
Ground thyme: thyme is perfect for seafood, especially this kind of fish.
Red pepper flakes: I love adding some heat to any kind of fish, and this one is no exception. If you don't want it to be spicy, simply skip this ingredient.
Salt and pepper: adjust to your preferences.
Once ready, you can drizzle the cooked fish with some fresh lemon juice and garnish with chopped parsley.
How to Make Air Fryer Walleye Fish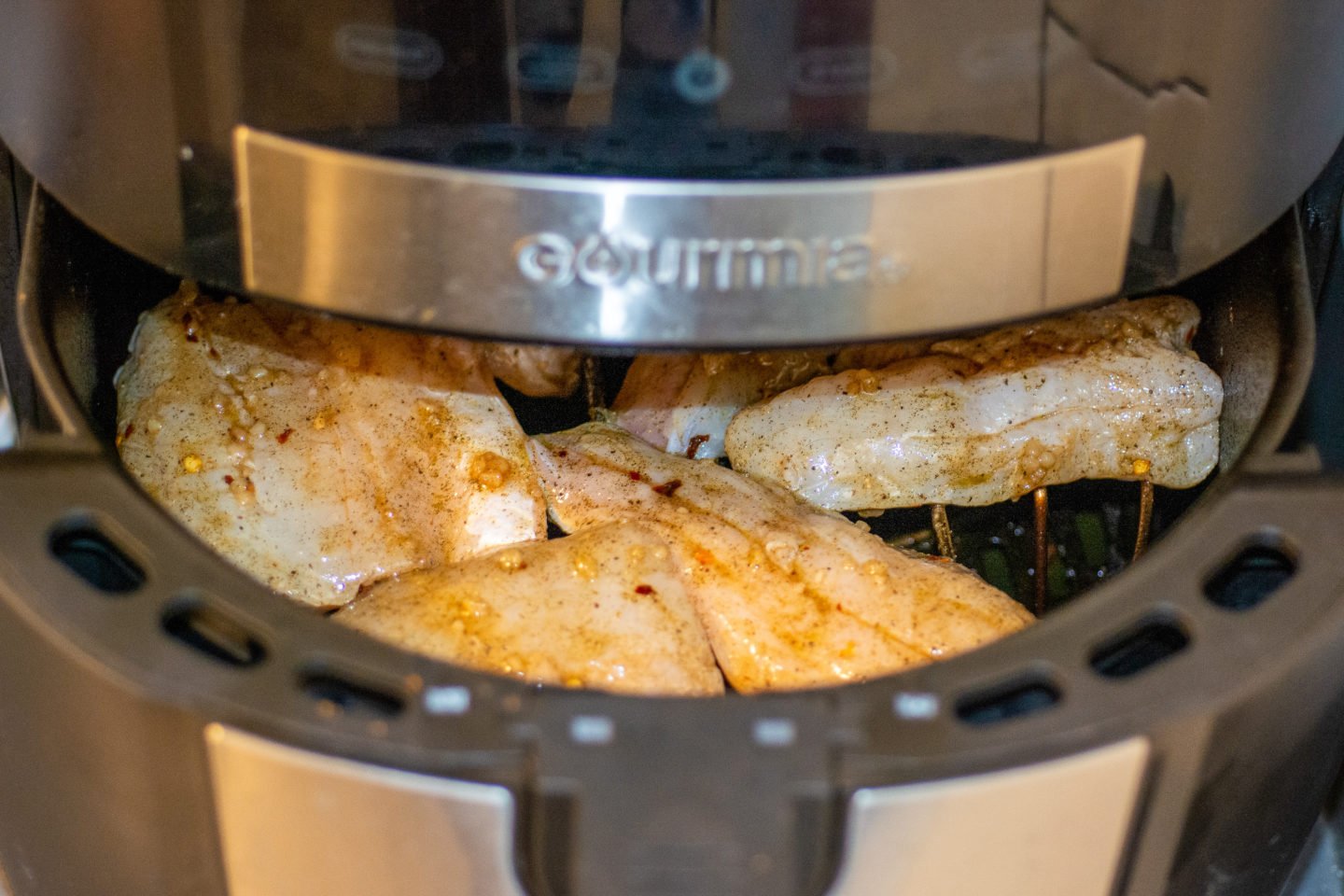 As I've already mentioned, this walleye recipe entails marinading the fillets. Once you've gathered all of the ingredients, simply mix everyone needed for the fish marinade and dip the fish into it. Then cover everything with some plastic food wrap and place the bowl with the fish into your fridge.
It's best to wait around 2-3 hours for the walleye to marinade perfectly. Trust me. Once you try making the fish this way, at least one time, you'll never go back to how you used to do it. The fish turns out loaded with flavor when marinaded, and you won't believe how amazing it will taste once ready.
Now that the fish is prepared, you'll need to do the following:
Preheat your air fryer. Set the temperature to 380 degrees F.
Place the walleye fillets on the air fryer rack.
Air fry it for 12-15 minutes.
That's it! The fish should be slightly crisp on the outside while moist and flaky on the inside.
Recipe Tips
If you're worried about making walleye in an air fryer, here are some tips that can become helpful:
Don't place the fish in layers on the air fryer rack, and make sure that the walleye pieces don't overlap.
Flip the walleye halfway through. That will ensure that the fish is equally cooked on both sides.
Take into consideration the thickness of the walleye fillets when air frying them. The thicker the fish, the longer you should cook it.
There's no need to take the skin off the walleye fish. It will be eatable once the fish is cooked.
Storing Instructions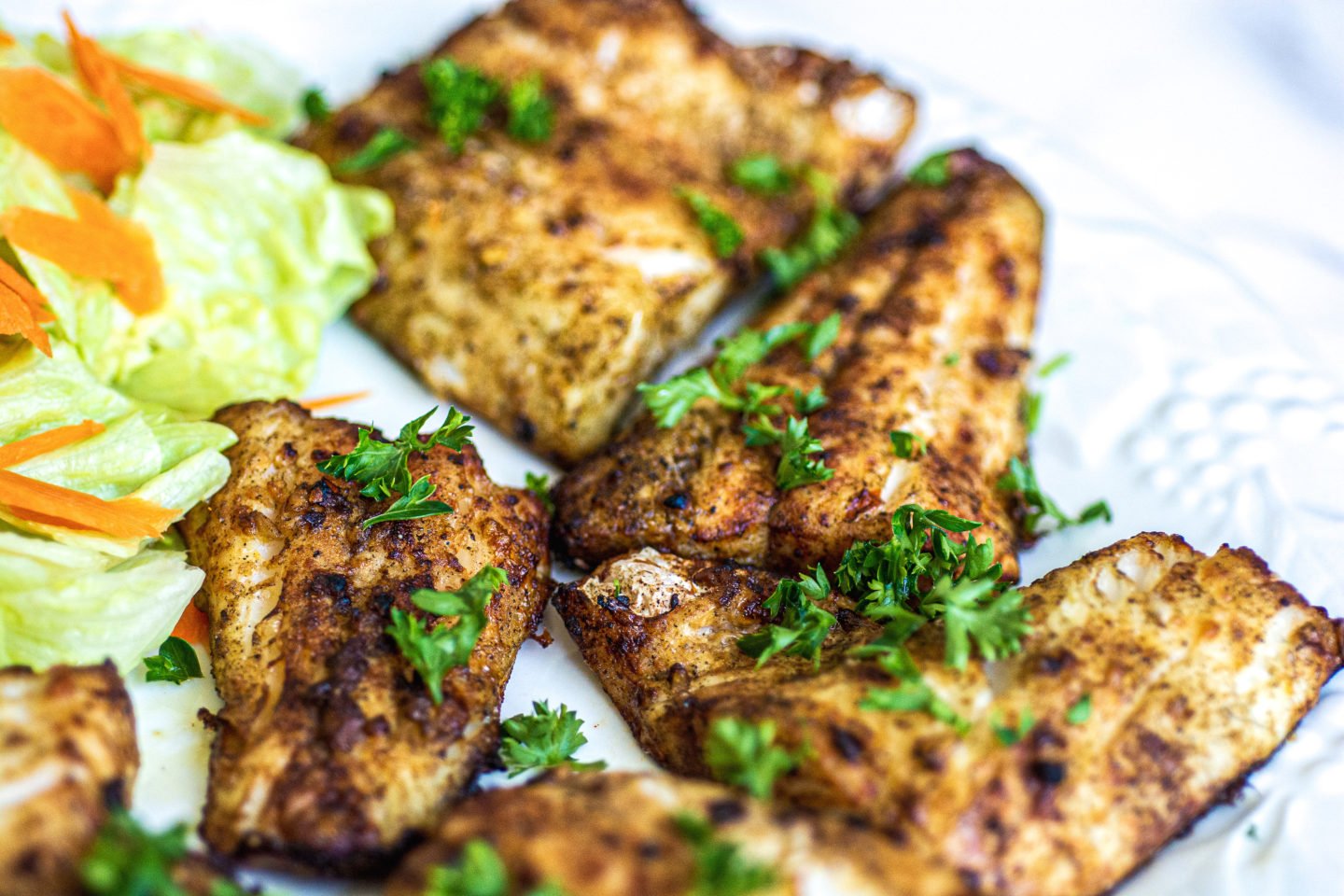 Let the cooked walleye cool down completely before placing it into your refrigerator. Then simply cover it with some plastic food wrap or place the fish into an airtight container. This way, you'll be able to store the cooked walleye in your fridge for up to 3-4 days.
Make double this recipe and store the fully air-fried fish in your freezer. Either place it in a Ziploc bag or freezer-friendly container. You should be able to keep it in your freezer for up to 2-3 months. Then whenever you wish to serve it, simply place the walleye in your refrigerator overnight to thaw.
Recipe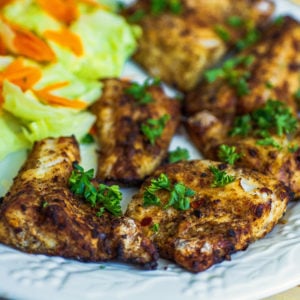 Healthy Air Fryer Walleye
Looking for a healthy white fish recipe? Then try out this air fryer walleye! It is easy to make, mess-free, and takes only 20 minutes to cook. Also, this recipe is keto and low in calories.
Ingredients
2

walleye fillets

2

tbsp

extra virgin olive oil

2

cloves

garlic

minced

½

tsp

Worcestershire sauce

1

tsp

ground thyme

¼

tsp

red pepper flakes

salt and pepper to taste
Instructions
Rinse and pat dry the walleye fillets. Cut them into two or three pieces.

In a small bowl, mix all dry and wet marinade ingredients: olive oil, minced garlic, Worcestershire sauce, ground thyme, red pepper flakes, salt, and pepper.

Dip the fish into the marinade, cover with food wrap, and place in the fridge for at least 2-3 hours.

Preheat your air fryer to 380 degrees F and place the marinated filleted on the rack.

Cook for 12-15 minutes, flipping the fish halfway through.
Nutrition
Calories:
132
kcal
Carbohydrates:
2
g
Protein:
1
g
Fat:
14
g
Saturated Fat:
2
g
Polyunsaturated Fat:
2
g
Monounsaturated Fat:
10
g
Cholesterol:
1
mg
Sodium:
25
mg
Potassium:
36
mg
Fiber:
1
g
Sugar:
1
g
Vitamin A:
95
IU
Vitamin C:
1
mg
Calcium:
18
mg
Iron:
1
mg