This is the quickest, easiest, and most delicious pan-fried walleye recipe. It requires only 5 simple ingredients, and you'll need to devote just 15 minutes of your time to cook it. This pan-fried walleye turns out incredibly flaky and with a perfectly crisp coating (even though it's made without bread crumbs). And to boost its flavor, you definitely must try to serve this fish drizzled with some sriracha sauce.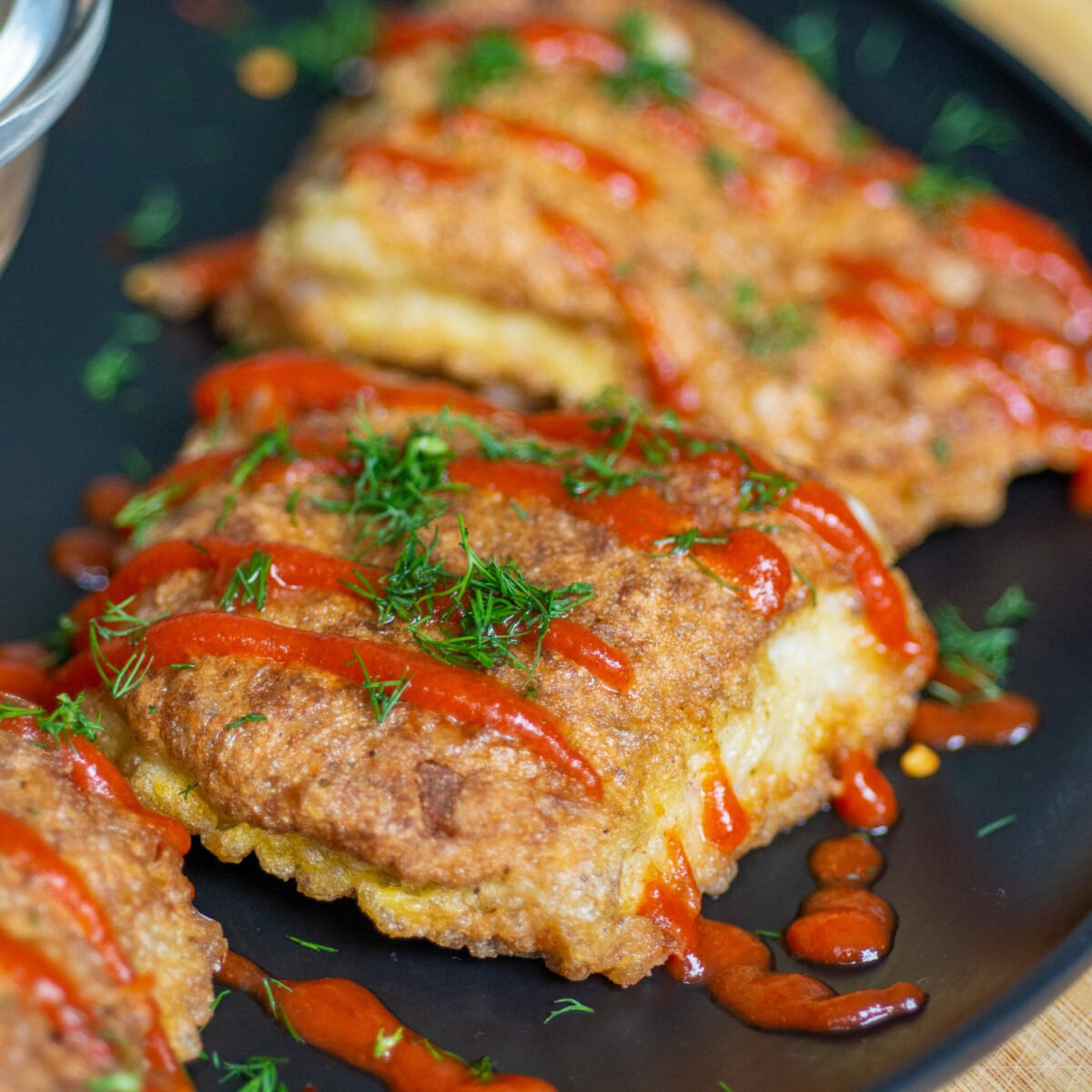 What I love about this fish recipe is that you don't need any breadcrumbs for the coating. All you need for it is some all-purpose flour (or if you want a healthier option, then you can use gluten-free flour, almond flour, or coconut flour) and a whipped egg.
If you're looking for a healthier alternative for cooking this fish, you must try this Air Fryer walleye recipe. It's lower in calories and is as easy and quick to make as this one.
Table of Contents
What Is Walleye?
Walleye (also known as yellow pickerel) is a freshwater fish that can be found in the lakes of the United States and Canada. It is a member of the perch family and is said to be one of the best-tasting alternatives to trout or cod. This fish can grow up to 30 inches in length and weigh over 20 pounds.
Also, walleye has many nutritional benefits:
It is loaded with omega fatty acids
It is a great source of Vitamin A, D E, and B-12
It is high in protein
Needed Ingredients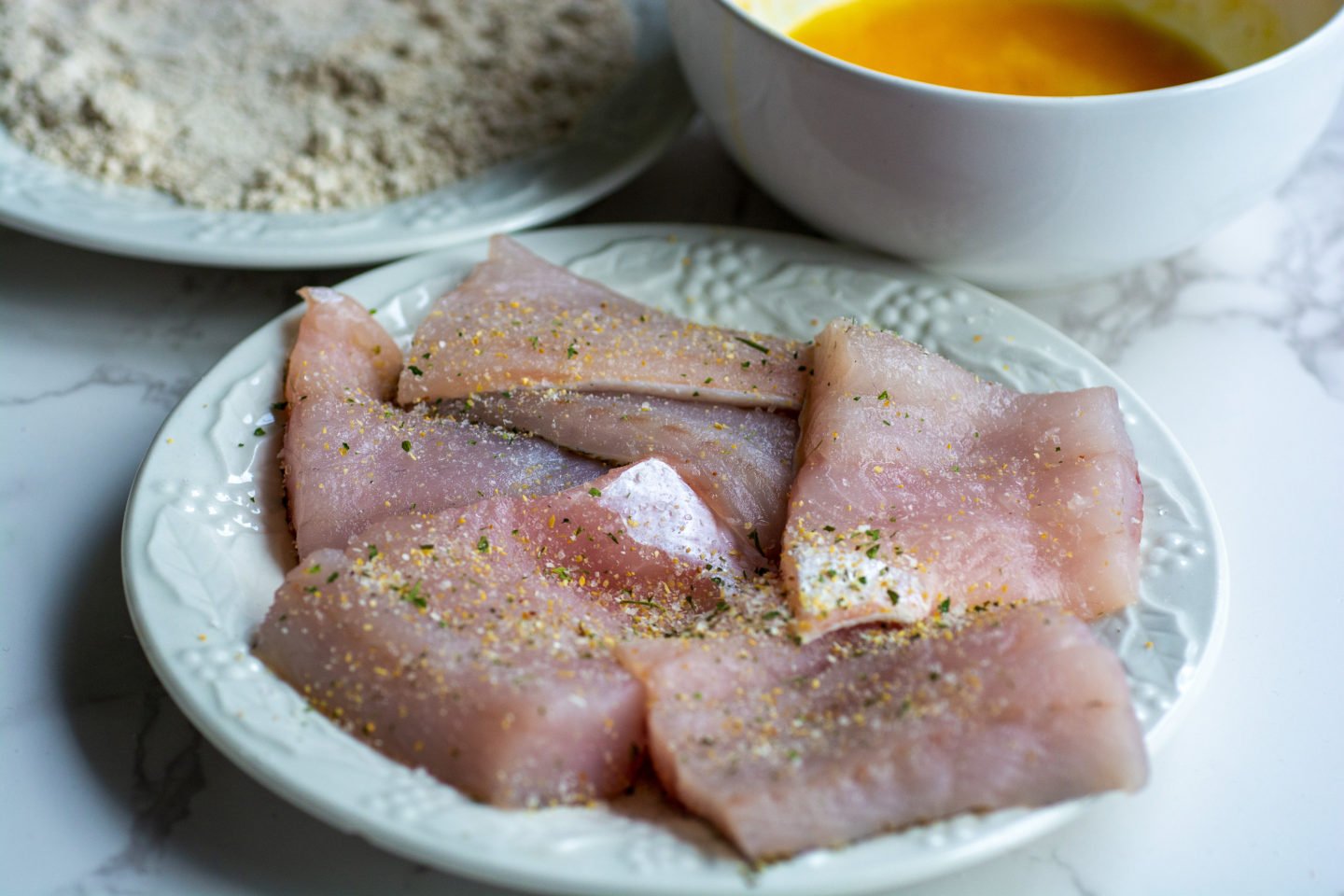 For this pan-seared walleye fillet recipe, you should prepare only a few simple ingredients. The simplicity in this recipe is actually the key to the incredibly delicious outcome. Here's what you'll need:
Walleye fillets - you can use either fresh or frozen fish, both of them will be okay for this recipe. Just remember to thaw the fish before frying it if it's frozen.
Eggs - you'll need to lightly beat the eggs in a dish.
Flour - I used all-purpose flour, but you can use any other kind of flour or flour mixture (coconut flour, quinoa flour, cassava flour, almond flour, etc.).
Oil for frying - make sure to choose an oil kind that has a high smoke point and a neutral flavor. The best option is usually vegetable oil, but for a bit healthier option, you can use either olive oil or avocado oil.
Salt, pepper, and seasoning - you'll have to add a bit of salt and pepper to the beaten eggs and sprinkle the walleye fillets with some salt, pepper, and garlic salt with parsley seasoning. If you don't have the seasoning mix, you can add garlic powder and fresh lemon juice instead.
Cooking Tips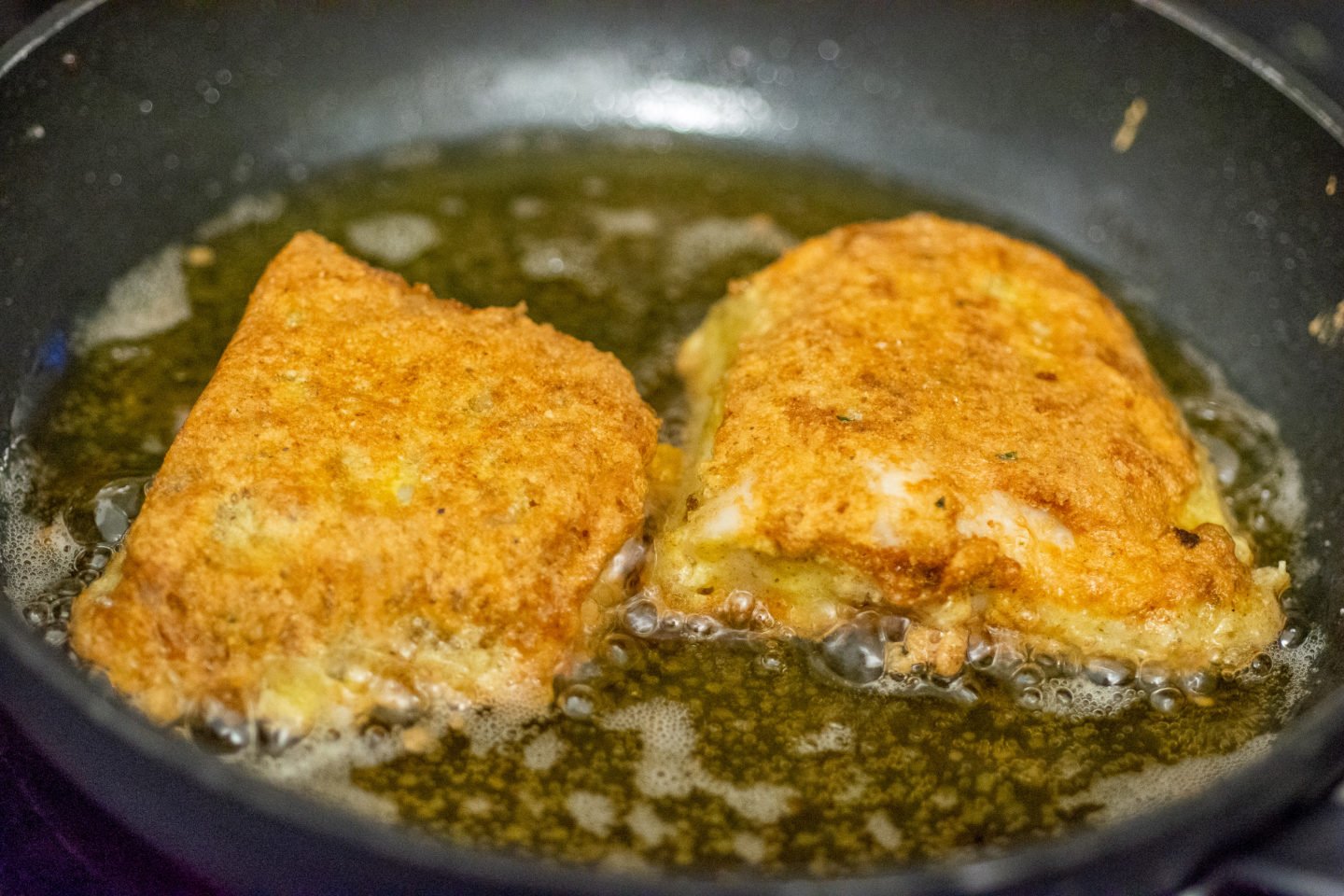 It's insanely easy to make this pan-fried fish. But if you've never done it before, I understand why you might be worried. To make sure that your pan seared walleye fish turns out as it should, here are some helpful cooking tips:
Prepare everything beforehand. Beat the egg in a small bowl and prepare the flour in another bowl.
Wash and pat dry the fish fillets. It's incredibly important to pat dry the walleye fillets with a paper towel before frying them.
Marinade the fish. If you have some extra time, use it to marinade the walleye fillets. Simply season the fish with the spices and leave it in the fridge for at least 2-3 hours.
Preheat the oil before placing the coated fish fillets. For best results, it's important to preheat the pan with the oil for a few minutes on medium heat before adding the coated walleye.
Place the fried walleye on a paper towel to remove the excess oil from the fillets.
How to Serve Fried Walleye
My favorite way to serve these pan-fried walleye fillets is to drizzle them with some sriracha sauce and sprinkle them with chopped fresh dill. Here are some ideas that can go well with this pan fried walleye:
If you have any leftovers from the pan-fried walleye, you can use them to make a nice, fulfilling fish sandwich. Take an artisan bun, add the fish, lettuce, tomato slices, and chopped onion, and top everything off with your favorite sauce.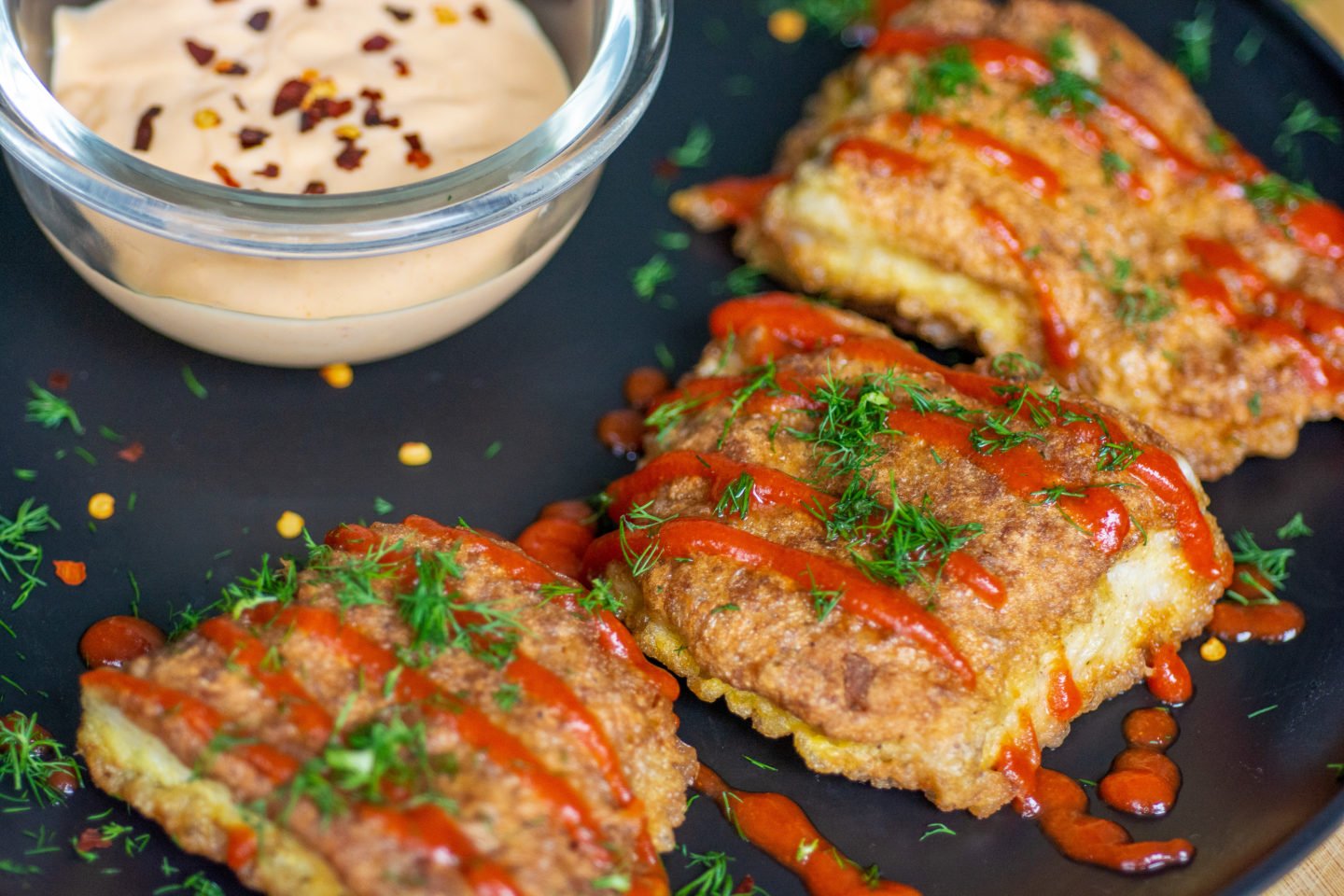 Storing Instructions
You can store the cooked walleye fillets in the refrigerator for up to 3-5 days. But make sure to either cover the fish with some plastic food wrap or place it in an airtight food container. Then simply reheat it in the microwave or serve straight from the fridge.
This walleye recipe is also freezer-friendly. So if there are any leftovers, you can place them in a ziplock bag and keep them in your freezer for up to 2-3 months. Then whenever you want to serve it, throw the fish fillets into an air fryer and cook it for a few minutes to get that lovely golden crust back.
Recipe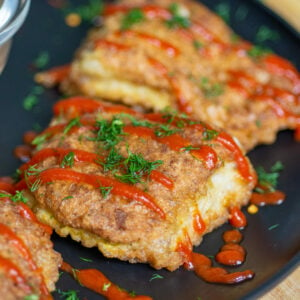 Pan-Fried Walleye
This quick and easy pan-fried walleye recipe requires only 5 simple ingredients, and just 15 minutes to cook. It's incredibly flaky with a perfectly crisp coating (even though it's made without bread crumbs). And to boost its flavor, you definitely must try to serve this fish drizzled with some sriracha sauce.
Ingredients
2

walleye fillets

1

large

egg

4

tbsp

all-purpose flour

4

tbsp

oil

for frying

salt and pepper
Instructions
Rinse the walleye fillets under cold water and pat dry with a paper towel. Cut the fillets in half.

Season the walleye fillets with garlic salt.

In a small bowl, beat the egg with some salt and pepper.

Place the all-purpose flour in a separate bowl.

Add the olive oil into a small frying pan and place it over low-medium heat.

Coat the walleye fillets first with the flour, then dip them into the beaten egg.

Fry the fillets on the pan for 5 minutes on each side.
Nutrition
Calories:
339
kcal
Carbohydrates:
12
g
Protein:
5
g
Fat:
31
g
Saturated Fat:
3
g
Polyunsaturated Fat:
8
g
Monounsaturated Fat:
19
g
Trans Fat:
1
g
Cholesterol:
94
mg
Sodium:
3525
mg
Potassium:
54
mg
Fiber:
1
g
Sugar:
1
g
Vitamin A:
135
IU
Calcium:
19
mg
Iron:
1
mg