I love sweet potato fries, and in general, I am a giant fan of shoestring fries. They are super crispy, light, and crunchy with the perfect amount of fluffy center. They are dippable, toppable, and easy to enjoy with friends. Besides classics like waffle fries or curly fries, shoestring fries are one of my absolute favorites.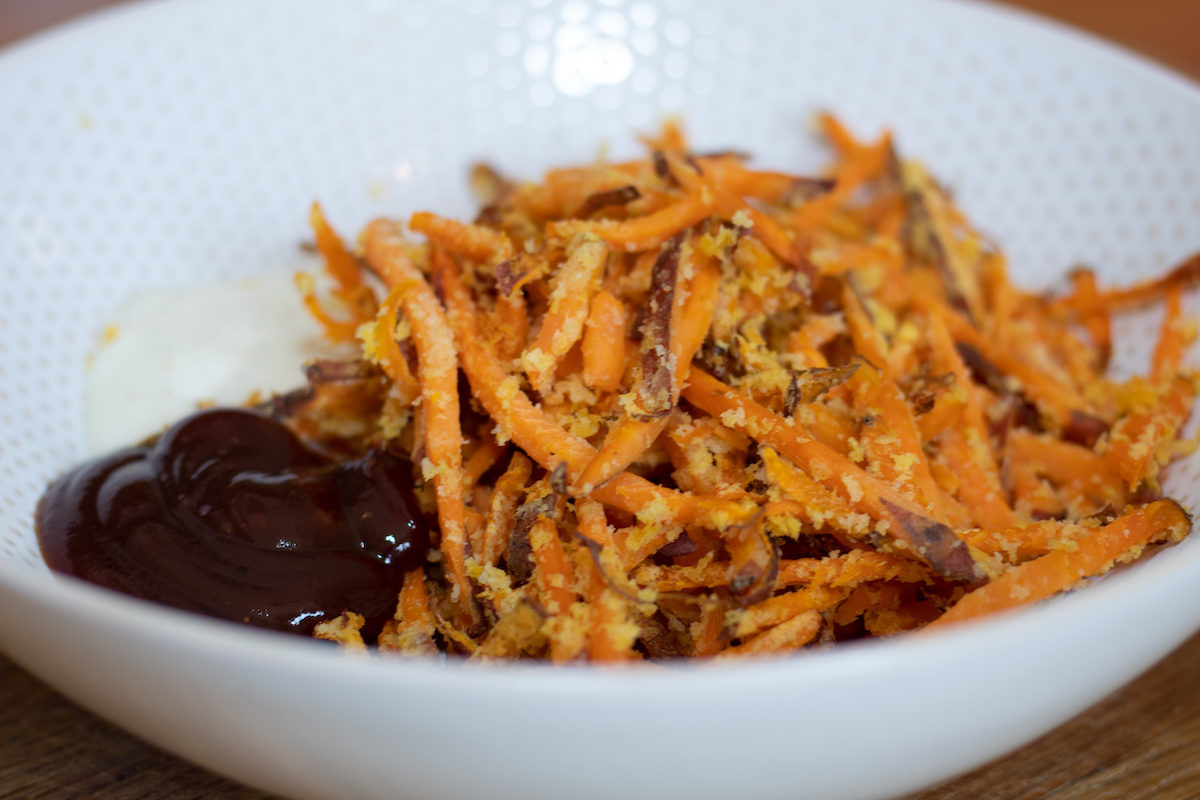 Shoestring fries are also in my experience the best way to prepare hand-cut fries in your air fryer. After a ton of experimentation I've come to believe that shoestring air fryer sweet potato fries are the best way to get the most out of your air fryer, and the highest quality french fry possible.
Because an air fryer doesn't employ hot grease to "fry" foods, it's easy to create hand-cut fries that taste more like roasted veggies and that's not the ideal french fry in my opinion. Most folks turn to frozen, pre-cooked fries out of a bag for their air fryer recipes, and while that might be the easiest way to cook french fries in the air fryer, it's not necessarily the best. Sometimes I want that hand-cut, hand-made taste, and a bagged fry just won't cut it.
Table of Contents
The Strategy
I have been experimenting with creating delicious hand-cut french fries using my air fryer (the trusty Cuisinart TOA-60 for this recipe) since the moment I brought it home from the store. Over multiple batches, potato types, and cooking methods, I've seen failures, but I've also begun to refine what I think is the gold standard for creating high-quality hand-made french fries in an air fryer.
The biggest impediment to creating restaurant-quality sweet potato fries in your average air fryer is the fact that to create a great fry you have to par-cook it beforehand. This is true for deep-fat fried french fries, as well as for air fryer fries, and this is why many people tout the upside of a pre-cooked frozen french fry.
For potatoes or sweet potatoes to achieve that crispy outside and fluffy inside we identify with a perfect french fry, they need to be cooked beforehand in some fashion to soften the starches and allow a coating to form. With very few exceptions, the best french fries are all "blanched" beforehand and stored until receiving a final dunk in extremely hot oil.
To achieve this in a home setting, I like to cut my sweet potatoes into shoe-string-sized fries and blanch them lightly in boiling water. Then I dress and season my air fryer sweet potato fries, with seasoned salt, olive oil, and instant mashed potato flakes.
The mashed potato flakes are one of the secret weapons in my air frying battles for several reasons. They are gluten-free and paleo/keto-friendly which is great for my waistline. The real reason I love to use potato flakes for everything from roast chicken to french fries is that they create an awesome crispy, crunchy coating. This works especially well with french fries or in this case air fryer sweet potato fries.
Finally, I load my blanched, seasoned/dredged sweet potatoes fries into a preheated air fryer at 390°F for 10-12 minutes. The superheated air helps the olive oil and potato flakes form a crispy, crunchy coating, and the thinly cut sweet potatoes have so much more surface area allowing them to cook quickly while maintaining an amazing fluffy sweet potato texture inside.
Why This Works
By precooking the cut sweet potato fries in boiling water we help to soften the hard starches and reduce the moisture content. This allows the fries to crisp on the outside while steaming internally creating a perfect french fry texture.
Coating the fries in potato starch or mashed potato flakes helps create a starchy coating that ensures the sweet potato fries remain crispy on the outside and fluffy on the inside.
Adding a small amount of olive oil to the potato starch and seasoning mixture adds a cooking medium for the hot air to act upon. This increased caramelization of the exterior starches, intensifying the sweet potato flavor as a deep fat fryer would.
Mistakes To Avoid
One thing you definitely don't want to do, regardless of how thick or thin you cut your sweet potato fries, is to undercook your french fries. One of the reasons many people choose a pre-cooked frozen product over making their own air fryer sweet potato fries by hand is to ensure they are properly cooked when finished.
Nothing is worse than an undercooked potato or sweet potato, so make sure to check your fries when they are close to done, and if you think they need more time simply increase the time by 2-3 minutes.
Here we also have to talk about tossing your fries. Many people, when they first get an air fryer, will stuff a load of fries into the basket and wait for the buzzer to say they're finished. Sure this will cook your fries (especially if they're frozen), but for the best quality and crunch, you absolutely must stop half way through, take the basket out and toss the fries so they get even exposure to the heat source.
Recipe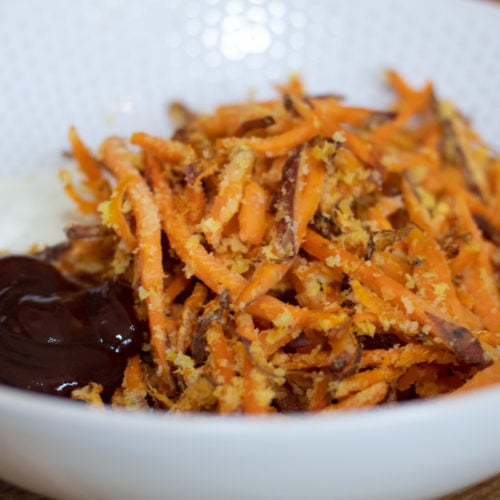 Next-Level Air Fryer Sweet Potato Fries Recipe
These air fried sweet potato fries are as delicious and crispy as their deep fried cousins, only with a lot less fat. What's not to like?
Ingredients
3-4

Medium sweet potatoes

½

cup

Potato starch or instant mashed potato flakes

1

tsp

Salt

½

tsp

Black pepper

½

tsp

Paprika

½

tsp

Onion Powder

½

tsp

Garlic powder

2

tsp

Olive oil
Instructions
Rinse the sweet potatoes under cold water, pat them dry.

Cut the sweet potatoes into ¼u0022 x ¼u0022 shoe strings. A mandoline slicer is your best friend here.

Bring a pot of water to a boil on your stove.

Working in batches cook the sweet potatoes in the boiling water for 1-2 minutes.

Transfer the cooked sweet potatoes to a bowl of ice water to chill.

Drain the water from the potatoes completely and pat to dry as best you can.

Add the potato flakes, olive oil, and seasoning to the bowl. Mix well until the sweet potatoes are completely coated.

Preheat your air fryer to 390°F.

Load the coated sweet potato fries into the air fryer basket and place the basket in the preheated air fryer.

Cook the fries for 10-12 minutes, shaking the basket ½ way through the cooking process to ensure a completely crispy sweet potato fry.

Serve the crispy air fryer sweet potato fries with your favorite dipping sauces.
Notes
Calorie data from MyFitnessPal. I've estimated it based on 1 cup of sweet potato and using mashed potato flakes, and olive oil, without any dipping sauces.
Nutrition
Pro Tips
These fries can be prepared well in advance, simply lay them out on a baking tray after the seasoning/dredging step, and place them in the freezer. Transfer them to an air-tight container after they are fully frozen.
You can prepare them from frozen in the same way you would if had cooked them directly after the seasoning step. Simply load the sweet potato fries into your preheated air fryer and cook for 10-13 minutes depending on your batch size.
These fries might actually be even better directly out of the freezer because as they cook from frozen you'll see less moisture loss in the final product and an even crispier exterior. I don't love to meal prep around our home, but sometimes if I find myself with a ton of sweet potatoes I will make large batches of these fries just to have on hand in case I get a craving for the perfect air fryer sweet potato fry!
Alternate Approach
If you are in a rush, you can absolutely skip the pre-blanch step of this recipe. Simply cut your fries to the appropriate thickness, coat them in oil and potato starch, then toss them in your air fryer. While this won't yield quite the same crispy air fried sweet potato fries that you might get if you had blanched them beforehand, it's definitely still a delicious product that's well worth your time.
If you don't have potato starch or instant mashed potatoes on hand, don't worry and just omit that ingredient. This is something I've found that I like enough to keep around the house, but it's not necessary to go out of your way to get it if you've got everything else on hand.
Accompaniments for Air Fryer Sweet Potato Fries
Air fryer sweet potato fries are the perfect side dish for many meals, from roasted meats or fish to hamburgers and even a pot of mussels for a new take on Moules Frites, they truly go with everything. The nice thing about having a toaster oven-style air fryer is the ability to cook multiple items on the different oven rack settings. It's easy to make pork chops or wings on one rack and cook a basket of crispy air fryer sweet potato fries on another.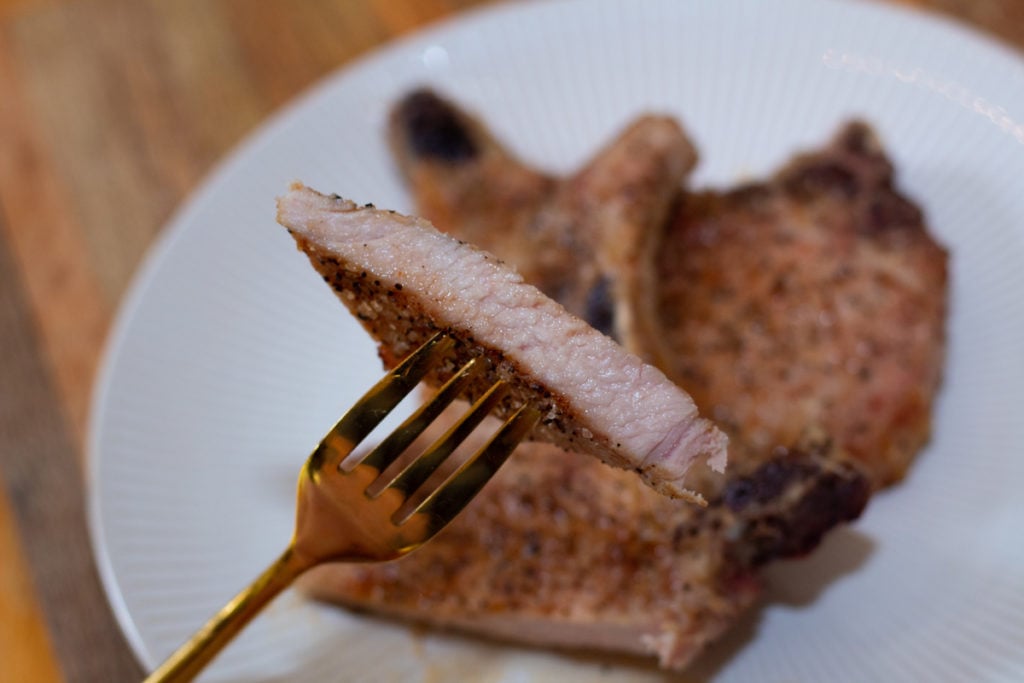 One of my favorite things to do with air fryer sweet potato fries is to make poutine or cheese fries. I top them with whatever I have on hand, usually, some leftover chili or gravy, cheese, and veggies. Then I put the topped sweet potato fries back in the air fryer for a few minutes to get crispy and bubbly before digging in!
This is definitely not a meal I indulge in weekly, but whenever that feeling calls, a big plate of air fryer sweet potato fry poutine really hits the spot.