Rosemary is a fragrant, evergreen herb that has characteristic pointy green leaves and bright blue, white or purple flowers. Although native to the Mediterranean, this plant is hardy and thrives in many parts of the world. Droughts and cold weather will not bother it.
If you've ever tried growing rosemary at home you'll have probably found it grows like a weed. You'll never have to visit the supermarket to buy this ingredient again once it's established itself. The only challenge will be to keep it pruned back. An added bonus of growing rosemary is that it will help ward off pesky insects in summer.
Back in 500 BC the Romans and Greeks used rosemary for food, medicine and even for rituals such as weddings and funerals.

Table of Contents
Best uses for rosemary in the kitchen
Rosemary has a strong, bitter flavor with a mild hint of pine. It is a tasty additive to many dishes including:
sprinkled on roast lamb
used in stuffing for roast meats
tossed fresh into a salad
sprinkled over barbecued food
steeped as a tea
mixed with salt and butter
rosemary potatoes
fruit salads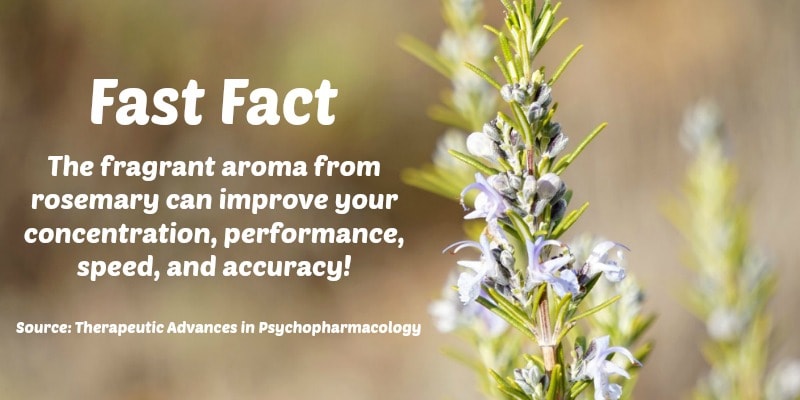 Alternatives to Fresh Rosemary
There are a wide range of recipes that include rosemary as an ingredient - thanks to it's mosaic of complex flavors. If you ever find yourself without this key ingredient, you can still save the dish!
Fresh rosemary is unique so it's hard to completely compensate if you don't have it. However, you still have some great options at your fingertips.
1. Dried Rosemary
For every teaspoon of fresh rosemary, use ⅓ tsp of the dried version instead.
2. Thyme
The subtle, slightly minty flavor makes it an excellent option.
3. Oregano
Bitter, earthy notes, in many ways similar to rosemary.
4. Marjoram
Spicy, pungent and bitter offering a lovely sweet aroma.
Preparation
For many recipes I simple pick the rosemary leaves off the stem and sprinkle them over the meat or vegetables. If a recipe calls for the herb to be finely chopped then keep reading.
What you'll need: Chopping board and sharp knife.
How it's done: Take a sprig of rosemary and gently remove the leaves. Place them on the chopping board and bunch them together tightly before slicing them into fine pieces.
Storage options
If you have sprigs with the leaves still intact you can fill a glass with water and place the herbs in there until you're ready to use.
Lightly wrap unused rosemary in a damp paper towel then place in a plastic bag or a plastic container. It will last 1-2 weeks refrigerated.
How to make rosemary potatoes
This is a hugely popular dish that pairs perfectly with roast lamb, chicken or fish. An excellent midweek recipe if you don't have time for long-winded recipes!
Ingredients
2 Tbsp olive oil
3 lb diced potatoes
6 cloves garlic (minced)
Salt and pepper
2 Tbsp rosemary (chopped finely)
Method
Preheat oven to 400°F.
Coat potatoes with oil.
Stir in garlic until well combined.
Season with salt and pepper to taste.
Add potatoes to a lined oven tray in one layer.
Pop into the oven for 40 minutes (or until crispy).
Once cooked, sprinkle with rosemary and add additional seasoning if required.
Note: If you are looking for an alternative roast potato recipe that is a little more indulgent then try this recipe for potatoes that are roasted in duck fat. They give the potato skins a crispy texture and extra flavor that you won't get from using olive oil.
Now that you know a little more about rosemary, you may want to check out one of these guides: sage substitutes or tarragon substitutes. It's amazing how often we go to the store to buy an entire container of dried herbs for one recipe, never to use it again. A better option could be to simply use an alternative that you may already have in the cupboard.