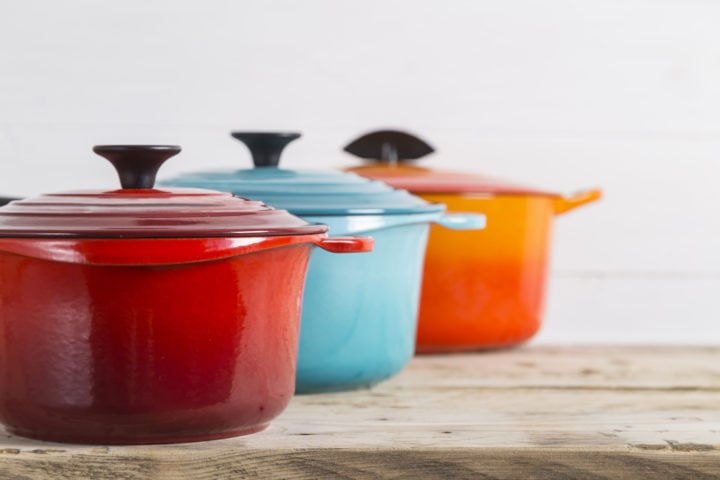 Many home cooks will often have the debate between cast iron vs stainless steel cookware for their kitchen. Both cast iron and stainless steel cookware are incredibly popular due to their durability and versatility in the kitchen. Rightfully so, many people will have a strong preference for one cookware option over the other. However, comparing the two will show certain advantages and disadvantages of both. Below, let's take a closer look at these two popular cookware options and compare which is easier to cook with, care for, and the price point and buying options for each.
Table of Contents
What Are the Benefits of Cast Iron?
Cast iron pans have loads of benefits and are the preferred cookware option for many people. With the right seasoning and care, cast iron can eventually become a nonstick cooking surface, making it ideal for just about any food. Plus, cast iron can retain heat, making it well suited for slow and long cooking preparations like soups and stews.
Cast iron gives the choice of strict cast iron or enameled cast iron, which can help give you additional tools and cookware options in the kitchen. Enameled cast iron holds up well to acidic foods and does not alter the taste with ongoing chemical reactions like standard cast iron might.
What Are the Benefits of Stainless Steel?
Compared to other cooking alternatives, stainless steel is an extremely popular option. Unlike cast iron, stainless steel is rust-free. Plus, it is possible to put stainless cookware in the dishwasher, although it is not recommended for high-quality cookware pieces. Stainless steel is much lighter than cast iron, so it is easier to move around the kitchen.
The lighter weight and thinner metal walls make it easier to cook pasta and soups and a great cookware option for lasagna and water kettles. Moving a large stainless steel pot to the sink to drain is much easier than moving a heavy cast iron pot to the sink. Consider that having a liquid in a cookware piece will significantly add to the weight.
Cooking With Cast Iron And Stainless Steel
When it comes to cooking with cast iron and stainless steel, each cookware option has pros and cons. Below, let's examine cooking with both cookware options to compare the cast iron and stainless steel.
Is Cast Iron or Stainless Steel Easier to Cook With?
Generally speaking, cooking with stainless steel cookware tends to be easier. This is largely because stainless steel pans are lighter and easier to move from place to place. While cast iron pans certainly have their benefits, moving cast iron around the kitchen or to the sink to drain a liquid can become a feat of strength.
Contrary to popular belief, stainless steel actually produces a more even heat when cooking. This feature is because stainless steel is not solid steel but rather a combination of metals up to five layers thick. Copper, steel, and hard anodized aluminum are usually included in a stainless steel pan. Some specialized stainless steel pan options even include carbon steel cookware. The mix of metals not only means your frying pan will reach temperature more quickly, but it will retain that temperature more evenly due to better heat conductivity. But, cast iron is the clear winner when it comes to heat retention for soups and stews.
However, if you are looking for a non stick pan, cast iron surprisingly may be the route to take. Not only does a cast iron griddle develop a nonstick coating, but it will become more nonstick the more it is used. Light layers of oil and fat accumulate to create the non stick coating, which leads to a great set of nonstick cookware.
Can Cast Iron and Stainless Steel Go In the Oven?
Luckily, both cast iron pans and stainless steel pans can go in the oven. Most stainless steel and cast iron cookware options are rated to hold up at just about any temperature. In fact, many people even experiment with placing stainless steel pans into a wood-fired pizza oven or over a grill. Cast irons have long been used for grilling or preparing a meal over a hot flame. Comparing stainless steel and cast iron, oven versatility is about equal between the two.
Can You Broil Cast Iron or Stainless Steel?
Most stainless steel and cast iron cookware are rated to at least 600 degrees F. This means that it is safe to broil with both stainless steel and cast iron in a conventional oven at home. Of course, maximum temperature ratings for both cookware options will vary by brand, so it is essential to check with your specific cookware manufacturer to confirm maximum cooking temperatures.
Will Cast Iron Damage My Glass Top Range?
One of the most significant differences between cast iron and stainless steel cookware is how to use the cookware, particularly if you have a glass top range. For the most part, stainless steel is perfectly acceptable to use on glass range tops, and minimal effort or care is required to protect your cooking surface.
However, cooking with cast iron on a glass oven top is possible, but you need to take additional precautions. First, be sure to place the cast iron on the cooking surface firmly and do not slide the pot or pan around. A heavy pot could easily scratch or crack the glass if it is moved too roughly.
Next, always be sure the bottom of the cast iron pot is clear without any residue, which may transfer and scratch the glass surface. Always gradually heat cast iron on a glass oven top and do not immediately place cast iron onto a hot cooking surface. Although it is possible to use both cookware options on a glass surface, extra precaution and care are required for cast iron.
Which Makes Food Taste Better?
Comparing stainless steel to cast iron cookware really comes down to preference for how the food tastes. One significant advantage of stainless steel cookware is that you will only taste the food you are cooking in a stainless steel pan. This feature prevents cross-contamination from potentially intensely flavored or seasoned meals.
Alternatively, some people enjoy the original taste only cast iron cookware can produce. Sometimes highly acidic foods and the seasoning process can create a lingering seasoning in the pan that translates to your newly cooked meal. Unfortunately, especially with highly acidic foods like tomato sauce, this flavor can translate as a chemical taste in your next meal. But, for some, the worn-in and repeated seasoning produces an original and unique flavor that people enjoy.
Caring For Cast Iron and Stainless Steel
While cooking is undoubtedly the fun part of any new cookware purchase, it is equally as important to maintain your cookware properly, so it lasts for years to come. While both stainless steel and cast iron are incredibly durable, each option will have different care requirements.
Which Lasts Longer, Stainless Steel or Cast Iron?
Comparing both stainless steel and cast iron, shoppers will be happy to discover that both options are incredibly long-lasting and durable. Cast iron is made of thick and dense walls which are incredibly strong. Once you buy cast iron, it will last you a lifetime with the proper care and maintenance.
Comparatively, stainless steel cookware is also extremely long-lasting. Most stainless steel cookware options will contain a material called chromium, which creates a scratch-resistant surface on the cookware. Not only is the stainless steel long-lasting, but it will hold up to scratches, dings, corrosion, and dents remarkably well. The longevity of stainless steel also contributes to its higher price point.
Which Is Easier to Clean?
When it comes to cleaning and ongoing care, it doesn't get much easier than stainless steel. These pans and pots are easy to clean and technically can be placed in the dishwasher (although this isn't recommended.) With a cleaning pad, you can even scrape off burned-on food. Simply wash and dry, and the stainless steel pan will be ready for continued use.
Caring for a cast iron pan can be a little more detailed. To use your cast iron, you'll want to properly season the pan with oil to make sure you create a good, non-stick surface to cook with. Then, after each use, gently wipe the pan with a wet cloth, but never use dish soap. Repeated seasoning efforts may be necessary to restore the protective oil coating. But, the more you use your cast iron, the better the non-stick surface will become.
Comparing the cleaning process between a cast iron skillet and a stainless steel skillet is difficult because there are two different cookware materials involved. However, it is much easier to clean a stainless steel pan than it is to reseason a cast iron skillet.
Price Points of Cast Iron and Stainless Steel
Performance and maintenance aside, one of the biggest deciding factors for people purchasing new cookware is the price point and the range of available options. Below, let's examine how cast iron and stainless steel compare to one another from a cost perspective.
How Much Does Stainless Steel and Cast Iron Cost?
When comparing cast iron and stainless steel cookware, cast iron is almost always the less expensive option. These pans and pots are relatively easy to produce, with minimal specialized materials, making them an affordable option for a long-lasting and durable piece of cookware. It is possible to find a good make and model in the $30 range for a simple cast iron pan. But, a cast iron pot or skillet will last a lifetime.
However, one of the most significant downsides of stainless steel cookware is the price. High-quality stainless steel from known brands can be extremely expensive, with a simple pan costing upwards of $100. The high price is mainly due to the detailed manufacturing process and the layering effect of multiple materials. Specialty cookware sets, like aluminum cookware or copper cookware infused with stainless, can cost even more money. But, even with the high price point, stainless steel can be a good option because of its longevity.
Does Cast Iron or Stainless Steel Cookware Give More Options?
Having various pots and pans of different sizes will undoubtedly make your cooking experience easier and more enjoyable. When it comes to options, stainless steel cookware is unlimited. One of the main attractions of stainless steel is the wide range of materials, coatings, sizes, and specialty cookware options available. Shoppers will have the option of choosing between copper and aluminum cores, and stainless steel is offered at a range of price points.
Comparatively, cast iron cookware also gives you options but is a little more limited compared to stainless. While the sizes may be limited to just a few skillet sizes and pots, or a cast iron Dutch oven option, you do have the option of choosing bare cast iron or enameled cast iron cookware for your cookware material. While raw cast iron is easy to care for and features the seasoning flavor, enameled cast iron will give you the option to cook acidic-based foods like tomato sauce. Many enameled cast iron sets will have ceramic surrounds, making them attractive ceramic cookware options. The price is relatively comparable, giving you limited but available options for cast iron.
Comparing two of the most popular cookware options is complicated, with both cast iron and stainless steel offering advantages and disadvantages for different purposes. While stainless steel may be easier to manage in the kitchen, nothing quite compares to the seasoned flavor you can achieve with a cast iron skillet. Stainless steel comes in various sizes, coatings, and finishes, but you'll also pay a pretty penny for high-quality stainless steel. Comparatively, cast iron has a much lower price point, with equal durability and longevity. If you are stuck deciding between the two, carbon steel options may be a perfect solution. A carbon steel skillet combines the lightweight stainless steel features with the ruggedness and durability of cast iron. Whatever cookware option you choose, expect to have a durable and long-lasting cookware set with either stainless steel or cast iron that will last a lifetime with proper care.