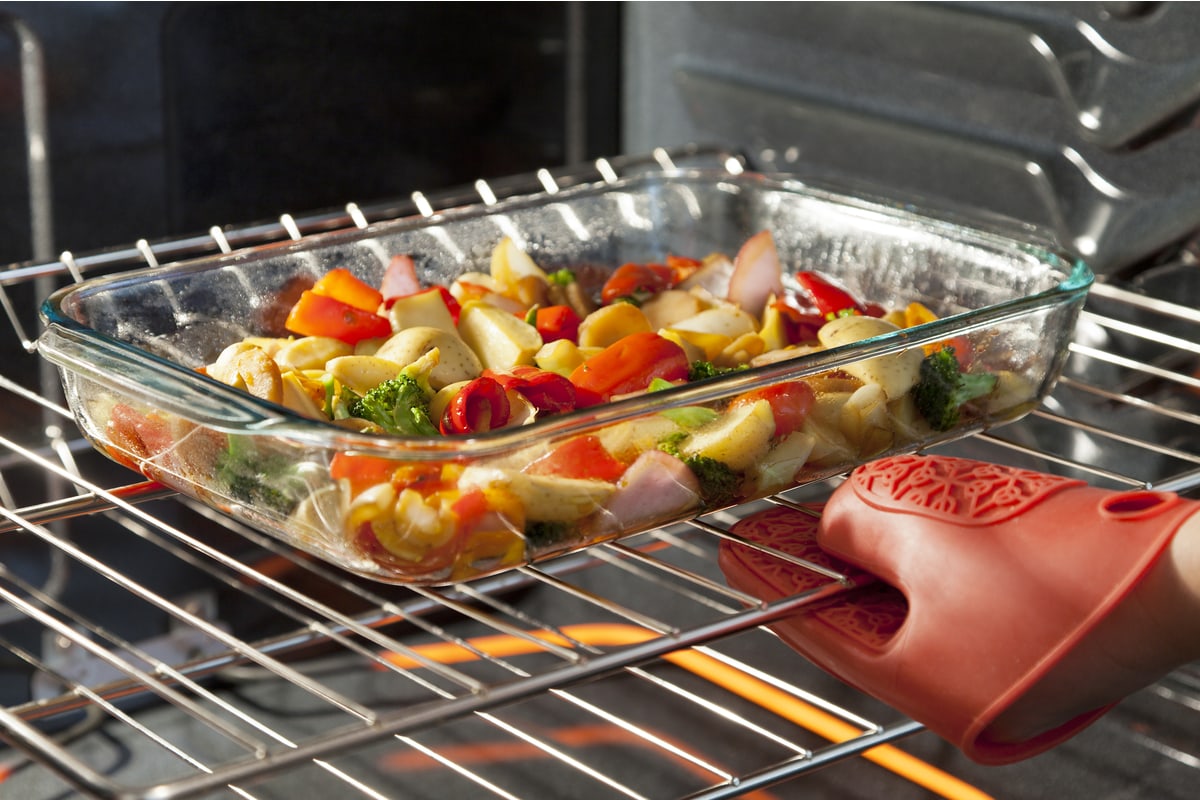 With so many different materials used in cookware today, it's hard to keep track of what's oven-safe and what's not. Sometimes, the only way to know for sure is to do a bit of research.
To simplify this process, I've created this simple guide for those wondering: can you put glass in the oven?
Below, you'll learn the different kinds of glass, their differences, and how to stay safe. You can also browse some of the most frequently asked questions to learn more about glass cookware.
Table of Contents
What Happens When You Heat Glass?
It's commonly known that heat causes glass to break, but this is only partially true.
In reality, glass is extremely heat-resistant. Since it is created by melting sand at temperatures over 3090 degrees Fahrenheit, oven temperatures are no problem. So why does glass sometimes break when placed in a hot oven?
The answer can be found in the temperature change, not in the temperature itself. When you move regular glass from your kitchen counter to a hot oven, its molecules excite. If they excite unevenly, this can put stress on the glass, causing it to crack.
This is called thermal shock. The same thing can be observed when putting glass bakeware directly on a heat source, like a stovetop burner. Even putting glass in the freezer can cause thermal shock.
In order to prevent this, tougher glass is the answer.
What is Tempered Glass?
The difference between tempered glass and regular glass is that tempered glass is more durable. It is heat-treated in a specialized oven, which is why it can stand up to more extreme temperature changes. It is also more durable.
While regular glass is perfectly safe for eating and drinking, you should never cook with it. Instead, stick with tempered glass products to keep your kitchen safe.
How to Know If Your Glass is Oven-Safe
Now that you understand the difference between regular and tempered glass, let's learn how to tell the difference. While it might not always be obvious, there are a few tell-tale signs to look for.
Check the Label
Most of the time, tempered glass products will be labeled in some way. Some may have the word 'tempered' or 'temp' stamped into their surface. Others you can tell by the brand. One of the most common brands of oven-safe glass is Pyrex.
Look at the Design
While most oven-safe glass cookware will be labeled as tempered, this is not always the case. This can be a major source of frustration for home cooks looking to make a batch of brownies!
If your glass bakeware isn't labeled, you can also check some of its design features. If it has a metallic trim, that means it is certainly not safe for the oven. In general, decoration of any kind means that it is not oven-safe.
What Kind of Item Is It?
Generally, drinking glasses and serving bowls are not made to be oven-safe. On the other hand, baking trays, casserole dish pans, and measuring cups are. This is not a fool-proof method of identifying your glassware, but it can help provide a clue.
Inspect the Glass' Condition
One of the other features of tempered glass is that it breaks differently. While regular glass can form large cracks, tempered glass breaks into small pieces, arranged in a spider web formation.
In any case, you should never use broken glass while cooking. If you do spot a crack in your glass dish, you will need to throw it away.
Even Oven-Safe Glass Can Break
While tempered glass is the best option for cooking, it isn't safe to use in all cases. Before sliding your glass pan into the oven, be sure to consider all of the following:
Know Your Temperature Limit
Many home cooks aren't aware that oven-safe glass dishes do have a temperature limit. In some cases, this limit will be printed directly on the cookware. If not, it's best to keep your dish below 425 degrees Fahrenheit.
Exceeding this limit can cause your dish to break while in the oven or while you're taking it out.
Check for Cracks or Scratches
It's a good idea to check glassware for scratches and cracks regularly. Such damage will only get worse when exposed to heat, creating a serious hazard.
Avoid Sudden Temperature Changes
Sudden temperature changes are probably the most common—and least expected—cause of broken glass. For example, you should avoid moving a glass dish from the fridge to the oven. Before putting a dish in the fridge, always be sure to bring it to room temperature first.
The reverse is also true. Placing a hot dish in the fridge or even on a cool marble countertop can cause it to crack. Instead, first put it on your stovetop, on a hot pad, or an oven mitt.
Always Preheat First
One common way home cooks misuse oven-safe glass is to place it in an oven before preheating. It's an easy mistake to make since heating the glass gradually should be good for it, right?
Actually, your oven's preheating cycle is one of the worst times to put glass in the oven. This is when the heating element inside the oven is working its hardest, and the radiant heat produced can strain your glassware.
Other Safety Tips When Cooking With Glass
While glass bakeware can be a big asset in the kitchen, it's always best to take extra caution. Don't forget to observe all of these safety tips, in addition to those listed above.
Never add liquid to hot glassware.
Don't place hot glassware on a wet surface.
Avoid putting glassware in direct contact with a heating element, under a broiler, or under the grill of a toaster oven.
Don't use glassware to microwave popcorn or food wrapped in heat-concentrating materials.
Never use repaired glassware or glass that has any cracks.
Avoid striking glassware with kitchen utensils.
Always use hand protection when handling hot glassware.
What to Do If Your Glass Cookware Has Shattered
It's a problem every home cook encounters sooner or later, so it's best to be prepared. In case your glass dish shatters, follow these steps.
Start by waiting until your oven or stovetop is completely cool. It may be tempting to try and remove any food to prevent burning, but this is an easy way to get injured. Instead, monitor the spill to make sure it's not going to catch fire.
Once everything has cooled, gather the large pieces of glass and food with rubber gloves and throw them in a durable trash bag.
Clean any food stuck to the cooking surface with baking soda and water. For heavily-caked food, this may take as long as three hours. Once ready, you can scrape the residue off with a metal spatula.
Gather any remaining glass pieces with a dustpan and a brush, and throw them in the trash bag.
Once all the glass is cleaned, tie the trash bag closed, wrap it in some newspaper, and place it in a second bag. This will protect trash collectors from harming themselves on the broken shards.
The Benefits of Using Glass Cookware
Now that you know the answer to the question "Can you put glass in the oven?" learn more about all its uses. There are plenty of reasons to use glass cookware as long as you stay safe. Here are some of the top benefits of cooking with glass.
Heat Absorbing
Glass is an excellent conductor of heat, which means the oven can quickly bring it up to temperature. This is a great advantage whether you're baking, broiling, or roasting. The added heat will help create a nice sear on your food, imparting extra flavor.
Cleans Easily
Glass is considered a non-porous material. This means that it always has a smooth surface and doesn't absorb substances put onto it. Because of this, glass is especially easy to clean.
Even food residue that has been baked on under a high temperature usually only takes a quick soak to dislodge it. Also, soaps and other cleaning chemicals are safe to use with glass without the worry of damaging it.
Non-Toxic
Glass doesn't contain any of the PFOAs found in other cookware materials like Teflon. Plus, since it's non-porous, it won't carry over any flavors or odors from the previous meal. This means you never have to worry about cross-contamination as long as it is cleaned thoroughly.
Perfect for Cooking, Serving, and Storing
One main feature that sets glass apart from other cookware is that you can serve it in the same dish you cooked it in. This makes it a great no-hassle option when serving large groups. You can roast your meal and immediately serve it on a hot pad on your table once cooked.
Watch Food While Cooking
Monitoring food while cooking is a huge advantage, especially when making delicate baked goods. As the only transparent cookware material safe for oven use, glass is the clear winner here. For this reason alone, it's always a good idea to have a glass pan handy.
Frequently Asked Questions
There's plenty more to learn about using glass safely in the kitchen. See some of these common questions for more information.
Why has my oven-safe glass dish exploded in the oven?
There are plenty of reasons why an oven-safe dish might explode in the oven. Most of them, however, come down to what's called thermal shock.

Simply put, thermal shock results from glass expanding unevenly. If one part of the glass heats or cools more quickly than the surrounding glass, it can break. Oven-safe glass is more resistant to thermal shock but is by no means immune to it.
Can you put a glass dish in the freezer?
Generally, yes, you can put glass dishes in the freezer. However, there are a few important rules to keep in mind when doing so.

First, don't put hot dishes in the freezer. Doing so can cool the glass too rapidly, resulting in cracks. Similarly, it's not a good idea to move cold dishes into a hot oven.

Also, if your glass dish is filled with a liquid, be aware that this liquid is going to expand when frozen. This could put pressure on your glass dish, possibly causing it to break.
At what temperature does glass break?
There is no specific temperature that glass breaks at. Because glass is created at temperatures over 3,000 degrees Fahrenheit, it is very heat resistant.

However, home ovens don't heat as evenly as industrial glass ovens, which causes breaking. For thin glass, this can start to happen at around 300 degrees Fahrenheit.
Why does glass crack when cooled?
Glass cracks when cooled for the same reason it cracks when heated up—thermal shock. In fact, the temperature isn't the main factor that leads to glass breaking. Instead, it's uneven heating or cooling that is the culprit.
Can glass break in the microwave?
Glass can break in the microwave, but not for the same reasons as it might in a radiant heat oven.

Microwaves don't generate nearly enough heat to melt glass. However, if you are using poor-quality glass, any bubbles or imperfections can get very hot. This could lead to the glass cracking and breaking in the microwave.

Also, glass that already had cracks or other damage is at a very high risk of breaking when heated.