Cast iron pans and glass top stoves are among the two most common kitchen appliances you are sure to find in every home. Their existence in an everyday environment makes their interaction inevitable, hence some concerns about the efficiency of pairing the two in your cooking sessions. You can use your cast iron pan on the electric stove, provided you are careful about the procedure. In this article we will look more on their relationship and the ideal approach to maximizing your kitchen's efficiency and effectiveness.
Cooking using a cast iron pan on an electric glass top stove can be done. However, it requires care to avoid damaging either of the two components. It would be best if you did not drop the pan or even slide it on your cooktop's surface. Thorough cleaning of the cast iron cookware's bottom surface is a practical approach to avoid particle build-up, which might scratch your stove. Here are other aspects you may need to know before using your cast iron pans on electric stoves.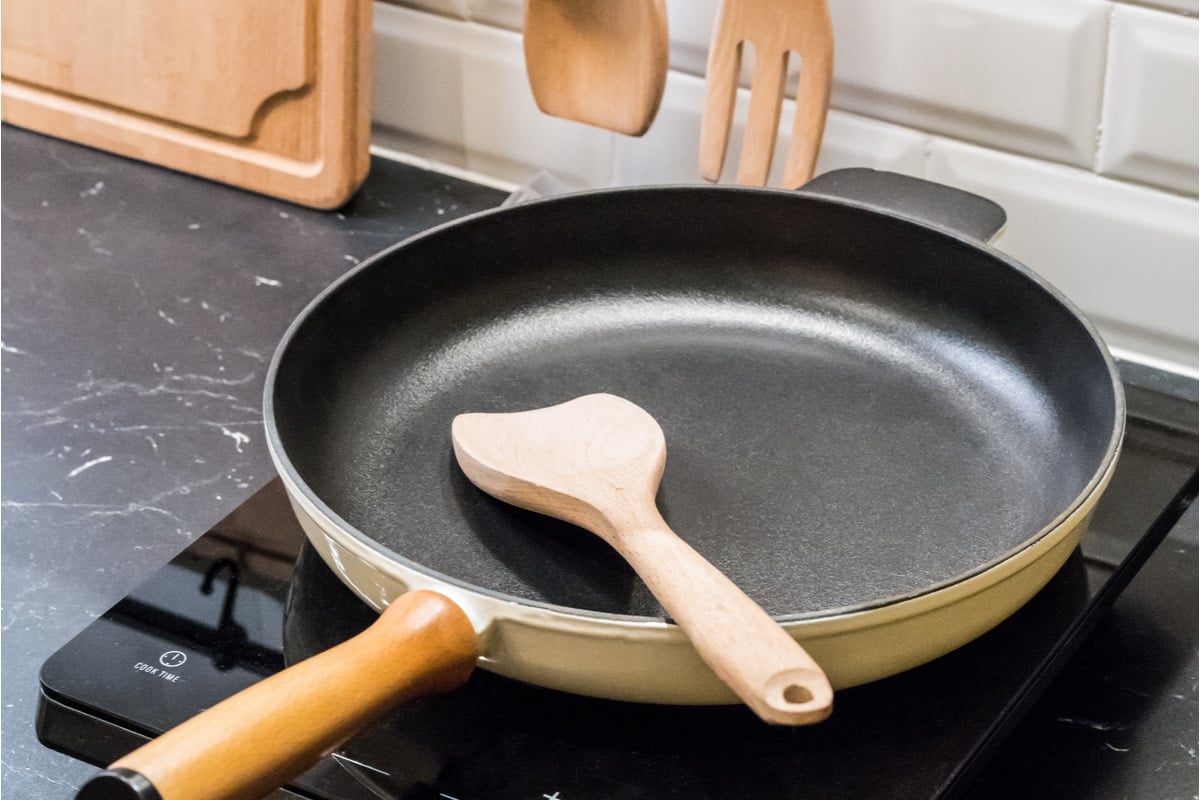 Table of Contents
Cooking with Cast Iron on Glass Top Stove
Cooking with cast iron on electric stoves is indeed possible. However, you must pay close attention to specific activities to avoid damaging the finishing or exterior design of either of the two pieces of equipment. Here are some things that will prove effective if learned before using a cast iron pot on an electric stove.
Do Not Drop It
The first care tip when using cast iron cookware on a glass top stove is to avoid dropping the cookware while cooking. This tip might sound obvious, but it is something most kitchen visitors tend to ignore. Remember that cast iron is a heavy material and the stovetop surface is fragile. Dropping a cast iron frying pan on your glass stove will break the cooking surface and tamper with your pan's finish.
Compared to your standard cookware set, cooking equipment made from cast iron is significantly heavier. Skillets can serve as a good example, where one made from cast iron weighs three times more than the standard stainless steel and aluminum alternative. This means that the cast iron-made cookware features a greater risk of breaking the cooktop's surface than its traditional counterpart if dropped when cooking.
Avoid Dragging It
Manufacturers strictly discourage dragging your cast iron cookware on a glass top stove for a variety of reasons. The most significant reason why dragging is the wrong approach is that your cooktop's glass surface will most probably get scratched. Although scratching the glass cooktop surface does not significantly affect the unit's performance levels, it lowers the stovetop's visual prowess, so be gentle when lifting and dropping it.
Another valid reason you should avoid dragging cast iron cookware on a glass top stove is the toughness of the two materials. Cast iron is more rigid than glass, making it more susceptible to developing rough edges and burs once in a while due to wear and tear. These bottom surface abnormalities might leave behind deep gouges on your ceramic cooktop surface if you happen to drag the cast iron-made cooking equipment carelessly.
Select a Smooth Bottomed Cookware
A significant number of cast iron skillets feature a branded logo on their bottom surface. Most manufacturers stick to this trend, not as a performance improvement approach, but to make the item look more appealing to their target consumers. These parties don't realize that this feature can cause damage when cooking with an electric stove because of the rough, uneven patch on the bottom surface. You need to ensure that the cast iron cookware set you are using features a smooth bottom surface to avoid unknowingly damaging your induction stove or even the induction burner.
Clear Leftover Residue Before Next Use
Regular cleaning of your cast iron cookware is a critical care and maintenance practice that every cook must acknowledge. The residue present on the lower surface of your cooking equipment can scratch the glass cooktop if not cleaned, and the carbon build-up will damage the paint around your burners.
Match the Sizes
One practical approach to avoiding uneven heating and damaging cooking equipment when using cast iron on electric cooktops is pairing their sizes correctly. Cooking with a small cast-iron skillet on a stovetop with a significantly large cooking surface may damage either party. It is safe to exceed the dimensions a little, but more than one-inch discrepancies are not recommended.
Consider Using Enameled Cast Iron
Enameled cast iron equipment is cookware to a fine and premium finish, resulting in a smooth-surfaced cooking tool. Enameled cast iron is the best equipment to use on your electric stovetop as it guarantees efficient heat distribution when using a nonstick pan. Thanks to the porcelain enamel coating, your cooktops glass surface exposes smooth bottomed cookware with stick-resistant features for ideal results. The coating also prevents rusting on your cast iron sauté pan by limiting the effects of moisture on the cookware in sessions involving stir fry recipes.
Use a Heat Diffuser
Including a heat diffuser in your cooking session involving a cast iron pan on electric stove is a practical measure to solve several heat problems in the unit. It is a thin piece of paper placed between the burner and the skillet, and its primary role is to facilitate even heat distribution on the cooking surface. Here are some key factors you need to consider when including a heat diffuser in your configuration:
Handle the diffuser with care because it will get hot during use.
Avoid sliding the diffuser since it also features rough edges which might scratch your stovetop.
You will need to increase the unit's temperature as the heat diffuser will create a buffer between the two items.
Be Careful When Cooling
Cast iron is extremely good at retaining heat, and it may result in adverse effects on the surface of your stovetop. It is common for people to let their cast iron cooking equipment cool off on their stovetops before transferring it to other storage locations. This habit can ruin your glass stove by repetitively exposing the surface to excess heat over long periods.
Hot cast iron can leave permanent scorch marks on the surface of your electric stove because of its excellent heat retention abilities. You can avoid this by installing a cooling rack or trivet explicitly for cooling your hot cookware in your kitchen.
What is Cast Iron?
Cast iron cookware includes all heavy-duty cookware made from cast iron material. Many cooks love using these cookwares primarily because of their durability, ability to withstand intense temperatures, and nonstick attributes. Including well-seasoned cast iron cookware in your cooking routine is ideal for preparing specific delicate foods and recipes; for example, the wok is suitable for stir frying in some Chinese recipes. Regardless of your experience, cookware made from this material always proves nontoxic, reliable, and long-lasting than most of its alternatives.
Electric Stoves
Electric stoves are among the latest developments technology has influenced the kitchen appliances industry. They feature among the world's advanced kitchen appliances, guaranteeing quicker cooking time with better heat distribution. One significant advantage of using an electric glass top stove over other applicable alternatives is its efficiency and consistency in cooking with all your cookware, including a cast iron griddle. Here is a brief section about the types of electric stoves available in the market currently.
What are the Types of Electric Stoves?
Electric stoves generate their heat from current electricity instead of the traditional gas stove and flame configurations. There exist two types of electric stoves, each featuring a unique build and a unique electric range. Here are some key points about the two cooktop designs.
Traditional Coil
The traditional electric coil stove, also referred to as the conventional cooktop, is a common stove type with a familiar design. It features a heating element fitted in a recessed cavity at the upper surface of the entire cooker unit. The coil on the heating element features an internal system that gets heated by electricity for heat generation in the stove. The recessed cavity also serves as a catch basin for food debris and vegetable oil spills that occur during your preparation and cooking procedures. The coil stove comes attached with a fair and reasonably cheap price tag, making it more favored than its counterpart.
Smooth Glass Top
The smooth top stovetop design is more of a functional and design upgrade over the traditional coil version. It features a more modern feel with a wide glass surface on the top side of the unit, hiding radiant elements underneath its frame. Courtesy of its design, you are guaranteed quicker cleaning and maintenance procedures while providing an even heat distribution pattern for more efficient cooking sessions. In addition to their improved functionality, smooth top electric stoves prove ideal in every modern kitchen layout.
What are the Benefits of Using Enameled Cast Iron?
Enameled cast iron cookware is an upgrade to traditional cookware, and it features significant advantages over its counterpart. Its additional coating is the primary feature that distinguishes it from other cookware designs, and it improves both the performance and visual qualities of the unit. Ovens are the perfect item to explain this concept. The difference in appearance and performance is significantly improved when comparing a cast iron-made Dutch oven to the traditional design. Here are some benefits associated with using enameled cast iron in your cooking sessions.
Easier Cleaning
One significant advantage of cast iron cooking equipment is its significantly simplified cleanup procedure. Throwing your cast iron skillet in the dishwasher is enough to guarantee a thorough and productive cleaning session that leaves your pan in satisfactory condition, ready for subsequent use.
Durability
Enameled cast iron cookware lasts longer compared to cooking equipment featuring the traditional design. If you are a kitchen enthusiast, then you may have heard of cookware made from cast iron being passed down from generation to generation among family members. Its coating makes it immune to cracking and chipping even after continued use.
Adaptability
Adaptability is another upside of using cast iron equipment since it is productive regardless of the heat source you use. Some cookware provides better results when paired with specific heat sources while proving inefficient and ineffective when paired with others. Most cast iron-made cookware is ideal for induction cooking primarily because of its flat surface—other high-end prospects under the same classification guarantee excellent heat-resistant abilities of up to 260 degrees.
Nonstick Capabilities
Another reason why most cooks prefer using cast iron cookware instead of traditional prospects is because of its natural nonstick attributes. This feature is practical when cooking various meals, and the extra surface coating creates the perfect layer to prevent food particles from sticking to the surface of the grill pan. When using a cast iron skillet on an electric stove, use the right temperature to deliver the browning effect on your cookware's finish to evenly spread a thin layer of fat, which prevents sticking.
What You Should Avoid Using on Your Electric Cooktop
If your kitchen features an electric stove, there are specific items you should avoid using on your unit to prevent damage. Steer away from using the rough side of your scrubby sponge when cleaning your glass cooktop. Steel wool is another tool you should avoid as it will scratch your stovetops finish, lowering its general value and efficiency. It would also help if you were patient enough to wait for the stove to cool down before cleaning it with a cleanser.