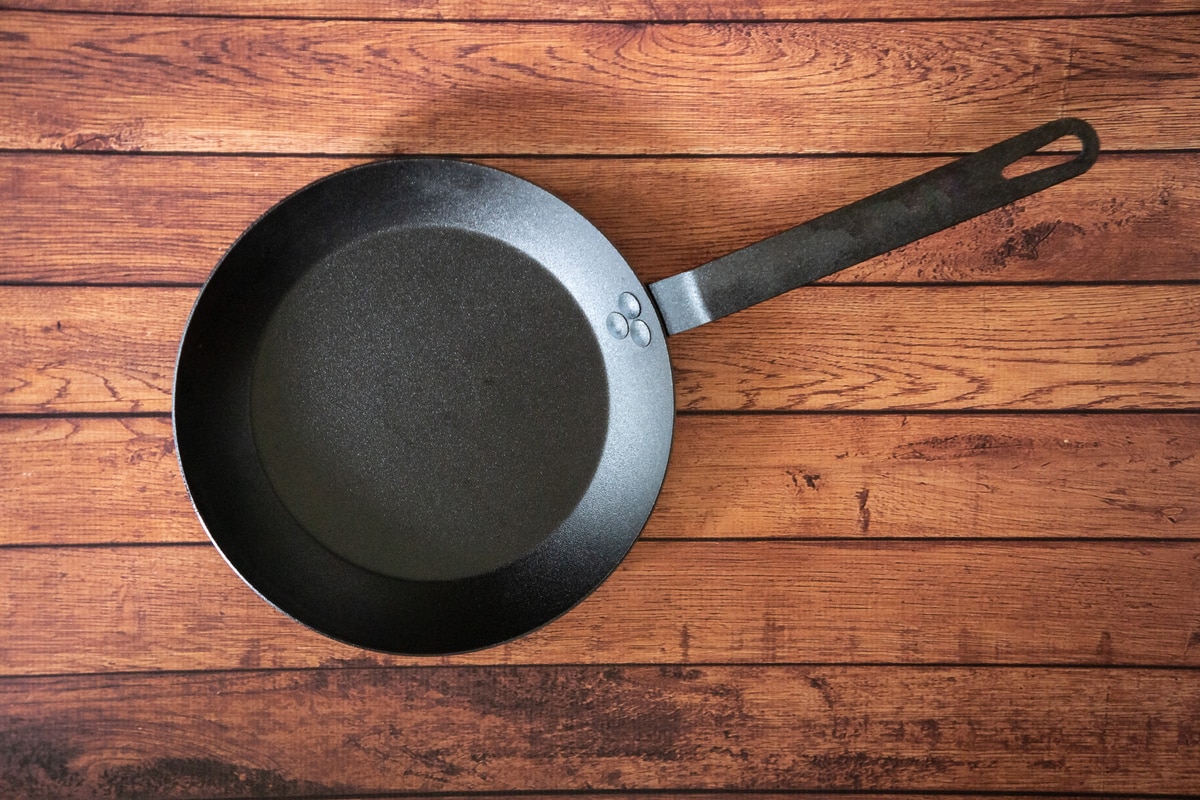 When exploring new cookware options, it's always best to do your homework. There are so many different cookware materials available today that keeping track of them all isn't easy.
Carbon steel is one material choice that more and more chefs are turning to each day. Lightweight, inexpensive, and great for cooking a variety of dishes, it's no wonder why. However, the question remains—is carbon steel safe?
In this article, I looked at the question from every possible angle, taking into account toxicity, chemical composition, and dietary health. If you're thinking about adding carbon steel to your cooking arsenal, this is a must-read.
Jump to:
Carbon Steel Cookware is Non-Toxic
Often, when people ask, "Is carbon steel safe?" they usually have toxicity in mind.
It's well known that Teflon contains PFOAs, artificial chemicals that help create its non-stick surface. These PFOAs can cause harm, as they stay in the body and the environment for long periods. Some studies have even associated increased risk of cancer with them.
Since carbon steel wok and frying pans also have a nonstick coating, many people wonder whether they carry such risks. Luckily, this is not the case. In fact, carbon steel cookware only has two chemicals in it, carbon and iron, neither of which is toxic.
What About Rust?
Because carbon steel pans are prone to rust, others worry that they may pose the risk of metal poisoning if misused.
Rust is indeed a small risk when cooking with carbon steel. However, that doesn't mean you need to throw out your old pots and pans immediately. The USDA recommends simply cleaning off rusted cookware and utensils before using them.
Health Benefits of Carbon Steel Cookware
Far from being an unsafe cooking material, carbon steel pans are actually one of the most healthy options. Take a look at these health benefits:
Fortifies Food with Iron
Since carbon steel cookware is 99% iron, it can actually add nutritious minerals to your food. The amount added depends on what you're cooking, but it can be a real boost to health for those who are iron deficient.
Uses Less Oil
Carbon steel cookware has a natural nonstick coating, which means cooking requires less oil than stainless steel or other materials. This results in less greasy, more appetizing food and serves to cut back on unnecessary calories.
Free From Harmful Chemicals
As mentioned above, carbon steel cookware doesn't contain any of the PFOAs found in Teflon. It is actually one of the most natural nonstick cookware materials, mainly containing iron.
Lightweight
If you're concerned about arthritis or other joint issues, carbon steel cookware may be worth a try. These frying pans are some of the lightest available, including the larger sizes. This makes them especially easy to handle.
Carbon Steel Cookware Tips
Of course, getting the best results with carbon steel pans and skillets comes down to using them correctly. Be sure to keep all of these cooking tips in mind for safe and healthy meals.
Avoid Highly Acidic Foods
One factor to keep in mind when using carbon steel cookware is that it isn't designed for cooking all dishes. While very versatile, there are a few foods that are best to avoid.
Highly acidic foods like tomatoes, lemon juice, and vinegar can all be problematic. These run the risk of degrading the nonstick coating on your frying pan. While this doesn't pose a health risk in itself, it can potentially lead to rust.
To keep your food safe, be sure to avoid foods high in acid and to reseason your pan every two to three months.
Remove Rust When You Spot it
If you do spot rust in your carbon steel pan, there's no need to panic. Light rust on pans can often be scraped off easily. Once you remove the rust and reseason the pan, it will be as good as new.
Heavier rust, however, can undermine the structural integrity of your pan. If you find larger patches that can't be easily removed, it may be best to buy a new pan. You should never cook with a rusted pan.
Keep it Seasoned
As long as you keep a healthy coat of seasoning on your frying pan, rust shouldn't be a major worry. The polymerized oil that coats a carbon steel pan is its natural defense against rust, and it also keeps any other substances from leaching into the metal.
Be sure to reseason your nonstick pan every two to three months. It is also a good idea to keep an eye out for scratches and chips in your coating. These should be quickly patched up with a fresh coat of seasoning.
Wash Off the Protective Coating
When you unbox your newly-purchased carbon steel pan, be sure to follow the packaged instructions carefully. This includes washing off the protective coating it may be covered in.
These coatings are designed to protect the pan from rust during the shipping process. In this way, they can actually be beneficial to your health. However, many of them contain substances that don't belong in your food.
Usually, all it takes is soap and water, and it will wash cleanly off.
What are the Safest Nonstick Cookware Options?
Aside from carbon steel and Teflon cookware, there is a wide range of other nonstick cookware materials to consider. Learn more about safely using some of the more common options.
Cast Iron Cookware
Cast iron cookware is one of the most similar to carbon steel, except it has a slightly higher iron content. You won't find any PFOAs here, though you should also be cautious of rust. Still, any cast iron pan is safe for day-to-day use.
Copper Cookware
Just like carbon steel, copper cookware is all-natural and contains no harmful chemicals. Plus, it doesn't run the risk of rust, making it even safer in some aspects.
Ceramic Cookware
Ceramic is another all-natural material option that offers some unique benefits. The only safety risk to watch out for is damaging the exterior coating of your skillet, wok, or saute pan. This can happen through chipping, scratching, or excessive heat.
Stainless Steel Cookware
Stainless steel cookware is known to be a low-maintenance material that's resistant to rust. This, in addition to its durability and lack of harmful chemicals, makes it another safe cooking option. The only factor to consider is that stainless steel cookware is relatively heavy and should be handled carefully.
The Bottom Line: Is Carbon Steel Safe?
Considering all the factors, is carbon steel safe? According to seasoned chefs and food health agencies, the answer is a resounding yes.
Ultimately, the dangers associated with nonstick pans like Teflon don't apply to carbon steel cookware. None of the PFOAs or other chemicals used in this coating are found in carbon steel.
In fact, few better nonstick cookware materials options are more natural, or more healthy.