Fish sticks are delicious when they're fried, grilled, or baked. But what if you're short on time or don't have an oven? Can you microwave fish sticks, or will they turn out inedible? We bought a 40-pack and started cooking to provide you with the hard proof.

Table of Contents
Are fish sticks suitable for microwaving?
Fish sticks are okay cooked in the microwave, but keep in mind they won't have the crispy coating you get from the usual cooking methods. Depending on the microwave and how many you cook, expect the fish to be ready in 1½-3 minutes when cooked on high.
You can see from the below image how fish sticks look when microwaved vs. pan fried.
Of course, each brand of fish stick has its own unique recipe, so we didn't want to rely on our tests alone. Instead, we researched some of the big brands of fish sticks to get their advice. Here's what we discovered.
Do fish stick manufacturers recommend microwaving their products?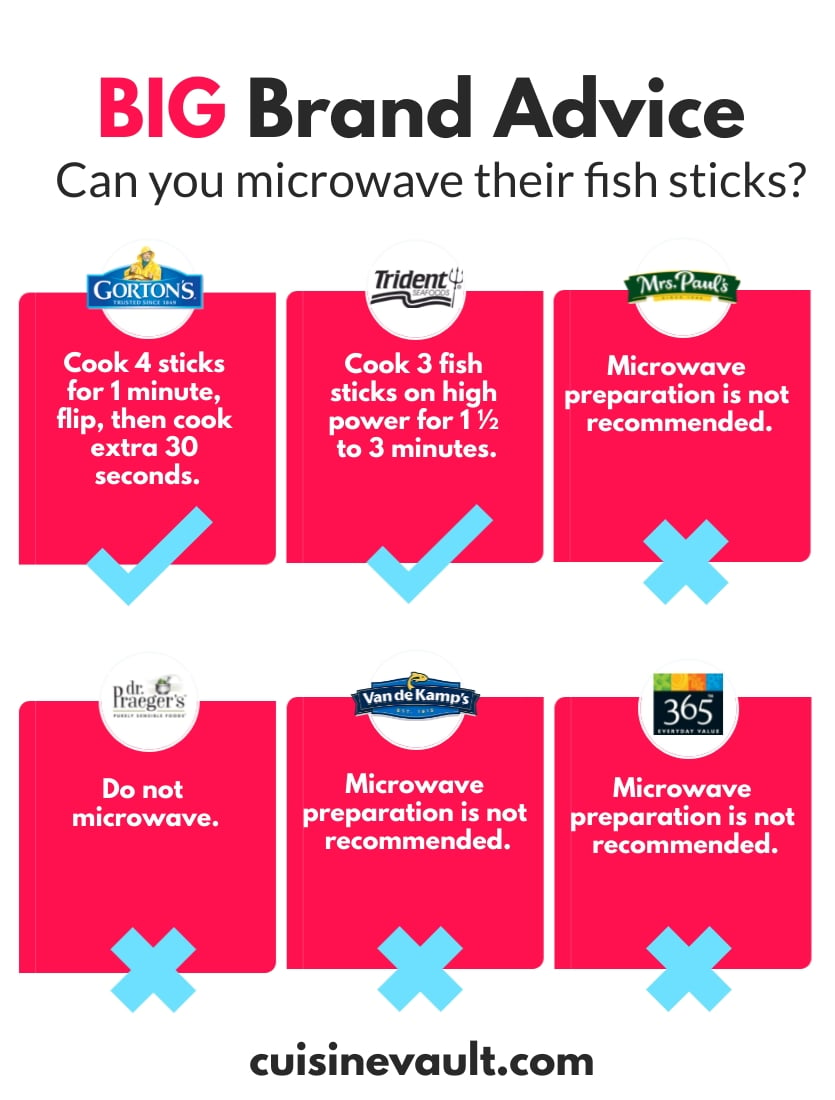 | Brand | Can you microwave their product? |
| --- | --- |
| 365 Everyday Value | Microwave preparation is not recommended. |
| Gorton's | Cook 4 sticks for 1 minute, flip, then cook extra 30 seconds. |
| Mrs Paul's | Microwave preparation is not recommended. |
| Van de Kamp | Microwave preparation is not recommended. |
| Trident | Cook 3 fish sticks on high power for 1 ½ to 3 minutes. |
| Dr Praeger's | Do not microwave |
| Great Value | Microwave preparation is not recommended. |
How to cook fish sticks in the microwave
Microwaving your fish is quick and easy. Follow these steps for delicious, tender fish every time.
Place a single layer of frozen fish sticks on a microwave-safe plate. Try to arrange them around the outside of the plate; if placed in the middle they'll cook faster than the rest. Cook 4-8 in one go for best results.
Heat on high for one minute, then turn and cook for a further 30 seconds. Check and if necessary, continue cooking for 30 seconds more.
Remove the fish sticks from the microwave oven and serve immediately.
Notes:
-Cooking times may need to be increased if you have a lower wattage microwave.
-Always ensure the fish is completely heated through. The internal temperature should be at least 165°F.
What are the advantages and disadvantages of cooking fish sticks in a microwave?
Pros
Less fat: You don't need to use any oil or butter which is handy if you're trying to reduce fat intake.
Faster: When time isn't on your side, the microwave is way quicker than stovetop or oven cooking.
Easy clean-up: Instead of having to wash a cumbersome pan and wipe down fat spatter, you can pop a single plate in the dishwasher.
Cons
Easy to overcook: If you leave the fish fingers in a pan a minute too long, it won't have a big impact on the fish's texture. But even 30 seconds too long in a microwave will result in tough, rubbery fish.
No crunchy coating: You won't get that crisp breading that looks and tastes amazing. Instead, it will be soft and a little soggy.
Related reading:
Can I microwave mussels?
Is cookie dough okay to microwave?
Can you microwave frozen fries?
Should I microwave milk?
How can I get crispy fish sticks in the microwave?
If you prefer deliciously crispy fish sticks, then you may want to get yourself a Nordic Ware Round Microwave Grill from Amazon. It's a simple, but innovative gadget that lets you get crispy food using a microwave. Use it to make crispy bacon, sausages, or even to reheat pizza. It's the size of a plate so it'll fit into the smallest kitchen easily.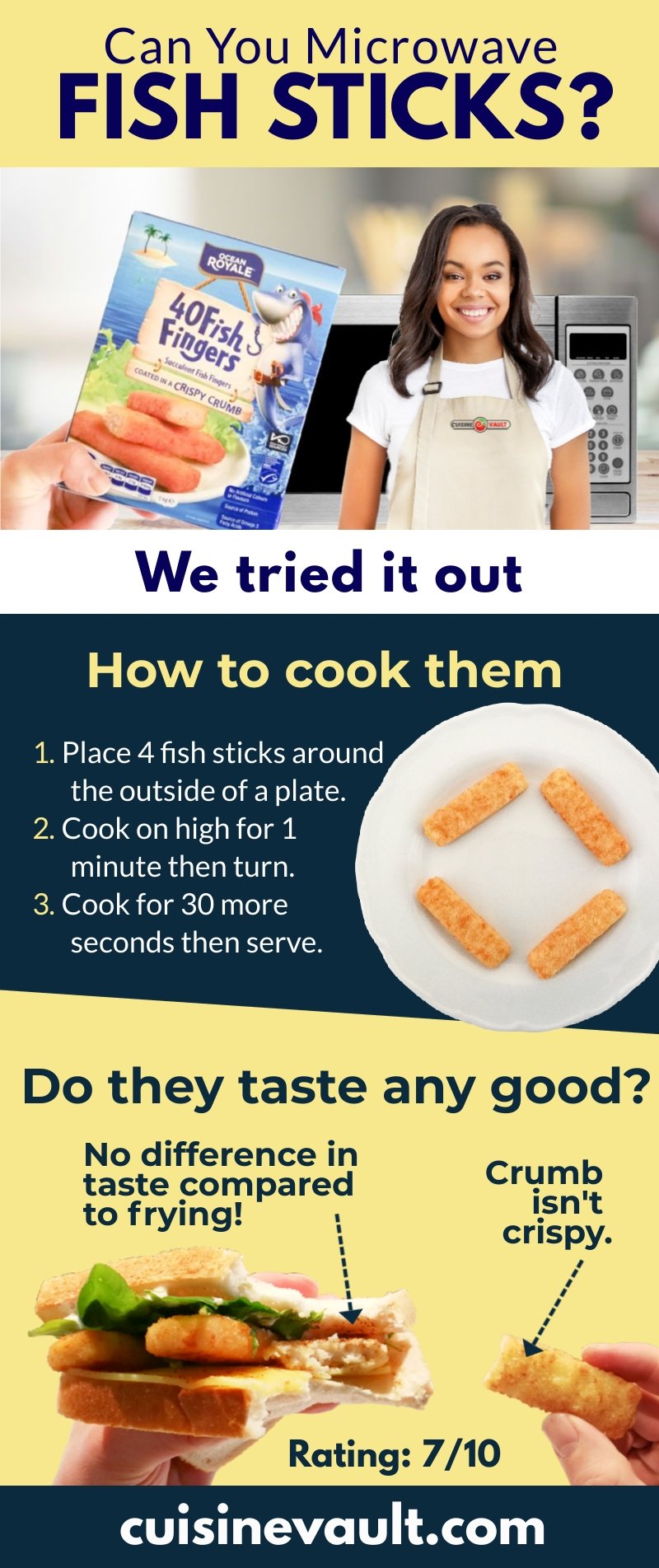 Commonly asked questions
Are fish sticks pre-cooked?
Although some brands pre-cook the fish, you should always check the packaging. Many products like Dr. Praeger's contain fish that has not been fully cooked already. Instead, frozen fish is breaded and briefly deep-fried before being flash frozen. Whether the fish sticks are cooked or not, make sure the internal temperature of the fish reaches 165°F.
What do you eat with fish sticks?
Fish sticks are a versatile food that is excellent served for breakfast or dinner with a dollop of tartare sauce or Aioli. Side dishes like French fries, potato salad, Mac and Cheese, vegetables, bacon, and eggs, or waffles are all great options. You also may enjoy adding them to a sandwich or taco.
How do I store fish sticks?
Unopened fish sticks should be kept in the freezer for up to 18 months or as per the packaging date. Keep them in their original packaging and never defrost before cooking. Once opened, you may want to place the box in an airtight plastic bag to avoid freezer burn.
What are the best methods for cooking fish sticks?
Baked: Preheat an oven to 450°F. Place your fish sticks onto a baking sheet that has been lightly sprayed with cooking oil then bake for 10-15 minutes. For best results, flip them halfway through cooking to get them crispy on both sides.
Deep-fried: Preheat the oil to 350°F then carefully add the fish and fry for around 4 minutes until golden brown.
Air fried: Add a single layer of frozen fish sticks into an air fryer that has been preheated to 400°F. Cook for roughly 10 minutes, making sure the fish is completely cooked through.
Fast facts
Fish sticks are also known as fish fingers in some countries.
The main ingredient is usually a whitefish like pollock, hake, cod, or haddock which don't have a strong fish flavor.
Although the first reference to the fish finger dates to 1900, it wasn't until the 1950s that they were produced commercially by Gorton's.
Summing up
Fish sticks, like Eggos, are a convenient meal people can make in minutes. As a trending product in the grocery store, we decided to test their quality when microwaved.
If crunchy breaded fish fingers are what you love, then you're best to avoid using a microwave to make them. The exterior turns out soft and a bit soggy, which may not appeal to you.
On the positive side, most kids won't even notice the difference and if you toss them into a sandwich, few adults will complain either.
Overall, the fish tastes fine using a microwave, but getting the cooking time right is essential. Overcook by a matter of seconds, and the fish will be rubbery; undercook, and you risk getting sick.
We recommend only microwaving brands like Gorton's or Trident who have specific instructions for using a microwave. Most manufacturers advise against microwaving their fish so always check the box for instructions.