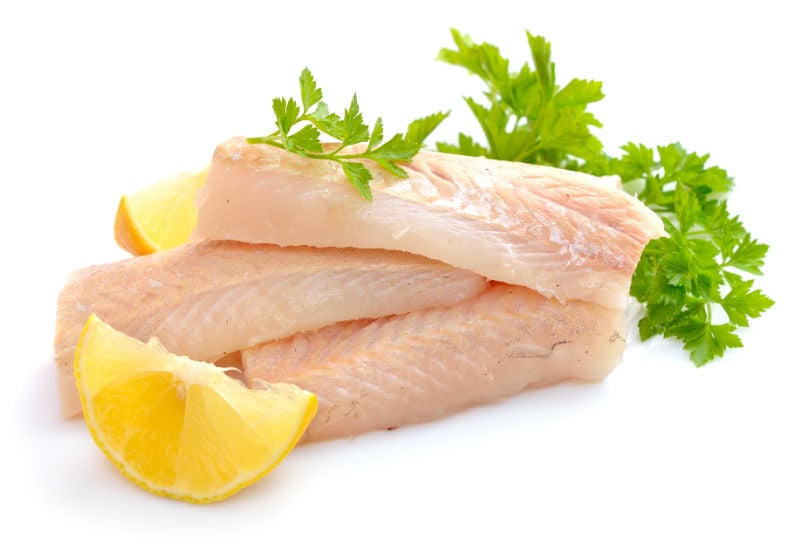 The hake is a member of the cod family and is popular throughout Europe but not so well-known in the United States. This fish comes in a variety of species that vary in flavor, but in general, they have a mild, slightly sweet taste. The lean raw fillets look like cod although they are more pinkish. Once it is baked, sautéed, or fried, hake is tight-textured and meaty while also being soft and delicate. Its subtle flavor makes it the perfect blank canvass for adding a diverse range of seasonings.
If you can't find any hake where you live or you simply don't enjoy the taste, then you're going to need a replacement. We have compiled some excellent hake substitutes so that you can finish your recipe without it. Let's dive in.

Table of Contents
What are the best hake substitutes?
The recommended options for replacing hake in cooking are cod, haddock, tilapia, pollock, halibut, and flounder. Although they have subtle differences, they are all mild-flavored fish, ideal for kids and anyone who doesn't like over-powering fishy flavor.
1. Cod
Cod is a mild-flavored, lean fish with fillets that have firm large flakes once cooked. It is a very popular choice of seafood in Europe and the United States, although it often comes with a higher price tag. The fish is perfect for baking, grilling, or coating in a batter and deep-frying until golden and crispy.
When comparing the two fish, you will notice that a cod has bigger fillets and a flavor that is slightly stronger than hake. It also has a little less sweetness.
2. Haddock
Haddock is another mild-flavored, sweet-tasting white fish that is lean and has a firm and tender texture. Once cooked you will find that the fish has medium-sized flakes - it is perfect for pan-frying.
Haddock is sweeter than cod and is quite close to hake in flavor profile. Although it has a finer texture, it still makes an excellent replacement for hake. We have previously written an in-depth article on the taste of haddock so take a look if you'd like to learn more.
3. Pollock
Pollock is another mild-tasting fish that has white flakes that are large and firm. It has a delicate taste and is low in oil content which makes it light and easy to eat.
Although cod has a slightly stronger flavor than hake, you will find that a pollock's subtle taste closely matches the hake flavor profile. An added benefit of buying pollock instead of hake is that it is a low-cost option and is perfect for those on a budget.
4. Tilapia
Tilapia is a sustainably farmed fish that is mild and sweet tasting with lean flesh and the texture that has firm flakes. This is a versatile fish that can be cooked in a wide range of sauces and seasonings. Tilapia has very little taste and it takes on board the other ingredients it is cooked with. Find out more about what this fish tastes like by checking out our handy tilapia guide here.
5. Halibut
Halibut is a useful substitute for hake and tastes quite similar to tilapia. Compared to hake it is firmer and thicker, but it is another fish that is versatile in the kitchen and pairs with bold flavors like basil, chili, or pesto.
6. Flounder
Flounder is a mild fish with low levels of oil and moisture. It is often cooked as a whole fish as the fillets are quite thin. The texture of a flounder is softer and more delicate than a hake's. It will easily break up with a fork and won't hold its form in a casserole or seafood chowder as hake does. We created an article about what a flounder tastes like previously so be sure to take a read if you are interested in this fish.
Related reading:
What can I use for a monkfish substitute?
Summing up
Hake is a soft, moist fish that is perfect for battering, grilling, frying, baking, or broiling. It is a versatile ingredient thanks to its mild flavor; people that don't enjoy overly "fishy tasting" seafood should find hake acceptable. However, it isn't always easy to find this fish especially if you live in the United States or other parts of the world outside of Europe. If you need a replacement for hake then try cod, haddock, pollock, or tilapia as your first options. Halibut and flounder will make useful backups if you're in a pinch. Every fish has a unique flavor so you're never going to perfectly mimic the taste of hake; but the good news is, once the fish is cooked and seasoned, most people will barely know the difference.
Of course, not everyone enjoys the taste of hake. Maybe it is too bland for your liking? If you're looking for an alternative with a different taste then you may want to consider salmon or whiting? They are two fish with different flavor profiles that are delicious and enjoyed across the world.
What is your favorite type of fish that doesn't pack too much fishy or salty flavor? Please let us know in the comments below.