The microwave is a household item that has unquestionably transformed and updated the kitchen in our homes. Instead of standing in front of our stoves for hours, watching the dishes cook, you can just put everything in the microwave, push a few buttons, and prepare your supper in minutes.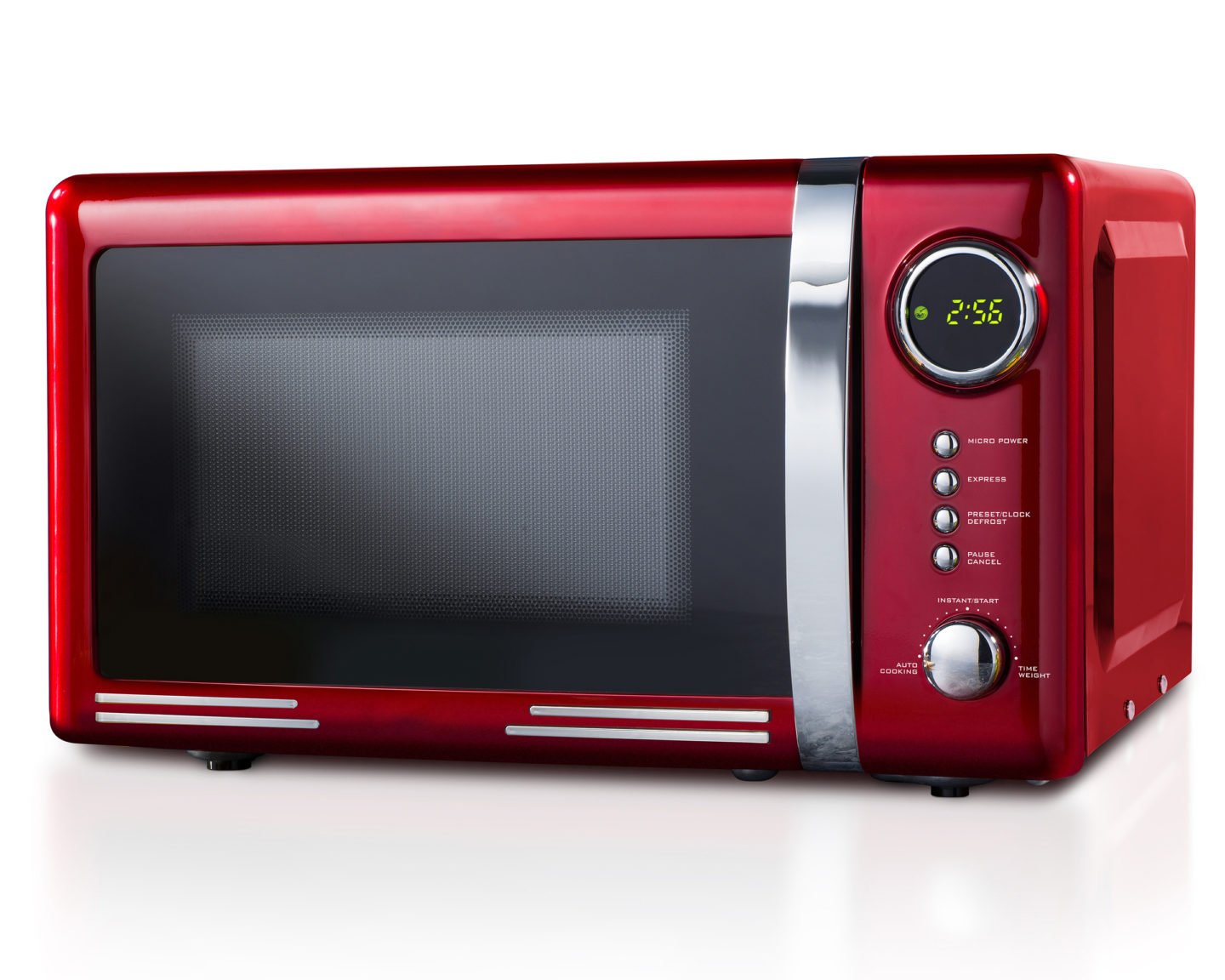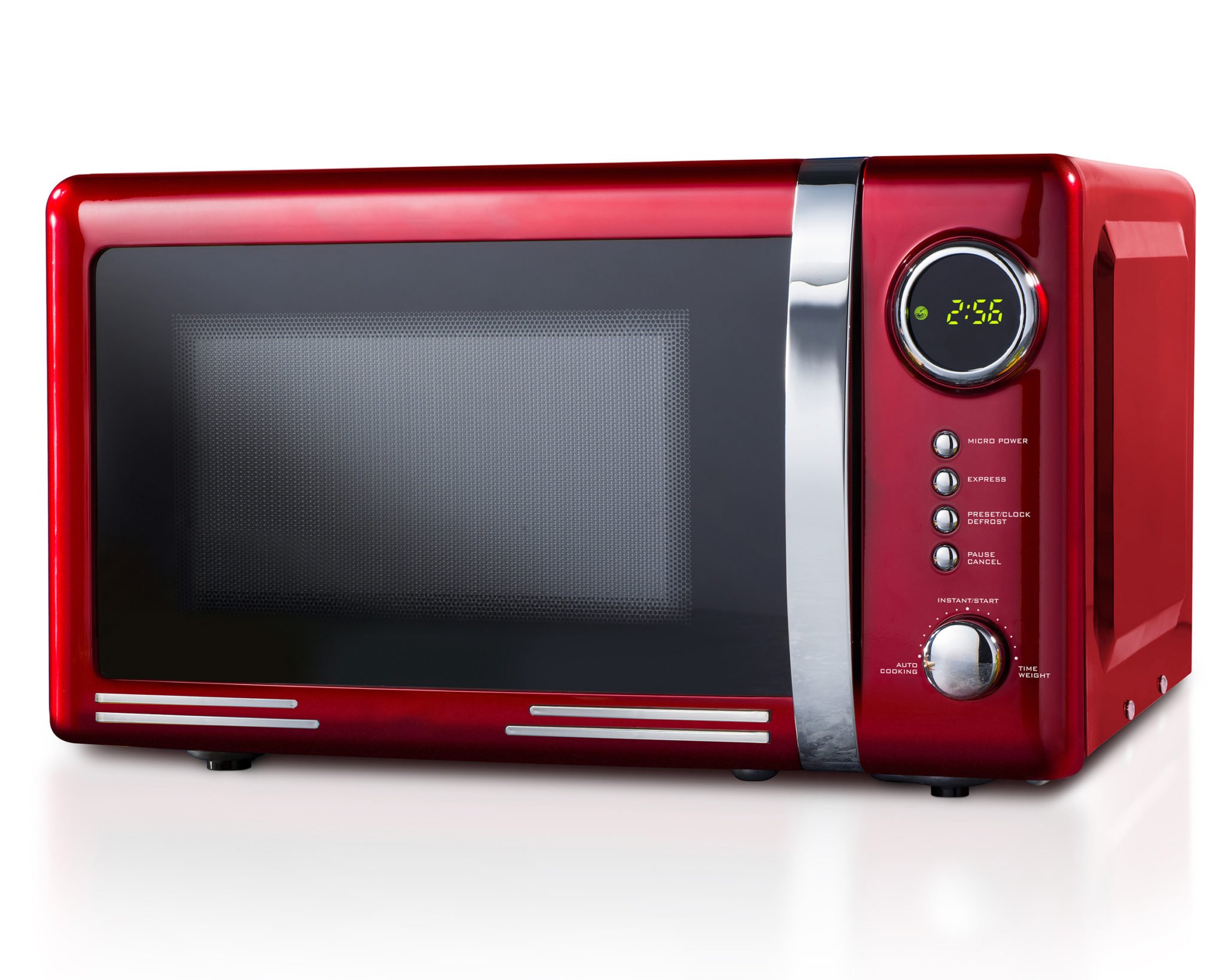 Essentially, a microwave cooks food by turning electricity into microwave-range electromagnetic waves. It's fast, convenient, and safe, as well as causing the least amount of damage to the food's nutritional worth. However, nowadays, people seem to love red microwaves that give off a retro vibe, giving a more pleasing effect on the kitchen's aesthetics.
This article will discuss the top 7 red microwaves that you can purchase online and a quick buying guide in choosing the best microwave for your kitchen.
Table of Contents
Top 7 Best Red Microwaves
SAVE 22%
The COMFEE' Retro Microwave is a low-cost microwave with a small design that complements your counter while delivering good cooking alternatives. This oven is built from food-grade stainless steel and is extremely easy to clean with 10 power levels.
This isn't your usual vintage microwave because it has a dependable keypad design that allows you to access various cooking options. The sensitive buttons are meant to decrease effort and remove guessing, making them suited for toddlers, adults, and the elderly. Moreover, the glass turntable is innovated with position memory; it always resets to its initial place.
The microwave's cooking power of 700 watts is sufficient to prepare snacks, reheat food, and cook delectable dinners. It includes a 0.7 cubic foot cooking capacity and a 10-inch glass turntable to accommodate your favorite foods. However, this model does not come with touch buttons and is not suitable for large families.
2. Amazon's Best Seller: Galanz Retro Countertop Microwave Oven
If you're after an affordable yet aesthetically pleasing microwave oven that fits your retro style, the Galanz Retro Countertop Microwave Oven is for you. This compact microwave occupies only 21 inches of your counter and offers excellent aesthetics.
Aside from its great appearance, this model comes with 7 auto cooking power and 10 auto reheat programs that cut preparation time. In addition, its glass turntable rotates 360 degrees for an evenly cooked meal. This model also features a quick start button that operates within 30 seconds to top everything.
Another feature that we appreciate in this model is its easy cleanup. With its glass turntable, you can easily wipe the insides with a paper towel. However, be warned that this heats up quickly due to its quick-start feature and may cause malfunctions when plugged in too long. Nevertheless, this red microwave is an excellent addition to your kitchen.
3. Best Stylish: Nostalgia Retro Large Countertop Microwave Oven
The Nostalgia RMO4RR has a simple vintage style with modern cooking skills that would look well in a dorm room, any home kitchen, or a break area at work. It has a vintage-style knob and simple buttons that give you access to all cooking choices. It also includes a sturdy handle that makes it simple to add and remove food and an easy-to-read LED screen that displays all capabilities.
The Nostalgia RMO4RR has a 0.9 cubic foot cooking capacity and a revolving 10.5 inches glass turntable, which is large enough to accommodate most dinner plates. In addition, this red microwave has an 800-watt cooking power, so it can quickly cook and reheat your meals.
You can vary the power output from 20% to 100% to help you cook all of your meals to perfection. You can also utilize the delay timer to optimize heating, or the defrost choices to cook all frozen items. However, we don't recommend this for large families due to its small size.
4. Most Versatile: Farberware Classic Microwave Oven
SAVE 23%
The Farberware Classic Microwave provides power, style, and convenience with a modern metallic red appearance to complement your kitchen. The digital interface of the Farberware Classic is simple to use. A digital clock and a kitchen timer are displayed on the LCD. There's also a 30-second timer and six pre-programmed cooking options.
Multi-stage cooking means modifying the power level during the cooking cycle for ideal results without interrupting the process. The Farberware Classic is the perfect multi-tasker for your kitchen, with a large 1.1 cubic feet capacity, 1000 watts of electricity, and a spinning turntable.
This model also offers a position memory that lessens burning accidents and a safety lock that prevents children from opening the oven unsupervised. However, the major drawback of this model is its loud operating noise. Other users also reported issues with its durability, saying 1 year of warranty isn't enough.
5. Best Small Microwave: WINIA Retro Microwave
Winia WOR07R3ZER Retro Microwave, 0.7 Cubic Foot
A compact retro red microwave with 5 power levels and a power-saving and child safety lock feature at an affordable price point.
Pros: Affordable, compact, power-saving, recessed glass turntable.
Cons: No digital clock feature; it takes longer to heat.
With a cooking capacity of 0.7 cubic feet and an 11-inch deep turntable, the WINIA WOR07R3ZER is a perfect alternative for a single person or a couple on a budget. With the easy stroke of a button, the power level can be modified into 5 different settings (including 2-Way Defrost) to reheat and prepare various food.
The Concave Reflect System in this microwave uniformly distributes the waves above and below the food. As a result, your meal will not be overdone on the exterior but undercooked on the inside. It also ensures quicker cooking power.
Finally, for further peace of mind, the WINIA has a Child Safety lock and the Zero On power-saving function, which automatically cuts off the power supply if the oven is left unused for longer than 10 minutes. The main drawback of this model is its lack of digital clock features and slow heating capabilities.
6. Best Affordable: RCA RMW987-RED 0.9 cu. ft. Retro Microwave, Red
RCA RMW987-RED 0.9 cu. ft. Retro Microwave
This model features a retro oversized knob, a LED display, eight quick menu options, and defrost button at an affordable price.
Pros: Affordable, simple design, LED display.
Cons: No interior lighting and other basic features.
With 900 watts of electricity and 5 power levels, you can easily make snacks and meals with the RCA red countertop microwave oven. It offers several power levels to choose from and 8 auto-cook options. This makes it very simple and quick to use as a microwave. You can also prepare a wide variety of items with ease.
The RCA RMW987-RED has a capacity of 0.9 cubic foot and has auto-defrost by time and weight capacity. The microwave weighs 32.2 pounds and measures 16.75 x 21.5 x 12.75 inches. The cooking space is around 10 inches in depth, 7.5 inches inside the door, and 11.5 inches wide. The rotating plate measures 9.5 inches in diameter.
This red microwave lacks basic features like interior lighting and a safety lock at its price point. Nevertheless, it's a good buy.
7. Best Red Microwave Under $100: Willz Countertop Small Microwave Oven
Although the Willz Countertop Small Microwave Oven is marketed for under $100, it is packed with impressive features. This small microwave is indeed worth the money, from its unique design and stainless steel and glass exterior to the interior lights, led display, and glass turntable.
A 700-watt motor powers this microwave. Given this wattage, this microwave oven heats up slowly and might not be for those in a rush. This model has 11 power levels with 6 preset cooking programs and a defrosting button.
This Willz countertop microwave oven also comes with a child-safety lock and easy access option pad. However, given the price point, this model is extremely small, with only 0.7 cubic foot of space. And it is not the most durable. Nevertheless, this is great for solo use.
Red Microwave Buying Guide
Type
The solo microwave makes up the bulk of red ovens. Meals may be cooked, reheated, and defrosted with these gadgets. However, you won't be able to get a red grill microwave if you want to brown or crisp your food. The Farberware Classic, a newer model, is currently the only option we know about.
Style
If you're after a microwave that fits a retro-styled kitchen, the Comfee retro red microwave oven is an excellent option. Other red microwaves that may fit a stylish kitchen include Nostalgia RMO4RR, WINIA WOR07R3ZER, and Farberware Classic.
Capacity
If you have a larger family, a microwave with a large capacity is recommended. The standard volume is less than one cubic foot. Anything less than this is referred to as a little microwave, while anything bigger is referred to as a large microwave. We recommend getting at least 1 cubic foot when cooking for more than 2-3 people.
In this list, small red microwaves include COMFEE' Retro Microwave, Nostalgia RMO4RR, WINIA WOR07R3ZER, and RCA countertop microwave. You can also choose from the large red microwaves like Galanz Retro Countertop Microwave Ovenand Farberware Classic.
Power
In most cases, higher power means faster cooking time. For simple reheating and cooking, microwaves with an 800-watt output are sufficient. Anything less takes longer to cook but is frequently less expensive. Due to the lack of red microwave oven options, you may settle for a 700W model, such as the Galanz Retro Countertop Microwave Oven.
Precautions When Using Microwave Ovens
Microwave-safe utensils
You must be extremely careful about the materials and utensils you use in your microwave. For example, when you don't use a microwave-safe dish, food reacts with the material, resulting in melted utensils, uneatable food, and microwave damage.
Burns
When using a microwave, most individuals have this problem. The pots and utensils may be too hot to handle, causing burns to your skin and hands. We recommend using microwaves with position memory that always stops at the initial position to avoid burning your hands.
Harmful Chemicals
Microwaves are hazardous to people, according to several research studies. If they are broken, for example, they can produce dangerous radiation. Additionally, some plastic containers might induce toxins to enter your food, which can be carcinogenic. Therefore, always use microwave-safe containers when heating food.
Related Questions
Which brands manufacture red microwaves?
Not all brands manufacture red variants of their microwaves. However, the brands mentioned in this list have them. Nostalgia, Galanz, Farberware, and Magic Chef are great examples. Hamilton Beach microwave also has them.