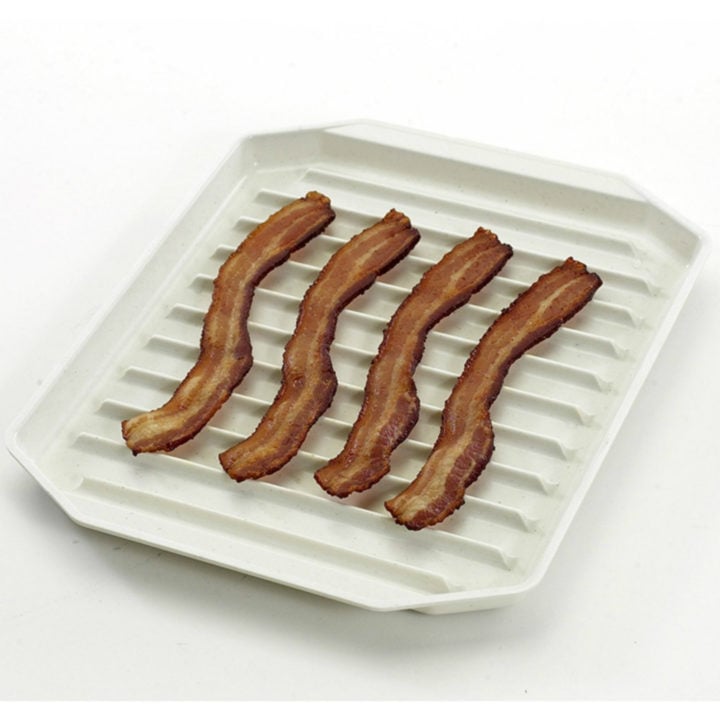 We dare say it: Everybody loves bacon! From toppings on egg salads to burger and sandwich stuffing, bacon gives every meal something extra. That is why we love microwave bacon cookers. They make cooking bacon easier, cleaner, and healthier. If you know how to work a microwave, you can cook bacon.
However, the popularity of bacon means there are many bacon cookers to choose from. From pioneering designs in the 90s to simple-but-effective trays, we came up with the list of the best microwave bacon cookers on sale today.
We created a list of our favorite options based on what we believe is the overall best. However, we also try to be fair by sharing what makes them a good or bad choice. For example, some make cleaning more straightforward, and others strain excess bacon grease better, and so on. We hope you find a cooker that matches your style. Let's get on with the list.
Table of Contents
Best Overall Microwave Bacon Cooker: Prep Solutions Microwavable Bacon Grill
SAVE 26%
Prep Solutions Microwavable Bacon Grill
A no-frills solution that is affordable, too.
Pros: Affordable; has a vented lid; tray sides are tall; ridges that course excess fat; keeps your bacon flat; dishwasher safe
Cons: You'll need medium-to-large microwaves; a shallow lid handle makes you touch the hot surface
This microwavable bacon cooker by Prep Solutions is a two-piece set that we consider to be the standard by which microwave bacon cookers ought to be measured. Both the tray and cover tick off many boxes.
Its tray has ridges, or mini humps, that strain meat juices away from your bacon. It can accommodate four to six bacon strips that emerge flat — exactly like fried cooking minus the oil. And with sides this high, you could also use the cooker for sausages, pizzas, and burgers.
Its cover is perfect, too, having vent holes on the sides that keep your bacon crispy. So while bacon fats may leak out at times, this isn't a huge concern. You'll see this with other bacon cookers anyway. Plus, when you decide to use the microwavable bacon grill to make pizza or burgers, the vents keep your food from becoming soggy or dry.
Both the bottom tray and cover are dishwasher safe, though we prefer handwashing for longevity. Why is this a concern? Frankly, we think the materials aren't durable enough.
While we think this is the best overall, Prep Solutions can undoubtedly improve the cooker's design. For one, the lid handle is shallow and small, which means you could accidentally touch the hot surface. In addition, the external handles on the sides aren't particularly useful either.
Also, size could be a concern. To use this bacon cooker, you need a microwave with a turntable at least 12.5 inches in diameter. In other words, you can't use this with smaller microwaves — the tray may fail to rotate, causing uneven cooking.
And finally, buyers should pay attention to their microwave's wattage output. Prep Solutions specifies setting the power to 80% of max for microwaves with capacities over 800 watts. Otherwise, you risk melting your cooker. You'll learn more about this in the buying guide below.
But then again, Prep Solutions' microwave bacon cooker is affordable, so we can't complain much. We definitely think it is the overall best bacon cooker you can buy in the market right now.
Best Standing Bacon Cooker for Microwaves: Microwave Bacon Cooker — The Original Makin Bacon Microwave Bacon Tray
SAVE 16%
If you're into bacon cookers, you'll probably know a thing or two about Abbey, the inventor of Makin Bacon. On a Saturday morning in 1993, she discovered a cooking method that pioneered what we now know as bacon cookers. The Original Makin Bacon Microwave Bacon Tray stays true to Abbey's innovation. They even have her picture on the box.
This microwave bacon cooker comes with five plastic pieces: an 8.5 by 6 inches bottom tray, three 5-inch-long drip bars, and a middle piece that holds everything together. Assembling is easy. Simply attach the drip bars in their designated holes on the tray. When assembled, the microwave cooker stands barely over 5 inches, which means it fits standard-sized microwaves.
Cooking up to 18 bacon strips is doable as there's enough space on its drip bars. However, when cooking in high volume, you have to mind the middle parts — that's not where the crispy bacon is. So we suggest limiting the bacon strips to maybe nine for fast and even cooking.
As mentioned, the middle piece holds everything together. It is also for keeping the bars in place during storage. Disassemble the Original Makin Bacon back to its original packaging for proper storage.
Unfortunately, this bacon cooker does not have a lid. To prevent excessive grease from splattering, you will need to place a paper towel on top — and around — the bacon strips. Also, as the bacon cooker is made of plastic, bear in mind its melting point. The manufacturer recommends cooking at one minute per slice of bacon for microwaves with a 1000-watt output. For over 1000-watt microwaves, they recommend no more than 40 seconds per bacon strip.
And although the bacon cooker is dishwasher safe, at least top-rack safe, we prefer washing with running water and soap for the same reasons mentioned earlier. Specifically, high temperatures may weaken its plastic over time.
For a little bit of nostalgia and for an upright cooker that rids bacon of excess fat, the Original Makin Bacon has our vote.
The stackable cooker lets you heat up to 28 strips of bacon in one go.
Pros: Its stackability lets you cook more bacon; the design keeps your bacon flat; dishwasher safe
Cons: Grease comes into contact with your bacon; has no cover; the tray can be too short; tray walls are small; skewers aren't the best
The Emson Bacon Wave Microwave Bacon Cooker is a 14-slot bacon cooker. While that doesn't sound amazing, its stackability means you can cook up to 28 pieces in one swoop.
Each purchase comes with three plastic pieces: one bottom tray and two skewers. You basically place the bacon strips in between the separators and then pierce them on both sides to keep straight.
This doesn't have a cover like the original Makin Bacon cooker we mentioned earlier. So for mess-free cooking, you will need to have paper towels on hand. Nevertheless, it is dishwasher safe, and that's a plus for us.
That said, we'd like to point out the height of the tray's walls. They're often too shallow to catch bacon grease, especially when cooking in volume. Be careful when getting the tray out of the oven, as the excess fat can be boiling.
Also, we found most bacon strips tend to be longer than the tray. Sure, bacon does shrink when cooking. But when they're too long, it does create a bit of a mess on your microwave turntable. You will need to cut your bacon, which is an inconvenience that isn't too bad.
And finally, the skewers aren't as sturdy as we'd hoped — not as sturdy as the tray anyway. Although, you could replace the plastic skewers with bamboo or wooden sticks. While the idea of skewing is clever, they sadly fail to keep your bacon from touching the grease below it.
We are happy to recommend the Emson bacon cooker despite these minor drawbacks. In any case, there are workarounds to address the shortcomings. The fact that you could cook two bags of bacon in one session makes this a winner.
Best Round Bacon Cookware: Nordic Ware Microwave 2-Sided Round Bacon and Meat Grill and 10-Inch Deluxe Microwave Plate Cover
Nordic Ware Microwave 2-Sided Round Bacon and Meat Grill
For evenly cooked bacon, this is the one.
Pros: Tray is top-rack dishwasher safe; comes with a vented lid; round tray; double-sided cooking surface; with lid options
Cons: May not work with a smaller microwave glass table; shallow ridges and tray wall; non-dishwasher-safe lid
While rectangular-shaped racks dominate the industry, there are advantages to using round ones. For us, the best round-shaped bacon cooker is the Nordic Ware Microwave 2-Sided Round Bacon and Meat Grill.
Round-shaped cookers rotate together with the microwave's rotating plate for evenly cooked bacon. Also, they have no edges that potentially block its rotation. Of course, you do have to ensure the 10.8-inch diameter tray fits your microwave.
The round tray is top-rack dishwasher safe with two cooking surfaces: a ridged surface and a flat one. The flat side is for heating tortillas and pizzas. Unfortunately, the side with ridges has low humps that do little to strain bacon grease. Still, they're better than nothing. Also, the tray has incredibly low walls that fail to prevent fat from spilling. We suggest limiting your bacon slices to three or four per batch to avoid these issues.
We do like that it has a vented lid like the Prep Solutions, our overall best microwave bacon cooker. But Nordic Wave takes this further and offers two lid options: deluxe and regular.
Both do a pretty decent job guarding your microwave against bacon grease splatters. However, we did observe that the covers fit better when the ridged side is facing up. Maybe this is Nordic Wave's way of saying we don't need covers for the flat side? Both options aren't dishwasher safe, either. Needless to say, the deluxe cover is more expensive than the regular one.
Most Innovative Microwave Bacon Cookware: WowBacon Microwave Cooker — P9 Model
WowBacon P9 Model Microwave Cooker
The design keeps your hands safe from hot surfaces and boiling bacon grease.
Pros: Good grip with the handle, plus it doesn't get too hot; comes with a vented lid; dishwasher safe; pour out the grease with ease; can be used for cooking eggs
Cons: Expensive; assembly takes time
We've been talking about how low walls make you spill hot bacon grease. Not only is it an inconvenience, but it's fairly dangerous, too. Apparently, Wow Bacon heard the people's call, and so the WowBacon Microwave Cooker P9 Model came about. It boasts a long handle that stays relatively cool after cooking, and there's no chance of spilling bacon grease from the cup.
The P9 model bacon cooker is a three-piece dishwasher-safe set, with every set having a microwave bacon rack, a cup, and a lid attached to the long handle. You can hang six bacon strips in one go. However, you have to be precise with connecting the rack to the lid's center, or it won't work.
The racks keep your bacon from touching the bottom of the cup, which means it strains grease effectively — like the Original Makin Bacon. Also, proper alignment will make removing the rack easier. Furthermore, the P9 model has a steam-vented lid. This small opening keeps your bacon from drying.
So why isn't the best upright bacon cooker? It is too expensive to call the best in the market, at twice the price of the average bacon cooker.
Nevertheless, the innovation is notable and worthy of being on our list. This is a good investment for people who appreciate the convenience, safety, and versatility — it can cook eggs, too.
Most Versatile Microwave Bacon Cooker: OXO 11210100 Good Grips Silicone Roasting Racks
We're cheating a little here, but the OXO 11210100 Good Grips Silicone Roasting Racks is more like a trivet than a bacon cooker. As a matter of fact, it actually is a trivet you can use for roasting, steaming, and microwave cooking. This means the OXO silicone racks are incredibly versatile and deserve a spot on this list.
For every purchase, you get two pieces that can be placed side by side, lined up, or stacked for elevation. They are microwavable and oven-safe racks as well. Although, there was no mention of the silicone's maximum tolerable temperature.
The open design means you'll need paper towels on hand to minimize the mess. Nevertheless, this silicone rack is very easy to clean. All you need is a dishwasher, and you're set.
All in all, because it sells at a reasonable price and its versatility is top-notch, we highly recommend the OXO 11210100.
Buying Guide for Best Microwave Bacon Cookers
These microwave cookers mean you get your bacon without the hassles of traditional cookware. They come in all shapes and forms, though, so we thought we'd break them down to help you choose. We'll talk about the different materials available, their designs and the versatility it affords them, and other factors you should consider.
Materials
By convention, microwave bacon cookers are either heat-resistant plastic or silicone. Both are non-biodegradable but, between the two, plastic typically comes cheaper. That said, silicone is usually more durable than plastic and can withstand higher temperatures.
Design and Versatility
No two microwave bacon cookers are alike. You can have ridged versus flat trays; shaped in a rectangle or circle; cup-style, rack form, or something else.
Naturally, there are pros and cons to each. For instance, while trays do not need assembling and are easier to use and clean, they also fail to separate excess bacon grease from your food. Grease spills are also more common with trays. On the other hand, those that offer more versatility and features tend to be more expensive.
With or Without Cover
Your options also differ with how they think about covers — i.e., with versus without covers. When you opt for microwave bacon cookers without covers, you can choose to cover them with paper towels or leave them as-is and just clean the mess after. We like cookers with covers but to each their own.
Melting Point
While bacon cookers are microwave-safe, too much exposure beyond a maximum tolerable capacity can melt them. Manufacturers often disclose their recommended cooking time per slice of bacon for a given watt.
Otherwise, there are workarounds to making bacon cookers work with high-wattage microwaves. You could adjust your heat settings to cook at less than capacity, or you could also lessen your cooking time.
But without question, better quality materials mean this is less of a concern, so choose from our list of the best microwave bacon cookers.
FAQs
Why cook bacon in the microwave?
There are two big advantages to cooking bacon in the microwave. The first is you avoid boiling oil from splattering all over you. Another is you enjoy healthier bacon — kind of — as they're effective at separating excess bacon grease.
How do you cook bacon in a microwave bacon cooker? How long do you microwave bacon on a bacon tray?
When using a microwave bacon cooker, the first step is to lay down your strips of bacon or hang them onto the designated slots. Next is to cover the tray or cup with a lid or kitchen paper tissue to control grease splatter. Finally, place your bacon cooker inside the microwave and set the desired temperature and time.

You can determine the total cooking time by the number of slices you're cooking as well as the wattage of your microwave oven — less time for high-output microwaves. It is also common for microwave bacon cookers to publish a recommended cooking time based on the desired result — i.e., crispy or non-crispy bacon.
Can you cook bacon in the microwave without paper towels?
Yes, you may cook bacon in the microwave without paper towels. Most people recommend covering them with paper towels to control bacon grease splatter. In other words, not covering them isn't an issue as long as you expect to clean your microwave after use.
How do you clean your microwave bacon cooker?
For the most part, microwave bacon cookers are dishwasher-safe. But to prolong the life of your microwave bacon makers, we recommend washing them with running water and soap. Also, make sure to let your cookers cool down entirely before immersing them in water.