Maybe you're a Harry Potter super fan, or maybe you've been on the receiving end of seemingly hundreds of gasps because you've never seen or read the series. If you've never heard of Butterbeer, it's a drink from the Wizarding World of Harry Potter.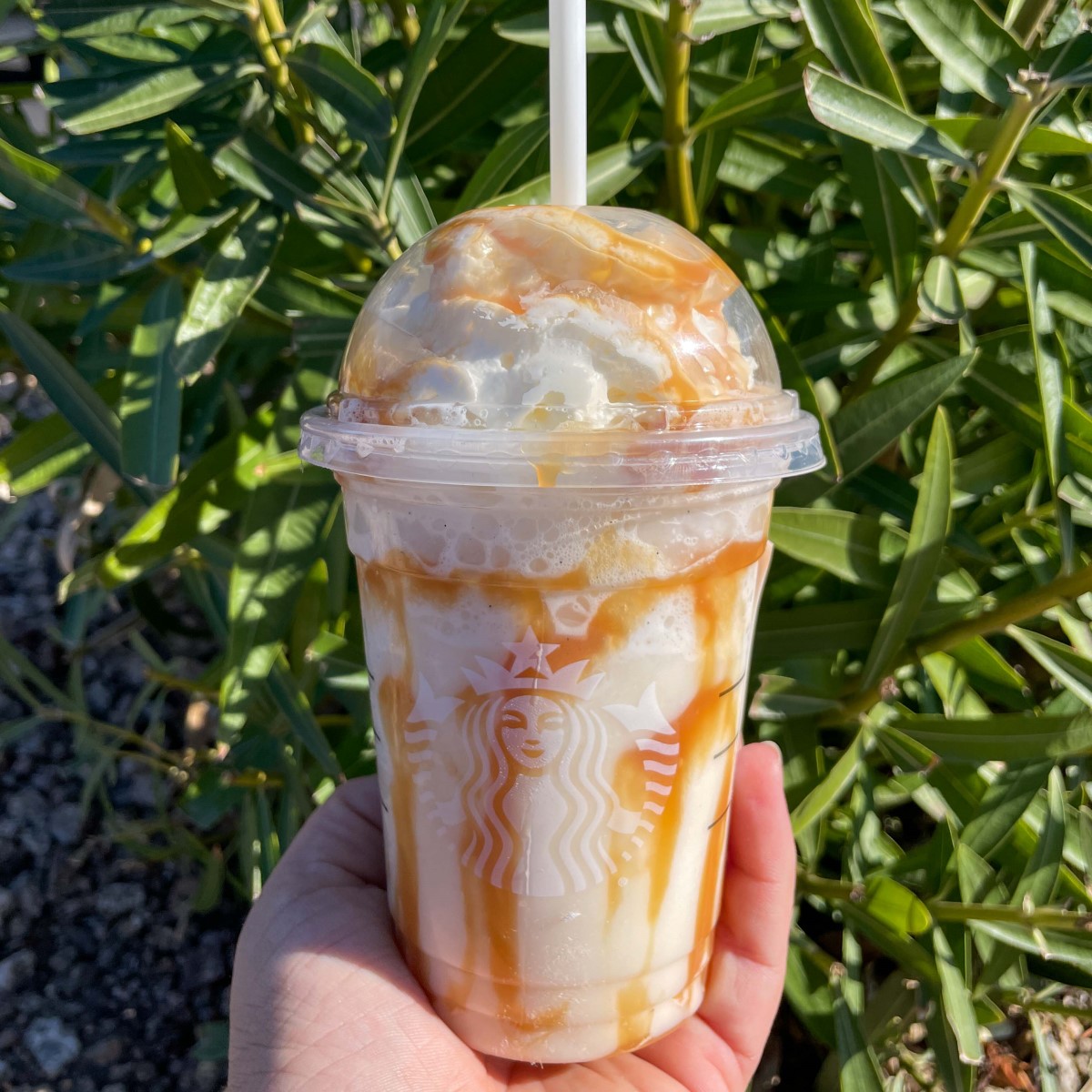 Here is everything you need to know about the Starbucks secret menu version of the fictional treat.
Table of Contents
What is Butterbeer Supposed to Taste Like?
According to experts, Butterbeer is supposed to taste like a cross between butterscotch and cream soda. It is commonly topped with whipped cream and caramel drizzle. Additionally, Butterbeer is a creamy beverage enjoyed by wizards after a long day of casting spells and playing Quidditch.
How To Order The Butterbeer Frappuccino
Before we dig into exactly how to order a Butterbeer Frappuccino at Starbucks, we should note that this is a secret menu item which means it is not a part of the official Starbucks lineup of drinks.
So while you may be able to order the drink by name at some locations and with some baristas, you should always come prepared with the ingredients.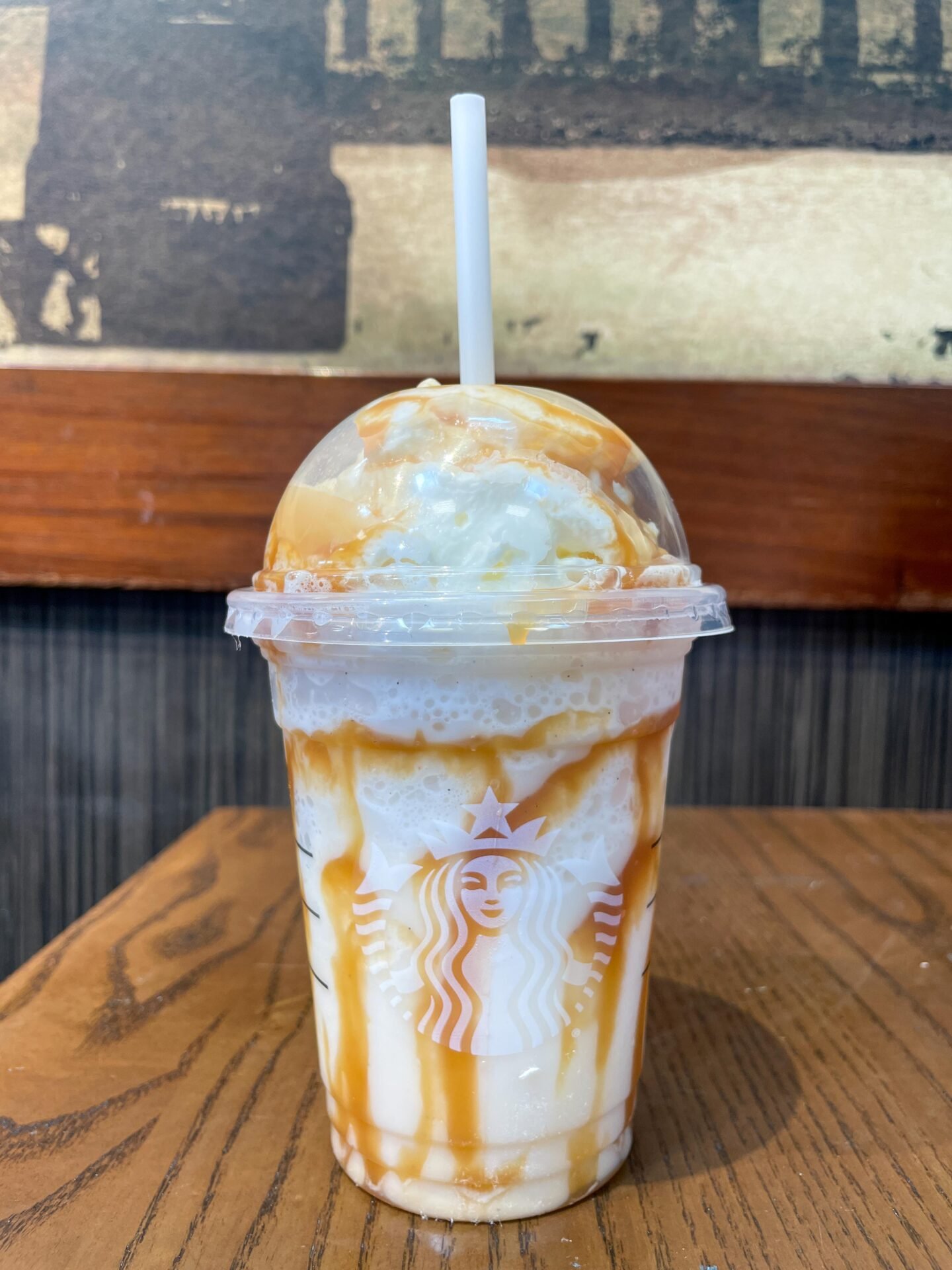 Butterbeer Frappuccino ingredients:
Vanilla bean frappuccino
Caramel syrup
Toffee nut syrup
Extra caramel drizzle
Your syrup amounts will depend on what size you are ordering. The amounts are per syrup flavor.
Tall - 2 pumps
Grande - 3 pumps
Venti - 5 pumps
For instance, if you are ordering a grande, you'll ask your barista for a Grande Vanilla Bean Frappuccino with caramel syrup, toffee nut syrup, and extra caramel drizzle. Your barista may ask you how many pumps you want for each. You can either say full pumps or half the pumps for the less sweet version.
This is what it will look like in the app: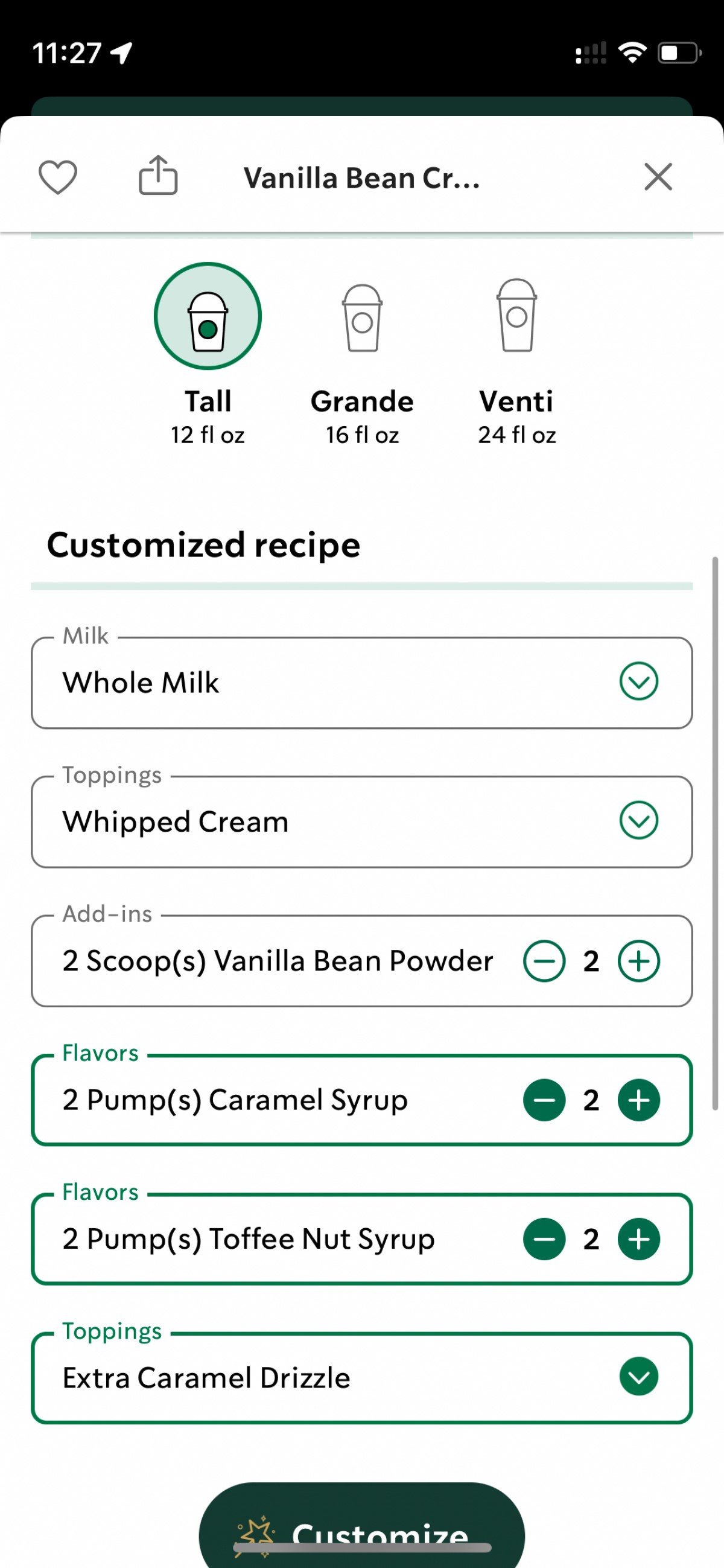 If you are ordering in person, you can ask for a drizzle on the sides of the cup and top of the whipped cream. However, if you are ordering in the app, you'll unfortunately just have to cross your fingers that your barista does this for you—but they will more often than not.
How Does the Butterbeer Frappuccino Taste?
Although Starbucks doesn't have butterscotch syrup, this frappuccino tastes just like Butterbeer is supposed to taste. Even my friend who has had Butterbeer from Harry Potter World confirmed that this frappuccino tastes just like the real thing.
One big thing to note is that this beverage is incredibly sweet. While this is intentional, you don't have to order it with the full sweetness to enjoy this drink. This frappuccino would still taste fantastic with half the pumps of toffee nut and caramel syrup.
How To Make a Butterbeer Frappuccino at Home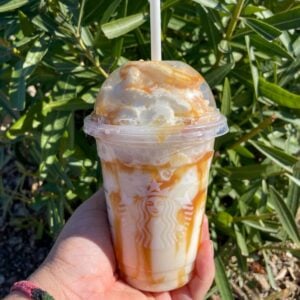 Butterbeer Frappuccino
The Butterbeer Frappuccino is a creamy beverage that tastes like a cross between butterscotch and cream soda.
Ingredients
2

scoops

vanilla bean ice cream

2

tbsp

caramel syrup

2

tbsp

toffee nut syrup

caramel drizzle

whipped cream
Instructions
Add your ice cream, caramel syrup, and toffee nut syrup to a blender and blend it on high until everything is mixed.

Line your cup with caramel drizzle and pour your drink base in.

Top everything with whipped cream and caramel drizzle, and enjoy!
Nutrition
Calories:
467
kcal
Carbohydrates:
81
g
Protein:
5
g
Fat:
15
g
Saturated Fat:
9
g
Polyunsaturated Fat:
1
g
Monounsaturated Fat:
4
g
Cholesterol:
58
mg
Sodium:
253
mg
Potassium:
300
mg
Fiber:
1
g
Sugar:
69
g
Vitamin A:
592
IU
Vitamin C:
1
mg
Calcium:
191
mg
Iron:
0.1
mg
Final Thoughts
Overall, the Butterbeer Frappuccino is an incredibly fun secret menu item made with year-round ingredients you can find at any Starbucks. We highly recommend this item, and you definitely don't have to be a Harry Potter fan to enjoy this beverage.