Nonstick pots and pans are used by people all over the world for regular cooking. For delicate cooking processes like flipping pancakes, rotating sausages, and cooking eggs, the nonstick coating is ideal. While that might be helpful and easy, Teflon is connected to things that might cause injury to your health.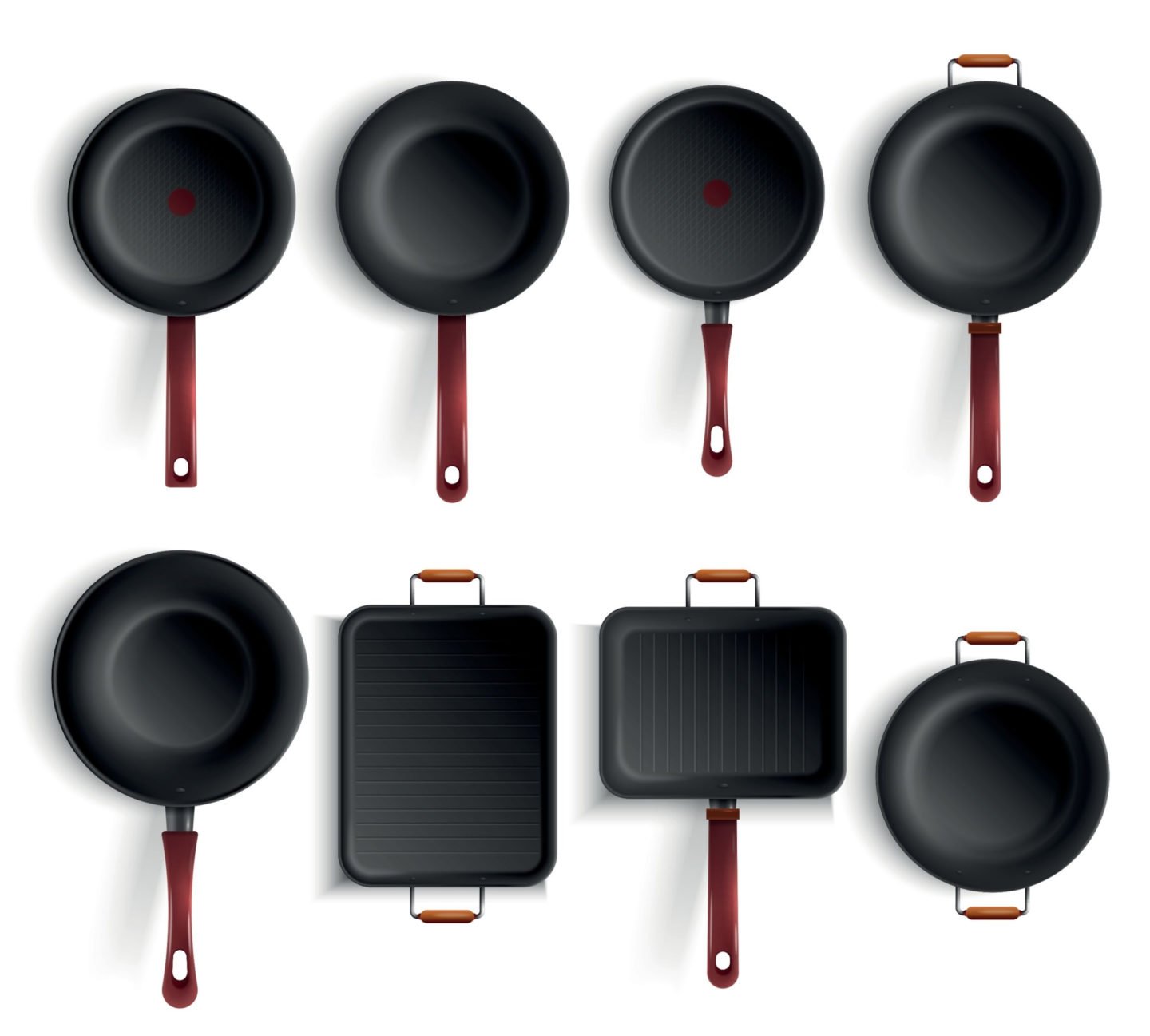 Our goal was to list down the best non-stick pans without Teflon that are affordable, safe, and could be used for more than just frying eggs. From our research, we found that GreenPan SearSmart Non-Teflon Stick Pan was the best option available on the market due to its overall texture and heat retention.
More details and other options that might suit your preferences are available in this buyer's guide, which was created to give you additional information about Teflon and other non-stick coatings so you can choose your next pan wisely.
Table of Contents
Best Overall: GreenPan SearSmart Non-Teflon Non-Stick Pans
SearSmart Hard Anodized Healthy Ceramic Nonstick Pan
The SearSmart Non-Teflon, Non-Stick Pan is an aluminum-based, stainless steel pan by GreenPan that works well with both gas and electric stovetops and has a capacity of 3 quarts. Dishwasher safe and even oven and broiler safe up to 600 Fahrenheit.
Pros: works on all stovetops, has a textured surface, is lightweight, and has good heat retention.
Cons: not compatible with induction, not dishwasher or oven safe
If you combine non-stick simplicity with the flavor-producing texture of cast iron, you get the revolutionary SearSmart Non-Teflon NonStick Pan from GreenPan.
On top of each aluminum base are many layers of textured Thermolon that have thousands of diamond pieces embedded in them. Therefore, this coating effectively disperses heat like the Valencia Pro. However, since there are several layers, it lasts up to three times longer.
Additionally, this model has a Full Efficiency body—a special construction that fits the flat surface of a 12-inch pan into a 10-inch. Therefore, you can save space by packing more food into a smaller pan. However, what takes the cake is the textured surface of the pan. With it, your meat, vegetables, and eggs will have crispier textures and better flavors.
The peaks and valleys of the textured surface aid in food release during cleaning. As a result, cleanup takes even less time. There are two size options available: an 8-inch and a 10-inch, with depths ranging from 1 ¾ to 2.5 inches.
The riveted cool-touch steel handles on both weigh a comfortable 1.4 to 2.3 pounds, and they guard against burns. Many consumers agree that SearSmart outperforms the competition in durability and non-stick capabilities. Additionally, GreenPan offers a limited lifetime warranty for damages.
Best Budget-Friendly: Calphalon Classic Aluminum Hard Anodized Nonstick Pan
This Calphalon Classic Pan has an inside nonstick coating made of German ceramic. It is made of two PFOA-free nonstick layers that are bonded to aluminum, which gives great conductivity. The non-stick pan without Teflon is robust thanks to its construction and can be used every day to easily prepare meals.
Due to the lack of PFOA, PTFE, and other dangerous chemicals, the coating is safe and healthy for use when cooking. These Teflon-free pans are also heat resistant up to 450 degrees Fahrenheit. The hard anodized aluminum on this cookware makes sure heat is distributed evenly and the food is cooked faster.
The sidewalls and bases of the Great Jones skillets conduct heat uniformly. In other words, you won't need to constantly move the burgers about to brown them evenly or mix the gravy to prevent it from burning where the bottom meets the sides. The handles are constructed to be long so that they stay cool on the stovetop.
The skillet's 450-degree Fahrenheit limit is great for both the planet and you, as the surface provides a large area for you to cook many things at a time. Additionally, it also comes in a set of two (8-inch and 10-inch) pans at the affordable price of one.
Best Lightweight: GreenLife Soft Grip Ceramic Non-Stick Open Fry Pan Set
It's no surprise that the GreenLife Soft Grip Ceramic Non-Stick Open Fry Pan is a preferred option in many homes and boasts the "Amazon's Choice" label in addition to being our top pick. This aluminum non-stick pan is free of PFAS, PFOA, lead, and cadmium. The device is responsive to heat, lightweight, and adjustable.
Aluminum can react with some foods, which is a problem, but this pan has a covering on the inside as well as the outside, making it safe to use to cook almost any meal. It is simple to match your style because you may choose from a variety of colors for the outer coating, including turquoise, blue, burgundy, lavender, pink, or red.
This pan's creamy white non-stick coating does a terrific job. Thermolon is a ceramic nonstick coating that can be used instead of Teflon, which is dangerous. Also, unlike older nonstick pans, this one won't get stained or scratched over time, so it will last for a long time.
The handle is Bakelite and has been rubberized for a secure grip to keep it cool to the touch even when on the flame. Better yet, as long as the oven's temperature is below 350 °F, this pan can be used to cook. The pan is also dishwasher-safe for simple cleanup after every meal.
Overall, this Teflon-free pan strikes a great balance between its usefulness and its price, making it a great buy for anyone who wants to upgrade their kitchen with a pan that doesn't stick.
Stainless steel covers the aluminum core of this stylish nonstick pan without Teflon. As a result, the frying pan is incredibly durable and heat-resistant. Additionally, it uniformly cooks your food without creating hot spots. The Abbio skillet is also long-lasting.
The nonstick cooking surface's robust design makes it sturdy and scratch-resistant for use in regular cooking. Cleanup is simple. So there is no need to put it in the dishwasher. The skillet's 8-inch cooking surface implies that there will be enough meat to go around for your family on the weekend.
Additionally, the frying pan is oven safe up to 450 degrees Fahrenheit, and induction cooktops can be used with it. This nonstick pan is a great investment for longevity and durability.
Best For Camping: GreenLife Healthy Ceramic Non-Stick Open Fry Pan
GreenLife Soft Grip Diamond Healthy Ceramic Nonstick Frying Pan Skillet
GreenLife made this healthy ceramic nonstick pan without PFOA. It has a diamond-reinforced nonstick coating and soft-grip Bakelite handles to make cooking safe and easy.
Pros: versatile, easy to clean, stay-cool handle, many sizes, sturdy
Cons: occasional light food sticking to the pan
The Healthy Ceramic Non-Stick Open Fry Pan, another product from GreenLife, is available in three sizes: 8-inch, 10-inch, and 12-inch. So you can choose the one that best meets your needs. The body is made of ceramic-reinforced aluminum that was made without using lead, cadmium, or PFOA/PFAS.
This makes sure that even if you overheat the pan while cooking, no dangerous odors will be released. The product can even be used in an oven up to 350 degrees Fahrenheit, so you can make dishes like braised meat that take a long time to cook slowly. This makes it a great piece of camping gear.
This pan is also compatible with all types of stovetops, including electric, halogen, and ceramic. Try to cook on low to medium heat with a few drops of butter or high smoke point oil, and use the pan only with wooden or nylon utensils to ensure long-lasting performance.
The diamond-reinforced technique is noteworthy because it improves nonstick performance and speeds up the heating, which is perfect for cooking meats. It also makes things more durable. For the best cooking results, the foundation distributes heat evenly and is durable.
You can easily turn objects and serve prepared meals with a soft-touch keep-cool handle without having to worry about it getting burned. Overall, this 10-inch pan is a versatile must-have for any kitchen and camping that can be used for sautéing, searing, baking, and stir-frying and is also reasonably priced.
Things To Consider Before Buying A Pan Without Teflon
Finding the perfect non-stick pan without Teflon is not easy, and there are many things you need to consider when looking for it.
1. Safety Conditions
Cooking is a highly risky job, and there is a high chance of you hurting yourself when you are not careful enough. Safe-to-use utensils are necessary, so the first thing you need to look out for is the fact that the non-stick pan you use is safe. Make sure to check the material of the pan, the coating it has, and the durability of the handle.
Make sure that the surface of the pan is not made using PFOA (Polytetrafluoroethylene)—a material that was commonly used to make non-stick Teflon pans before but has been deemed carcinogenic to humans and known to cause testicular or kidney cancer.
2. Material
Apart from watching out for Teflon, you also need to make sure that the pan is made out of the right kind of material. Nonstick pans are normally made from aluminum or three-ply stainless steel.
Both have their pros and cons. Aluminum heats up quickly, but the heat isn't spread out evenly. Copper, on the other hand, is much heavier and costs more than aluminum.
When buying a non-stick pan, the best choice to go for is to get one that is constructed of at least 5-ply metal cladding. The number of layers is enough to evenly distribute heat and will give you a better experience of cooking things.
Make sure that your pan is induction-friendly if you cook using an induction cooktop. This can be checked by using a magnet and sticking it to the bottom. If it stays, then the pan is induction friendly.
3. Durability
The durability of the pan is an important factor when looking for a new utensil, as you would want your non-stick pan to last longer. Most people would have the option of buying a Teflon pan or a ceramic one. The latter is the safer option, but a delicate material for cookware.
Hence, it is better to go by the brand name or by the process of manufacturing. Although post-2013, all Teflon pans were deemed safe to use and PFOA-free, if you still do not want to take the risk, you can go for materials that are sturdy but nonstick, like stainless steel, cast iron, and carbon steel.
4. Functioning
Last but most importantly, your pan must be compatible with its purpose. Remember that the type of material it is made of matches your lifestyle. Go for a pan that is oven safe, easy to clean, and has a warranty of at least a year. Try to look for a pan that also distributes heat evenly.
Other things, like size, also matter if you use a pan on a daily basis. For a lot of recipes, it is better to get a larger one.
5. Price
Since you are going to use your pan for a long time, it is a given that you will invest in the new utensil, and you deserve your money's worth. You would need to look for a brand that is both affordable and gives you the best kind of surface to cook on. A good, nonstick frying pan can be found anywhere in the price range of $25 to $35.
You should also look out for low-end-of-the-market pans, which will be low quality, cheap and not properly coated in paint. Such pans can lead to uneven distribution of heat and a shorter lifespan.
How to Care for a Pan
When you finally find the perfect nonstick pan for you, it is natural to want it to last a long time. Although fragile, these pans can have their shelf-life extended with proper care. The following are a few ways in which you can maintain your non-stick pan's features.
1. Use Nonstick Pan Friendly Utensils
You don't need to change all of your utensils immediately, but if you want to go the extra mile, then buying utensils that are compatible with nonstick pans is a good investment. Metals like stainless steel that are always around us are usually rough around the corners and can damage your pan.
Try going for wooden, plastic, or heat-resilient silicone utensils that are not rough around the edges to save the surface of your pan from getting scratched. Even a small tear can cause food to stick, and eventually, all the layering will start to peel. Hence, using suitable utensils is a very effective way to care for your pans.
2. Frequently Oil The Pan Before Use
In order to keep any food from sticking, you can also grease your pan before you use it each time. You can do so by taking either oil, margarine, or a stick of butter and layering it over the surface before you cook. Make sure that you never use cooking oil sprays, as they can contain additives that will ruin the nonstick surface.
3. Keep Heat On Low To Moderate
Always make sure to keep the flame of your stove on low to moderate levels when cooking with a nonstick frying pan. The layer of coating is not built to take a lot of heat and can start peeling or chipping.
To a certain extent, some ceramic-coated nonstick pans might be able to take some heat, but the high flame is bad in general for nonstick pans.
4. Keep It Away From Drastic Temperature Changes
Heat is a big no when it comes to cooking on nonstick pans, but you must also try to not let the utensil go through sudden and drastic temperature changes. Do not take your heated, right-off-the-stove pan and keep it directly under water or submerged in it to cool it off.
These sudden changes can cause damage to the coating and might even cause your pan to change shape.
5. Always Wash the Pans by Hand
This is a given, but always hand wash your nonstick pan. Scrubbing it with your dishwashing detergent can cause scratches or chippings, so try and take out some time to properly wash your cookware with your hands. You can even use a light dishcloth for the same purpose, but never try to use items like steel wool.
Frequently Asked Questions
Do all non-stick pans have Teflon?
Yes, most nonstick pans have a polytetrafluoroethylene covering—better known as Teflon. However, there are other options like ceramic-coated nonstick pans as well.
Do stainless steel pans have Teflon?
Teflon can be used on stainless steel, but not every stainless steel pan has a Teflon coating. Usually, stainless steel is not nonstick, and the food being cooked tends to latch onto the surface.
Can I use non-stick spray on non-stick frying pans?
Nonstick sprays are an easy solution to pan coatings, but using them on non-stick pans should be avoided as the heat can cause the coating to come off.
How do I know if my nonstick pan is Teflon?
Nonstick pans usually have a label that indicates the material they are made out of. So the easiest way to tell if a pan has Teflon is to simply check its packet and labeling.
Final Thoughts
When picking up durable and budget-friendly cookware for your house, it is best to go for a brand that can give you a variety of choices, materials, prices, and promises. Hence, we hope that this buying guide proves to be useful in giving you an insight into the best options available out there.