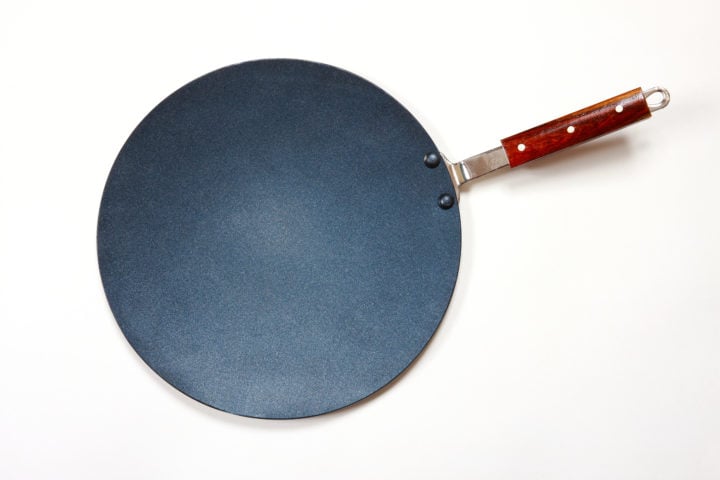 One of the best things about griddle cooking is how easy it is to flip burgers and pancakes. With an extra-wide nonstick surface, you never have to worry about food getting stuck to the surface. Plus, a nonstick griddle also makes cleanup a breeze.
However, when choosing between hard-anodized aluminum, cast iron, ceramic, and other materials, it's hard to know which is best for you. Each of these options offers its own unique strengths and weaknesses, and knowing the difference is crucial.
If you're not sure where to start, take a look at this list of the 12 best nonstick griddle options. We analyzed all the top products based on material, size, maintenance, and safety to pick only the best. Compare your favorites and choose the option best for your kitchen.
Table of Contents
Best Overall: TeChef CTDGL CeraTerra Ceramic Nonstick Square Griddle Pan
SAVE 29%
TECHEF CeraTerra Ceramic Nonstick Square Griddle Pan
It's the ceramic coating that makes this pan so easy to use in the kitchen and the reason why it makes our top pick.
Pros: Ceramic coating, stay-cool stainless steel handle, oven and dishwasher safe
Cons: Non-stick coating may wear over time, doesn't work as well with induction stoves
The perfect non-stick griddle should have a good balance of features for performance, ease of use, and no-hassle maintenance. The TeChef CTDGL CerraTerra Nonstick Griddle offers all three, with a unique ceramic coating.
The 'Ceramica' coating on this pan is flawlessly nonstick and durable enough to be used with metal utensils. It's also safe to use, as it's free of PFOAs and other harmful chemicals found in some nonstick coatings. While it can wear over time, careful use and mindful cleaning will keep it looking new for years.
The ceramic coating is also an advantage when it comes time to clean. It's easy to handwash in minutes, as food and grease don't cling to it. However, if you're looking to save even more time, you can also put it in the dishwasher.
The handle is made of stainless steel, which is oven-safe up to 450 degrees Fahrenheit. The stay-cool design keeps it cool when used on the stovetop, even when working with high heat.
This pan is a good option for griddle novices and pros alike, with quality construction and a smart design. While it is compatible with induction stoves, some home cooks have found that it doesn't conduct heat as well on them. If you're working with induction, a cast iron option may be better for you.
Best Luxury: Wolf Gourmet WGGR100S Precision Electric Griddle
SAVE 45%
Wolf Gourmet Precision Electric Griddle & Indoor Grill
This luxury non-stick griddle stands out for its precision heating elements that deliver power and control.
Pros: Powerful heating element, exceptionally even heating, five-year warranty
Cons: Heavy and bulky, more expensive than other options
Griddles may be best known for low-cost foods like pancakes and burgers, but a high-end griddle can do so much more. With even cooking, plenty of cooking space, and a powerful heating element, it's the best way to cook a variety of foods. The Wolf Gourmet WGGR100S Precision Electric Griddle has an impressive list of features that griddle fans love.
The secret behind the success of this electric non-stick griddle is the precision heating element. It is cast directly to the underside of the cooking surface for even heating and a high level of control. With the turn of a knob, it can reach up to 450 degrees Fahrenheit.
While it's great at cooking all your favorite griddle classics, it's also a highly versatile tool. The vented lid makes it easy to steam with or just protect your kitchen from burger splatter. It covers the entire 204-inch cooking surface by simply lowering it when needed.
If you're not sure whether you want to try it for yourself, keep in mind that Wolf Gourmet offers a five-year warranty. It's a testament to their confidence in the quality of their product.
Anyone who takes griddling seriously should give this one a try for themselves. As long as you're willing to make the investment, it will prove to be a reliable kitchen helper for years to come. However, if you're looking for something a bit more affordable, there are plenty of other quality options.
Best Budget: Farberware 21745 Nonstick Griddle
Farberware 21745 Nonstick Griddle Pan/Flat Grill
Our favorite feature of this griddle is the raised edge, which contains grease without getting in the way of your spatula.
Pros: Dishwasher-safe design, raised edge contains grease
Cons: May warp from very high heat, the handle is not dishwasher safe
If you're just getting into griddling, it makes sense to try a more affordable pan to cut your teeth on. However, it's important to never sacrifice quality just to save a few dollars. Luckily, the Farberware 21745 Nonstick Griddle delivers professional quality at a fraction of the cost.
This griddle is made of aluminum, which is lightweight and easy to care for. While it doesn't have the same durability as cast iron griddles, it can last for years if used right. Just don't expose it to extremely high heat or put it in the oven.
The design of the cooking surface is perfectly suited to griddle cooking. The raised edge around the perimeter of the pan is designed to contain grease. At the same time, it's low enough that it won't get in the way of your spatula.
When it comes time for cleanup, this pan makes your life easy. Since it can be thrown in the dishwasher, you don't have to worry about damaging its cooking surface when scrubbing.
Try this non-stick griddle for yourself if you're looking for a quality griddle at a price that won't break your budget. Just keep in mind that it doesn't have a ceramic coating or any of the high-tech features of an electric griddle. For those, you'll likely have to spend a bit more.
Best Double Burner: Nordic Ware 10230AMZ Two-Burner Griddle
SAVE 25%
Nordic Ware 10230AMZ Two-Burner Nonstick Griddle
The extra-wide cooking space is the standout feature that sets this non-stick griddle apart.
Pros: More than 160 sq inches of cooking space, good for indoor or outdoor cooking
Cons: Lack of handles makes it hard to lift
Double burner griddles are a good way to get some of the advantages of a professional hot top right in your own kitchen. They offer plenty of cooking space and the ability to heat different zones of your pan separately. The Nordic Ware 10230AMZ Two-Burner Griddle offers a sleek two-burner design that anyone can use.
If you haven't used a double burner griddle before, there's no need to worry. It works by simply placing the griddle over one side of a four-burner cooktop. Then, you can use the front and rear burners to control each side of the griddle separately.
It can also be used outdoors over a campfire. Its size and versatile design make it a good choice for a range of different foods. Pancakes, burgers, and even steaks are a good match for this griddle.
While it may be big, cleanup should be no problem. The nonstick surface makes it easy to wipe down in the sink, while the streamlined design has no corners or crevices where food can get caught.
You'll love this non-stick griddle if you've been looking for a way to expand your cooking space without buying a standalone appliance. However, keep in mind that it's a griddle pan and not a full electric griddle. For some of the more advanced features, you'll need to spend a bit more on the full appliance.
Best Portable: Dash Express Electric Round Griddle
With a portable griddle, there's no reason why you can't enjoy griddling while camping or at parties. Or, if you're just trying to cut down on storage space, a compact option can be a lifesaver. The Dash Express Electric Round Griddle is a tiny appliance that's great for sides and snacks.
What makes this non-stick griddle special is the dual cooking surfaces that close in a clamshell design. You can use them for cooking traditional griddle foods like eggs and pancakes, as well as grilled cheeses and quesadillas. Clamping the two cooking surfaces together cooks the top and bottom of the food at once.
The small size of the griddle makes it easy to fold up and store in a backpack or suitcase. When you're using it at home, it takes up only a small amount of space in your kitchen cabinet. Of course, cleanup is easy and only takes a quick wipe-down with a rag.
Operation is simple. Just wait for the indicator light to turn on, which tells you the griddle is up to temperature. Then cook your food just like you would on the stovetop.
Give this compact nonstick griddle a try if you're looking for a fun way to cook individual pancakes or eggs. Just don't forget that it's limited in the amount of food it can turn out at once. If you're cooking for the whole family, a full-size griddle is a must.
Best Ceramic: GreenPan Lima Ceramic Nonstick Griddle
GreenPan Lima CW000190-002 Healthy Ceramic Nonstick Griddle Pan
The Thermolon ceramic coating is what makes this pan stand out from the rest.
Pros: Riveted handle is securely attached, good heat conduction, the coating won't degrade easily
Cons: Metal cookware may damage the coating, the handle can get a bit hot while cooking
Ceramic cookware is a relatively new material choice that offers durability and low maintenance. For griddles, it's a great choice that can be used in much the same way as Teflon or anodized aluminum. The offers a classic design with an even ceramic coating.
The cooking surface of his pan is coated with Thermolon non-stick ceramic. This gives it a smooth surface that is easy to cook on and clean. It's free of the PFOAs and other harmful chemicals found in Teflon.
The coating is designed to be durable and should last for years, as long as you know how to use it. Generally, it's best to avoid metal utensils as this may damage it.
The handle is attached securely with a pair of stainless steel bolts, which are also ceramic coated inside the pan. This keeps the handle from loosening over time, and the bolts are placed so as to never interfere with cooking.
Add this pan to your cookware collection if you want a classic design that won't add more hassle to your cooking. Though if you want it to last, you should also invest in wood or plastic cooking utensils as metal may damage it. Unless you're willing to make the switch, aluminum or cast iron may be better choices.
Best Cast Iron: Victoria GDL-186 Cast Iron Round Griddle
Cast iron is a little different than other nonstick griddles as its smooth coating develops naturally. As long as you know how to take care of it, it can be just as easy to work with as aluminum and much more durable. The Victoria GDL-186 Cast Iron Round Griddle is a cast iron pan with a simple design that's very versatile.
The thing to understand about cast iron is that it produces professional results but asks for a bit of extra maintenance. Luckily, this one comes pre-seasoned, so you can use it right out of the box without worrying. Once its cooking surface is oiled up, it should be as slick as any Teflon or Ceramic pan.
It's true that cast iron is usually a bit heavier. However, this one weighs in at just over two pounds. Its reduced weight is thanks to a slimmed-down design. Still, it offers a full 10.5 inches of cooking space to work with.
Its full cast iron construction is highly versatile and can be used on the stovetop, in the oven, or even outdoors. Since the cooking surface is nonstick, you don't have to use as much oil as you would with other pans.
You'll love everything this cast iron griddle has to offer, just as long as you're willing to season it regularly. A quick wipe-down with oil every time it's used, plus two coats of seasoning every few months, should be enough. If you're looking for a low-maintenance pan, however, stick with aluminum.
Best Aluminum: Vinod ZMFT 32.5 Flat Nonstick Multi Tawa Griddle
Aluminum has long been a popular choice for cookware, as it's easy to cook with and care for. When it comes to griddling, a hard-anodized surface also adds non-stick properties. The Vinod ZMFT 32.5 Flat Nonstick Griddle offers a wide 13-inch cooking surface made entirely of aluminum.
This unique griddle truly captures an authentic hot top experience, as it doesn't have sides at all. This makes it a bit harder to contain grease, though it simplifies flipping and turning. The design lets you lift and flip the food without getting in the way of your spatula, which is ideal for large batches of pancakes and eggs.
It measures 13 inches in diameter, making it a good tool for feeding the whole family. On the top is a perfectly smooth aluminum surface, while the bottom features a steel base. This improves durability while also making it compatible with induction stoves.
The stay-cool bakelite handle keeps your fingers protected, even when working with high heat. It features an ergonomic design that conforms to your hand for extra comfort.
Give this aluminum non-stick griddle a try if you want a low-hassle option with a lightweight design. However, remember that its low sides aren't great at containing grease. That means it's not the best choice for cooking burgers or sausages. But, it's ideal for making crepes and roti.
Best Electric: Dash Everyday Nonstick Griddle
The benefit of an electric griddle is that you can cook anywhere you need while leaving your stove open for other projects. They also tend to have a wide cooking area, making them a great choice when feeding a large group. The Dash Everyday Nonstick Griddle is a great mid-size option with plenty of helpful features.
This is a perfect electric griddle for those who have never tried them before, as it's very easy to use. Just plug it in, wait for it to heat up, and adjust the temperature with the dial. You can use it for anything from burgers to eggs, with plenty of space left over.
While cooking, grease gathers around the edges of the cooking surface and then drains into a removable grease tray for easy cleanup. This works especially well with the nonstick cooking surface, resulting in crisp foods with deep flavor. The 1500 watt heating element will let you get a professional-quality finish on all your meats and veggies.
If you're looking for a spacious, low-hassle griddle that can feed a crowd, then this one's for you. Just keep in mind that it requires an outlet and a bit of counter space to use, and you'll be fully satisfied.
Best Reversible: Ecolution ECAG-3220 Reversible Nonstick Griddle
Ecolution ECAG-3220 Reversible Non-Stick Double-Burner Griddle/Grill Pan
The lightweight aluminum design of this reversible griddle sets it apart from other options, which are mostly cast iron.
Pros: Lightweight aluminum construction, reversible design, 200 sq inches of cooking space
Cons: Low sides don't contain grease well, grills aren't as deep as other options, no handles
Griddles are already highly versatile cooking tools, but with a reversible design, they can be used for an even greater variety of dishes. By combining a smooth griddle hot top with a raised grille pattern, they excel in meats and breakfast foods of all kinds. The Ecolution ECAG-3220 Reversible Nonstick Griddle delivers both, along with durable aluminum construction.
The fact that this pan is aluminum truly sets it apart from other options. While it might not be as durable as cast iron, its thick aluminum construction will stand up to plenty of use. Its material means it's lightweight, easy to clean, and completely immune to rust.
The grille side is lined with a diagonal grille pattern, which is perfect for a classic look on burgers and steaks. They add flavor to your meats, too, similar to the charred taste of an outdoor grill. The griddle side of the pan is perfectly smooth and nonstick.
This griddle can be used on gas, electric, and induction stovetops, making it even more versatile. Its double-burner design lets you situate it over one half of your stove, heating each side independently.
Try this reversible nonstick griddle for yourself if you're looking to diversify your cooking with a single pan. However, if you don't think you'll use the grill side often, buying a more simple pan could save you a few dollars.
Best Versatility: Cuisinart GR-4NP1 5-in-1 Griddler
Cuisinart GR-4NP1 5-in-1 Griddler - Grill, Griddle & Panini Press
This electric griddle really stands out with its unique 5-in-1 design that incorporates a range of cooking methods.
Pros: 5-in-1 design helps diversify your cooking, three separate temperature controls, brushed stainless steel housing
Cons: Large and bulky, on the expensive side
If you're looking to make the most out of your kitchen appliances, it pays to prioritize multitaskers. This Cuisinart GR-4NP1 5-in-1 Griddler offers a wide range of features designed to diversify your cooking.
This Cuisinart griddle includes a contact grill, panini press, full grill, full griddle, and grill/griddle combo. Together, these let you create burgers, pancakes, pressed sandwiches, and more, all in one machine. All it takes is a quick swap of the cooking plates, and you're good to go.
The temperature is selected with the three dials on the front of the griddle. The center dial lets you choose the cooking mode, while the two side dials let you control the heat on each side of the griddle. Red and green indicator lights send a clear signal when your grill has reached the optimal temperature.
The cooktop offers more than 150 sq inches of cooking space. That is enough to make four sandwiches at once, a half dozen eggs, or two large steaks. When the cooking is done, the plates can be removed and cleaned separately.
This griddle is the choice for you if you're ready to invest in a high-end multitasker. However, those who are new to griddling or only do it occasionally might not find it as useful. In these cases, trying a more straightforward griddle pan may be a better bet.
Best Dishwasher Safe: OXO Good Grips Pro Nonstick Griddle
Griddling is a fun and effective way to make delicious dinners. However, it's also known for causing a bit of a mess. That's why choosing a dishwasher-safe griddle is always a good idea for those looking to cut down on hassle. The OXO Good Grips Pro Nonstick Griddle features a compact design that can be tossed in the dishwasher when done.
While this pan's design may seem straightforward, it has many hidden features designed to simplify your life. The rolled edges help contain grease while cooking and prevent drips when draining fat from the corners. On the back is a stainless steel handle, which is securely attached and oven-safe.
The entire cook surface is made of hard-anodized steel. This material is both lightweight and durable, making it a versatile choice. The German-engineered nonstick coating is made to stand up to regular use and is completely PFOA-free.
And of course, it has a dishwasher-friendly design. While other pans' cooking surfaces or handles can degrade in the dishwasher, this will come out looking new.
Add this pan to your cookware collection if you want to save time on after-dinner cleanup. It has a relatively basic design, though it can cook eggs and burgers just as well as any high-end pan.
Non Stick Griddle Buying Guide
Since non-stick griddles come in so many different varieties, choosing the right one can be difficult. If you're feeling stuck, take a look at these criteria to help narrow down your options.
Stovetop vs. Electric
Most of the griddles on this list are stovetop griddle pans, which are heated by the burners on your stove. This is a great option for those just getting into griddling and who don't want to make too big of an investment. While they don't have all the features of electric griddles, they can produce professional results.
Electric griddles cost a bit more but are often equipped with a range of features to simplify and diversify your griddling. Dual temperature control, temperature monitoring, pull-out grease trays, and panini functions are just some stand-out features.
Material
Most griddles are made of hard-anodized aluminum and cast iron. Aluminum is a good choice for easy cleanup and lightweight design. Cast-iron, on the other hand, is heavier, but also more durable, though you need to maintain it carefully to prevent rust.
Size
Just like any pan, griddles come in a wide range of sizes. However, when choosing the right fit for your stove, the first step is choosing between single and double burner designs.
Single burner pans are the more straightforward design, with a compact cooking surface that fits over one burner.
Double burner pans fit over one half of your stove, taking up two full burners. These are great if you're looking to double your cooking space. They also let you independently control the heat of both cooking zones.
Cleaning and Maintenance
If you want to cut down on the hassle, make sure to go for a dishwasher-safe griddle pan. Even electric griddles can have removable components that can be cleaned in the dishwasher.
Safe and Environmentally Friendly
Not all nonstick surfaces are created the same way, so it's important to know what goes into yours. In particular, stay away from pans that contain PFOAs or other harmful chemicals. These are often found in Teflon and can harm your body and the environment.
FAQs
Since non-stick griddle pans come in so many varieties, it pays to do your homework. See what other home cooks are asking here.
What are the advantages of a non-stick griddle?
Nonstick griddles make both cooking and cleanup easier. The nonstick surface requires less oil to keep it lubricated, resulting in lighter, less-greasy food. It also helps prevent food from sticking to the pan, meaning less scrubbing.
Do I need to use oil on a non-stick griddle?
While most non-stick griddle pans require less oil than standard options, you still need some fat to lubricate the pan. Oil helps prevent sticking, but it also distributes the heat of your pan more evenly. Without oil, food ends up burned rather than nicely browned.
Why are pancakes sticking to my griddle?
There are several reasons pancakes may be sticking to your griddle, but the most common one is that your cooking surface is too hot. Try to lower the temperature of your griddle a notch and then let the food remain a bit longer in the pan for better results.
Will olive oil ruin my non-stick griddle pan?
Olive oil is great to cook with on pans of all kinds, especially griddles. However, it's important to remember to avoid heating it too much. Once the oil starts smoking, turn down the heat or risk ruining your pan.
When should I throw away my non-stick pan?
If cared for properly, non-stick griddles can last for years without their cooking surface eroding. However, when damaged, ceramic, Teflon, and other nonstick pans can begin to degrade. Throw away your nonstick pan when you begin to see flaking or peeling on the cooking surface.

Cast iron pans are a bit different and usually won't peel in the same way a Teflon pan will. Instead, damage to their layer of seasoning will ultimately result in rust. To keep them protected, make sure to reapply layers of oil every two or three months.