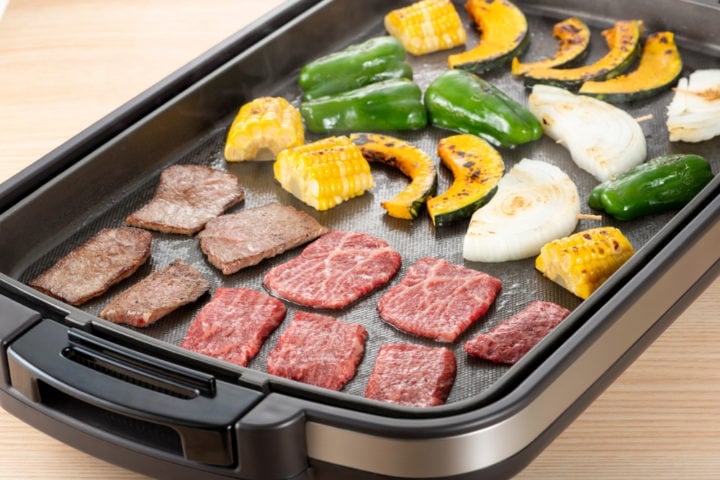 The rising popularity of ceramic griddles as a fantastic non-stick option isn't too surprising when its benefits are laid out. Unlike non-stick compounds from synthetic substances, ceramic is from naturally occurring substances — clay and quartz sand — that are much safer for our health. There are no harmful chemicals to worry about. For many people, the safety of chemical-free coatings is non-negotiable.
Quality ceramic griddles are also very tough, practically scratch-proof, and super easy to clean. As for the cooking experience? Well, they heat up fast and also distribute heat evenly. Its ceramic coatings make sure of it.
However, buying one can be a chore. You'll need to weed out the good from the bad and determine if its costs are justifiable. And while the choice can be tough, we hope our list and buying guide makes it a bit easier. You can't go wrong with this selection of the best ceramic griddles for 2021.
Table of Contents
Best Ceramic Griddle: Presto Ceramic 22-Inch 07062 Electric Griddle With Removable Handles
SAVE 11%
Presto Ceramic 22-inch Electric Griddle with Removable Handles
For anyone cooking for a crowd, no other choice beats this 22-inch beast.
Pros: Large cooking surface; handles and the heat controller are detachable; has a big grease drain opening and tray; takes up little storage space; dishwasher safe
Cons: Other ceramic griddles are better at distributing heat evenly; poor angling of the tray; mixed with some poor-quality components
How does cooking eight regular-sized pancakes sound like? How about cooking them all at the same time? You can do that with the Presto Ceramic 22-Inch 07062 Electric Griddle With Removable Handles — like a pancake griddle of sorts.
This electric ceramic griddle boasts a large cooking surface measuring 13 inches wide and 22 inches long. It is also paired with a reasonably large grease tray, which we think is just right for such a large cooking surface. That means you don't have to worry about overflowing grease while cooking for large groups.
Its grease hole is also wide enough for grease and other food drippings and sediments. Too bad the ceramic griddle isn't sloped enough to direct the flow of grease to the removable drip tray. You'll have to manually elevate one side or use a silicone cooking utensil to control the flow.
The Presto Ceramic griddle's cooking surface features a medium-gray, diamond-textured pattern that may look awkward to some. Nevertheless, it is dishwasher safe and effortless to clean. We do recommend washing by hand, though, to prolong its non-stick surface. But if you're in a pinch, washers will do, too.
Moreover, food doesn't easily stick to the surface. This is one of the advantages of a ceramic griddle. They are nonstick, and they heat quickly. But for best results, don't forget to properly preheat before cooking.
Now that we've mentioned heating, let's talk about the elephant in the room — the 07062's uneven heat distribution. Ceramic griddles typically have the advantage of providing even, or equal, heat distribution. Unfortunately, the Presto's massive 22-inch length makes its sides relatively colder than its middle parts. To be clear, this isn't a deal-breaker because the sides do sufficiently heat up. But compared to other ceramic griddles, this is a drawback for the Presto 07062.
Nevertheless, we still think this ceramic griddle is the best option for large groups. The legs act as its handles, and they are detachable for hassle-free cleaning. The heat temperature control is detachable as well. The detachability of these components also means saving on storage space. And although it isn't perfect, the Presto doesn't break the bank either. It's definitely our pick for the best ceramic griddle for large groups.
Runner-Up: Presto 07055 20-Inch Cool-Touch Electric Ceramic Griddle
Presto 20-Inch Cool-Touch Electric Ceramic Griddle
The small brother to the Presto 07062 with a cool-touch body frame.
Pros: Even heat distribution; takes up little storage space; large grease tray; massive cooking surface; the electric body frame and heat controller are detachable; dishwasher safe and easy to clean
Cons: Unstable feet; design of the grease tray can be awkward; poor angling of the griddle
Our second Presto entry, the Presto 07055 20-Inch Cool-Touch Electric Ceramic Griddle is the small cousin to the 22-inch 07062 model with just as many neat features.
Both have massive cooking surfaces with detachable parts. The 07055 Cool-Touch also has a textured cooking surface, but not its diamond patterns, and is dishwasher safe. But we, again, recommend washing by hand without harsh detergents.
Also, like the Presto 07062, the griddle isn't tilted to direct grease flow to the mouth of the grease drain. You'll again have to improvise to control the flow. But when you do, be mindful of the side walls as they are relatively shallow. We wouldn't want you spilling grease. And unlike its larger brother, its grease tray opening is narrow.
Nevertheless, the Presto 07055's cooking surface gets evenly hot. This is an advantage over its smaller brother. What's also lovely is the cool-touch feature, as the sides don't get hot. It also has detachable legs, which is a feature that we liked from the 07062 — bear with us if the model numbers seem confusing.
Unfortunately, the 07055 has been less stable despite its shorter legs, at least from our experience. It can be incredibly frustrating how the electric griddle won't stay in place. We did raise the concern to customer support, and they sent us some rubber feet to improve stability.
Overall, we still love the little brother. The Presto 07055 is an electric griddle that heats evenly despite the large cooking surface. While we did have some concerns, we're still pleased to recommend this cool-touch electric griddle for anyone in the market for a ceramic griddle.
Best Ceramic Griddle With Lid: Zojirushi EA-DCC10 Gourmet Sizzler Electric Griddle, Stainless Brown
Zojirushi Gourmet Sizzler Electric Griddle with Lid
A versatile electric ceramic griddle that comes with a lid.
Pros: Entirely detachable components; dishwasher safe griddle tray and guard; also comes with a stainless steel spatula and a lid; reinforced cooking surface; long cord
Cons: Quite expensive; no grease hole and tray
The Zojirushi EA-DCC10 Gourmet Sizzler Electric Griddle stands out not just because of its brown color but also because of its add-ons — a lid and a stainless steel spatula. You can actually cut the cooking time in half by using a cover. Plus, it ensures even cooking, too. We also appreciate that the lid isn't hinged to the body, giving us options to use it or not.
The Zojirushi electric griddle has a guard for the body, a heating element, griddle plate, temperature control, a cover for the griddle, and a stainless steel spatula. These components are entirely dismountable, making cleaning a breeze. That said, bear in mind that the only dishwasher-safe parts are the guard and the griddle plate.
This electric ceramic griddle has three layers of non-stick coating that make the Zojirushi's cooking surface genuinely nonstick. Specifically, the aluminum griddle is layered with two films of ceramic coating, and the last layer of coating is varnished with a reinforced titanium coating. And if food sediments do stick after cooking, then it's as easy as using the stainless spatula that comes with the package.
Of the ceramic griddles on this list, the Zojirushi also has the longest electric cord at over six feet long. We have no complaints, as this typically means stationing the griddle in the kitchen isn't a problem.
Sadly, the Zojirushi doesn't have a grease hole or a drip tray. We think this is a missed opportunity at using the ceramic griddle, with the lid removed for grease-heavy dishes.
Even so, the add-ons more than offset the setbacks, including its price. Having a lid makes it adaptable, and that's something we always appreciate. For anyone looking to add versatility, this choice is hard to beat.
Most Innovative Electric Ceramic Griddle: George Foreman GRBV5130CUX Griddle Grill & Broil 6-in-1 Electric Indoor Grill
George Foreman Griddle, Grill & Broil 6-in-1 Electric Indoor Grill
A modern take on ceramic griddles with a variety of plates and colors to choose from.
Pros: With the option to include interchangeable plates; dishwasher safe; has a timer; available in many colors
Cons: Very expensive; smaller surface area; its base can be hard to clean
Need something compact and versatile? You'll need just one with the George Foreman Griddle, Grill & Broil 6-in-1 Electric Indoor Grill and its swappable plates. This grill comes with two ceramic grill plates, two waffle plates, and one ceramic griddle plate. These plates are interchangeable and easy to remove from the electric unit.
Moreover, the plates are dishwasher-safe and easy to clean. Alas, cleaning the base can be challenging. Food usually spills over the back of the unit, and the bits of food left behind are hard to reach.
Also, unlike the ceramic electric griddle by Presto, George Foreman's electric indoor grill has a wider drip tray that spans the front to catch as much of the grease as possible. At this price point, it's worth it. They just made the overall process more convenient and enjoyable.
For a more modern take on ceramic griddles, we recommend the George Foreman multi-plate grill system. They sell them in various colors.
Best Ceramic Griddle Pan, Square: GreenLife Soft Grip Diamond Healthy Ceramic Nonstick, Griddle Pan, 11-Inch, Black
In line with the ceramic theme of using naturally occurring substances, the GreenLife Soft Grip Diamond Healthy Ceramic Nonstick Griddle Pan reduces your carbon footprint — the environmental impact of using energy and resources to prepare meals. True to GreenLife's advocacy, this ceramic griddle pan uses recycled aluminum.
Measuring 11 by 11 inches, GreenLife sells them in three colors: black, light pink, and turquoise. The black griddle features a black ceramic coating, while the other two sport a white ceramic cooking surface. Although dishwasher safe, we recommend washing by hand, just as we've favored the other griddles on this list. Also, wiping the surface with a soft sponge should be enough to scrape off food residue from the surface.
All three colors have Bakelite, riveted handles on one side. Bakelite is also known as "Polyoxybenzylmethylenglycolanhydride," and that's not even a typo. It is an insulating material that's resistant to heat and chemical actions, making it non-flammable. Not only do the handles stay cool, but they're also soft and ergonomically designed. From our experience, the handles seemed sufficiently sturdy. Besides, the ceramic griddle weighs a measly 1.78 pounds.
The GreenLife griddle's body is built with aluminum. With no magnetic stainless steel series mix, though, this griddle will not work with induction. Nevertheless, the griddle is safe for use in the oven and can take temperatures as high as 350 degrees Fahrenheit.
Other than being non-induction compatible, there's nothing substandard about it. Help save the environment and go for the GreenLife griddle.
Best Ceramic Griddle Pan, Rectangular: Chantal Stainless Steel Griddle, 19-Inch by 9.5-Inch
SAVE 31%
The Chantal Stainless Steel Griddle is our favorite rectangular ceramic griddle pan. Measuring 19 inches long and 9.5 inches wide, it fits a double burner and makes cooking large volumes easy.
Trying to fill the ceramic griddle tray with ingredients is a cakewalk owing to its two strong handles. These riveted handles are also large enough to fit our hands, and we had no concerns burning our hands. Moreover, we like that the handles are stainless steel, convincing us they'll last as long as the ceramic griddle's body frame.
As for the body frame, this ceramic griddle is multi-clad. Two layers of stainless steel sandwiched the aluminum core to make up the griddle. Though there was no mention of steel grade, its weight and thickness were reassuring.
We also know that the stainless steel found in Chantal's offering is from the magnetic steel series. This is because the griddle works on an induction hob, and those require magnetic cookware to operate.
Furthermore, the rectangular pan fits in an oven and a dishwasher. In fact, the Chantal griddle can tolerate temperatures up to 500 degrees Fahrenheit. It also has a pouring spout on one side, so discharging grease is convenient.
That said, there are no surprises to Chantal's price. These conveniences come at a cost, and this ceramic griddle is on the higher end of the spectrum. All the same, it's too good to get cut from the list. We think it's an investment that's worth it.
Buying Guide for Ceramic Griddle
Ceramic griddles are a fantastic way to guarantee healthy cooking. From its non-stick features to ease of care, there are compelling reasons for its rising popularity.
When buying one, it is important to note that some sell as a standalone pan or tray, while others sell with electric griddles. With the plethora of choices in the market, how do you even begin choosing?
This buying guide lays down the features to look out for — from the types of materials, size and shape, cooking surface, and so on.
Material
Ceramic griddles are commonly made of stainless steel, aluminum, or a combination of the two. We know stainless steel to be more corrosion resistant, but it is also more expensive than aluminum. On the other hand, aluminum is lighter and less costly than stainless steel. Although, with an aluminum body frame, the griddle may tend to warp under extreme temperatures.
Moreover, because aluminum doesn't have magnetic properties, aluminum-made griddles are not compatible with induction hobs. Still, not all stainless steel alloys are magnetic either. Look for the magnetic series of stainless steel if you want it to work on induction stovetops.
Size and Shape
Size and shape are factors you will want to consider. Ceramic griddles sell in different shapes: round, square, and rectangle. They are also available in varying sizes to fit small, medium, and large volume servings.
Cooking Surface
The cooking surfaces of ceramic griddles come either flat or with small humps. These designs cater to different cooking types. That is, the flat surface is for cooking things like pancakes, hash browns, and crepes. In contrast, the ridged cooking surfaces are intended for grease-heavy dishes such as burgers and steaks.
Walls and Spouts
There is a tradeoff between shallow walls and deep walls. Shallow walls make flipping easy, while deep walls keep the grease from spilling off the griddle. Most ceramic griddles have solid sides, though. Some also have spouts to make pouring grease easier.
Gutters, Grease Drains, and Drip Trays
Generally, electric ceramic griddles have built-in grease drains and trays, with exceptions like the George Foreman and Zojirushi models. Gutters are usually seen in ceramic griddle trays or pans.
Cleaning and Maintenance
Ceramic griddle pans are easy to clean and maintain. Although ceramic griddles are generally dishwasher safe, using a kitchen tissue or cloth to wipe off food residue helps prolong its nonstick feature.
We see the issue of cleaning and maintenance more commonly with electric ceramic griddles. While many manufacturers have detachable components, some have fixed electric bases. Cleaning these types is more cumbersome, so this is something you'll want to watch out for. They may, say, sell cheaper, but cleaning can be time-consuming and sometimes not worth the tradeoff.
Price
Ultimately, the price is always a deciding factor. Ceramic griddles sell in a wide price range, from budget options to premium investments. You'll even see ceramic griddle pans or trays priced as much as electric ceramic griddles. Whether or not they are worthy investments is subjective and is something you should account for.
FAQs
What is a ceramic griddle?
Ceramic griddles, contrary to what many may think, are not entirely made of clay. Instead, they are constructed with metals, just like other griddles, and then a ceramic coating is added to make them nonstick.
Is ceramic coating safe to cook with?
Because ceramic comes from naturally occurring raw materials, like clay minerals and quartz sand, they are a superior choice for nonstick cookware — much better for our health than other synthetic and compound substances.
What can you cook on ceramic cookware?
Ceramic comes from naturally occurring raw materials, which means there are no compound substances that can leach into your food. Ceramic is scratch-resistant, nonstick, plus they heat quickly and distribute heat evenly. Their versatility makes them an attractive addition to any kitchen.
Do you need to season a ceramic griddle? If so, how often should you season ceramic griddles?
Although generally not necessary for ceramic griddles, we recommend seasoning them every six months for optimal performance.