One skill I think all adults should have is the ability to properly cook a whole chicken. Whole roasted chicken is an awesome dish for a small gathering, it is incredibly economical and absolutely delicious. I love roasting a whole chicken. After years of professional cooking, it continues to be one of my favorite things to cook, especially on the grill.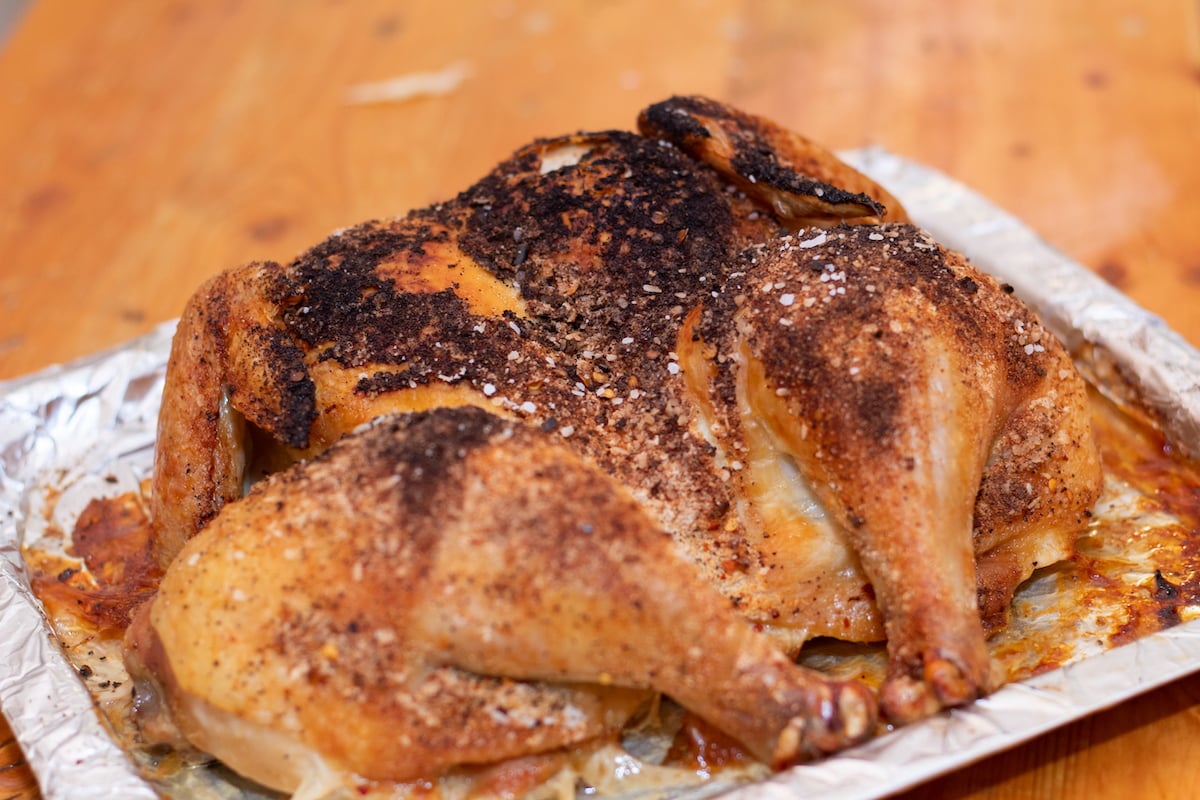 Grilling chicken allows you to add an incredible level of flavor that is hard to replicate without a grill. One of my favorite ways to prepare whole roasted chicken on my barbecue is to use the "spatchcock" method. While this word may be difficult to say, it's a relatively easy way to speed up your cook time, while keeping the chicken juicy and tender.
While I love to grill, sometimes it's not the best or quickest way to get dinner on the table, especially during the colder months. With my recent air fryer purchase, I wanted to see if I could replicate incredible char roasted whole chicken in my air fryer. I'm happy to say that after a little tweaking I was able to achieve the closest thing to grilled whole chicken without the grill.
While I still love my charbroiled chicken recipes, this air fryer recipe is a lot simpler, with far less clean-up, and you can make it year-round!
Table of Contents
The Strategy
To create the best air fryer whole chicken possible we are going to want to use the "spatchcock" method of roasting or grilling a chicken.
To achieve this you first need to cut the backbone out of the chicken, this can be done using a pair of sharp kitchen shears. Simply remove the backbone leaving the thighs and wings intact, then carefully press the chicken flat so the skin side is facing up.
Once the chicken is prepared you can season liberally. I've included a seasoning blend with this recipe but you can use whatever works best for your palate. The most important thing is to season the air fryer chicken fully and heavily. I like to lightly oil the bird first and then add the seasoning. The idea is to allow the seasoning and oil to "char" slightly as the chicken roasts at a relatively high temperature.
This caramelization will help create super crunchy skin and an awesome flavor. When you make air fryer whole chicken you can't really season the meat itself, so I like to layer on the seasoning on the outside, this way when you eat a bit of skin and meat together you get a perfectly seasoned bite.
Finally, we are going to be roasting this air fryer chicken at a relatively high temperature, in a small, well-insulated oven space. Combined with the high-powered convection fan and heating element, an air fryer is able to create an amazingly tender chicken, with perfectly crunchy skin.
Why This Works
By removing the backbone and laying the chicken flat you are able to cook the whole chicken more efficiently and evenly, creating a juicier, more tender product.
By loading the seasonings onto the skin of the chicken you can get a nice char/caramelization layer that mimics the flavor/texture of char roasted chicken.
The high-powered convection fan and small oven chamber of the air fryer are able to create a perfect environment for roasting a whole chicken quickly and efficiently.
Recipe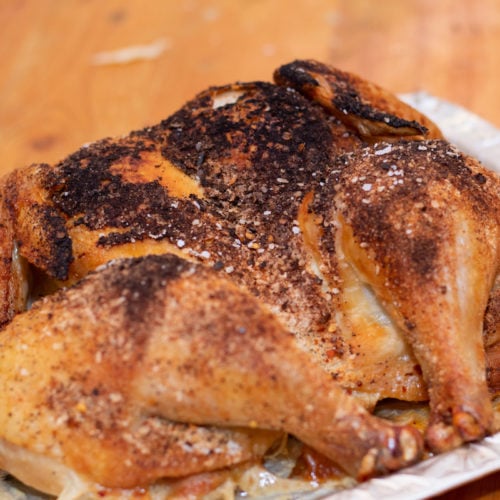 A Chef's Perfect Air Fryer Whole Chicken Recipe
A simple, delicious whole chicken recipe for your air fryer. Soft, tender meat and a flavor-packed crispy skin for the whole family.
Ingredients
1

whole chicken

1

tbsp

kosher salt

1

tsp

ground black pepper

¼

tsp

red pepper flakes

½

tsp

garlic powder

½

tsp

onion powder

½

tsp

paprika

½

tsp

dried sage

2

tbsp

olive oil
Instructions
Preheat your air fryer to 375°F.

Remove the chicken from the package and pat it dry with paper towels.

Using a knife or a pair of kitchen shears, remove the backbone from the chicken.

Press the air fryer chicken flat to the cutting board with the skin side up, you may need to press firmly to get the chicken to lay flat.

Place the chicken onto a roasting tray (oven style air fryers), or straight into your air fryer basket, skin side up.

For the seasoning blend combine the salt, pepper, red pepper flakes, garlic powder, onion powder, paprika, and dried sage in a separate bowl and mix well.

Season the outside of the chicken with olive oil and the seasoning blend.

Once the air fryer is preheated load the chicken on the roasting tray into the air fryer. If you have a pod-style air fryer you can carefully load the chicken right into the air fryer basket.

Set the timer for 1 hour and insert your in oven thermometer probe into the center of the chicken breast.

If you are using a toaster oven-style air fryer you will need to rotate the chicken halfway through the cooking process. If you have a pod-style air fryer this isn't necessary.

Once the chicken has reached an internal temperature of 165°F you can remove it from the air fryer and allow it to rest for 10 minutes before serving.
Notes
I put 45 minutes for the cook time, but adjust based on your internal temperature checks. The time can vary widely depending on the size of your air fryer and the size of your bird.u003c/liu003eu003cliu003eCalorie data from MyFitnessPal, based on 100g serving (no bones of course :))
Nutrition
Alternative Approach
If you're just not into the idea of doing your own chicken butchery, I completely understand and this air fryer recipe will work just fine if you choose to skip the "spatchcock" step. Simply load the whole chicken into your air fryer and allow it to roast until fully cooked.
It may take a little longer this way, but it will still taste delicious. Just make sure to use a thermometer to check the temperature of your air fryer whole chicken before removing it from the air fryer. You will want to take a temperature at the thigh and also in the center of the breast.
Some toaster oven style air fryers come equipped with a rotisserie option. My air fryer is actually one of these models. Using the rotisserie can sometimes be a bit complicated but it's definitely worth the effort as rotisserie chicken is an awesome dish. Personally, I like the spatchcock/roast method and it works well for me, but if you have access to a rotisserie-equipped air fryer, go ahead and give it a try, just make sure to watch the setup video before you do.
The Perfect Accompaniments for Air Fryer whole chicken
Air fryer whole chicken is an amazing option for almost any occasion, not only because it's delicious, but also because it goes perfectly with so many different things. You can add sauces, veggies, or starches, and create thousands of meals from one simple main dish.
I love serving this roast chicken with pan-roasted veggies. In spring I'll usually do English peas and asparagus with lots of garlic. Come summer I'll do a succotash of corn and tomatoes with pole beans and pickled peppers. During the fall things get a little heartier with things like roasted Brussels sprouts, cauliflower, or candied sweet potatoes, and finally, in winter, I opt for rich, decadent options like wild mushroom risotto, heavy on the parmesan.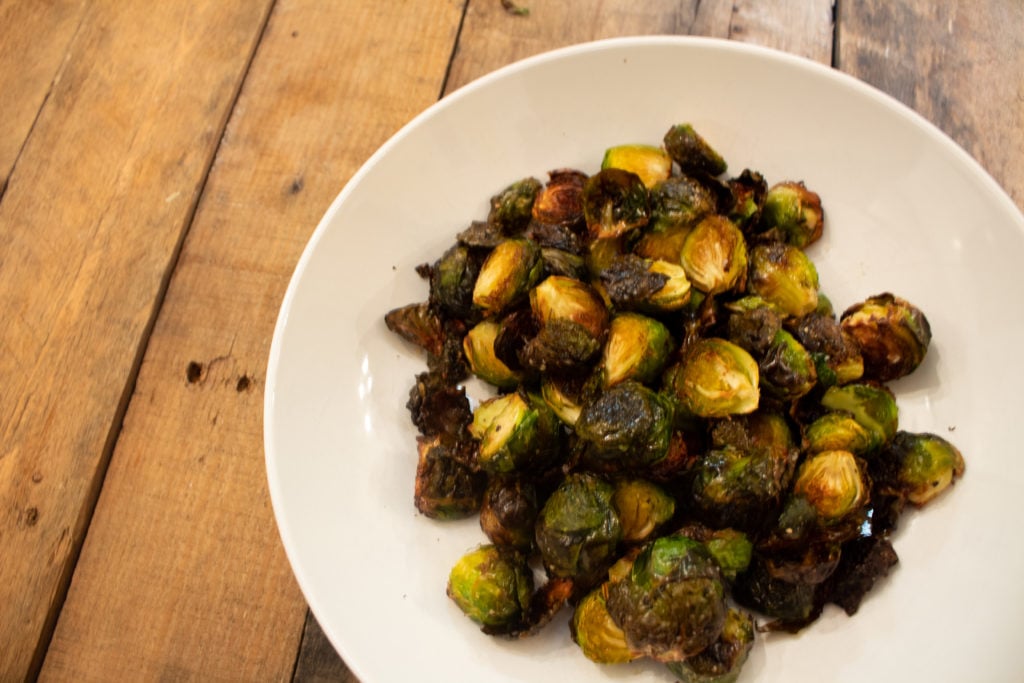 Roasting your whole chicken in an air fryer cuts down on the need to actively monitor the cooking process, especially if you use an in-oven thermometer. While grilling is a much more hands-on cooking process, air fryer whole chicken is a lot more hassle-free, and allows you the time/ability to focus on side dishes and accompaniments!
Mistakes To Avoid
Preparing this air fryer whole chicken shouldn't be a tough proposition so long as you follow a few simple steps and stay aware of some possible pitfalls.
Make sure to preheat your air fryer, if you don't have a preheat setting add 20 minutes to the cooking time and allow the air fryer to heat for those 20 minutes before loading the chicken.
Use a thermometer to make sure the air fryer whole chicken is fully cooked. You don't want to serve undercooked chicken, and unlike other cuts, a whole chicken is more difficult to put back in and cook up quickly. It's easier to make sure you get the air fryer whole chicken fully cooked the first time.
Don't be afraid to adjust the seasoning blend, just make sure you season thoroughly.
Pro Tips
Using an in oven thermometer when roasting an air fryer whole chicken makes life a lot easier. While some models, like the one I use, are a tad more expensive than most thermometers, they make checking the temperature of a cooking protein without opening the door a possibility.
Because of the small size of an air fryer, once you open the door or drawer the temperature falls rapidly. This can be frustrating because every time you want to check the temperature of an air fryer whole chicken you have to sacrifice oven temperature.
An in oven thermometer allows you to monitor the temperature of the chicken while it's cooking without having to remove the drawer or open the door, and if you have a Bluetooth-enabled model, like mine, you can monitor the temperature of your air fryer chicken from anywhere in your home.