Dirty coffee is a relative newcomer to coffee shop menus across the world. A dirty coffee is espresso poured over chilled milk to create a layered or 'dirty' drink similar to a latte macchiato.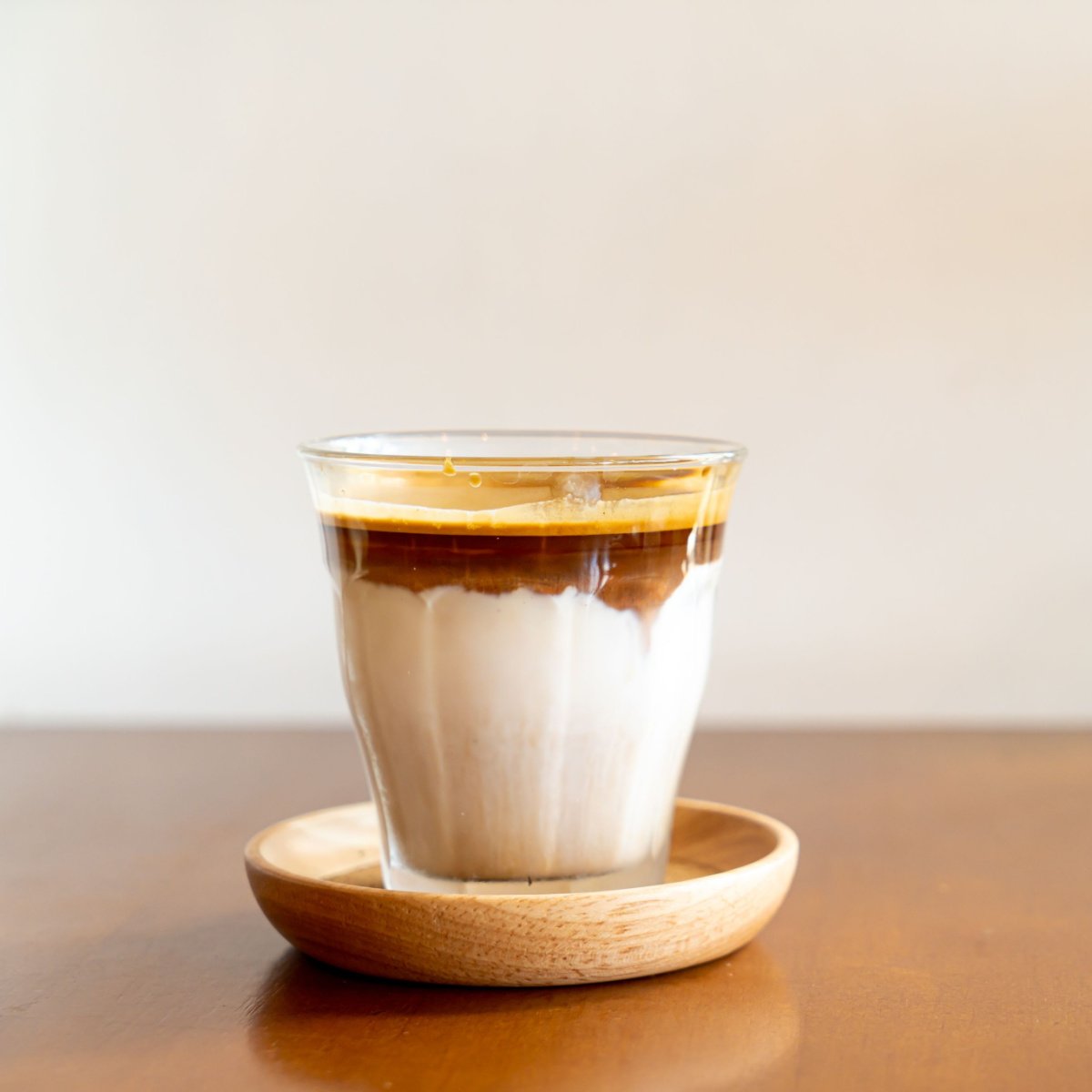 As a former barista, it's one of my favorite variations on a latte macchiato.
In this article, I'll walk you through everything you want to know about dirty coffee and even give you a simple recipe to make one at home!
Table of Contents
The Basics of Dirty Coffee
Dirty coffees are very simple: you need milk and espresso.
That's similar to many other espresso-based drinks on the menu, like lattes or cappuccinos. But the difference is in the preparation and the mixing of the espresso and milk. (Or lack thereof!)
At its core, a dirty coffee is espresso poured over chilled milk.
But we need to look at each piece separately to understand what's really going on.
The Espresso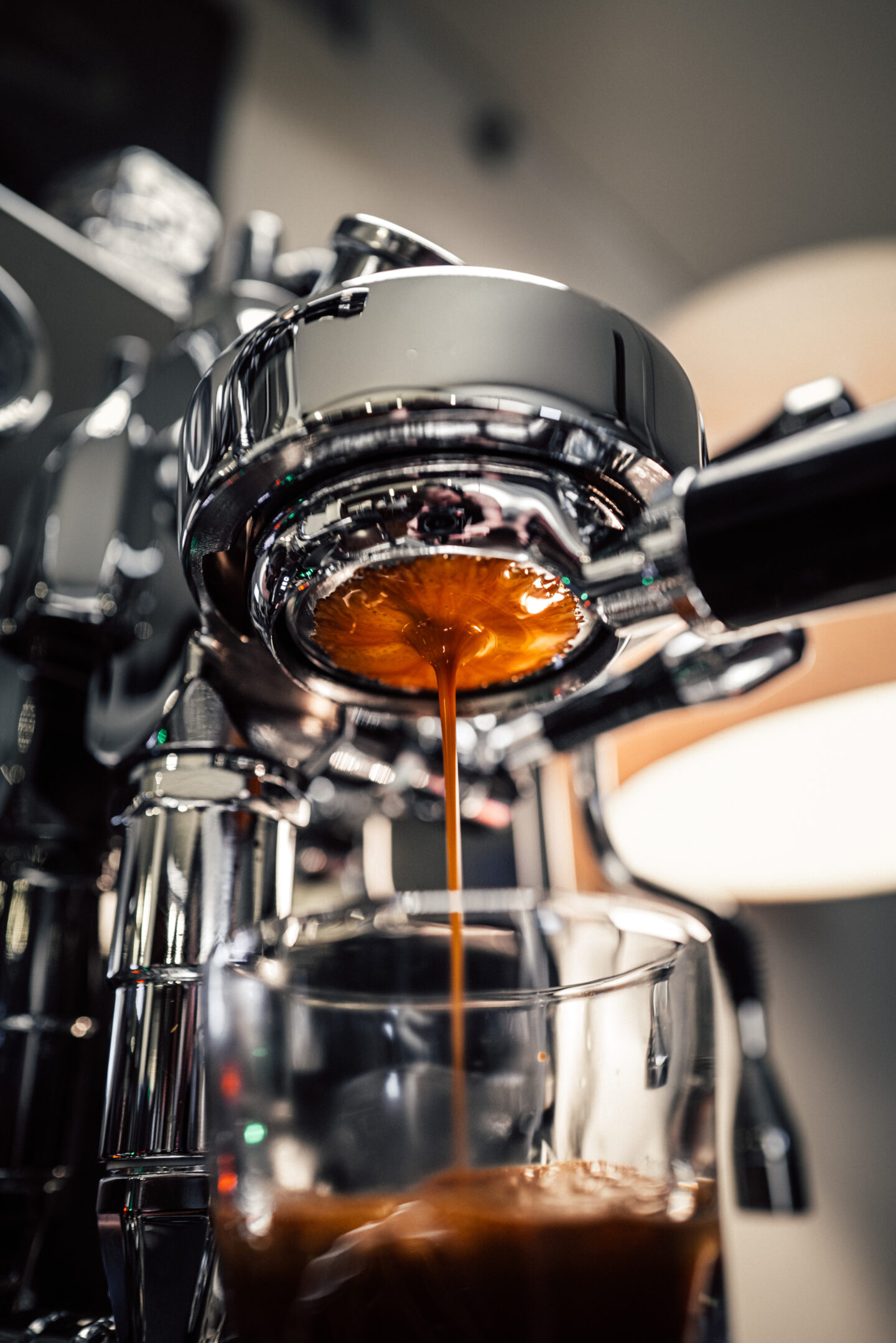 The espresso part of a dirty coffee is sometimes more concentrated than a regular shot of espresso.
Either the barista will pull a ristretto shot or just a smaller shot with the same amount of coffee. This is to give the drink a more intense flavor and mouthfeel.
Shorter shots, or ristrettos, are generally sweeter and a little sourer than full espresso shots.
But pulling a short shot also means the shot has an easier time layering with the milk. A more concentrated shot floats better on chilled milk.
The Milk
The milk in dirty coffee is actually very important.
It should be cold. Like, really cold. Think freezer cold.
The point of dirty coffee is to create a layering effect to let the espresso slowly mix down into the milk instead of mixing right away like in a latte.
So, what's the best way to get chilled milk? It's pouring the milk into the glass and placing it into the freezer for 10-15 minutes before pulling the espresso.
This makes it so that everything the espresso comes in contact with is chilled, which makes the layering easier.
Pro Tip: Using whole milk or half-and-half makes it even easier for the espresso to float on top.
How do you drink dirty coffee?
I know it might look pretty, and you probably have the urge to mix it all together, but resist that urge!
The point of dirty coffee is the layering, and when you drink one, you're supposed to experience that layering.
Espresso will dominate the first few sips. You're meant to experience the bitter coffee taste and get the full flavor profile of the shot. It should still be a little warm.
The next few sips should be a nice mix between espresso and chilled milk. This is where the coffee starts to taste like an iced latte.
The final few sips should be mostly chilled milk. The milk will taste a little sweeter than usual because of the contrast with the espresso.
You should experience three distinct parts of the drink.
I recommend trying dirty coffee as a mid-morning or after-lunch drink. New drinkers may also find that they enjoy drinking dirty coffee..
How is dirty coffee different from a latte macchiato?
You might wonder how dirty coffee differs from a latte macchiato. After all, a latte macchiato is an espresso poured over milk, right?
There are two key differences between a latte macchiato and a dirty coffee:
Dirty coffee is served cold
The milk in dirty coffee isn't frothed
Traditional latte macchiatos are served hot. They are meant to be consumed like lattes or cappuccinos.
Don't get me wrong—I love latte macchiatos. But sometimes I want a layered drink that isn't hot.
But what about iced latte macchiatos? Well, you got me there. But there is a difference: iced latte macchiatos use refrigerated milk, while dirty coffees use chilled milk.
The second difference between dirty coffee and latte macchiatos is in the milk consistency.
Latte macchiatos use frothed milk. Or milk that has microfoam or bubbles. The frothed milk allows latte macchiatos to have three layers: foam, espresso, and milk.
Because the milk in dirty coffee isn't frothed, there are only two layers and no foam.
Dirty Coffee: A Simple Recipe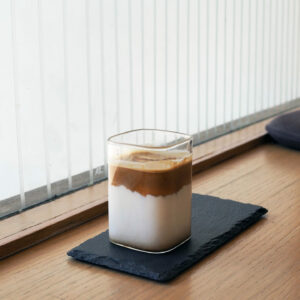 Homemade Dirty Coffee
Making a dirty coffee is much simpler than it might sound. This recipe is how I make my dirty coffees at home.
Equipment
1 espresso machine

1 glass

chilled in the freezer

1 spoon
Ingredients
1-2

shot

espresso

chilled milk

any milk
Instructions
Add 4-6oz of milk to the glass and place in the freezer for 15 minutes. This is to help with the temperature difference between the milk and the espresso later on

Pull either a single or double shot of espresso. This will vary depending on your espresso machine, but you should end up with 2-4oz of espresso.

Remove the milk from the freezer.

Put the spoon upside down over the milk and pour the espresso over the spoon. This helps disperse the espresso and suspend it on top of the milk rather than mixing it together right away.

Enjoy your drink! The experience is best before the espresso and milk fully mix.
And that's it! I told you it was a simple recipe.
As a personal recommendation, try using whole milk or half-and-half. The thicker the milk, the easier it is to create the layers and the "dirty" appearance of the drink.
You can also try pulling a slightly more concentrated espresso shot for a more intense flavor. Instead of pulling a 4oz double shot, try 3oz.