Chai lattes are one of the most popular drinks at a coffee shop that's not actually coffee.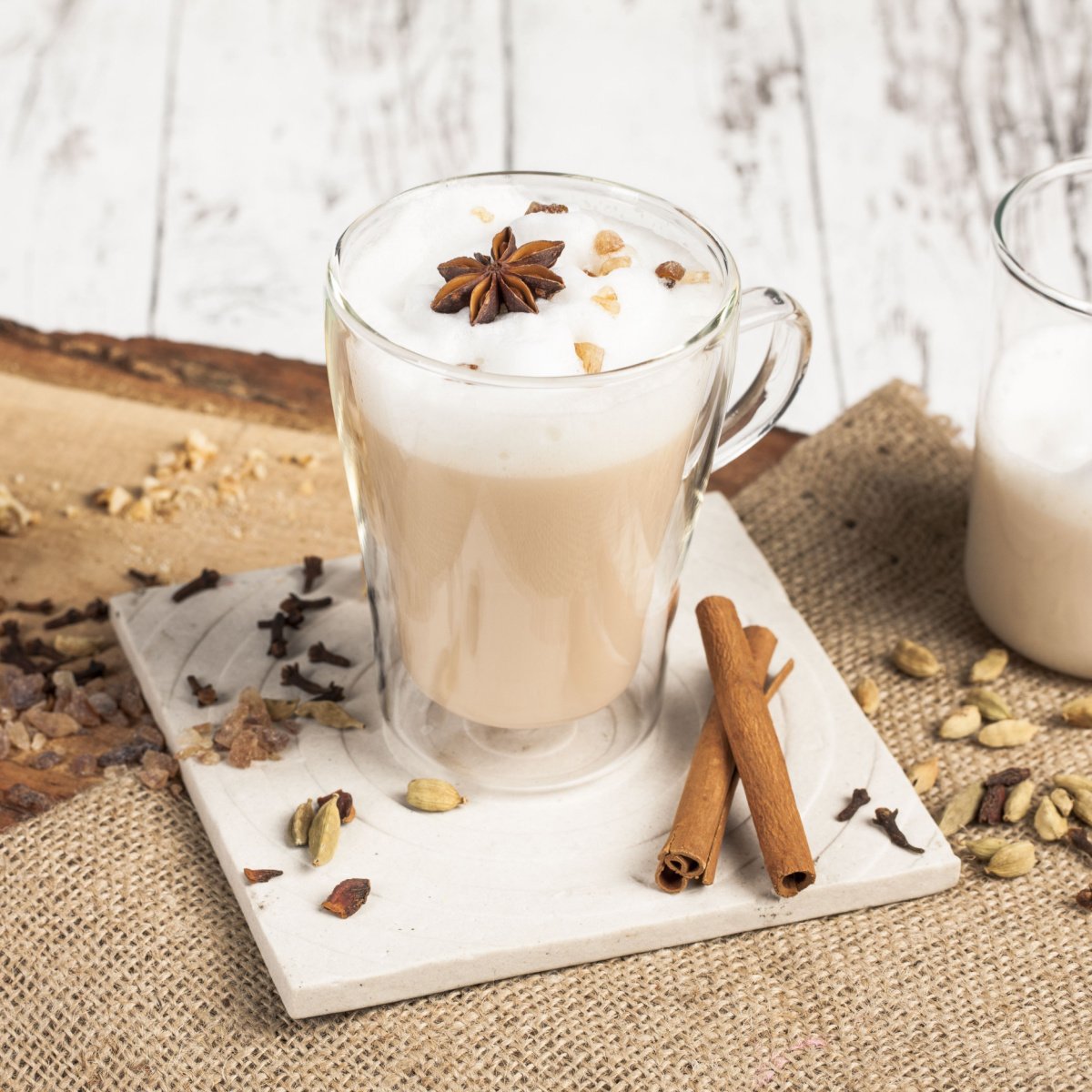 Chai lattes are made with spiced tea and steamed milk instead of espresso.
But there's a lot more to chai than meets the eye.
In this article, we'll dive into the world of chai lattes. There's even a simple recipe for chai lattes at the end!
Let's get started!
Table of Contents
What Is A Chai Latte?
A chai latte is a type of latte made with black tea, milk, and a mixture of spices, such as cinnamon, ginger, cardamom, and nutmeg.
Chai latte can be prepared hot or iced and is often served in coffee shops or cafes.
The exact blend of spices used in chai can vary, but it typically includes cinnamon, ginger, cardamom, cloves, and black pepper.
Chai has become increasingly popular in Western countries and is commonly served in coffee shops and cafes, typically as a latte, made by adding steamed milk to the brewed tea mixture.
What Does Chai Latte Taste Like?
A chai latte and chai are similar in that they are both made with the same blend of spices and black tea, but there is a key difference in how they are prepared.
Chai is simply the brewed tea mixture made with spices, black tea, and sweetener. It is typically brewed and served plain or with a small amount of milk or cream.
On the other hand, a chai latte is made by steaming milk and then adding it to the chai tea mixture. This results in a creamy, frothy drink with a stronger emphasis on the milk and a less intense tea flavor.
Additionally, a chai latte is generally sweeter than chai tea.
A chai latte is a variation of a chai tea, with the addition of steamed milk and typically more sweetness, resulting in a creamy and sweet flavor.
That's a somewhat long-winded way of saying that a chai latte is to a regular latte as plain chai is to brewed coffee.
Is Chai Latte Coffee?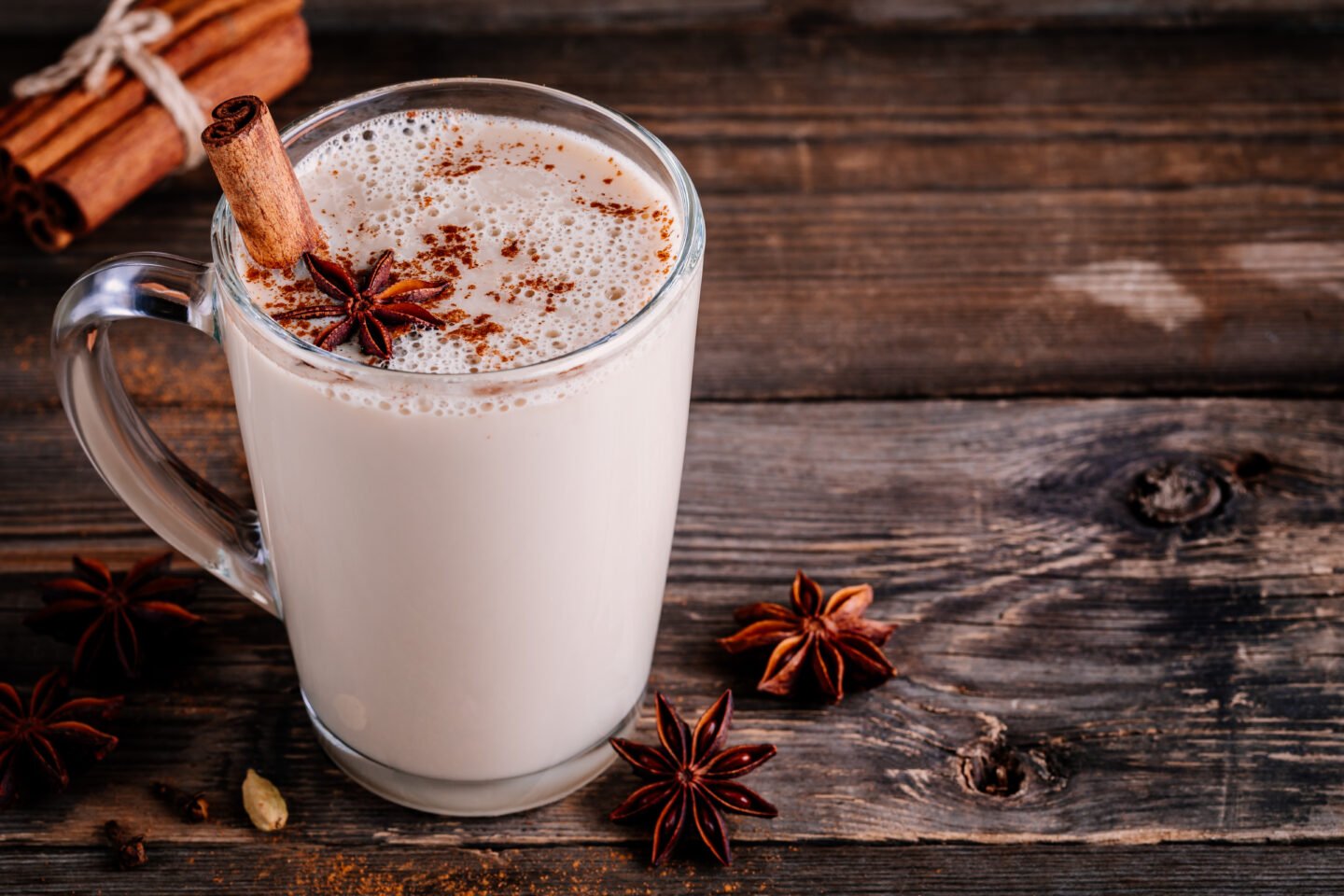 No, a chai latte is not coffee. While it is often served in coffee shops, it does not contain coffee and is made with tea as its base ingredient.
However, there is a very popular variation on a chai latte that is coffee! It's called a "Dirty Chai." It's a regular chai latte with an added shot of espresso.
I'm a huge fan of dirty chai lattes because they are essentially spiced lattes.
They will taste more bitter and like coffee with a twist than regular chai lattes. But don't let that stop you.
If you're looking for a bit more caffeine in your regular chai latte, adding a shot to make it "dirty" is a perfect option.
Is Chai Latte Healthy?
The healthiness of a chai latte can vary depending on how it is prepared and the ingredients used.
Black tea contains antioxidants that can help lower the risk of heart disease. Plus, the spices used in chai, such as cinnamon and ginger, have anti-inflammatory properties and aid digestion.
However, if the chai latte is made with a large amount of sugar or syrup, it can be high in added sugar and calories. The same applies if it is made with artificially flavored syrups.
It's always best to check the ingredient list, ask for the recipe used in preparing the chai latte, and make an informed decision based on that.
You can also ask for alternatives such as honey or stevia as sweeteners to decrease sugar intake.
Now, if we're talking about caffeine content, that's a different story. A chai latte will have less caffeine than a regular latte.
Generally, a medium-sized chai latte will have around 95 mg of caffeine. A regular latte made with espresso will have around 150 mg.
Adding a shot of espresso to a chai latte will turn that caffeine up to around 170-180 mg of caffeine.
It's a reliable way to add extra caffeine without going overboard.
A Simple Homemade Chai Latte Recipe
This recipe is a basic version of a traditional chai latte, and you can adjust the number of spices or sweeteners to your taste.
You can also play around with the spices and make them your own.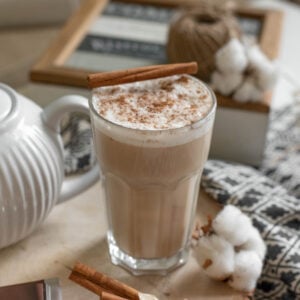 Simple Chai Latte
This recipe is for a traditional chai latte that you can easily make at home.
Ingredients
2

cups

water

2

bags

black tea

1

in

fresh ginger

peeled and grated

2

sticks

cinnamon

4

pods

cardamom

crushed

4

cloves

¼

tsp

black peppercorns

2

cups

milk

dairy or non-dairy

2

tbsp

honey

or to taste
Instructions
In a medium saucepan, bring the water to a boil.

Add the tea bags, ginger, cinnamon sticks, cardamom, cloves, and black peppercorns to the water. Reduce the heat and let the mixture simmer for 10 minutes.

Remove the pan from heat and let the mixture steep for another 5 minutes.

In the meantime, in a small saucepan, put the milk over medium heat until just before boiling. Quickly remove, then serve as is, or use a milk frother to get a foamier texture.

Remove the tea bags and the whole spices from the tea mixture.

Using a fine mesh strainer, strain the tea into two mugs.

Slowly pour the steamed milk over the tea, and use a whisk or a frother to create a frothy top.
Notes
My favorite sweetener for a chai tea latte is maple syrup. Brown sugar is another great sweetening option.
Nutrition
Calories:
230
kcal
Carbohydrates:
34
g
Protein:
9
g
Fat:
8
g
Saturated Fat:
5
g
Polyunsaturated Fat:
0.3
g
Monounsaturated Fat:
2
g
Cholesterol:
29
mg
Sodium:
108
mg
Potassium:
441
mg
Fiber:
3
g
Sugar:
29
g
Vitamin A:
409
IU
Vitamin C:
1
mg
Calcium:
357
mg
Iron:
1
mg
Alternative: To simplify this recipe, you can simply brew bagged chai spices in water and hot milk. You can also use chai tea concentrate mixed with steamed milk. Chai tea concentrate is a great way to make a quick iced chai.
Enjoy your homemade chai latte!