Anyone who has had a chai latte raves about the taste. But if you plan to drink it instead of coffee, you're probably wondering if a chai latte has caffeine.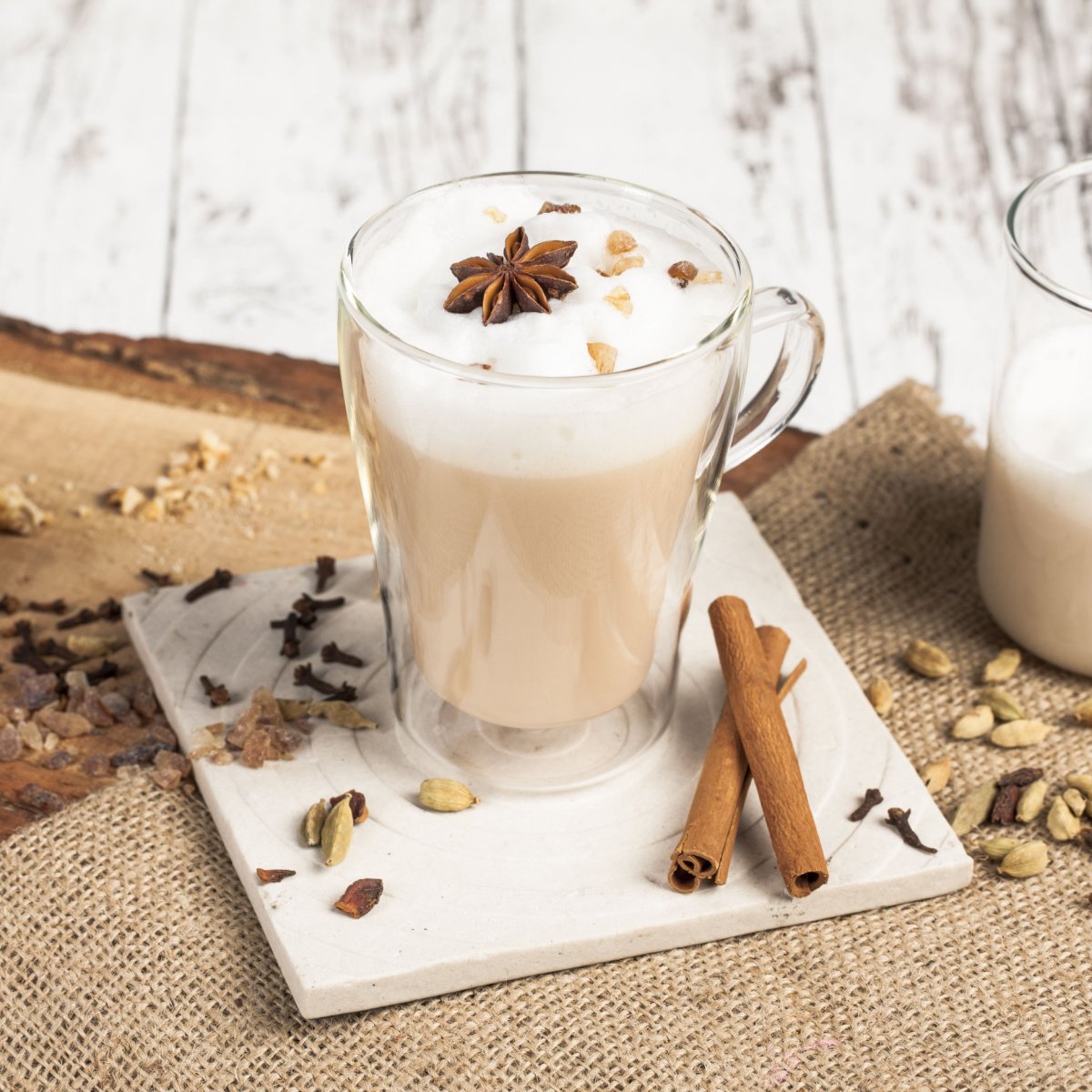 Chai lattes do have caffeine. The amount will depend on the form of tea and milk-to-tea ratio, but an eight-ounce chai latte will usually have between 25 to 55 milligrams of caffeine.
This article will help you determine how much caffeine is in your chai latte. By the end, you can decide if you want a chai latte or a cup of coffee to get your caffeine fix.
Table of Contents
What is a Chai Latte?
Before diving into how much caffeine is in a chai latte, let's ensure we all know what it is.
Chai tea is a black tea with a combination of spices. Now, a chai latte combines chai tea with steamed milk to make a tasty latte.
Some of the spices that may be present in chai tea include cardamom, cinnamon, cloves, ginger, black peppercorn, star anise, and allspice. These spices are what give chai its signature taste.
Many coffee shops may also add a sweetener in the form of sugar, flavored syrups, or honey.
How Much Caffeine is In Chai Tea?
What gives a chai latte its caffeine content is the chai tea itself. The black tea leaves in chai tea provide caffeine.
The amount of caffeine in chai tea will vary slightly depending on its preparation. Generally speaking, an eight-ounce cup of chai tea will have anywhere from 25 milligrams to 55 milligrams of caffeine.
Loose-leaf forms of chai tea tend to provide a higher amount of caffeine. This is especially true if they are steeped for longer durations.
Many chai lattes are made using powder variations of chai tea or chai tea concentrates. Both forms tend to have slightly lower amounts of caffeine than loose-leaf tea.
Tea-to-Milk Ratio in a Chai Latte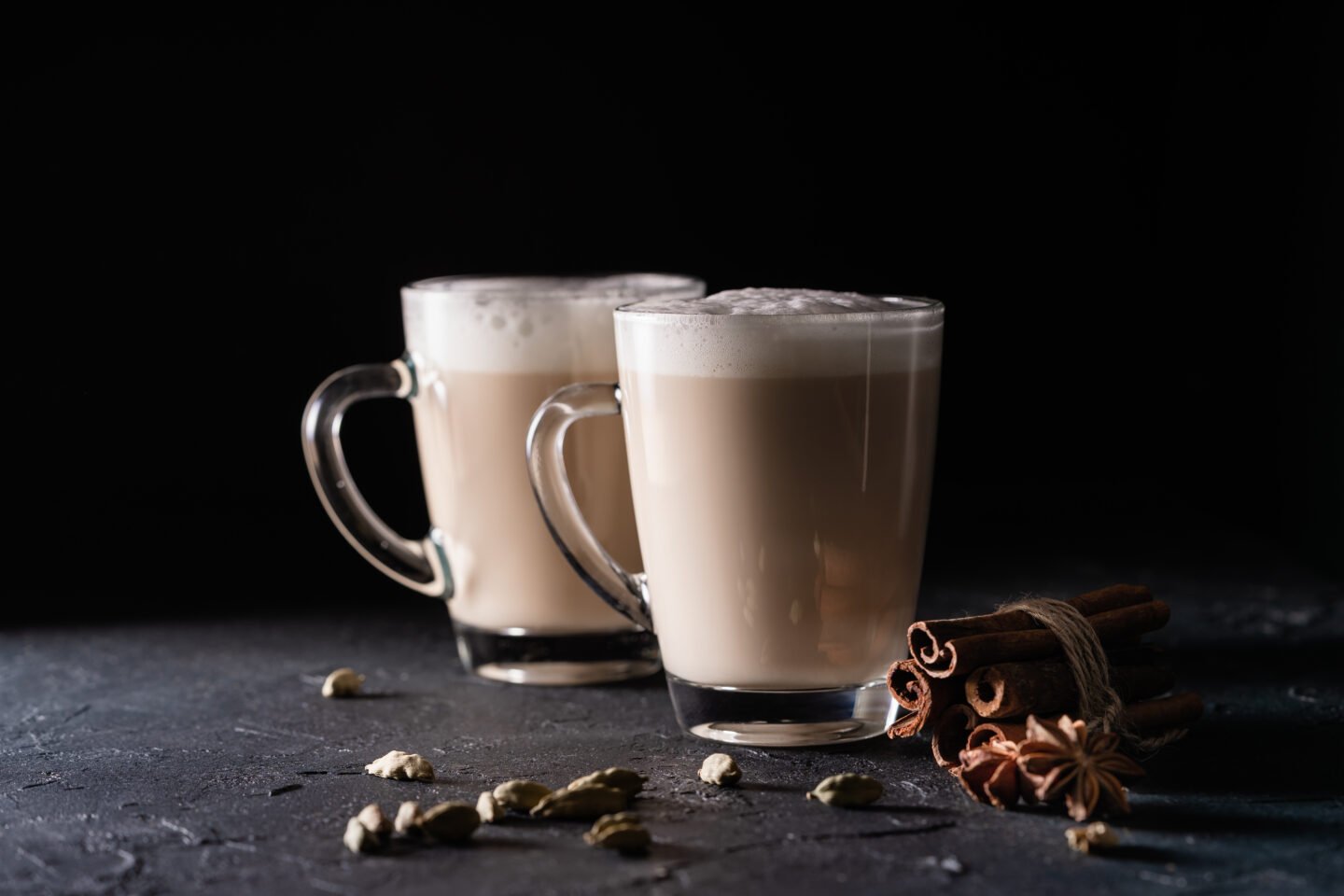 The tea-to-milk ratio will affect the amount of caffeine in your chai latte. If a chai latte has more milk than actual chai tea, it will obviously have less caffeine.
Many home recipes for a chai latte will encourage you to use a 3-to-1 ratio of tea water to milk. However, this ratio will change if you use chai tea concentrate or chai tea powder.
For example, Starbucks uses around 75% milk with 25% chai tea concentrate. Every coffee shop may have slight variations of tea-to-milk ratios for the chai latte.
All this to say, if you want more caffeine, make sure you're using plenty of chai tea. You probably won't get a caffeine kick if your drink is mostly milk.
Chai Latte vs Coffee Caffeine Content
So, which drink has more caffeine: a cup of coffee or a chai latte? The coffee will have more caffeine when comparing the same size drink.
A standard eight-ounce drip coffee has 75 to 120 milligrams of caffeine. This will vary depending on how it's brewed.
Recall that an eight-ounce cup of chai tea has about 25 milligrams to 55 milligrams of caffeine. So if you compare ounce per ounce, coffee will always have more caffeine.
Most people tend to order a grande-sized Chai Tea Latte from Starbucks. This drink has about 95 milligrams of caffeine because it's the equivalent of two cups of chai tea.
So a grande-sized Chai Tea Latte may get you closer to the caffeine content of a smaller cup of coffee at Starbucks. A Starbucks grande Chai Tea Latte is a good option if you want a decent caffeine kick but want the chai flavor.
Can You Get a Decaf Chai Latte?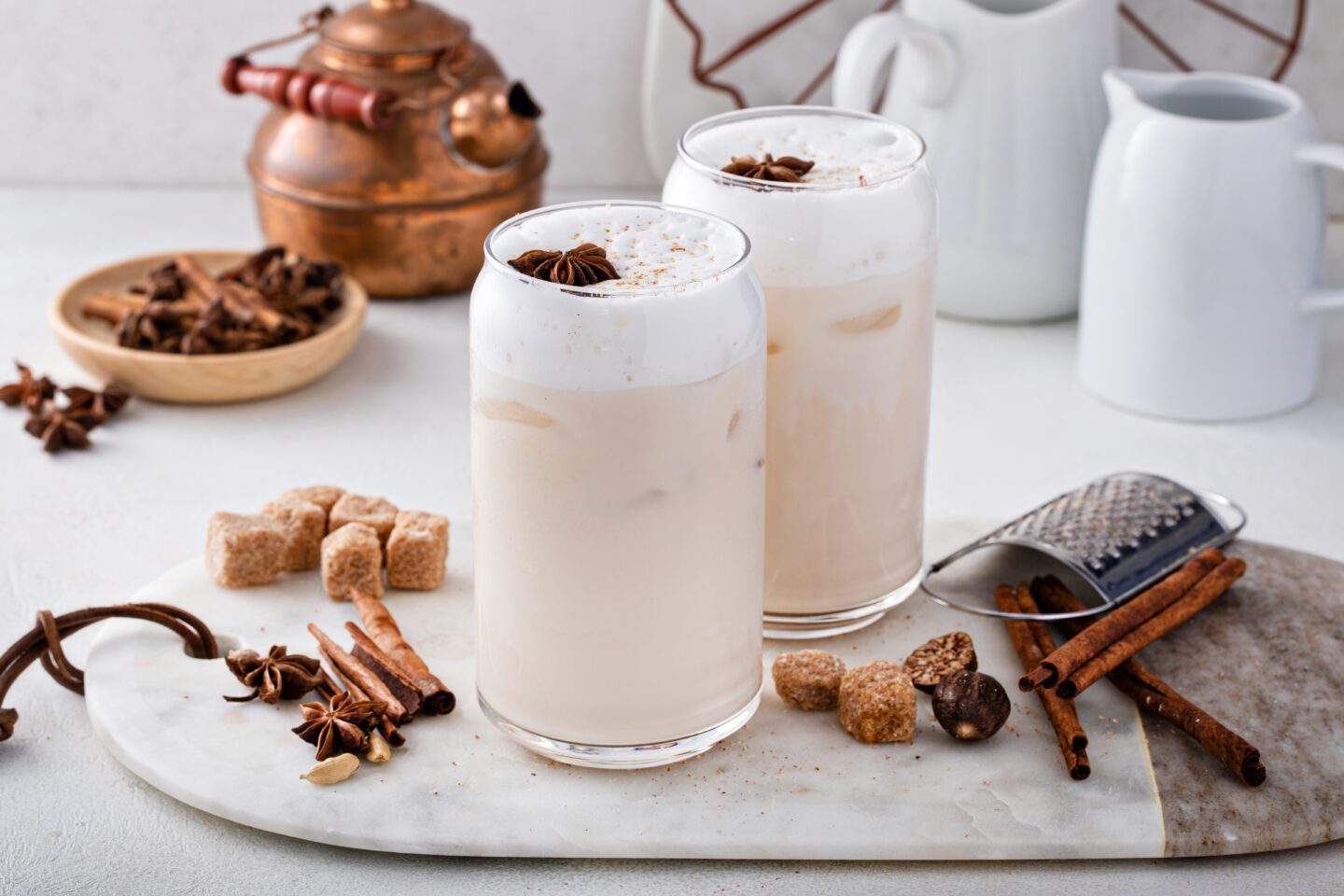 If you thought chai lattes were caffeine free, sorry to burst your bubble. But don't lose hope because you still have options.
You can buy decaf chai tea variations in loose-leaf and powder variations. So you could easily make a decaf chai latte from home.
At this time, Starbucks and many cafes don't offer decaf chai lattes. But if you don't want to go through the trouble of making one yourself, Tazo sells a pre-made decaf chai latte.
Remember that decaf chai lattes will still have a small amount of caffeine. But it generally contains 4 milligrams or less of caffeine per serving.
Final Thoughts
A chai latte is a delicious tea drink that contains caffeine. Depending on a few factors, there will be about 25 milligrams to 55 milligrams of caffeine per eight ounces of a chai latte.
One factor that influences the amount of caffeine is how the chai is prepared. Loose-leaf tea will give off more caffeine than powders or concentrates.
Another factor influencing the caffeine content is the tea-to-milk ratio. The caffeine content will be much lower if your chai latte has more milk than tea.
Chai lattes will have less caffeine than coffee when per ounce. But a grande-sized Chai Tea Latte from Starbucks may give you similar amounts of caffeine as a small cup of coffee.
Decaf chai latte options are also available, but they're usually not sold at coffee shops. Chai lattes may not have as much caffeine as coffee, but the tasty flavor makes them a worthy drink choice.