Measuring pH levels isn't only for scientific and academic purposes. These days, many people buy pH meters to test the acidity of the foods and liquids they eat and drink. In addition, it is often done to ensure that you're consuming a primarily alkaline diet filled with low-acid foods.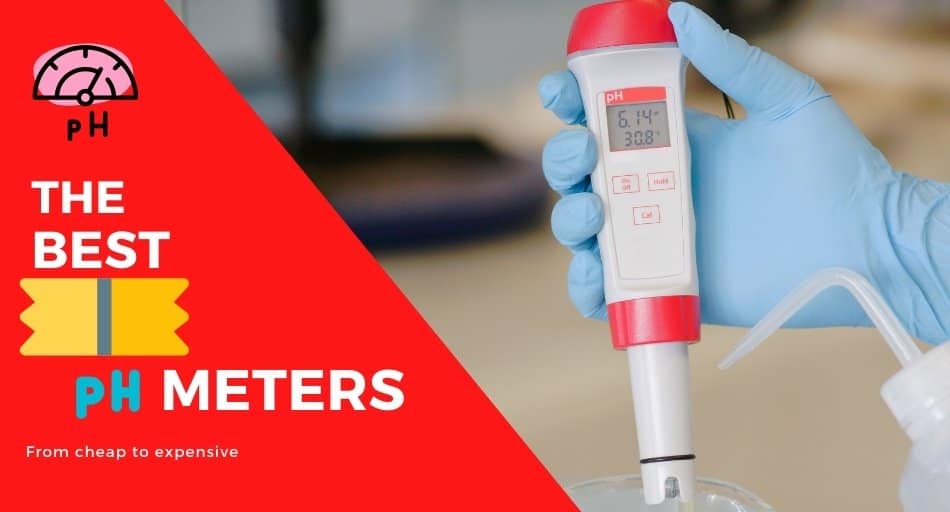 Because of that, there's an abundance of pH meters available on the market, from bigger ones to more portable ones. So it always depends on your needs and requirements.
If you buy through the links on this page, we will get a small commission at no charge to you. Thank you for supporting our website.
Table of Contents
Should you buy a pH meter?
Buying a pH meter might be a good idea if you're following a particularly low-acid diet, so you need to monitor your intake of acidic foods carefully. It's also a good idea to invest in a quality pH meter if you enjoy canning your own foods, fermenting vegetables in jars, or storing acidic foods.
The pH level is important in these processes as it ensures that your food doesn't spoil and make you sick after you consume it. Furthermore, acidity is important in fermenting and canning to guarantee long shelf life.
> A pH meter can help you determine the pH level of any food and drink you consume with very precise accuracy. Most of them are effortless to use and can help you follow a low-acid, mostly alkaline diet. We created a handy guide on how to buy the right pH meter.
Types of pH Meters
While there are many various types and styles of pH meters, the most common ones are table pH meters (harder to transport and move around), pen-style pH meters (portable and smaller), and pH test strips.
The first two types are more accurate as they can be as precise as 0.01 pH, which is beneficial in many cooking processes. They're also more expensive, so it's important to keep that in mind when researching pH meters.
The most common pH meters for household and kitchen use are pen-style pH meters, as they can be easily used by one person without any trouble.
They're also very accurate and come at various price ranges. What's more, some of them are waterproof, making them suitable for extensive water testing and also safer if you're worried about them breaking when they come in contact with water.
Apera pH meter offers a complete test kit.
It's also a good idea to check how often the pH meter of your choice needs to be calibrated. This depends on the brand and how often you use your pH meter. What also matters is the acidity of the foods and drinks tested, as higher pH levels require more frequent calibration than lower pH levels.
As a result, it might be a good idea to think ahead and consider which types of foods you'll most likely be testing.
If you're looking for a pH meter that helps you with recording the pH levels of the foods you consume most, it might be best to choose one that has internal memory storage.
That way, you won't have to test the same foods and drinks twice as they will be recorded in the device already. This not only saves you some time but makes using the equipment easier.
Best pH Meters
Purchasing the best pH meter for you depends on various factors, including how much you're willing to spend and what you need it for. Some pH meters are only suitable for scientific use as they contain parts that, if broken, might contaminate your food.
Because of that, always make sure to read the product description and check that the pH meter you're choosing can be used for food and liquids that you eat.
Best pH meters if you're on a budget
There are many cheaper alternatives to pH meters these days that are still very accurate and easy to use. Here are a few that will definitely fulfill your needs, whether you're looking for something traditional or more professional.
1. VIVOSUN Digital pH Meter
This pen-style pH meter is fantastic for various applications, including kitchen, laboratory testing, and even aquariums and swimming pools. This tool measures pH levels from 0 to 14 with great accuracy ( 0.05 pH ), so you will be able to get your readings fast without any impact on precision.
This pH meter has been calibrated in advance, so there's no need to purchase any extra buffer solution, making it less of a hassle for you. It also comes with a temperature meter and calibration buffers for later use, if you need them.
For the low price, this pH meter comes with all that you need to follow a low-acid diet and test your drinks and foods.
2. Plastic pH Test Strips, Universal Application
Even though it's one of the cheapest pH testers on this list, it can be used for a wide variety of products, including saliva, urine, soil, soap, skincare, foods, and so much more. It also produces fast results with virtually no waiting time, and it comes with clear instructions on how to interpret the acidity.
The only main downside to most pH test strips is that they have an accuracy of 1 pH, which means that they're not very precise. Because of that, if you require a more detailed reading, it might be best to purchase a more professional pH meter.
4. pH meter, 0.01 Resolution High Accuracy
This pH meter has inbuilt automatic temperature compensation, which means that you don't have to worry about adjusting the temperature of the food and your pH meter.
It's also incredibly accurate for the price and easy to use as it's not too big. The only downside is that it needs to be calibrated once a week if you use it for solutions and foods with high pH and once a month for neutral and lower pH solutions and foods.
Best More Expensive pH Meters
Choosing a slightly more expensive pH meter might seem odd if you can get one that's cheaper and still accurate. But if you're following a particularly strict low-acid diet or if you need the pH meter for research, these tools can help you achieve even higher accuracy. You can also be sure of the quality and longevity.
1. Apera Instruments Premium-Series PH60S Food pH Pocket Tester Kit
This pH meter has an accuracy of 0.01 pH and can be used from 0C up to even 50C. It comes with calibration solutions, AAA batteries, all in a portable case, which makes it easy to transport and use in many places.
Another great benefit of investing in this pH meter is the fact that it comes with a 2-year warranty. It can measure the pH of various foods, including cheese, meat, jam, dough, sushi, sauce, skincare products, and many more.
Perfect for soft solid food samples, such as cheese, meat, fruit, vegetables, and even soil or cosmetics, this pH meter has everything you might need. Its long probe with spear tip allows you to test almost any food, and it also works excellent for drinks and other solutions.
It comes with a large LCD screen so you can clearly see the result and store it for later use, which saves you time and energy. While it might be more expensive than other pH meters on this list, it has great value for its price.
This hand-held, larger pH meter measures both the pH level and temperature simultaneously, which means that you have one less thing to worry about. It can also store up to 25 readings, so you can save the readings for some of the most common foods you consume.
This pH meter has a 0.01 pH accuracy and can be used in temperatures from 0C up to 100C. It does require two hands to be used, so it might be more challenging.
On the bright side, this device comes in two types: one with cable and one with an internal battery, so you can choose which one fits your needs more.
4. HM Digital PH-200 Waterproof Temperature pH Meter
This another, slightly pricier pH meter measures both the pH levels and temperature, which means that it leaves more for you to do. It's also very quick and suitable for nearly all pH measurements, including food, water, soil, swimming pool water, alcohols, lab solutions, and many more.
It's also waterproof, which means that you don't have to worry about it breaking down when the LCD screen comes in contact with water.
Choosing a pH meter to buy doesn't have to be a dreadful process. All you need to do is figure out what specifications you need the most and what price range you're most comfortable with.
After that, you can take your pick since there are pH meters for any price and with many various functions. The ones listed above are some of the best ones available on the market, so you can start your search from these.