It's not only scientists and students who need to measure acidity. With modern lifestyles and diets giving rise to an increasing number of people suffering from acid reflux, more are switching to a low-acid diet, and they must know the acidity of common foods and drinks.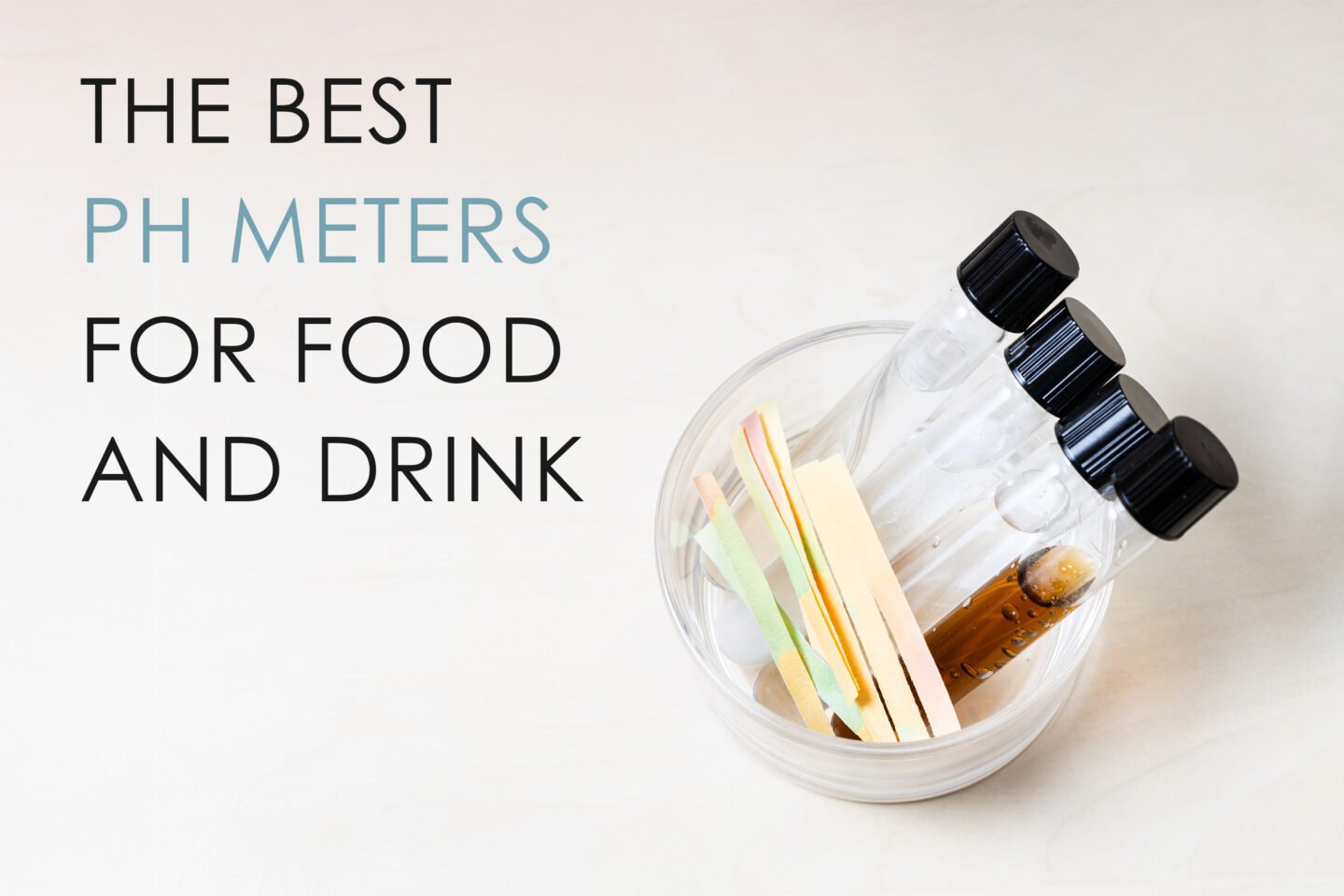 Owning a pH meter is convenient and more accurate than looking acidity up online, and there are pH meters on the market to suit any purpose and budget.
If you buy through the links on this page, we will get a small commission at no charge to you. Thank you for supporting our website.
Table of Contents
Should You Buy a pH Meter?
A pH meter is an excellent investment if you follow a low-acid or alkaline diet. It's also a good idea if you make your own preserves, as a food's acidity can affect its shelf life.
A pH meter will accurately measure the acidity of any food and drink, and they're easy to use, taking the guesswork out of a low-acid diet.
We have created a handy guide on how to buy the right pH meter.
Types of pH Meters
There are many types of pH meters, but most fit into one of three broad categories: tabletop meters, pen-style meters, and pH test strips.
Tabletop and pen-style meters can be as precise as 0.01 pH but are also more expensive.
Pen-style are the most common for domestic usage, as one person can easily use them.
They're also very accurate, can be inexpensive, and many are waterproof.
Apera pH meter offers a complete test kit.
Some meters need calibration more often than others, and this must be done regularly to maintain accuracy. Meters mainly testing foods with high pH levels may require more frequent calibration than those testing lower pH foods.
Some pH meters have internal storage, allowing you to record the acidity of foods you commonly consume and saving you time.
The Best pH Meters
Which pH meter is best depends on your intended use and how much you'd like to spend.
Some pH meters are unsuitable for home use, as they contain substances that would contaminate your food if broken.
The best budget pH meters
There are many affordable, highly accurate pH meters on the market, and below, we've listed some of the best.
1. VIVOSUN Digital pH Meter
This pen-style meter is fantastic for the kitchen, aquariums, and swimming pools. It measures pH levels from 0 to 14 in 0.05 increments and is fast and accurate.
It's calibrated prior to sale, comes with a temperature meter and calibration buffers, and is an excellent meter at this price point.
2. Plastic pH Test Strips, Universal Application
These are the cheapest testers on this list, but they quickly test the pH of saliva, soil, soap, skincare, and food and drink.
Like other pH test strips, their accuracy is around 1 pH, so you may need a more precise meter.
4. pH meter, 0.01 Resolution High Accuracy
This meter has automatic temperature compensation, so you don't need to adjust food temperature manually.
It's also incredibly accurate, easy to use, and great value. However, it must be calibrated weekly if you use it for testing high-pH foods or monthly with neutral or low-pH foods.
The best pricier pH meters
If you're following a stringent low-acid diet or undertaking research, these more expensive pH meters are more accurate and longer lasting.
1. Apera Instruments Premium-Series PH60S Food pH Pocket Tester Kit
This meter has an accuracy of 0.01 pH and can be used from zero to 50 degrees Celsius. It comes in a handy portable case and includes calibration solution and AAA batteries. It also comes with a 2-year warranty.
This meter has a long probe with a spear tip, allowing you to test almost any food or drink.
It has a large LCD screen and internal storage and is excellent value for money.
This large, hand-held meter measures pH and temperature simultaneously. It can store up to 25 readings, so you can record the foods you often eat.
It has a 0.01 pH accuracy and can be used in temperatures from freezing to 100 degrees Celsius. However, it does require two hands to use.
4. HM Digital PH-200 Waterproof Temperature pH Meter
This meter quickly and accurately measures pH and temperature. It's waterproof and suitable for measuring the pH of food, soil, swimming pool water, alcohol, and lab solutions.