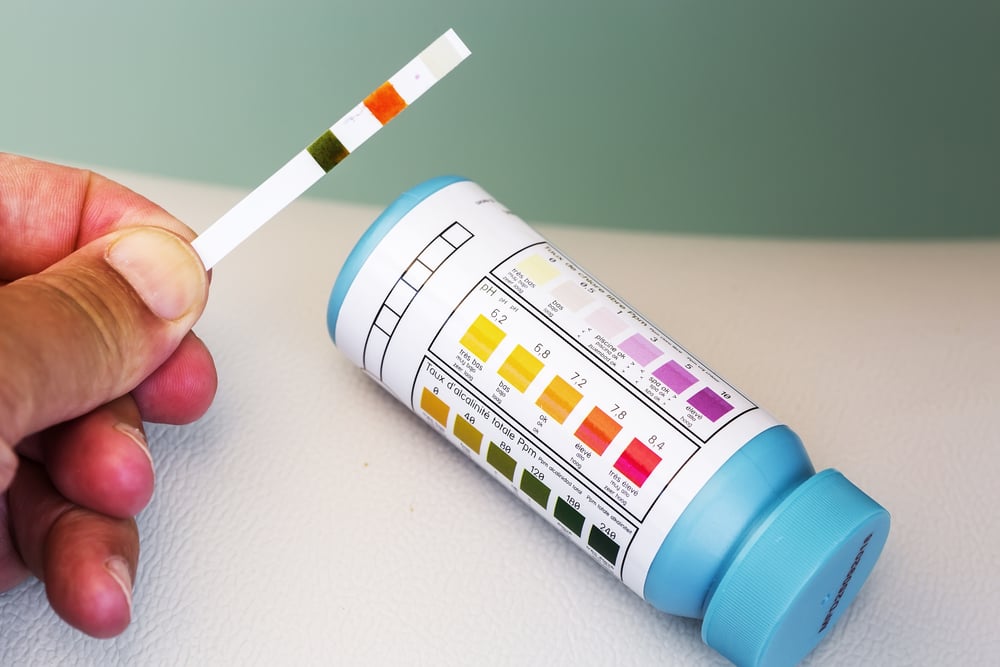 After trying a lot of these test kits, we realized the important thing is not whether they can identify the levels of various chemicals in your water (all the good ones can), but how easy they are to use, and how quickly and clearly you can determine the results. If it takes you an hour buried in an instruction manual or borrowing your granny's glasses to get an answer... well, the "savings" aren't worth it.
To that end, we think the best home water test for most people is the 17 in 1 Premium Drinking Water Test Kit. It was the only available test pack that comes with 100 strips, that each test your water for 17 different contaminants. The instructions are simple. The color-coded results chart is easy to read, and the price doesn't get much lower.
SAVE 7%
BEST OVERALL: 17 in 1 Premium Drinking Water Test Kit
This pack comes with 100 strips that test for Lead, Fluoride, Iron, Copper, Mercury, Total chlorine, Nitrite, Nitrate, pH, Total Alkalinity, Hardness, Aluminum, Sulfate, Zinc, Free Chlorine, and Manganese... in each test strip! No pack we found was as comprehensive for the price.
If you suspect a serious issue, and the DIY option won't cut it, you should consider a mail-in test kit. These comprehensive lab tests check for a wider range of contaminants and have the results examined by professionals, eliminating the possibility of misinterpretation.
For us, the best mail-in water test was the Safe Home PREMIUM Drinking Water Test Kit. It's a big upgrade price-wise, but it tests for 50 contaminants rather than just 17, and you avoid all the instruction reading, dipping, waiting, or color checking of a DIY test. Just collect some water and drop it in the mail (postage fees are free).
If neither of those suit your purposes, carry on reading to see the rest of the top 5.
Whether you're drinking water or using it to bathe, do laundry, or clean your dishes, it's important to know what's in it. Although water can look, feel, and taste healthy, that's not always the case. It's important to know whether or not your water can be trusted. The best way to do this is by purchasing a water test kit.
Water test kits are extremely valuable. Whether using an in-home test or mailing a sample to an actual testing company, water test kits have the ability to show whether or not your water is contaminated. The test can reveal hard water, bacteria, lead, and so much more. But it's important to find the one that's right for you. That's why we are diving into the top 5 water test kits on the market as well as 3 cheap but reliable test kits to consider.

Table of Contents
Do Home Water Test Kits Work?
A lot of people may find themselves wary of buying a home water test kit. This is especially true if they do not have to mail in their sample. Do at-home water test kits really work? Do they provide accurate results? The simple answer is yes, they do.
Tests done with home water test kits might not be performed in a lab by a chemist but they are still reliable. The kit will notify you whether or not the water is contaminated. Furthermore, the test kit will also show what is contaminating the water. Knowing the specific contaminants lurking in your water is important for fixing the problem. This will provide you and your loved ones with safe and healthy water for drinking and bathing.
Are Home Water Tests Accurate?
Home test kits have consistently improved from their humble beginnings. Now, home testing kits can give peace of mind. They are constructed to be reliable and provide accurate results. The testing kit will provide detailed information on whether or not the water is contaminated. It will also show which contaminants may be inflicting your water supply.
Here's How We've Determined the Best Water Test Kit
If you are planning to use a home testing kit you want to make sure you are using one that is reliable. It should also and offer accuracy to better understand your water quality. With that in mind, we searched high and low for the best products. The decision is based solely on features of the test kit and reviews from actual purchasers.
The Drinking Water Test Kit by Health Metric is specifically designed for tap water and well water. This makes it a versatile test kit that can be used by a variety of homeowners in different situations. The kit comes with everything you need to get started. The tests are easy to use. As an added bonus, you get your results in just a few short minutes. This is far quicker than other test kits on the market.
This water testing kit comes with 9 powerful tests to give the homeowner peace of mind. All bases are covered with the inclusion of 1 Lead Test, 1 Coliform Bacteria Test, 1 Copper Test, 1 Nitrate Test, 1 Nitrite Test, 2 3-Way Tests (pH, Alkalinity, and Hardness) and 2 Chlorine Tests.
To perform a test, collect a sample from your tap water or well water. Then, wait a few short minutes. When obtained results change color, simply compare the to the color-coded card to check the levels for a variety of potential major contaminants.
With 9 different tests in a single water testing kit, you don't have to worry about purchasing "extras". This is important because some tests are designed to test for specific contaminants such as just bacteria or only hard metals. Having enough tests to ensure all common contaminants are located can give a homeowner more confidence in the water they are using in their home.
The Drinking Water Test Kit by Health Metric is created in the USA. It calibrates with official EPA recommended levels. This means purchasers can feel confident in the reliability and accuracy of the tests. Again, this leads to peace of mind knowing that the test can accurately identify contaminants in the water supply.
The only drawback to the Drinking Water Test Kit by Health Metric is that the colors can sometimes be challenging to read. This is especially true on certain test strips such as the chlorine test. Should this occur, you always have the option of contacting the company and getting a new test strip at no additional cost.
All in all, this test kit has provided 300+ purchasers with excellent results. It is an easy to use test kit that can test water quality quickly and efficiently. It's priced right at less than $30, which is a pretty great deal considering it comes with 9 different tests.
The 17 in 1 Premium Drinking Water Test Kit is a top-notch choice. Comparatively, it provides the biggest bang for your buck with the widest array of parameters and 100 test strips. It costs is one of the easiest kit tests to use. There are many added benefits and features when it comes to this product. Let's take a closer look.
Reason #1 to Choose This Product:

17 Tests in 1

Other tests on this list may be able to conduct 10 tests, even 16 tests. None can compete with 17 total testing strips. It is widely known as being the test kit that provides the widest array of parameters, leading the competition. These tests cover all types of contaminants that are worrisome in drinking water and well water. This includes lead, bacteria, E Coli, salmonella, iron, chlorine, mercury, aluminum, and more. The test also shows results for fluoride levels, which is something you won't find in other test kits.
Reason #2 to Choose This Product:

100 Test Strips Provided

What many homeowners might not know is that they should be testing their water every six months for contaminants. Luckily, this kit includes 100 test strips. You can stay up-to-date on your drinking water, whether from the faucet or fridge. Testing regularly means you won't miss any lead forming in your water, or other unwanted contaminants such as pesticides and bacteria. This gives you comfort and confidence as they sip on fresh, clean drinking water.
Reason #3 to Choose This Product:

Accuracy

These water test strips have gone through multiple quality assurance tests to ensure their accuracy. Customers rave about this particular water test kit. Some say that it is far more accurate than other kits on the market. They have also said things like "This HazMat guy says it works" and "Comprehensive and simple to use". The product overall has far less critical reviews. This is especially true when it comes to accuracy on drinking water and well water. This means this is a product you can depend on.

Overall, the 17 in 1 Premium Drinking Water Test Kit appears to be the best and most reliable choice. There have not been concerns with faulty tests or difficulty when it comes to understanding results. It can be used on a variety of sources including tap water and well water, amongst others. It's priced right and comes with 100, simple to use test strips that provide continuous results for testing your water.
Some people may feel more confident in sending their kit into an actual lab to receive their test results - and that's perfectly fine. If you would prefer a mail-in sample home test kit, then the Safe Home Premium Drinking Water Test Kit is a fine choice. All samples go to the EPA-certified lab that has been designated as a "Disaster Essential" according to government officials.
Testing with the Safe Home Premium Drinking Water Test Kit is done in three simple steps:
Collect a sample in the provided tube
Ship the sample to the lab
Wait for 7 to 10 business days for the mailed, heavily detailed lab results.
It really is that simple. The company conducts a very thorough inspection of the provided sample. In fact, they test for 50 different parameters in a single test. It tests contaminants ranging rom lead to zinc to other unwanted bacteria. The test kit can be used on tap water, city water, and well water. Lab fees are always covered in the purchase. As an added bonus you will also receive a DIY test for coliform bacteria and E Coli.
As you can see, the Safe Home Premium Drinking Water Test Kit comes with a variety of advantages. It's been placed in the Top 10 New Products in the World at the National Hardware Show. Of course, you can expect this test kit to be a bit pricier than other water testing kits. Since the kit utilizes an actual lab as compared to strictly testing at home, the average cost is around $180 with free shipping.
But what happens if results come back with common contaminants? What should you do? Since so many people are unaware of what actions they should take after negative tests, it's important to note a major standout feature of this specific water test kit - they offer an extensive database of resources that offer possible solutions to contamination issues.
Now, it's not all sunshine with this test kit. Many reviewers have claimed that the detailed results on the water sample can be a bit challenging to decipher. Luckily, the company provides explanations on its websites for those who need help to understand their results. It's also a drawback that the original mailed submission does not test for bacteria. That is a separate test you perform at home.
The good news is that this test kit tests for 50 common contaminants. This is much more than the competition. It also takes the guesswork out of testing as you won't have to perform any of the tests. Simply fill the sample cup and send it in. The lab takes care of the rest.
When you find a test kit for water that has over 1,200 positive reviews and normally costs under $20, you start to wonder, "What's all the buzz about?" Well, we decided that this was a drinking water test that we had to look into. We were presently surprised.
This is a plastic and easy to use test kit. It comes with a few different test strips. These test strips test for certain common contaminants such as bacteria, lead, pesticides, chlorine, nitrates, and nitrites. This test takes it a step further and checks for the hardness found in the water as well as pH levels. The kit includes everything you need to easily take samples. Test results are available in as little as 10 minutes. These tests are up to EPA standards.
First Alert is a leader in the industry. They are the most trusted company when it comes to home safety. They have held this title since their original residential smoke alarm that debuted in 1958. Since then, they have branched out and become leaders in the industry in all aspects of home safety - water testing kits included. With such a trustworthy background and stellar reviews, it is easy to see why the First Alert WT1 Drinking Water Test Kit is a leader.
This water testing kit can be used for homes that utilize city water or well water. It's especially ideal for those using wells. This is because well water is susceptible to pesticide runoffs and fertilizers. These types of pesticides have been linked to cancer. Fertilizers can cause unwanted development problems for children. Acquiring a water testing kit that checks for these contaminants allows for peace of mind.
Unfortunately, a lot of reviewers have struggled with the lead test. Sometimes that specific test strip will not render test results. If this should occur, you will need to contact the company for a new one.
Overall, the First Alert WT1 Drinking Water Test Kit proves to be a good purchase for a low price. It comes with a set of test strips that are easy to use. They will alert the homeowner of any unwanted contaminants in as little as 10 minutes. Be mindful of the lead strip, though, as it may need replacing.
Lead contamination has been a serious issue in a lot of city water treatment centers. With that in mind, many consumers are wondering if their water is safe to drink. For that, a water test specifically designed to show lead contamination is a must. And the Watersafe Drinking Water Test Kit seems to be the best, most highly rated product on the market for this purpose.
The test is known as "The World's Most Sensitive Lead Test". This automatically provides a sense of confidence in these water tests kits. But it doesn't stop at lead. These water testing kits will also show other harmful contaminants including pesticides, bacteria, chlorine, and more. The kit includes everything you need to get fast, easy results. Unlike other kit tests, the Watersafe Drinking Water Test Kit comes with easy to understand instructions.
Being highly sensitive kit tests, this product has the ability to accurately detect lead in even the most minuscule levels. It has also been validated by an EPA-certified laboratory. With over 25 years in the industry, Watersafe is a company that you can depend on. They go above and beyond with their products as well as their customer service. Each water kit comes complete with a money-back guarantee for buyer security.
Many consumers rave about this product. They claim that it works like a charm and gave them immediate peace of mind. However, although it is easy to use with clear instructions and results, some have stated that test strips can be faulty. In this circumstance, you will need to contact the company to receive replacement strips. Tests must be performed accurately on the water in order to get conclusive results.
This water test kit is an excellent option for those who are concerned about lead (as well as other common contaminants). The total cost is around $25. The kit includes everything you need to get accurate results. Should a problem arise, contacting the company is quick and easy, and they guarantee you will be satisfied or your money back.
Want Something Cheaper? The Best Budget Options
Mail-in water testing kits can be pricy. Home water testing kits tend to be a bit cheaper but some may still have a hefty price tag. If you're looking for a water kit that can test water quality in your home, take a look at these top 3 kit tests for really low prices. They come with their own advantages and disadvantages.Pay close attention while reading through.
Water testing kits don't have to cost an arm and a leg. You can get accurate and clear results for pretty cheap. That is the case when it comes to the Drinking Water Test Kit by Test Assured. The kit comes complete with 10 total test strips. These strips test for all types of contaminants and attributes, including lead, bacteria, iron, copper, alkalinity, pH, hardness, chlorine, and more.
Each of the tests comes with clear instructions for testing the water quality in your home. When the water testing is complete, simply use the color-coded chart to discover what bacteria, lead, or other contaminants may be lurking in your water supply. Each test has been calibrated to the EPA standards. If you are not completely satisfied, there is a 100% money-back guarantee.
The at-home test means there is no dealing with a mail-in water testing kit. There's also a shorter waiting period. This saves time and money for the consumer who really wants to know what's going on with his water supply. It provides tranquility for a low price. Consumers have said things like "Highly Accurate Test if Instructions Followed" and "Good kit to get a general idea of water quality".
Although this water testing kit has 600+ positive reviews, it's important to mention that there have been many mishaps in the packaging process. Many customers have ended up missing certain tests. Most commonly missed are the tests for lead or bacteria. If this is the case, you will need to contact customer service for a replacement. The good news is that customer service is always reachable and pride themselves on customer satisfaction.
If you are really short on cash but want to test the water quality in your home, then the LabTech H20 OK Plus Complete Water Analysis Kit may be your best choice. It costs under $20 and has many positive reviews claiming, "Great kit for a quick sampling" and "It Works!"
Now, some consumers may have reservations about purchasing a test kit that's this cheap. That is a valid concern. That must mean it only tests for a few contaminants, right? Not when it comes to the LabTech H20 OK Plus Complete Water Analysis Kit. In fact, this water testing kit tests for 13 different contaminants.
The testing kit includes everything you need to get swift, accurate results. Inside you will find 2 tests each for chlorine, hardness, iron, pH, alkalinity, copper, iron, bacteria, nitrates, nitrites, and hydrogen sulfide. You will also receive one test each for lead, coliform bacteria, and pesticides. Each test strip is simple to use. It comes with detailed, illustrated instructions in both English and Spanish.
Another bonus of the LabTech H20 OK Plus Complete Water Analysis Kit is that it can be used to test water quality on a variety of water sources. This includes any portable water sources and well water, streams, lakes, etc. You don't have to worry about spending money on costly mail-in submissions, and the tests offer rapid results.
Keep in mind that the LabTech H20 OK Plus Complete Water Analysis Kit tests for iron and hydrogen sulfate don't require test strips in order to get results. Instead, the company provides you with instructions on how to test the water using other methods. This is a major drawback for some consumers as they were expecting scientific results from a test strip.
This kit gets the job done. It doesn't offer a large number of results like other water testing kits but provides enough details for one to feel confident in their drinking water.
When it comes to water, some homeowners are concerned about the hardness level found. Hard water can leave skin feeling dry and itchy and laundry feeling coarse. Hard water also leads to the build-up of minerals in plumbing. This can create an incredible nuisance. For those wanting to ensure they aren't dealing with hard water, total hardness kits are a must. The JNW Direct Water Total Hardness Test Strips are a great choice.
The JNW Direct Water Total Hardness Test Strips make testing your water supply a cinch. They are designed to be quick and efficient. The results will let you know whether or not your water softener is working at prime capacity. You can also keep tabs on overall water conditioning and any reverse osmosis systems in the home.
The kits come with 150 strips. This allows you to be able to test on a variety of bodies of water, including faucets, well water, dishwashers, showers, pools, spas, drinking water, and even aquariums. Testing regularly prevents hard water buildup. With so many strips, you can easily stay up-to-date on the efficiency of your water softener.
The strips are also incredibly simple to use, too. They provide you with instant, reliable results. The provided instructions are clear and concise. Simply dip the strip and compare it with the color-coded chart found on the bottle.
This is likely the best pick for those wanting kits that are solely for testing for the hardness of the water. As an added bonus, the kits come with a free app and a detailed eBook. This book provides information on everything you need to know about hardness and what your results mean. This only adds to the simplicity and efficiency of the water kit.
This test is a great choice for really cheap It has over 500 positive reviews. Bear in mind, though, that some of the tests may be defective.
Verdict: Your Best Water Test Kit
I think I can sum this one up in a few sentences for you:
If you want the best value for money, pick the Drinking Water Test Kit by Health Metric.
If you need a water test specifically for lead, get a Watersafe Drinking Water Test Kit.
If you want to keep the spend really low, pick the LabTech H2O OK Plus Complete Water Analysis Kit.
We think water testing is important. Whether you're worried about what's coming out of the tap, or you want to confirm the effectiveness of your current filtration setup (be it a gravity option, pitcher, or plumbed-in), test kits are simple, accurate and affordable.
We hope this list has helped you choose a test that fits your needs. Good luck!