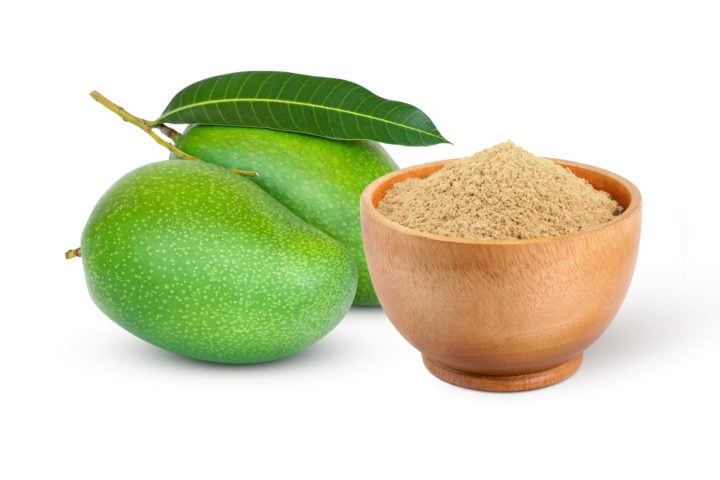 Mango powder, also known as amchoor powder or amchur powder, is a staple in Indian dishes but is also widely used worldwide. It does give not only a unique sour taste but also a hint of sweetness, perfect for meat and vegetable dishes, as well as salads and dips.
If you're on the hunt for the best mango powder you can purchase online, Pride of India organic dry mango, Rani Amchur, and Shudh India Amchur are the best options for you. If you're looking for a more affordable option, you can look up TAJ Premium Indian Amchur. Meanwhile, Spice Hunter Mango Habanero is a spice blend that contains mango powder that you can also enjoy.
Table of Contents
Best Mango Powder
Amazon's Best: Pride Of India's Organic Dry Mango
Pride of India's Organic Dry Mango Powder is USDA approved to be organic and pure, non-GMO, contain no cholesterol, BPA, gluten, and is entirely vegan. The amchur powder comes in an 8 oz clear plastic jar.
The powder is yellow-brown which indicates that it is naturally dried and ground. However, we don't appreciate this packaging as there's too much product in the jar, and clumping is expected as there's no anti-caking agent. Also, there is no expiry date or best before indicated in the packaging, which is slightly concerning.
Best Affordable: TAJ Premium Indian Amchur Powder
Packed in clear plastic jars, TAJ Premium Indian Amchur Powder is one of the most affordable options on Amazon, considering the amount of amchur powder that you get. In addition, their site claims that the product is all-natural with no chemicals added, including the anti-caking factor.
Because of that, clumping might occur when the product is exposed to air and moisture for a long time. You can resolve that by transferring the amchur powder to a smaller container and keeping the rest sealed. However, although claimed to be all-natural, the powder appears to be lighter than all the other natural amchur powder. The expiry date is also not indicated on the packaging.
Best Indian Made: Rani Amchur
Rani Amchur (Mango Powder) Spice in 3oz (85g) PET Jar
A product with complete details on packaging. Flavorful and all-natural.
Pros: No fillers, salt added, and complete product description projected on the packaging.
Cons: Non-resealable packaging; prone to clumping.
Rani Amchur Powder appears as a dark yellow to brown powder with the best flavors. Usually stored in a PET jar, this amchur powder is all-natural, non-GMO, contains no fillers and additives, including anti-caking powder.
You might experience product clumping, but that's normal as it's an all-natural product. We also appreciate the allergen warning and complete product information placed on the packaging.
Best Packaged: SPICES VILLAGE Amchur Powder
SPICES VILLAGE Amchur Powder (8 oz)
Comes in a resealable bag. Made from sun-dried mango strips, all-natural.
Pros: Resealable packaging, great flavors.
Cons: Seal malfunctions.
Made from naturally dried unripe mango strips, Spices Village Amchur Powder is packed in a resealable bag that prevents powder clumps from occurring. Purely from dried mangoes, this amchur powder appears as a dark yellow powder with no added salt and anti-caking agents.
This band also offers a full refund for customer dissatisfaction or when the product is proven fake or unnatural. Storage of this amchoor powder isn't hard, just don't forget to reseal the bag after taking some powder out.
Best Fine Powder: Shudh India Amchur
Shudh India Amchur (Mango) Ground Powder Spice
An amchoor powder that is purely Indian-made; manufacturing and expiry date indicated on the packaging.
Pros: All-natural, expiry date on the packaging, great flavors.
Cons: Still prone to powder clumping, some issues on delivery malfunction.
Shudh India Amchur powder is a pure dark yellow dried mango powder contained in a PET jar. It's salt-free, non-GMO, vegan, and all-natural. They also claim that this amchoor powder is free from chemicals, including anti-caking powder.
We appreciate that the manufacturing date and best before date were among the labels on the packaging, along with the product description and nutritional facts. Also, the bottle is designed for lesser air exposure, but clumping of powder can still occur.
Best USDA Certified: AVADOR Organic All Natural Amchoor
AVADOR Organic All-natural amchoor powder is produced from pure dried mango powder. However, you might notice that the powder appears pale compared to other amchur powders. That might be an indication of a lighter taste to your recipe.
Aside from being USDA certified, we appreciate that this brand packs their amchur powder in a resealable bag and discloses the labels' manufacturing, packaging, and expiry date.
Best Spice Blend: Spice Hunter Mango Habanero
SAVE 6%
Spice Hunter Mango Habanero is a blend of chili powder and unripe mango powder that provides a sweet and spicy twist to your dishes. The rich sweetness of green mango combined with the searing fire of the habanero pepper is a winner combination for Indian dishes and other recipes.
However, this spice may be overwhelming to those who do not enjoy spicy food, but for sauces or breading that require a sweet and spicy mix, this is your go-to mango-based spice blend.
Related Questions
What is mango powder used for?
Mango powder is an excellent addition to chicken recipes, meat and Indian dishes, curry, chutney, soups, and any type of cooking that needs a sweet and sour flavor.
What can I use instead of mango powder?
Mango powder can be substituted with tamarind powder, tamarind paste, loomi, sumac, anardana powder, chaat masala, lemon and lime juice, tomato puree and tomato powder, and pineapples.