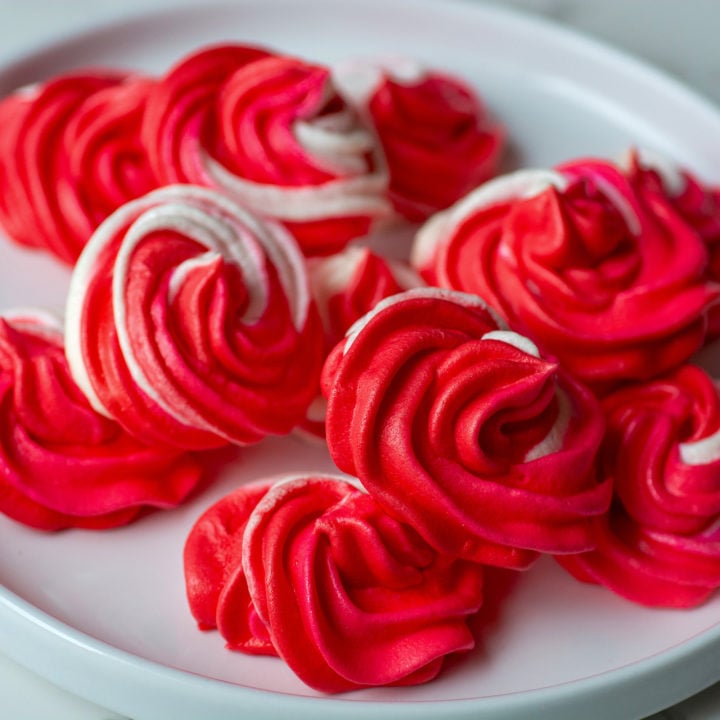 These keto meringue cookies make the perfect sugar-free alternative to the classic meringue recipe. What is more, they are insanely easy to make, require only four simple ingredients, and are low-carb: one meringue cookie has only 2 grams of carbs.
The thing that helps me stay on the keto diet wagon and still satisfy my sweet tooth is to always have something healthy and low-carb in my house. And the reason why this recipe is so amazing is that these keto meringue cookies can stay good for up to 4 weeks.
And if you've never made meringue cookies before, don't worry; it's not as hard as you might think. With a few of my tips and the instructions, you should be able to ace this low-carb meringue recipe.
Table of Contents
Here's What You Need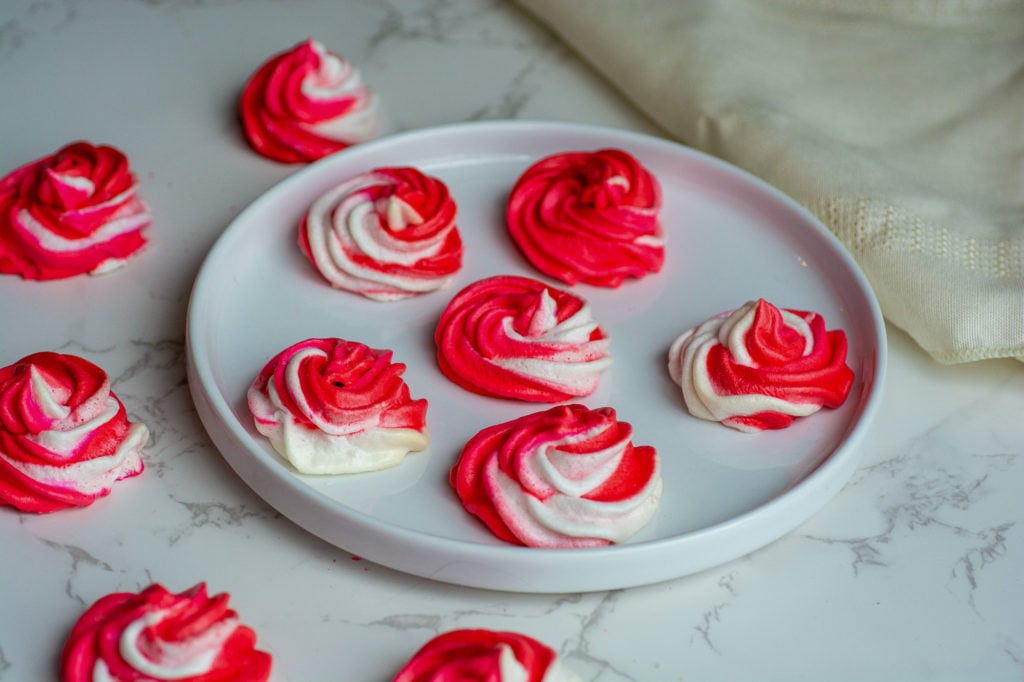 To make these sugar-free keto meringue cookies, you need to prepare only 4 simple ingredients. Here's what you need:
Egg whites. This is the base for this recipe. Just separate the egg whites from the yolks and place the egg whites in a large bowl.
Sugar substitute. Since we're making sugar-free meringue cookies, you should use a sugar substitute instead of sugar. It is best to use powdered sugar substitute since it will combine with the egg yolks much quicker. My favorite choice for this recipe is the powdered monk fruit sweetener with erythritol. Still, you can definitely go with any other low-carb option, such as Swerve, Stevia, or just plain powdered erythritol.
Cream of tartar. This ingredient is key here. Cream of tartar will ensure that the egg whites don't collapse quickly and, therefore, will give you enough time to place the egg whites in a piping bag and form the meringue cookies.
Lemon juice. Many choose to skip this ingredient when making meringue cookies, but actually, lemon juice really does make a change. It helps to make the keto meringues perfectly crisp on the outside and still soft and a bit sticky on the inside.
Additionally, you can add some natural food coloring dye to the egg whites. You can divide them into a few parts and add different food coloring to each of them.
Also, if you want, you can add some vanilla extract to enhance the recipe's flavor.
Aside from the ingredients, you'll also need a baking sheet, parchment paper, a hand mixer, and a piping bag.
How to Make Perfectly Stiff Egg Whites
This is the most important step of making keto meringue cookies. The result of your cooking depends mostly on whether the egg whites turned out perfectly stiff or not. And the good news is that there's nothing complicated in doing it.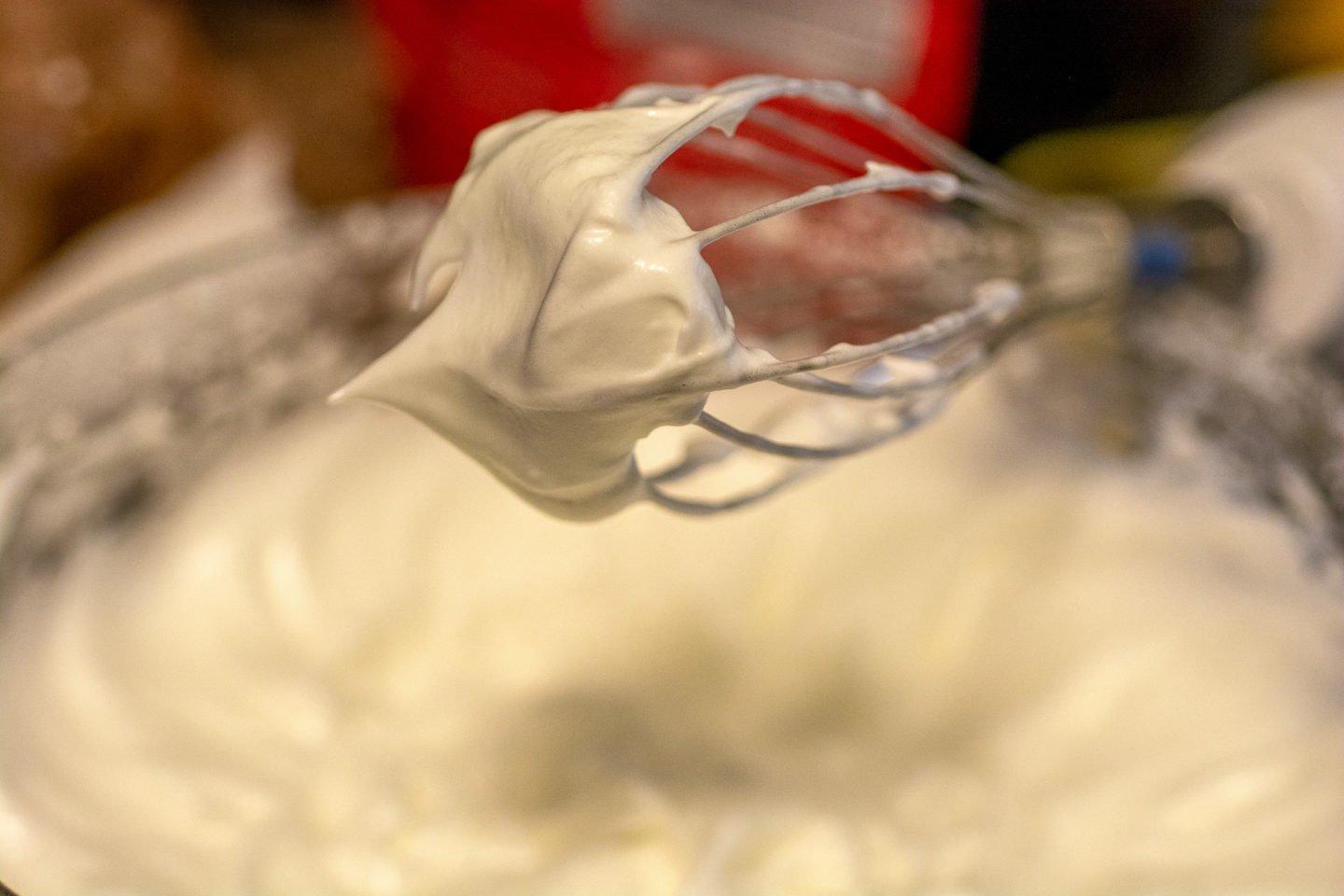 Here are detailed instructions on how to make stiff egg whites for this keto meringue cookie recipe:
Take the eggs out of your refrigerator for about half an hour to let them become room temperature.
Separate the egg whites from the egg yolks. If it's hard for you to do it by hand, you can get an egg separator.
Prepare the hand mixer and bowl. You need to make sure that everything is clean and completely dry. If there's any moisture or liquid in the bowl or on the mixer's attachment, it will keep your egg whites from beating into stiff peaks. Also, it is best not to use a plastic bowl (a glass or stainless-steel bowl is the best option here).
Start beating. The key is to increase the mixer speed slowly: start from low, and once the egg yolks turn into soft peaks, increase the speed to medium and then switch to high speed and mix until stiff peaks form.
Slowly add the powdered sweetener with cream of tartar. A spoonful at a time, add the sweetener together with the cream of tartar.
Add the lemon juice. Once the sweetener and cream of tartar are thoroughly mixed with the egg yolks, add the lemon juice and beat for a few more minutes.
That's it! Just as simple as that, you'll have perfectly beaten egg whites.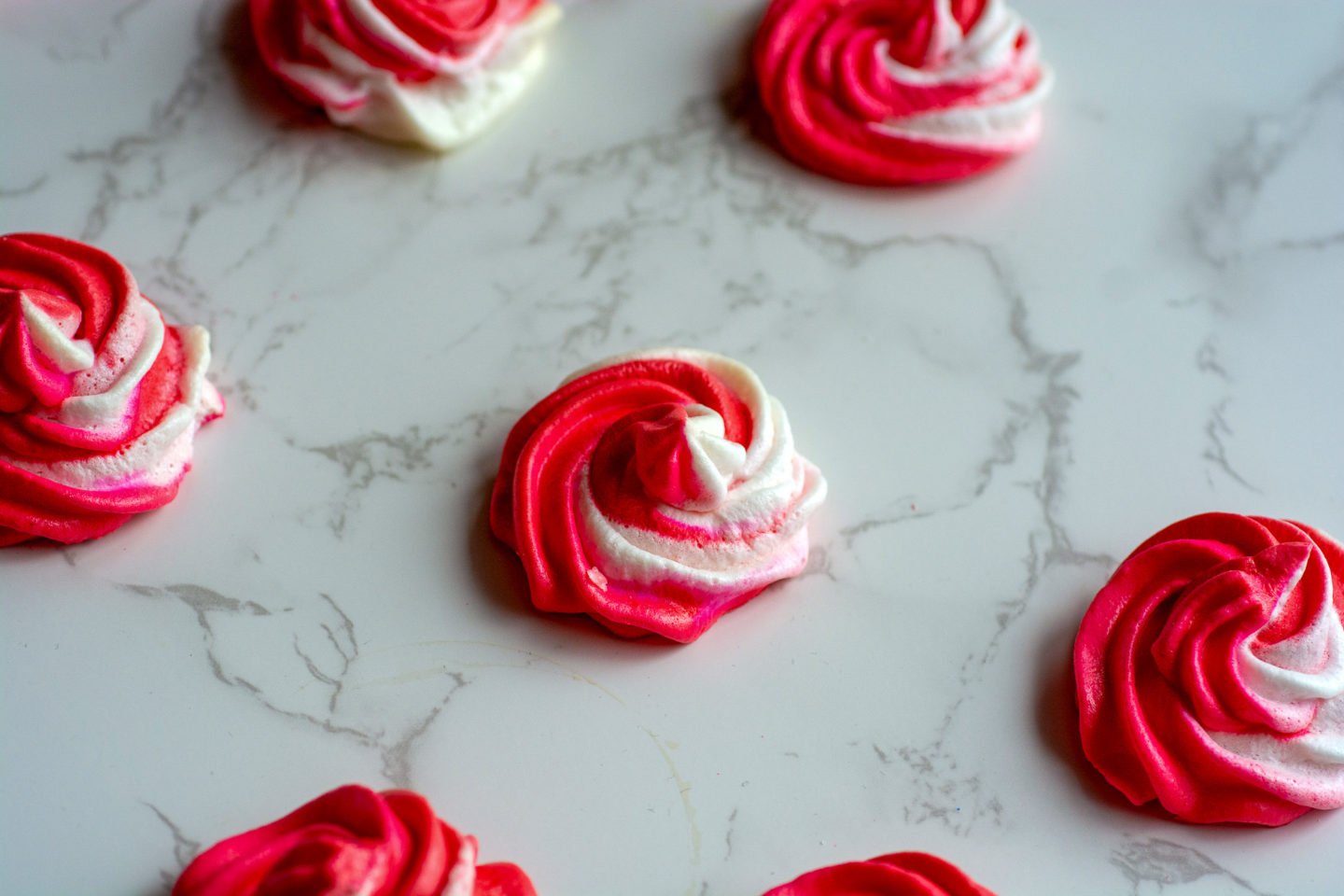 Storing Instructions
Once these low-carb meringue cookies have fully cooled down, you should place them in a sealed container or a zipper bag and store the cookies in your refrigerator. This way, the meringue cookies will last up to 4 weeks.
Or, if you want the cookies to last longer, you can place the container with the cookies in the freezer. This way, they can be kept for up to 4 months.
Recipe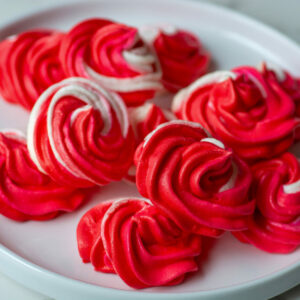 Sugar-Free Keto Meringue
These keto meringue cookies make the perfect sugar-free alternative to the classic meringue recipe. What is more, they are insanely easy to make, require only four simple ingredients, and are low-carb: one meringue cookie has only 2 grams of carbs.
Ingredients
2

egg whites

¼

tsp

cream of tartar

1

tsp

lemon juice

freshly squeezed

natural food coloring dye

optional
Instructions
Line a baking sheet with some parchment paper and preheat your oven to 220 degrees F.

Place the egg whites into a bowl and, using a hand mixer, beat until stiff peaks form. In a separate bowl, mix the cream of tartar with powdered sweetener. Add a spoonful of the mix at a time add it into the egg whites while continuing to beat at high speed.

Add the lemon juice (and food coloring if you want) beat for a few more seconds.

Place the mixture into a piping bag and pipe out some of it onto the baking sheet into cookie-sized shapes. Place the baking sheet into the oven and bake the meringues for 45 minutes.

Turn the oven off and leave the oven door slightly cracked open. Leave the meringues in the oven for an extra hour. Then take them out and let them fully cool down at room temperature.
Nutrition
Calories:
3
kcal
Carbohydrates:
1
g
Protein:
1
g
Fat:
1
g
Sodium:
8
mg
Potassium:
19
mg
Fiber:
1
g
Sugar:
1
g
Vitamin A:
1
IU
Vitamin C:
1
mg
Calcium:
1
mg
Iron:
1
mg