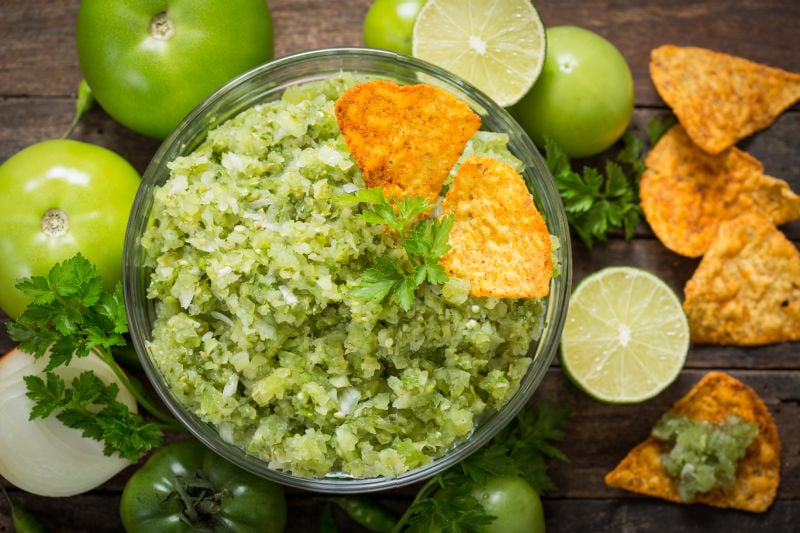 Salsa verde can be made in several ways depending on which cuisine you're cooking. But they're all similar green sauces served cold as a dip or condiment.
If you've stumbled onto a recipe that calls for this sauce, keep reading if you don't have any. We've created a list of recommended substitutes for salsa verde that taste just as good.

Table of Contents
What can I use as a substitute for salsa verde?
To replace salsa verde in your next meal your best options are Pico de Gallo, red salsa, or salsa Ranchera. If you're after a more authentic taste then make your own salsa verde at home using fresh tomatillos as the main ingredient.
1. Pico de Gallo
Pico de gallo is also known as salsa fresco and is a popular variety of salsa used in Mexican cuisine. Although each sauce has a unique flavor profile, they share similar ingredients like cilantro, white onions, lime juice, and jalapeño or serrano peppers. The sauces can be used interchangeably in cooking.
Keep in mind that Pico de Gallo uses ripe red tomatoes that are uncooked while salsa verde is made from cooked tomatillos. You'll find that Pico de Gallo is sweeter and chunkier in texture; it's also easier to make as no cooking is required.
There's more liquid in salsa so if you use Pico de Gallo you may want to add a little extra liquid. For dishes like burritos and tacos, this won't be necessary.
2. Mexican sour cream dip
If you're looking to replace salsa verde for dipping, then a Mexican sour cream dip is a delicious replacement. Take sour cream and combine it with chili, red salsa, garlic powder, dried parsley, onion powder, and Mexican shredded cheese. You can also use queso fresco as the base for this dip if you're wanting to stick with the Mexican theme.
Mexican sour cream dip is a creamier consistency and won't cut through heavy meat the way salsa verde does. It also lacks the fresh, vibrant green that comes from the tomatillos. This creamy dip is excellent for dipping vegetable sticks and tortilla chips into. Mexican dishes like tacos, tamales, and enchiladas will all benefit from a sour cream dip topping.
Interesting reading:
Taco vs fajita seasoning – how are they different?
Check out our taco and burrito comparison.
How do huaraches and sopes differ?
What do loroco flowers taste like?
3. Salsa Ranchera
Salsa Ranchero is a warm and smokey sauce that ranges from mild to medium in heat. It is similar to salsa, using cooked tomato as its base, but it doesn't have the same tomato intensity.
Use Salsa Ranchero in your Tex Mex or Mexican recipes like you would salsa verde. Fish tacos, spicy chicken empanadas, chorizo enchiladas, or Mexican eggs are some tasty ideas to get you started.
4. Red salsa
A flavor-packed red salsa is super-easy to make and it makes a great salsa verde substitute. To make this sauce, process fresh tomatoes, garlic, onion, lime juice, chili, cilantro, and salt in a food processor until chunky. Alternatively, it's easy to find salsa in grocery stores or online.
Use red salsa in soups, burritos, tacos, and other Mexican recipes like chili beans. Salsa won't have the same savory hit of flavor that you get from baked tomatillos, but it makes a useful backup if you're in a pinch.
Interesting read: How do I choose the right tomato for the job?
5. Chipotle hot sauce
If you love hot food then skip the salsa verde and replace it with chipotle hot sauce. You can make a batch at home using onion, Mexican oregano, cumin, chipotle peppers, garlic, and vinegar. You'll get a hot, spicy sauce that'll fill in for salsa verde in any recipe.
If you don't want to make a sauce at home then pick up a bottle of hot sauce from your local supermarket. Other fiery sauces you may want to try as substitutes include sambal oelek, sriracha, or gochujang.
6. Homemade salsa verde
This is a quick and easy salsa verde recipe that you can blend at home. Tomatillo sauce has delicious tangy, savory flavor; you'll find it isn't as sweet as fresh sauces made with tomatoes like regular salsa.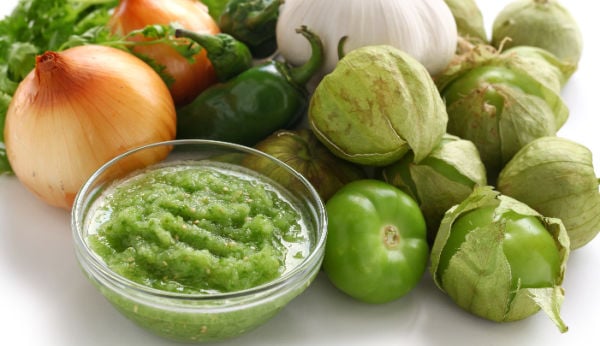 Ingredients
½ bunch fresh cilantro
1 Tbsp olive oil
8 tomatillos
2-3 jalapenos
1 medium onion
3 cloves garlic
Salt to taste
Method
Finely chop the cilantro on a chopping board, set aside.
Add oil to a frying pan on medium heat. Sauté the tomatillos, jalapenos, onion, and garlic for 5 minutes or until tomatillos are browned.
Add all ingredients to a food processor or blender and process until you're happy with the texture.
Note: For a thinner consistency add a few splashes of water and blend for longer.
What can I use as a substitute for Italian salsa verde?
If you need to replace Italian salsa verde in your next dish then pesto or chimichurri will both make great alternatives. They are both vibrant green sauces that brighten any dish, cutting through heavy food.
Related reading:
What is the difference between salsa verde and chimichurri?
Thousand Island Vs. Fry sauce – how are they different?
How do nuoc cham and nuoc mam differ?
Fast facts about Mexican salsa verde
The tomatillo is a key ingredient in salsa verde. It is important to sauté, boil, or roast the fruit before blending to deepen their flavor.
Green salsa is versatile and is excellent added to most Mexican dishes.
While salsa uses fresh red tomatoes, salsa verde uses cooked tomatillos.
The tomatillo is a small, vibrant green fruit that looks like a cherry tomato but has a savory taste with a tart undertone.
If you decide to make your own salsa verde, look for firm tomatillos without bruising or soft spots.
Summing up
People who are cooking authentic Mexican food are best to find salsa verde. It's one of those unique ingredients that isn't easy to replace. If you're new to this sauce or aren't fussed by changing the flavor of a recipe, then substituting it won't be a problem. Your burritos or tacos will still taste delicious with something similar.
While there are many Mexican-style sauces you could use, Pico de Gallo, red salsa, or salsa Ranchera will all make great substitutes. If you're able to buy tomatillos locally, then consider making your own salsa verde. It'll only take 10 minutes and the flavor is hard to beat.