An Indian korma curry is aromatic and flavor-packed. It can range from mild to fiery, depending on who cooks it, but most store-bought pastes are mild. Kormas often combine chicken or lamb with spices and a creamy sauce.
If you've got no korma paste or you want to try something different then keep reading to get our favorite korma paste substitutes. They are all mouth-watering options.

Table of Contents
What are the best substitutes for korma paste?
To replace korma paste in your next curry, try other dishes like massaman, tikka masala, or malai kofta. They're all delicious curries that are more about flavor than heat. Madras is a great option for people needing a spicier dinner alternative.
If you prefer to cook from scratch jump down the page to get an authentic korma paste recipe. For easier jar pastes you can buy at the store, keep reading to get suggestions.
1. Massaman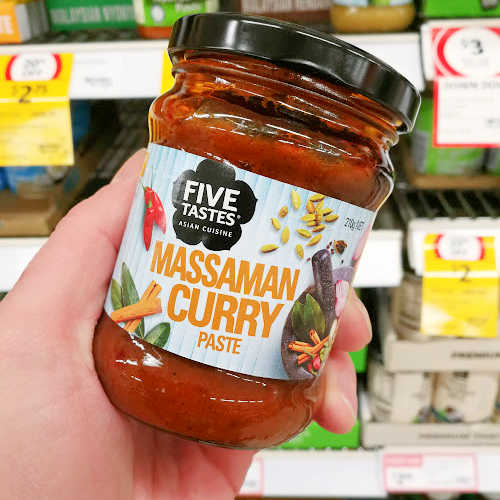 The massaman curry takes the best of Indian and Thai cuisine, making a rich, slightly sweet curry. Common ingredients include cardamom, cinnamon, cloves, cumin, lemongrass, and tamarind paste. It also has a pleasant crunchy element with the addition of peanuts.
2. Tikka Masala
Tikka masala is a creamy, tomato-based dish that is mild in spiciness and vibrant orange in color. Although any meat can be used, chicken is a popular choice for cooking in this sauce.
For an interesting read, check out our article comparing tikka masala and butter chicken.
3. Madras
Do you prefer curries with some heat, but not eye-wateringly hot? Madras is a great alternative for your kitchen table. It is a reddish-brown color, thanks to the addition of chili flakes or paprika. Fennel seeds provide some freshness while fresh tamarind adds a delicious tart taste.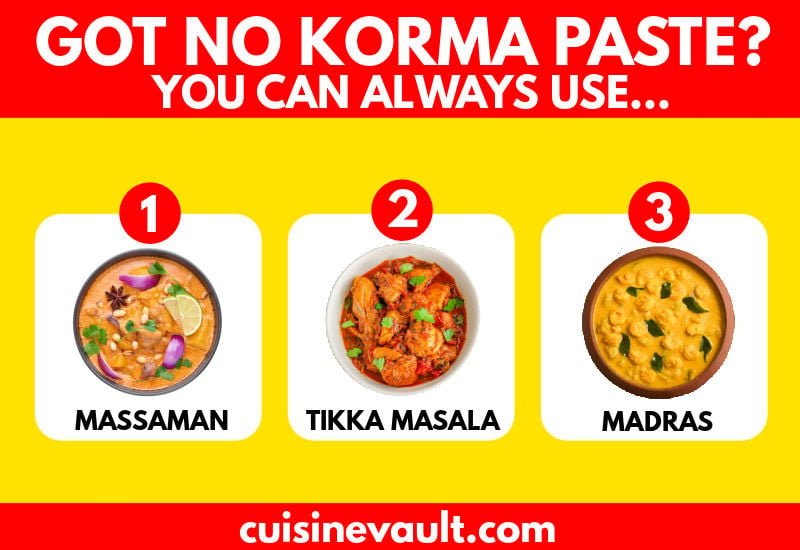 4. Malai Kofta
If you are looking for a vegetarian korma alternative then try malai kofta. Balls of potato and paneer are deep-fried and then served in a creamy, tomatoey sauce that's mild but delicious. Typically, a mélange of spices is mixed with garam masala to produce a complex dish – perfect served with flatbread or flavored rice.
5. Malabar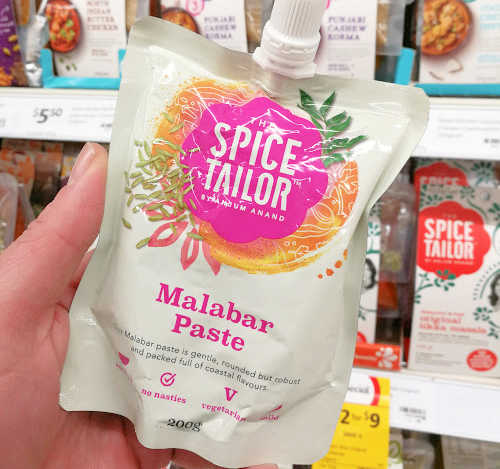 Malabar curry heralds from southern India and is especially popular in the Keralan region. It's an excellent korma substitute for anyone who feels like seafood. Paired with fish or prawns, malabar is hard to beat.
6. Rogan josh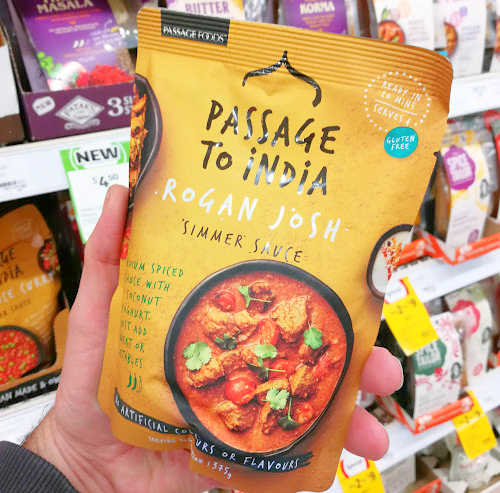 Rogan josh is India's version of a lamb casserole, only with extra spices like cardamom, cinnamon, cloves, and ginger. Lamb is slow-cooked in the flavor-packed gravy until it is tender and falling apart. For anyone looking for a meaty, soul-warming dish, rogan josh makes an excellent korma substitute.
7. Chicken katsu curry
Need a break from Indian food? Why not try making a Japanese chicken katsu curry? To find out more about katsu, check out our comparison of Japanese and Indian curry.
8. Butter chicken
No list of korma paste replacements would be complete without mentioning butter chicken. It is a creamy, mild, slightly sweet dish with a tomato base. Serve this popular meal with naan bread or roti to mop up the sauce. Aloo gobi, daal, or basmati rice are also good sides to make your meal complete.
9. Panaeng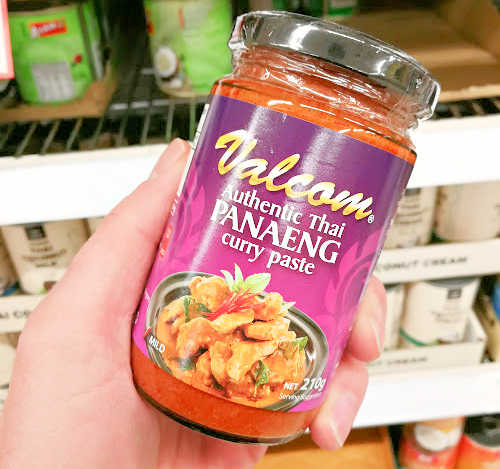 An authentic Thai panaeng curry is another mild-tasting base that works well as a replacement for korma. It's fairly similar to massaman but usually doesn't include sweet spices like cardamom and cinnamon.
10. Dhal khichdi
Dhal khichdi is easy to make and can be whipped up in under half an hour. This healthy dish combines moong lentils with rice and ghee. For a little spicy flavor, asafoetida, cumin seeds, and ginger can optionally be added.
Related reading: Find out how to replace urad daal in cooking.
11. Biryani
For a less saucy type of meal, biryani is a good choice. Spices like saffron, cardamom, cinnamon, and cloves combine with basmati rice
Related reading: Find out how jasmine and basmati rice differ.
12. Homemade korma paste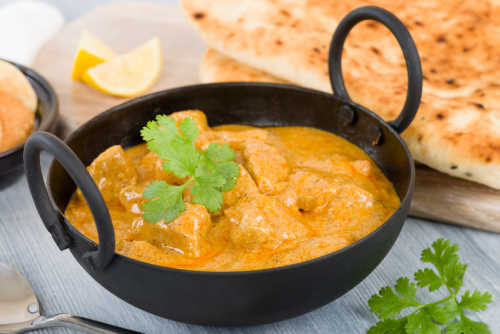 Making your own korma paste is simple and well worth the extra effort. Most of the spices you may already have in the pantry.
Ingredients
2 Tbsp desiccated coconut
½ tsp cayenne pepper
1 ½ tsp cumin seeds
1 tsp cilantro seeds
2 tsp garam masala powder
1oz piece of ginger
2 Tbsp cilantro (coriander)
1 garlic clove
2 Tbsp olive oil
2 Tbsp almonds
1 Tbsp tomato paste
Salt and pepper, to season
Method
Toast the coconut, cayenne pepper, cumin seeds, cilantro seeds, and garam masala in a dry pan on medium-high heat.
Cook until the spices give off a fragrance, it should take about 2-3 minutes. Remove from heat and set aside to cool.
Grind the remaining ingredients in a mortar and pestle until your paste has a smooth consistency.
Mix the toasted spices into the paste until well combined.
Use immediately or store in the refrigerator until needed.
Tips for making korma paste
Add a little water to the paste if it looks too dry.
Watch the pan closely when toasting the spices to avoid burning them.
If you don't have whole cumin and cilantro seeds, use the ground spice instead.
If you're short on time, skip toasting the spices. This step helps to release the flavor, but it isn't essential.
For a spicier korma, add chili flakes or one fresh red or green chili.
A spice mill or food processor can be used instead of a mortar and pestle.
What can I cook with korma paste?
Korma paste is delicious when simmered with cream, yogurt, or coconut milk and your choice of protein. Although lamb and chicken are commonly used with this type of curry, it also tastes good with tofu, beef, pork, or vegetables.
Interesting reading: How does saag paneer and palak paneer differ?
How do I store korma paste?
Do you have leftovers or you want to make the paste ahead of time. Scoop it into an airtight container and cover with a layer of olive oil. Refrigerate for up to one month with the lid firmly sealed.
Freeze korma paste in ice cube trays, then pop them out once hard. Store in freezer-safe bags for up to 3 months.
Did you know? Korma recipes are often mild, so they are popular with newcomers to Indian food. They are considered by some to be a gateway Indian dish. Those who enjoy the flavor, often tend to try hotter meals over time.
Further reading: What is the difference between Thai and Indian curry?
Summing up
Can't find korma paste in your local store? The most authentic option is to make your own. It won't take more than 15 minutes to make. For everyone else, try massaman, tikka masala, malai kofta, or madras pastes.
We understand some grocery stores may have a limited range of Indian curry pastes. If your options are limited, use butter chicken. While its taste is different from korma, it's a mild sauce that most people enjoy.
We also recommend checking out our handy guide to aromatics. You'll learn all the basics of creating amazing flavor combinations from around the world.