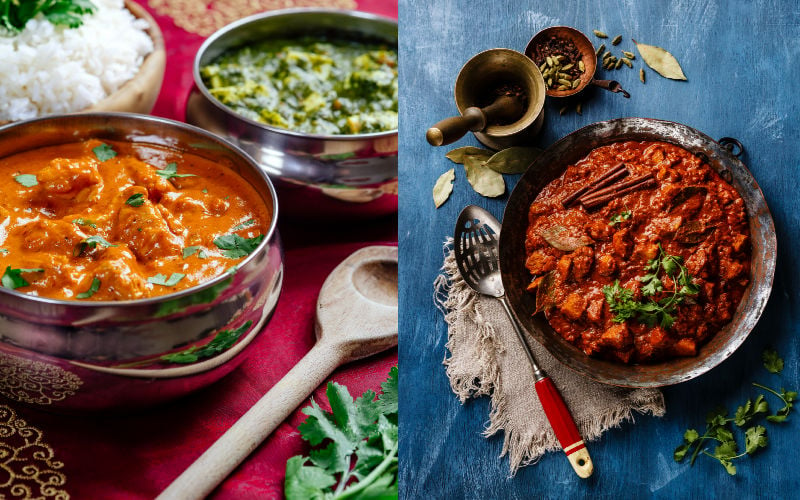 India has created a colossal number of sumptuous, spicy dishes that will send your taste buds into overdrive. Their combination of aromatic spices, flavor-packed meat, and sauces has made it a popular cuisine in restaurants and homes throughout the world.
This article takes an in-depth look at Butter Chicken Vs Chicken Tikka Masala – what is the difference? Within 2 minutes, you'll have a firm grasp on the difference between these two sought-after Indian curries.
Table of Contents
You might also like:
What's the difference between saag paneer and palak paneer?
Basmati Rice Vs Jasmine Rice [Infographic]
What is the difference between jalfrezi and vindaloo.
Japanese curry vs Indian curry - what's the difference?
Butter Chicken Vs Chicken Tikka Masala
Butter chicken
Butter chicken is an Indian dish that originated in Delhi. Small pieces of chicken are marinated with spices, ginger, and garlic. They then get cooked until tender in a creamy, mildly spiced tomato-based sauce.
Butter chicken is a creamier curry with less tomato intensity than tikka masala.
Common ingredients: Chicken, yogurt, cream, onion, tomato paste, garam masala, ginger, garlic, pepper, cumin, turmeric, butter.
Chicken tikka masala
Chicken tikka masala is an English invention and is made in a similar way to butter chicken. Tikka masala tends to have more tomato intensity and doesn't have the same level of creaminess.
Common ingredients: Chicken, yogurt, cream, onion, tomato paste, garam masala, onion, garlic, ginger, chili pepper.

Which is best?
These are both very similar Indian dishes. If you enjoy a creamy curry that doesn't have an intense flavor, then butter chicken is your best option. For a stronger tomato hit with a little less creaminess, go for chicken tikka.
My personal opinion is that butter chicken is one of the best meals invented. It's a deliciously creamy, mild dish. Include naan bread for scooping up the sauce and fluffy basmati rice for the perfect meal.
Chicken curry quick facts
Butter chicken is also known as Murgh Makhani.
The first version of butter chicken came from Northern India back in 1948.
Chicken that is marinated with spices and yogurt, then cooked in a tandoor, is called tandoori chicken.
How to make butter chicken
Ingredients
½ cup plain yogurt
½ tsp chili powder
3 tsp coriander
2 tsp cumin
1 tsp garam masala
2 garlic cloves
1 pound chicken thighs
1 Tbsp canola oil
1 Tbsp lard
1 onion, sliced
½ cup chicken stock
14 oz can chopped tomatoes
½ cup heavy cream
Rice, to serve.
Method
Slice the chicken into 1" cubes and set aside.
Add yogurt, chili, coriander, cumin, garam masala, and garlic to a bowl. Mix until combined.
Spoon the chicken into the marinade and coat thoroughly. Cover the bowl with plastic film and refrigerate for 1-2 hours.
Add oil and lard to a skillet on med-high heat until melted. Add onion and fry until soft (2-3 minutes).
Scoop chicken into the skillet and cook until browned.
Pour stock and tomato into the pan and cook until the liquid begins to boil. Reduce the heat to a simmer and continue cooking for ten minutes.
Stir the cream into the chicken and continue cooking for 5 minutes.
Serve immediately with your rice of choice. Basmati is an excellent option for eating with curry.
Final Words
Butter chicken and chicken tikka masala are both Indian curries that combine tender chicken pieces with a creamy tomato-based sauce. They're very similar dishes that could easily be mistaken for the other. Some restaurant chefs would even be confused explaining how they differ. The critical difference is that butter chicken tends to have a higher level of creaminess, while tikka masala has more tomato intensity.
Do you have a preference between butter these two curries? Let us know in the comments below.
Further reading:
Fenugreek is a popular ingredient used in Indian cuisine. If you don't often cook this type of food then you may not have this herb in your kitchen. To help you out, here's a list we put together of fenugreek substitutes.