Strega is an Italian liqueur that has a bittersweet, herbaceous flavor and a distinctive vibrant yellow color. It is commonly sipped as a digestif but can also be used in cocktails like Witch Hunt, Italian Toolbag, and Singapore Sling.
If you've got no Strega, then you'll need a replacement. Although it's got a unique flavor profile that can't be perfectly mimicked, there are a few options that'll provide a similar style of drink. Keep reading to get our list of Strega substitutes that are delicious sipped straight or mixed into a cocktail.

Table of Contents
What can I use instead of Strega?
To replace Strega, you're best to use Yellow Chartreuse, Galliano, Dolin Genepy des Alps, Benedictine, or Jägermeister. They all have subtle differences in the aromatics used to make them, but they won't be out of place in your next Italian Coffee or Americano in Benevento cocktail.
1. Yellow Chartreuse
If you need to replace Strega then buy a bottle of Yellow Chartreuse as your best option. They are both golden liqueurs that have a comparable price point and are made from similar botanicals.
Use these drinks interchangeably in cocktails like Acapulco No.2 Cocktail and Autumn Leaves, but keep in mind their flavors aren't a perfect match. Chartreuse has a punchier flavor with less sweetness. It also lacks the minty undertone that you get from Strega. Overall though, Yellow Chartreuse is a solid option.
2. Galliano
Another easy-to-find liqueur in stores, Galliano is an Italian liqueur that has a similar gold color. People who enjoy sweet drinks may prefer Galliano over Strega as it's sweeter. Use this substitute in cocktails like the Screwdriver and Harvey Wallbanger, or drink it straight up.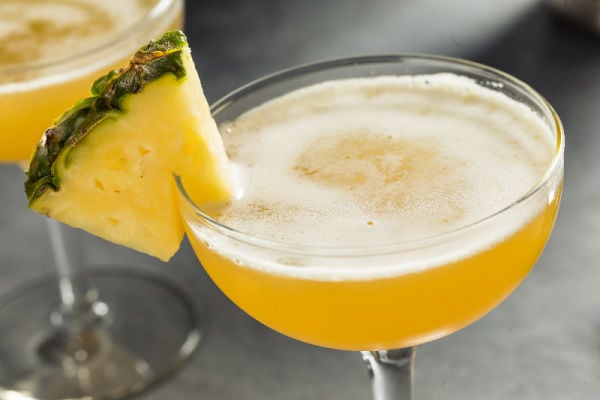 3. Dolin Genepy des Alps
Another herbal-focused brand, Dolin Genepy des Alps is sweet and well-balanced. Many bartenders consider it a happy medium between Chartreuse and Absinthe. Use it in cocktails like Dr. Columbo, Dutch Alps, or as a digestif or aperitif.
4. Beckerovka
Beckerovka is a Czech liqueur made from dozens of secret herbs and spices. It has cinnamon, ginger, menthol, and honey notes which is different from Strega. However, it is still versatile enough to work in most drinks that call for the original liqueur.
Learn more about replacements for Beckerovka here.
5. Benedictine
Benedictine is an expensive French brand that should be in every mixologist's liquor cabinet. Although it lacks the golden color and mint flavor that comes from Strega, it'll work as a stand-in if you're in a pinch.
Check out some useful Benedictine replacements here.
6. Jägermeister
If you enjoy complex, herbaceous drinks with plenty of anise flavor then Jägermeister may be a good choice. It is a different drink compared to Strega, but its range of flavors and bittersweet balance make it a worthy addition to this list.
Tip: also try Barenjager for a similar style.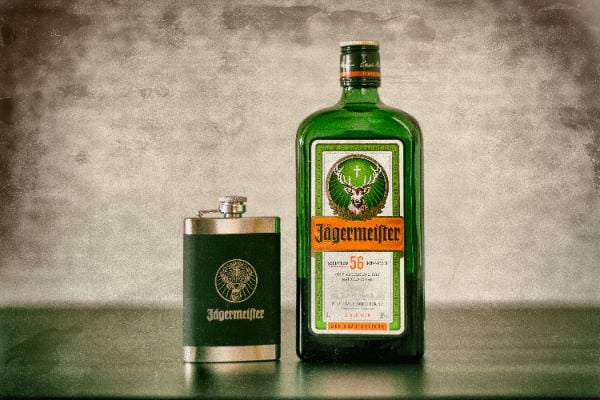 7. Fernet Branca
Fernet Branca is a well-known Italian Amaro that offers a sweet, bitter, and intense mix of flavors in one mouthful. Anyone that wants an authentic-looking cocktail that calls for Strega, may be disappointed. FB is a dark brown color that won't do much for the visuals of cocktails like Corpse Reviver No.0824 cocktail.
8. Drambuie
Drambuie has a similar golden color as Strega and is made from a mélange of aromatics. It is also accented by Scottish heather honey. The biggest difference between the two is that Drambuie is made from a base of Scotch whiskey. We suggest Drambuie as a good replacement for those who don't enjoy Strega and want something different, but still in the ballpark.
Commonly asked questions
What does Strega taste like?
Strega has a bittersweet, herbaceous flavor that is light-bodied. Although it contains a wide selection of ingredients, the liqueur is dominated by vanilla, juniper, mint, fennel, and anise.
Other variants of the original drink include Strega Cream which has a silkier, smoother taste and a lower 17% ABV; Strega Riserva is an aged variety with a matured, deeper flavor.
Where can I buy Strega?
If you live outside of Europe, finding Strega can be a challenge. Well-stocked liquor stores in the United States will usually range the drink, but smaller stores often won't. You'll find the liqueur is readily available from online retailers in the U.S.
How do I drink Strega?
Italians enjoy drinking Strega as a digestif after a meal, served on the rocks. It is also excellent mixed into soda like lemonade or coffee. In cocktails, Strega pairs well with dark spirits like Bourbon, Scotch, or Rum.
Fast facts
Strega is made in Benevento, Italy by S. A. Distilleria Liquore Strega. It was invented in 1860 by Carmine Vincenzo Alberti and Giuseppe Alberti. Source.
The liqueur is also used in cooking, popular for making baked goods like the Torta Caprese.
Strega is made from around 70 herbs and spices including Italian juniper, Samnite mint, Ceylon cinnamon, and Florentine iris.
Saffron is added to the liqueur to give it a distinctive yellow color.
Summing up
Although Strega is a unique liqueur, you can use a similar style of drink like Yellow Chartreuse, Galliano, Dolin Genepy des Alps, Benedictine, or Jägermeister. Each replacement will bring a similar complex, herbaceous flavor to cocktails, also working nicely as a substitute digestif.
As with most liqueurs, nothing will perfectly replace Strega. If you're making cocktails for people that know their liquor (and don't like surprises), then you're best to stay true to the recipe or make a different cocktail.