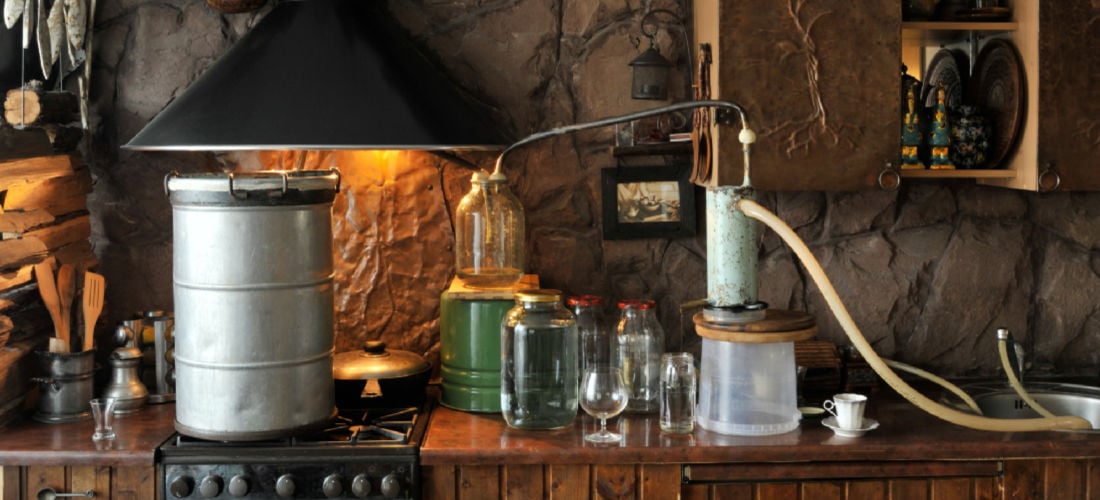 Table of Contents
We review the best moonshine stills for 2021
Making your own moonshine allows you to create spirits that can rival leading brands of whiskeys, gins, and liquors from around the world. It takes skill and perseverance, but when you produce your first successful batch, there's no feeling like it!
Before getting started, you're going to need the right equipment. A Moonshine Still, also known as a whiskey still is capable of distilling liquor, distilled water, wine, alternative fuels, and essential oils.
Choosing the best moonshine still can be challenging for a first-timer. You'll need to choose the right material, capacity, and brand to suit your level of expertise. We've created a list of home distilling kits that are perfect for beginner through to intermediate level homebrewers. Let's dive into the reviews and help you find a home still.
#1 Preferred Option
OLizee 8 Gallon Distiller
#2 Budget Choice
Still Spirits Turbo Air Still

#3 Premium Option
The Best Moonshine Stills in 2021
1. WMN Trulystep 3 Gallon Distiller
Weight: 8 pounds. Capacity: 3 gallons. Dimensions: 9.8" x 9.8" x 9.8"
The WMN Trulystep 3 Gallon still is an excellent moonshine kit for beginners thanks to its entry-level price and simple assembly. There aren't a lot of parts, so you don't have to worry about biting off more than you can chew as a first-timer.
The Trulystep is about 10" in diameter and height so it easily fits into the corner of a garage, tool shed, or even a spare room in the house.
This alembic unit is mostly made from stainless steel although the pipes are made of copper. A copper-constructed kit is preferable, but it shouldn't be an issue for a newcomer to distilling.
Pros
Easy to set up for a beginner
Will fit into most rooms
Includes set-up video
Affordable
Portable
Includes built-in thermometer for easy temperature inspection
Cons
3 gallon capacity may be restrictive
Cooling hoses could be longer
2. OLizee 8 Gallon Distiller: Best Overall Option
Weight: 14 pounds. Capacity: 8 gallons. Dimensions: 14.2" x 14.2" x 14.2"
The OLizee 8 Gallon still is an impressive-looking piece of stainless steel equipment with a handy 8 gallon capacity. This is a well-constructed kit that is connected with high quality welding. It will serve the buyer for years.
This still includes a thumper keg that allows the home brewer to make a cleaner, stronger product. Get creative and add your own flavors, fruit, and infusions to stamp your personal touch on the final spirit.
The Olizee incorporates an independent airway which allows for a higher purity in the batch. This is an innovative feature that gets a big thumbs up from us.
Pros
1-year warranty
Includes an independent airway
Impressive, high quality construction
Solid, stainless steel materials used
Includes thumper keg
Cons
Instructions aren't very clear
The coil could be longer
3. Slsy 8 Gallon Multipurpose Alcohol Distiller
Weight: 13 pounds. Capacity: 8 gallons. Dimensions: 17″ x 16.5″ x 16.2″
The SLSY 8 Gallon Alcohol Still is made by a trusted manufacturer of home and kitchen products that produces high quality items. This 8 gallon still has tubes and cooling pipes constructed from 100% US copper and looks impressive.
These whiskey still kits include a worm with a water inlet and outlet so you can water pump or hose with it. It is a useful feature that enables the moonshine to be cooled with ease.
Pros
High quality materials and design
Impressive to look at
The large head allows for easy cleaning
Professionally soldered seams
Includes thumper keg
Cons
Need to buy additional compression fittings
4. Seeutek 2 Gallon Distiller
Weight: 8.49 pounds. Capacity: 2 gallons. Dimensions: 10.0" x 10.0" x 7.0"
The Seeutek 2 Gallon moonshine still kit was included on this list thanks to its size. With a capacity of just 2 gallons, it uses up very little space and is ideal for use on the stovetop.
These moonshine kits include everything you need out of the box. They will appeal to beginners who want a simple, all-included product. It can be frustrating ordering a whiskey still only to discover you'll need to buy another part that requires 2 weeks shipping.
If you think you'll want to ramp up the production of your distillery within the next year, then this probably isn't the right product for you. It is limited to 2 gallons which is very low capacity.
Anyone searching for a premium still should be aware of this unit's faults. The condenser soldering isn't as thick as the others on this list. Also, it's made from stainless steel that isn't rust-resistant.
In a nutshell, if you're looking for a low capacity still that you won't use all the time, this will do the job nicely. It's at the budget end of the scale so set your expectations accordingly.
Pros
Affordable
Uses very little space
Ideal for beginners
All parts included
Cons
Stainless steel is rust-resistant
5. Spirits' T-500 Boiler and Condenser
Weight: 6.85 pounds. Capacity: 6.5 gallons. Dimensions: 36" x 24" x 24"
The Still Spirits T-500 boiler and condenser is a premium still that will impress. It is a fractionating still that produces 93% alcohol purity. If you have the budget available, we highly recommend this option.
Made from high quality stainless steel, this still is rust-resistant and made to a high standard of quality. Some stainless steel stills can add an unpleasant rusty flavor to the spirit, but that's not so in this case.
Although this unit produces large quantities of pure alcohol, it is relatively simple to get started. A beginner could easily set this up with no prior experience using a still.
Pros
High quality materials and design
Handy discharge tap
Collect an impressive 95% of possible alcohol with each wash
Easy to get started
Cons
Pricey compared to other models
6. Still Spirits Turbo Air Still
Weight: 11 pounds. Capacity: 1 gallon. Dimensions: 16.0" x 11.5" x 11.0"
The Still Spirits Turbo Air Still is the second product on this list produced by the New Zealand company Still Spirits. Although it's more affordable than the T-500, it is still incredibly innovative. More like a kitchen kettle than a mini moonshine still, this appliance comes without the complicated assembly, hoses, and water cooling setup. Instead, plug it in and start the distillery process!
The distillation process will take two hours and produces enough alcohol to make a one-quart bottle.
Pros
Easy to handle
Low-cost option
Store in the kitchen
Cons
7. Clawhammer 5-gallon copper still
Weight: 9.5 pounds. Capacity: 5 gallons. Dimensions: 3.5' x 9.0" x 9.0"
The Clawhammer Supply 5 Gallon still is a premium reflux still made from copper. This kit comes unassembled, so you'll need to have some basic DIY construction and soldering ability to put it together.
This unit doesn't include the necessary hoses or extension pipe so remember to buy these separately.
Although there is more work involved in getting started, the Clawhammer 5 gallon does a fine job of producing quality spirits, ethanol, distilled water, and essential oils. Standing at 3.5 feet, the height will provide a higher over-proof, purer end product.
Pros
Produce pure spirits
High output from each run
Cons
Construction could be a challenge for some
A tall unit that may be difficult to store
8. Vevor 18.5 Gallon Distiller
Weight: 33.0 pounds. Capacity: 18.5 gallons. Dimensions: 37" x 17.7" x 17.7"
The Vevor 18.5 Gallon distiller is a beast of a unit, and we mean that that in the best way possible. This is the largest alembic moonshine still on the list and it's built for those that want to produce a lot of spirits. You can make 11 pounds for alcohol content of 50% by volume or 16.5 pounds for 30%.
Although this still could be used by beginners through to experts, keep in mind there is some construction needed to put it together. It's made of 304 food-grade stainless steel and comes with in-depth instructions for fitting it together.
Pros
All heating methods can be used such as firewood or natural gas
Large capacity boiler
High quality food grade materials
Well documented instructions and recipes
Durable stainless steel
Cons
Uses up more space than the other units
Need basic DIY and soldering skills to set up
9. Alchemade 5 Gallon Distiller
Weight: 10.0 pounds. Capacity: 5 gallons. Dimensions: 23.0" x 16.0" x 16.0"
The Alchemade 5 Gallon is a copper alembic still that is made from impressive-looking hand-crafted copper. It's not just about looks though. Copper allows the natural flavors and aromas to shine through from the wash by reducing the natural sulfur content.
The Alchemade is a versatile product: small enough to be used on a stovetop yet still boasts a 5-gallon capacity. However, you'll need to replace the condenser and bucket with larger ones if you intend to produce sprits on a larger scale. They are too small for this unit and will require frequent checking.
Pros
20-gauge copper moonshine still
Handcrafted, no construction required
Small enough to fit on the stovetop
Built-in thermostat
Cons
The condenser and bucket are too small
10. ECO-WORTHY 5 Gallon Alcohol Distiller
Weight: 13 pounds. Capacity: 5 gallons. Dimensions: 14.5″ x 14.3″ x 14.2″
The ECO-WORTHY 5 gallon alcohol distiller is a stainless steel made still that's suited to beginners through to experts. This easy-to-setup kit will have you producing spirits with a strong aroma such as whiskey and brandy, as well as distilled water and essential oils.
Pros
Built-in thermometer
Easy to set up and use
Cons
After setup, it can take a few cleans to remove the taint
The Science Behind Making Whiskey
What to look for in a home still
Quality of construction
If you want a still that produces liquor for years, look for products manufactured using durable, high quality, rust-resistant materials. It can be difficult to check workmanship if you're buying online so be sure to check customer reviews. Poorly constructed stills will soon be singled out through the review process.
Simplicity
It's all very well to want the best, largest still on the market. But keep in mind that often you'll need skills to construct the unit, which includes the ability to solder. If this is a problem, look for a simpler unit that comes ready-made.
Ease of cleaning
Cleaning the still is a key part of the distilling process and it can't be avoided. Innovative designs make some units much easier to clean than others. In particular, look for a big head so that getting your arm into the pot is possible. A smaller opening will make cleanup time a headache.
Size of the product
If you don't have a lot of space at home, you'll need to choose a smaller product. Some stills are large, making them unsuitable for people with no garage, shed, or spare room.
Copper Vs Stainless Steel
Although there are a variety of other metals used to make stills, copper and stainless steel are the two most common options. Copper is an easy metal to work with if you'll be constructing the still yourself. Also, it is an excellent conductor of heat and removes sulfides during processing. The final alcohol that is produced will generally taste and smell better if a still is made from copper.
Stainless steel is less expensive than copper, easier to clean, and extremely durable. However, it won't conduct heat as well and there may be residual compounds in the final alcohol.
Frequently asked questions
What is a moonshine still?
A moonshine still is a unit that ferments mash by heating it. The chemical process produces alcohol as a by-product that can be used to make the spirits like whiskey, vodka, and brandy.
How does a moonshine still work?
During heating, the ethanol boils at a lower temperature than the water so it is separated from the mash. The ethanol becomes a vapor and then, in time, turns into a liquid again. This ethanol is collected in a container.
What can a home distillery produce?
In addition to spirits, home stills can make essential oils, distilled water, wine, and ethanol for fuel. Each still may have limitations, so check the product description to make sure.
What is a mash?
A mash is a combination of grains, yeast, and sugar mixed with water.
Is it legal to make moonshine?
This will depend on the country you are from and, if you're in the US, what State you live in. The purchase of a still is perfectly legal in the United States. However, the production of spirits may be illegal or require documentation. We suggest doing your research into the legalities of your location before jumping into this hobby.
Of course, you don't have to make spirits with a still. Many will buy one of these units to produce distilled water or essential oils.
What types of whiskey stills are available?
Home distilling kits come in a range of sizes and types, with new and innovative designs being released each year. However, there are three common types of still.
Reflux Still: Purity=~95%
A reflux still is similar to a pot still. The key difference is that it has a tall column which "catches" the vapor. This is generally a purer, higher alcohol spirit with little or no taste.
Pot Still: Purity=40-60%
This is the traditional way spirits were distilled back in the prohibition days. A pot still incorporates a simple design, using a large boiler (the pot) to heat mash water. During the processing, a tube transfers the vapor to a condenser where it becomes a liquid again.
Fractioning Still: Purity=95
The fractioning still, aka hybrid still, is a reflux still with a taller column, often several feet. This results in pure alcohol with no flavor.
#1 Best Overall Choice
OLizee 8 Gallon Distiller
#2 Best Budget Choice
Still Spirits Turbo Air Still

#3 Best Premium Choice
Final Words
Choosing the best moonshine still doesn't need to be complicated. Be realistic about key considerations like your DIY skill level, space available at home, and budget. Then decide from there.
For those home distillers that are looking for simplicity, the Still Spirits Turbo Air Still is a solid option that is barely more complicated than a kettle. Of course, some trade-offs come with this simple design and small size – alcohol quality and capacity.
If you like a more conventional still that's quality all-round, the Alchemade 5 Gallon still is your best bet. It will require a bigger investment upfront, but the unit will continue to produce high quality spirits, distilled water, and essential oils for years to come.
Have fun with your new distillery and don't be afraid to get creative with the ingredients and flavors. It's a fun hobby and who knows, you may be the next Jack Daniel in the making?
Cuisinevault.com is a participant in the Amazon Services LLC Associates Program, an affiliate advertising program designed to provide a means for sites to earn advertising fees by advertising and linking to amazon.com.