Strawberry shortcake is the perfect summertime treat. Between the fluffy, light angel food cake to the macerated strawberries and whipped cream, this treat is ideal for a hot summer day. Now with the Strawberry Shortcake Frappuccino on the Starbucks secret menu, you can enjoy these flavors all year-round!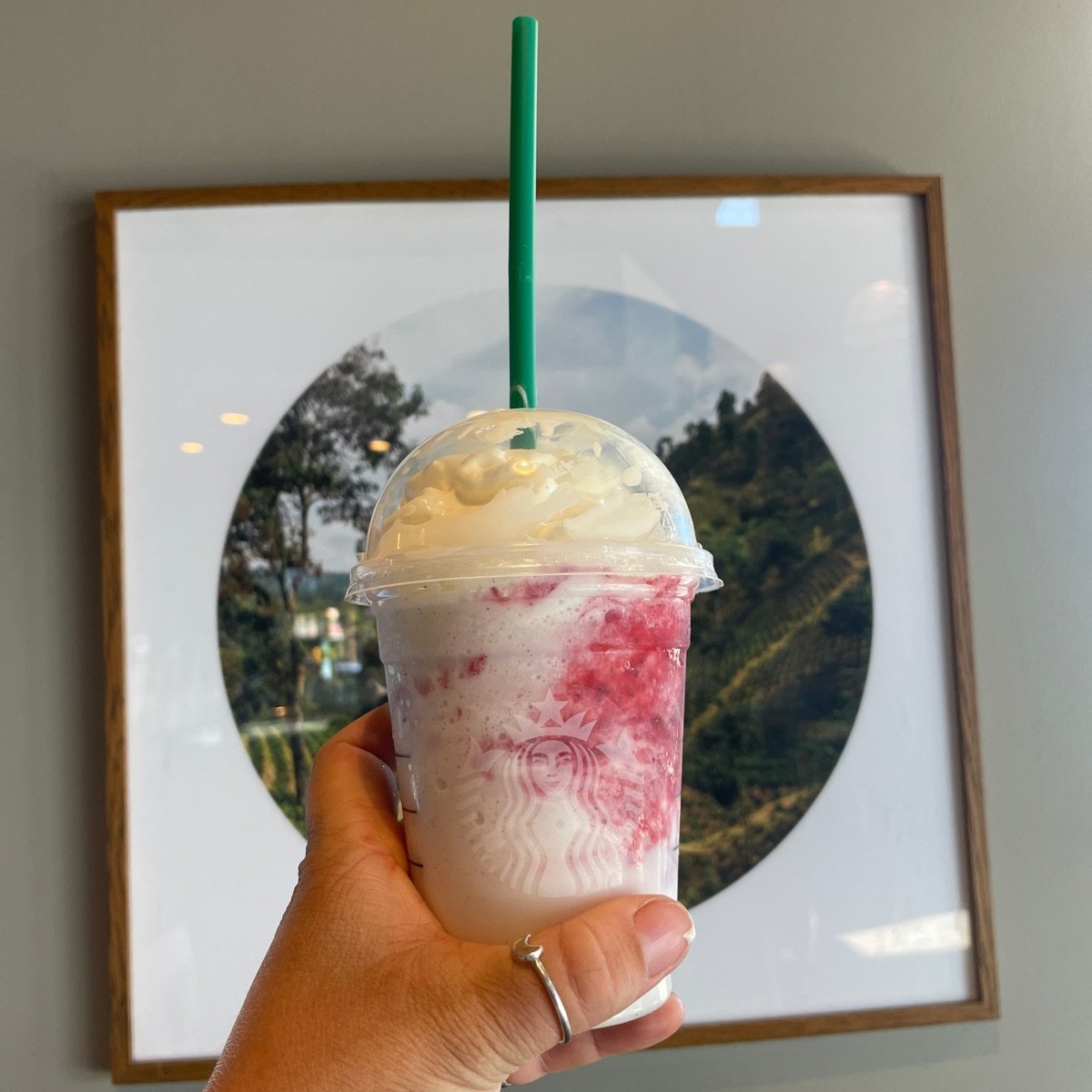 Table of Contents
What is The Strawberry Shortcake Frappuccino?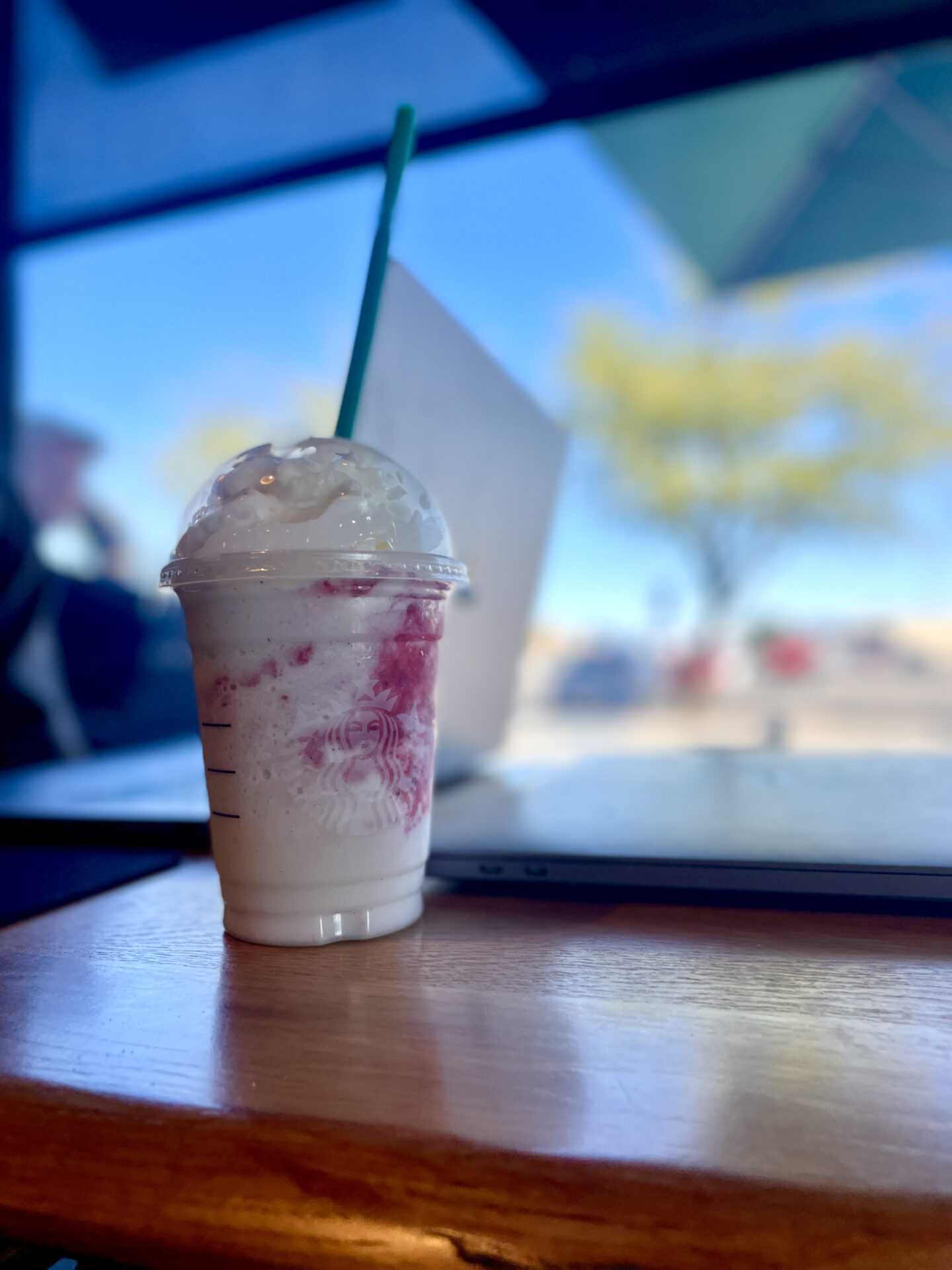 The Strawberry Shortcake Frappuccino is basically a Vanilla Bean Frappuccino with toffee nut syrup, white chocolate sauce, and strawberry puree on the bottom of the cup. The toffee nut and vanilla mixed together are reminiscent of the angel food cake. The layered strawberry puree is delicious and stunning!
How To Order The Strawberry Shortcake Frappuccino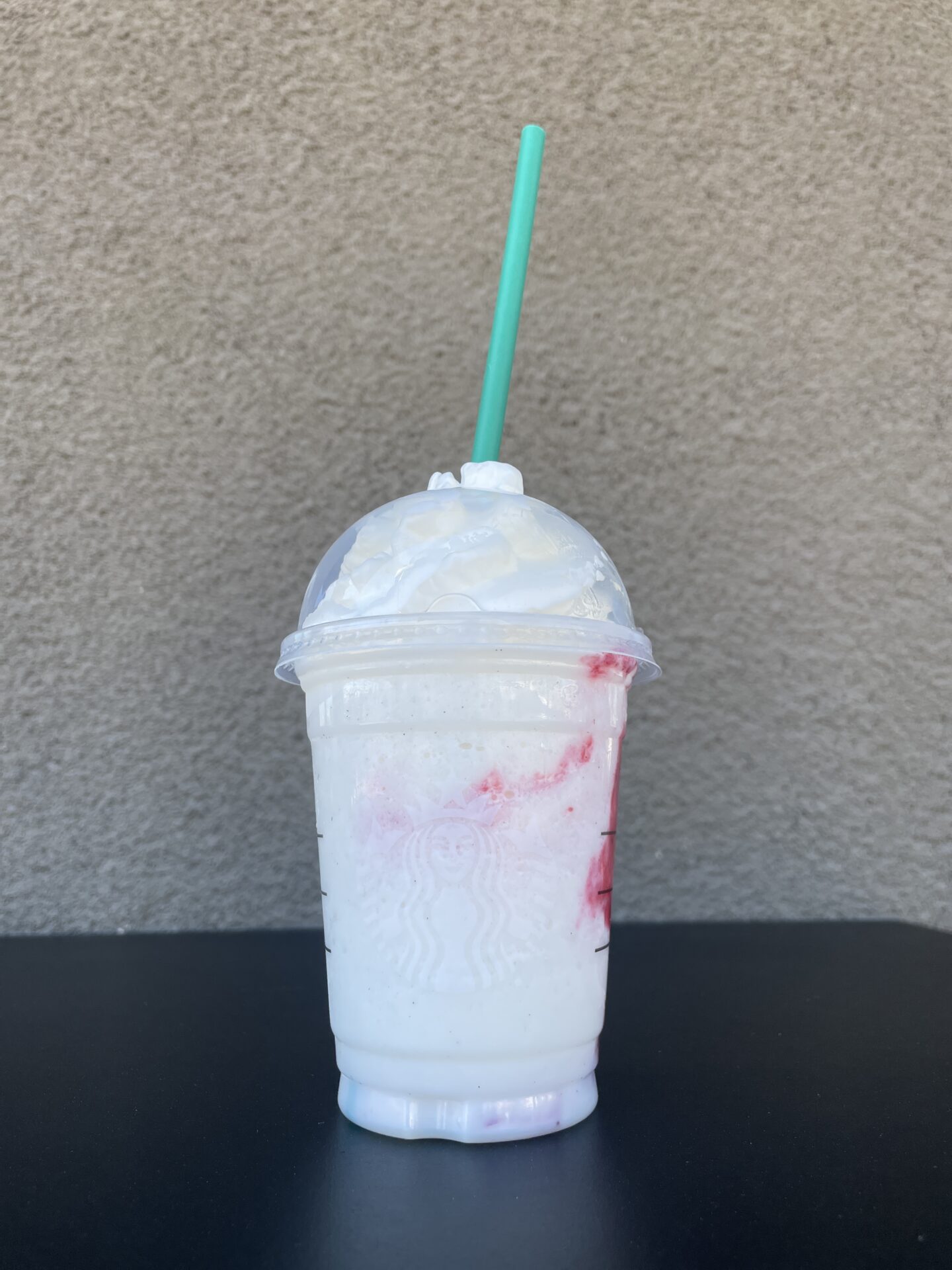 First, this drink is easier to order in person at a Starbucks location. There is no way to request strawberry puree on the bottom of the cup through the app.
To order this drink in person at the store, you'll ask for the following:
A Vanilla Bean Frappuccino
White chocolate sauce (2 pumps for a tall, 3 for a grande, 4 for a venti)
Toffee nut syrup (1 for a tall, 2 for a grande, 3 for a venti)
Strawberry puree on the bottom of the cup for layering
So if you were ordering a grande Strawberry Shortcake Frappuccino, you'd say, "I'd like a grande Vanilla Bean Frappuccino with 2 pumps of white chocolate sauce, 2 pumps of toffee nut syrup, and strawberry puree on the bottom of the cup to the first line."
You may want to clarify that you'd like the drink layered, as the employee may assume you're asking for the puree to be blended in. This drink will also come standard with whipped cream, so you can always specify if you'd like the whipped cream to be left off.
To order through the app, you'll want to add the same ingredients, except you'll want to start the beverage as a Strawberries and Cream Frappuccino. It should look like this: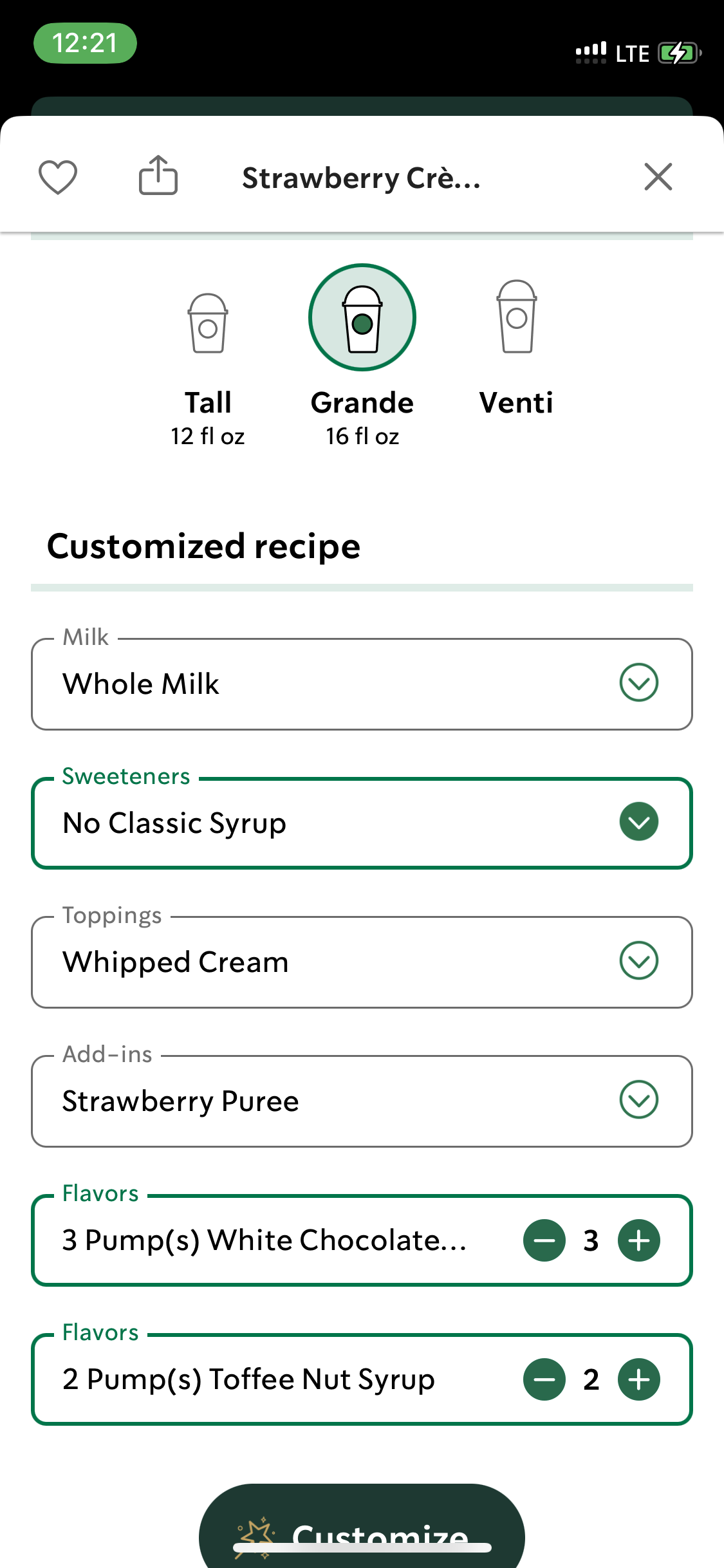 What Does it Taste Like?
Truthfully, despite the additional pumps of sauces and syrups, this drink isn't overwhelmingly sweet! You can always cut down on the number of syrup pumps if you're watching your sugar or calorie intake.
This beverage does taste quite a lot like a strawberry shortcake, though. So if you're a fan of that dessert, you'll surely love this secret menu item.
Final Thoughts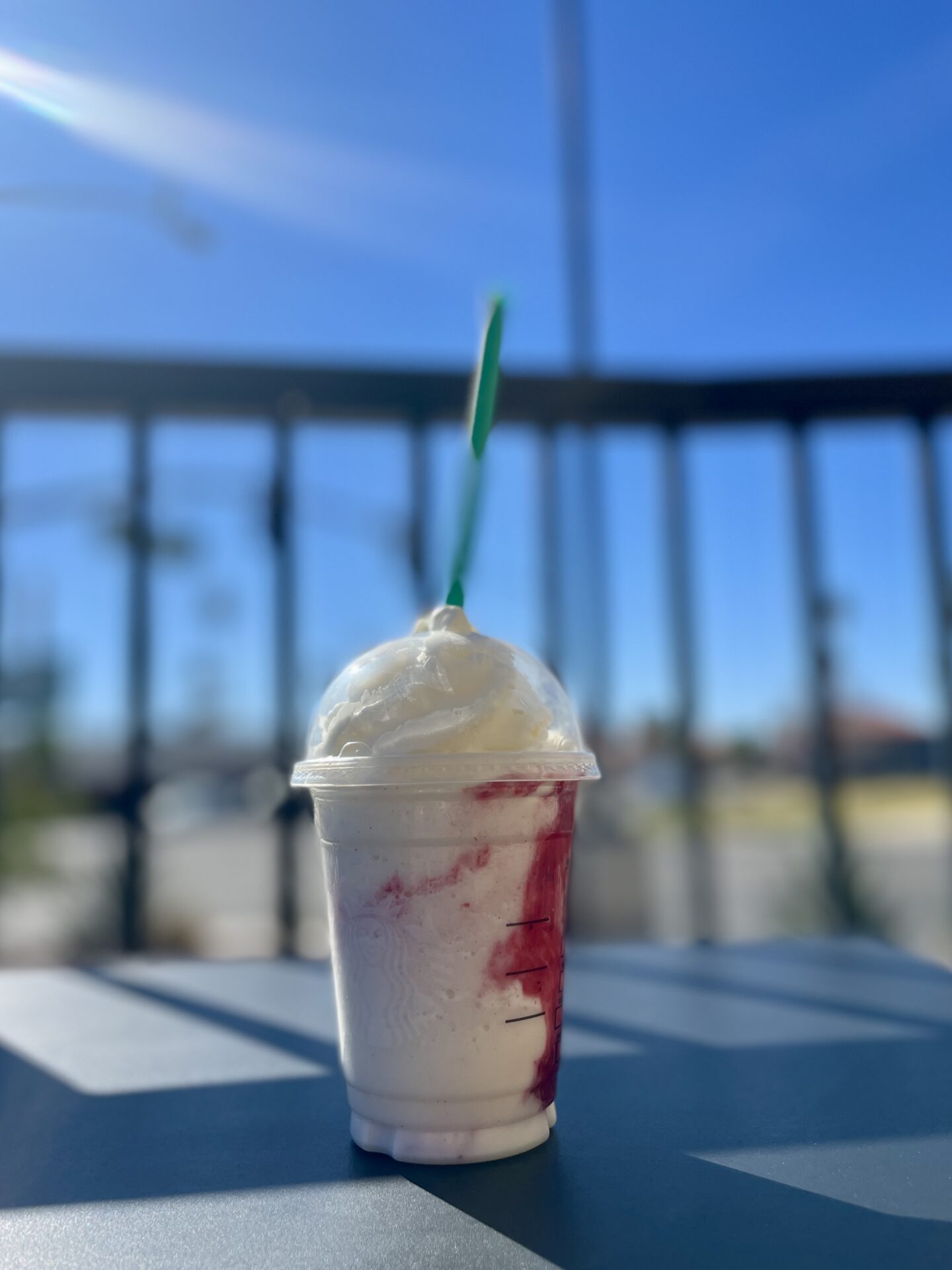 While ordering this drink is a bit complicated and requires more communication with your barista than others, this drink is completely worth the effort!
Another great perk is that you don't have to wait for summertime to order this drink. All of the ingredients are offered year-round, and at every location, so you should never have to worry about not being able to order this drink.