If you're a fan of Strawberry Cheesecake, you have to try the Strawberry Cheesecake Frappuccino on the Starbucks secret menu. This drink is incredibly easy to order and is a fun, refreshing spin on a regular Strawberries and Cream Frappuccino.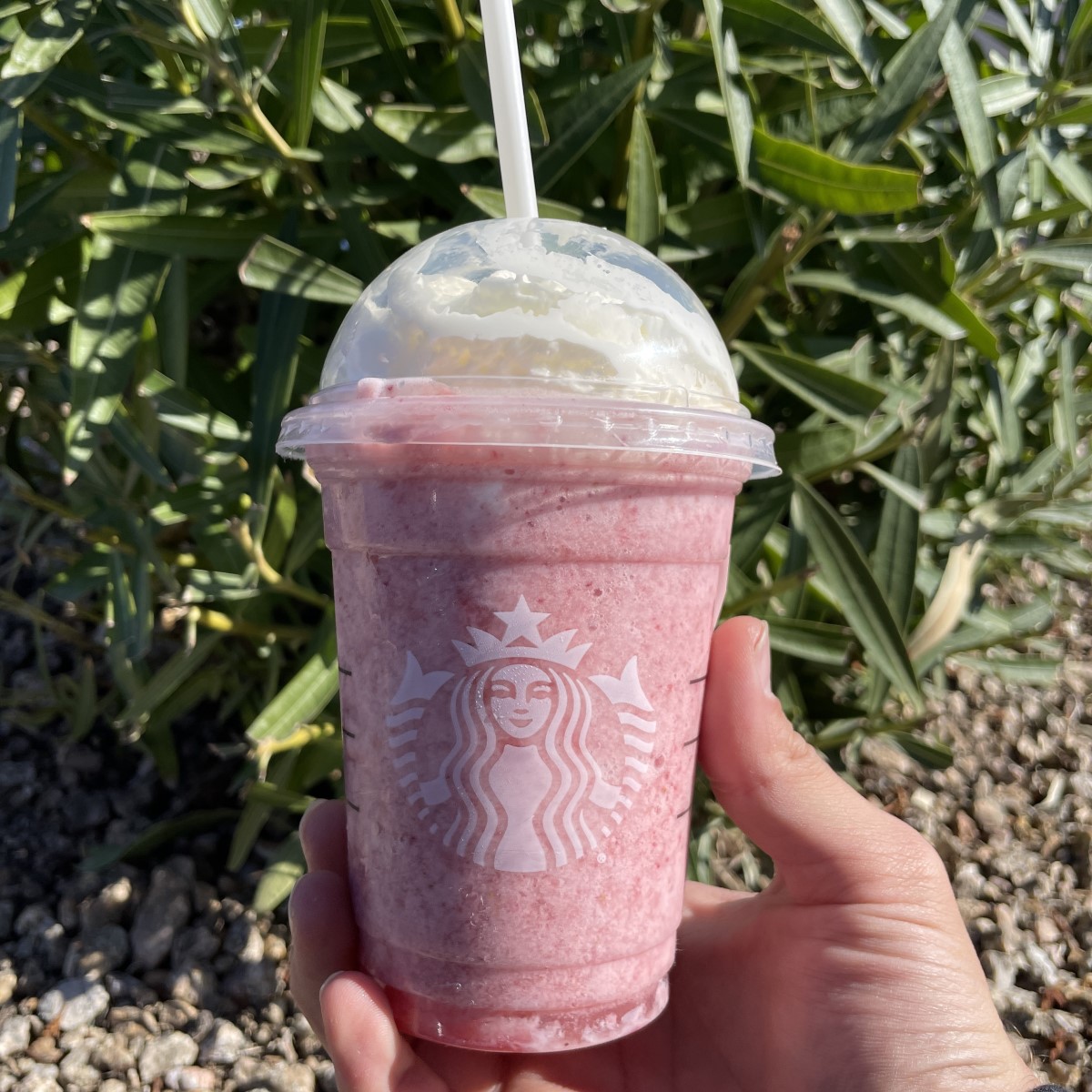 Table of Contents
How To Order The Strawberry Cheesecake Frappuccino at Starbucks
The Strawberry Cheesecake Frappuccino is a secret menu item, so you should always be prepared with the list of ingredients. You should also have a general knowledge of how the drink is made since your barista may not know how to make it.
This secret menu item is a little complicated to order in the Starbucks app. In fact, we recommend you skip the app and order it in person. The app doesn't let you leave notes to your barista at the time of this writing. This makes customizing this frappuccino to spec nearly impossible.
Here is how to order this drink in the app:
Strawberries and Cream Frappuccino
1 pump Hazelnut (2 for venti)
Add strawberry inclusions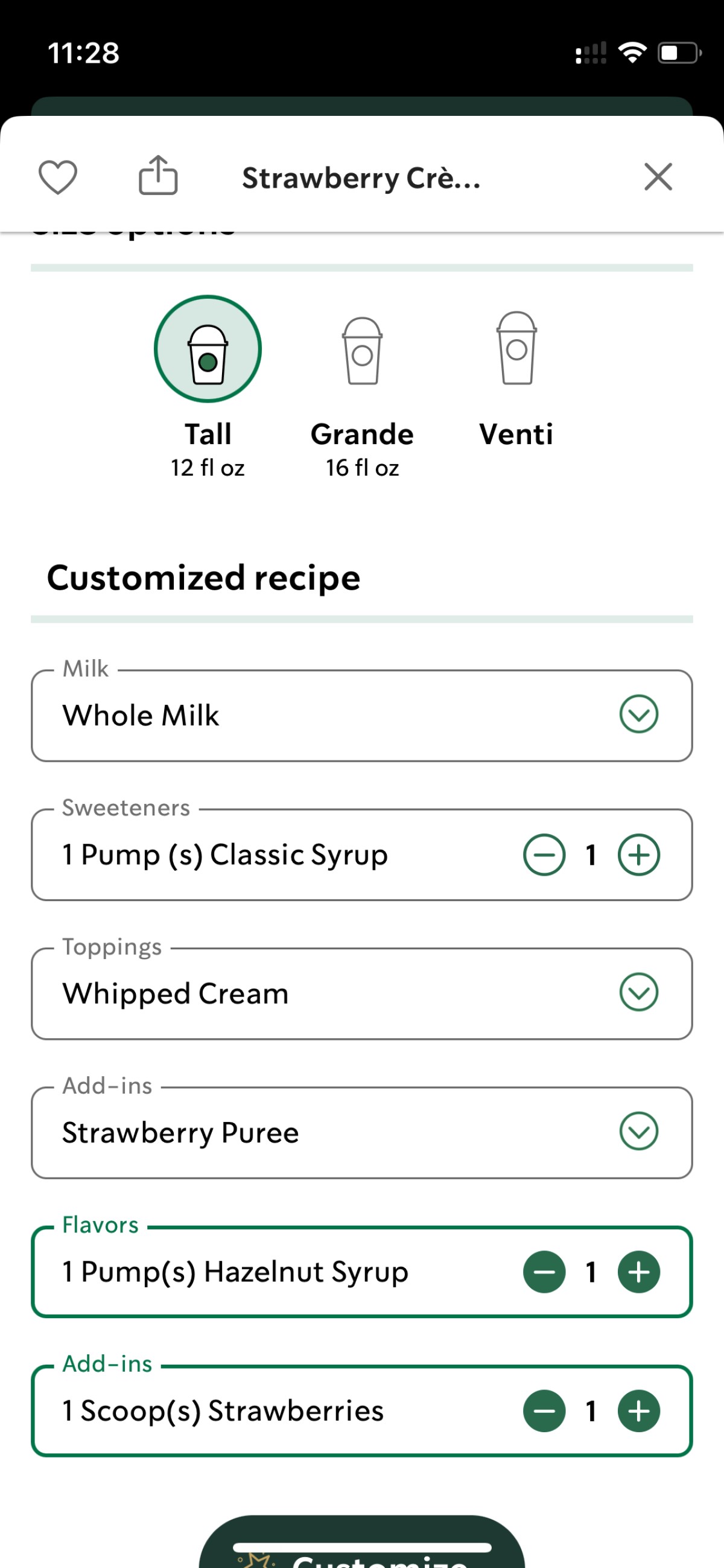 Here is how to order it in person:
Order a Strawberries and Cream Frappuccino
Add 1 pump hazelnut in a Tall or Grande and 2 pumps in a Venti
Ask for strawberry inclusions on top of the whipped cream
Bonus: If in season, we highly recommend you add graham cracker crumbles on the bottom of your cup and as a garnish. Unfortunately, this was not on hand for us this time, but it would have been an incredible addition.
How Does the Strawberry Cheesecake Frappuccino Taste?
This frappuccino has a bright and refreshing flavor to it. While we think the hazelnut flavor gives this frappuccino the warmth you'd expect from a cheesecake crust, the flavor wasn't completely reminiscent of a real strawberry cheesecake.
However, if the graham cracker crumbles were in season, this would have given the drink the edge it needed to taste like a strawberry cheesecake.
How to Make The Strawberry Cheesecake Frappuccino at Home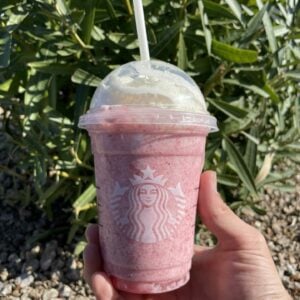 Strawberry Cheesecake Frappuccino
Why make your own? Because this drink may not be familiar to the barista. A greater advantage to mixing your own drink is that you can control the type of ingredients to use and the volume to make. Try making this one at home!
Ingredients
2

scoops

strawberry ice cream

1

tbsp

hazelnut syrup

1

graham cracker

optional
Instructions
Blend the strawberry ice cream and hazelnut syrup together.

Crumble up a whole graham cracker and place half of it on the bottom of your cup before pouring your drink in.

Top your drink with some whipped cream and crumbled up graham crackers. Enjoy!
Notes
Garnish with strawberry slices on top. If in season, we highly recommend you add graham cracker crumbles on the bottom of your cup and also as a garnish.
Nutrition
Calories:
366
kcal
Carbohydrates:
60
g
Protein:
5
g
Fat:
12
g
Saturated Fat:
7
g
Polyunsaturated Fat:
0.1
g
Monounsaturated Fat:
1
g
Cholesterol:
38
mg
Sodium:
177
mg
Potassium:
279
mg
Fiber:
2
g
Sugar:
13
g
Vitamin A:
422
IU
Vitamin C:
10
mg
Calcium:
171
mg
Iron:
1
mg
Final Thoughts
Whether you order through the app, in person, or make this frappuccino at home, this blend of flavors is incredibly refreshing and an excellent take on a Strawberry Cheesecake Frappuccino.
We recommend you try this drink when the graham cracker crumbles are in season, typically in the summertime.