These are the best keto crepes! They are low-carb, gluten-free, and impossible to resist. Besides, they are completely sugar-free and can be made both sweet and savory. This is one of those healthy keto recipes for your whole family to enjoy (even picky eaters).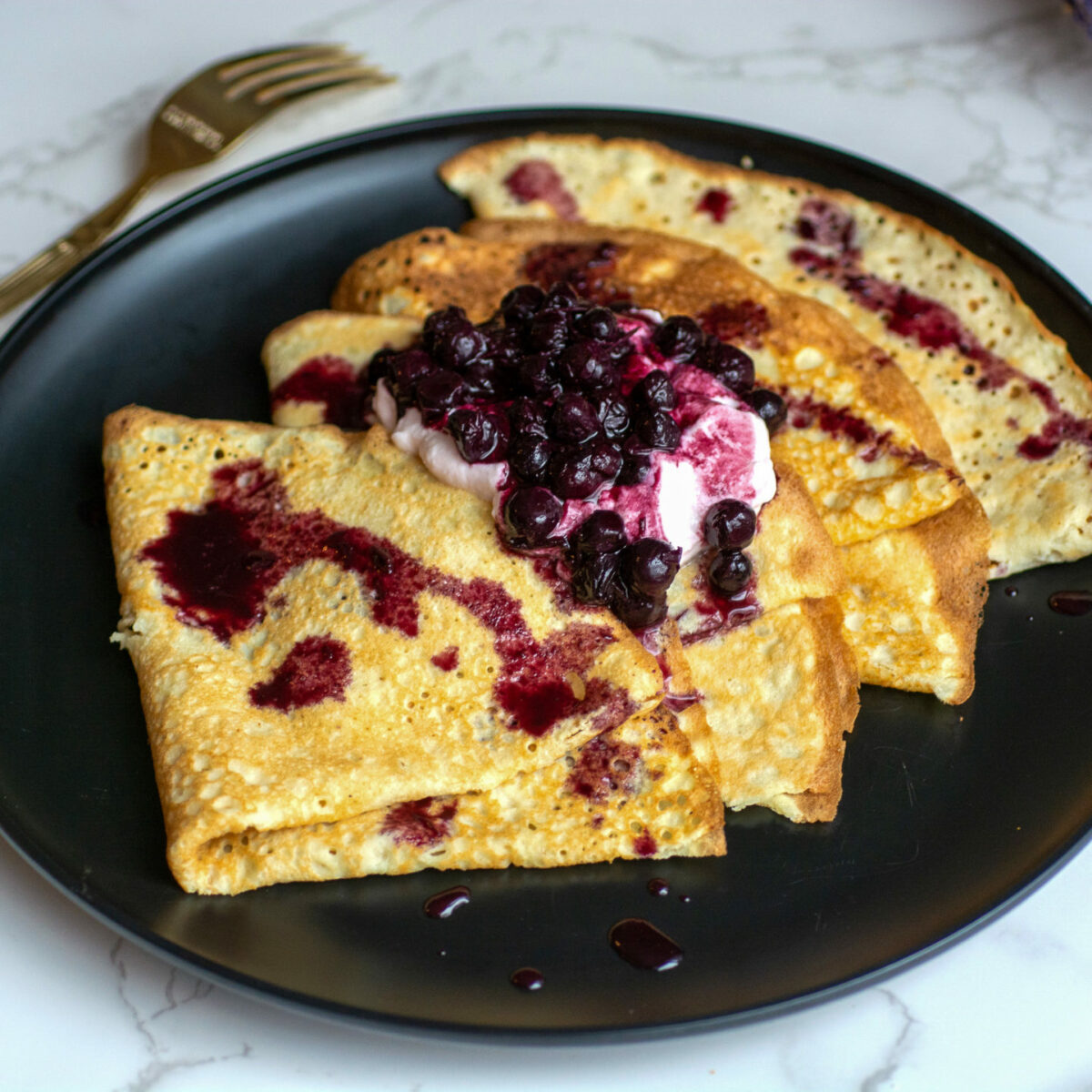 One such crepe has around 3 grams of carbs and slightly over a hundred calories, which is great news since you'll be able to eat even up to three crepes without affecting your diet. And you won't believe how many incredible topping options are there.
And the best part about them is that they are perfectly flexible even after being kept in the fridge for a few days. So, if you have any free time, you can easily make a few batches of these keto crepes to have a delicious breakfast or dessert ready at all times.
Table of Contents
Are Crepes Compatible with Keto?
It depends on the ingredients used to make those crepes. For example, if you follow the original crepes recipe, one crepe will have around 13 grams of carbs, which is definitely too much for maintaining the keto lifestyle. And, since such crepes are made of wheat flour and sugar, they are neither keto-friendly nor healthy.
If you are craving crepes, this recipe is the one you need. One crepe has only 3 grams of carbs and 134 calories. The thoroughly chosen ingredients make these crepes low-carb and healthy so that you can enjoy these keto crepes at any time of the day.
What's in These Keto Crepes?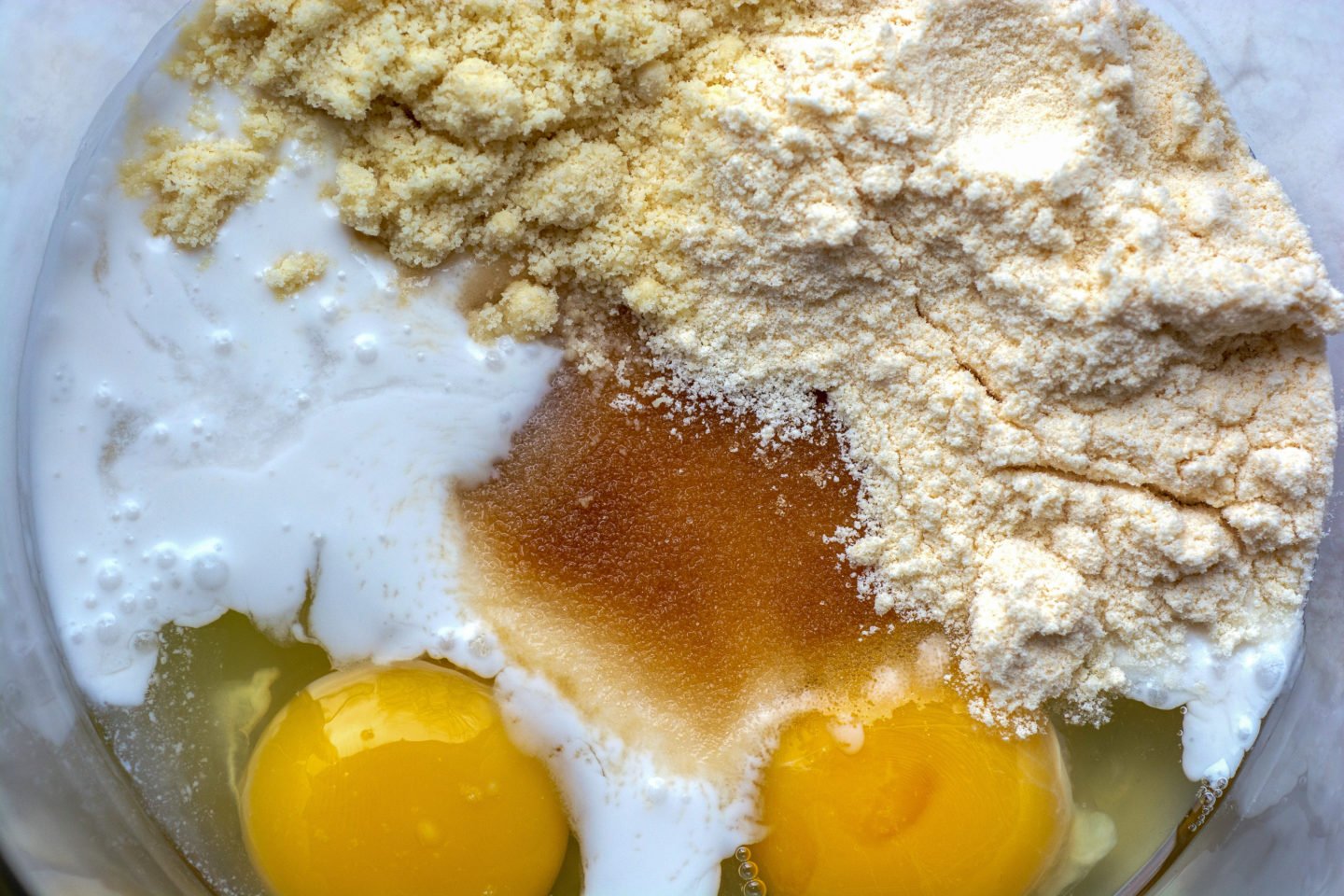 This keto crepes recipe is as simple as it gets. It consists of easy-to-find ingredients (there are only 7) and is very quick to make. Here are the ingredients that you should gather for this recipe:
Eggs
Coconut cream
Water
Monkfruit sweetener
Coconut flour
Almond flour
Coconut oil
Once you make the batter for this low-carb crepe recipe, you can adjust its thickness. If you realize that the batter is too thick after making the first crepe, try adding a tablespoon of milk (coconut milk, almond milk, or the regular kind).
I know that you might be wondering whether it's possible to use only one kind of flour instead of two different ones - and the answer is NO, you can't. The key to a perfectly textured batter for these keto crepes is to use both coconut flour and almond flour. If you use only one of these flour types, it will be impossible for you to flip the crepe to the other side.
If you don't have any coconut oil left, you can definitely substitute it with either olive oil or butter. Just replace it with the same amount of the needed ingredient.
And if you're a fan of vanilla, you can definitely add a teaspoon of vanilla extract into the crepes batter.
And one more thing: You can substitute the monk fruit sweetener with almost any other available sugar substitute (as long as it's low-carb). Here are some great options: swerve, erythritol, stevia, and sucralose.
How to Make Keto Crepes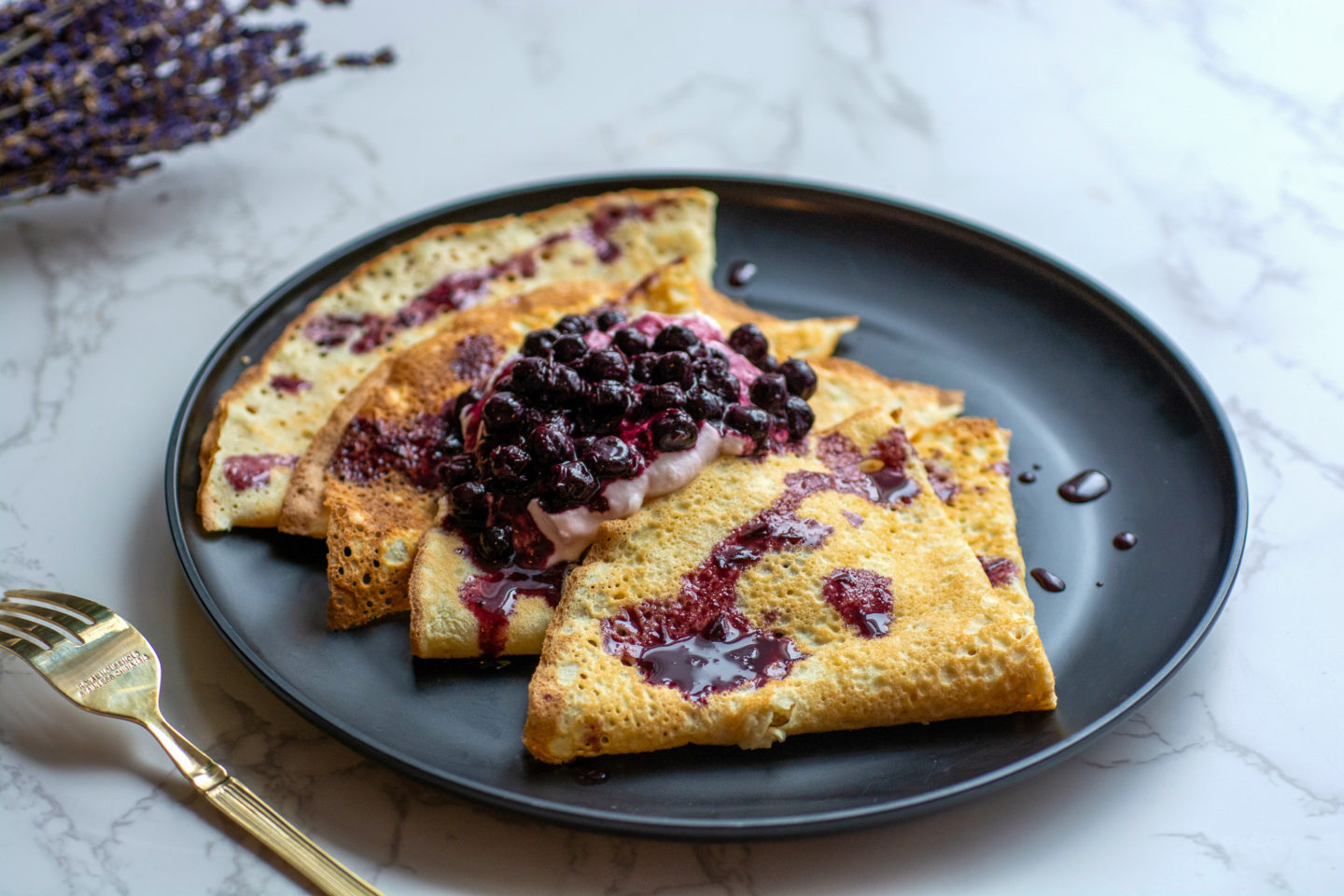 Now that you've prepared all of the ingredients, you should add all of them to a large bowl. Then using a hand mixer, combine the ingredients together to make the keto crepes batter. Or alternatively, you can place the crepes ingredients into a blender and blend them on high until smooth.
It is important to set the batter aside for at least 10 minutes to let it rest. Don't skip this step since it ensures that the batter ingredients are better incorporated together, and you'll have no trouble flipping the crepes to the other side.
Also, another thing that you should know is that you should oil the pan before adding the crepes batter. It is essential that you do this for every crepe that you make.
Keto Crepes Topping Ideas (Sweet & Savory)
It's a huge mistake to think there's no variety in a keto diet. The truth is there are lots of great low-carb crepe topping ideas that are keto-friendly and healthy. And you can even have both sweet and savory options.
So if you're now sure how to serve your cooked crepe, here are some delicious sweet keto crepe topping ideas:
Nut butter (peanut butter, almond butter, mixed nut butter, seed nut butter, etc.)
Low-carb fruits or fresh berries (raspberries, blackberries, strawberry, peach, oranges)
Nuts (pecan, brazil, almond, walnut, hazelnut, peanut)
Sugar-free whipped cream and cinnamon
Keto marshmallow fluff
If you are carving savory crepes, then don't add any sweetener into the batter when making the crepes. Instead, add some salt. Here are some topping ideas for serving a savory keto crepe:
Shredded cheese (mozzarella, parmesan, cheddar)
Cream cheese
Blue cheese
Ham
Shredded chicken
Salmon
Storing Tips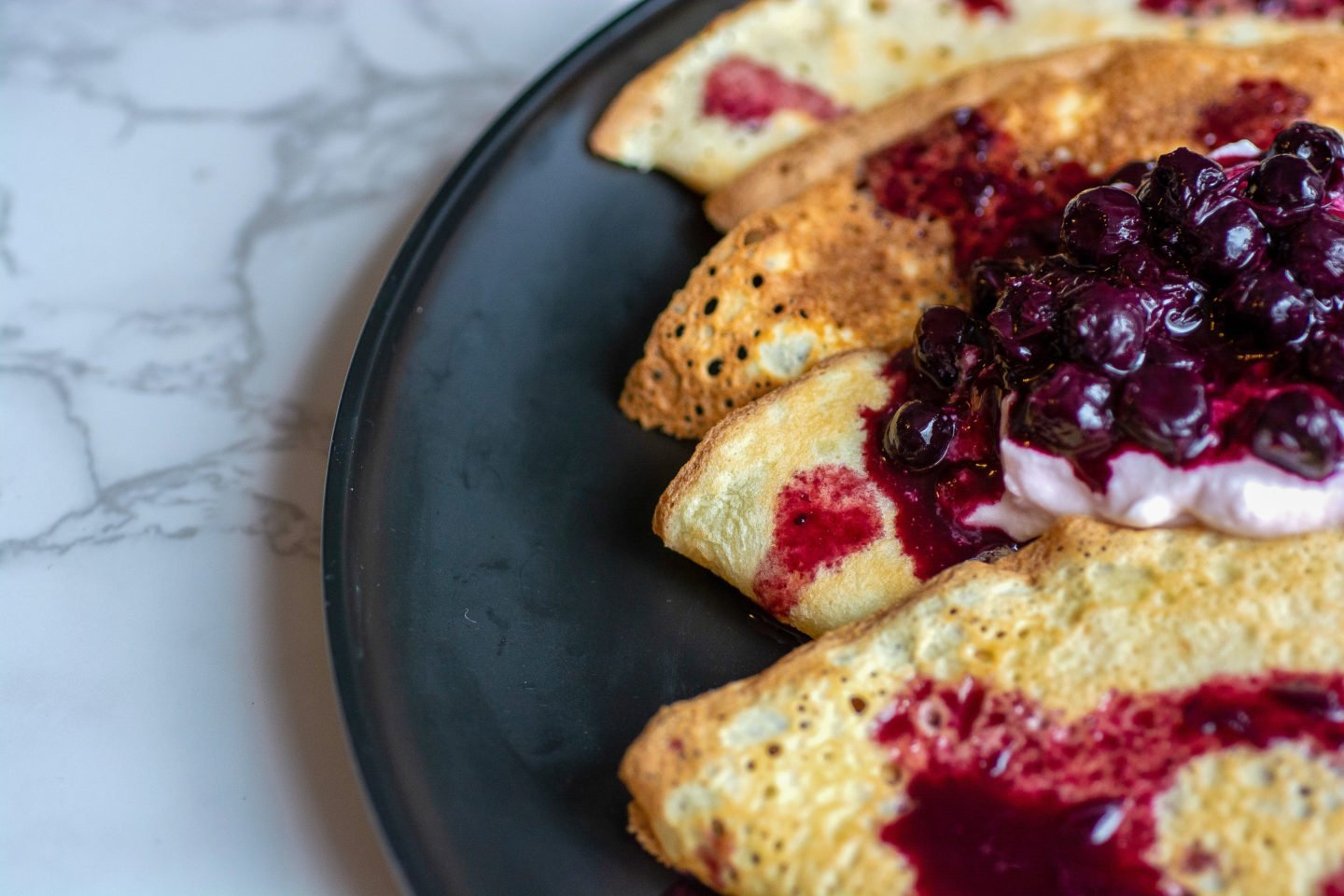 Luckily, the crepes from this keto recipe store perfectly well in the refrigerator. So if you make more of them, you can fold them on a plate and cover the plate with plastic food wrap. This way, you can store the crepes in the fridge for up to 3 days. After that, you can serve them either straight from the fridge or reheat them in the microwave before serving.
Also, this keto crepes recipe is freezer-friendly. You can either place them in a zipper bag or wrap them in plastic food wrap. But remember that you should place each crepe separately. You can store these crepes in your freezer for up to 3 months.
Recipe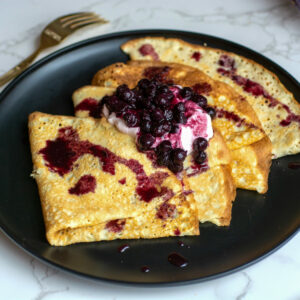 Keto Crepes
These are the best keto crepes! They are low-carb, gluten-free, and completely sugar-free. Each crepe has around 3 grams of carbs and slightly over a hundred calories. They are healthy, sweet, and savory—your whole family will surely enjoy having for breakfast or as dessert (even picky eaters).
Ingredients
2

large

eggs

½

cup

coconut cream

½

cup

water

2

tbsp

monkfruit sweetener

2

tbsp

coconut flour

1

tbsp

almond flour

1

tbsp

coconut oil
Instructions
Place all of the ingredients in a large bowl and, using a hand mixer, combine everything together to make the crepe batter.

Let the batter rest for about 10 minutes.

Place a teaspoon of coconut oil in a small bowl and melt it in the microwave.

Heat a nonstick crepe pan over medium-low heat. Using a silicone cooking brush, spread some of the melted coconut oil over the pan.

Pour some of the crepe batter, and move the pan in a circular motion to cover the bottom of the whole pan.

Cook the crepe for about 2-3 minutes (until the edges become dry and brownish) and flip it over either with your fingers or with a spatula. Cook the crepe for an additional minute.

Repeat the same with the other crepes and serve with the topping of your choice.
Nutrition
Calories:
151
kcal
Carbohydrates:
4
g
Protein:
4
g
Fat:
14
g
Saturated Fat:
11
g
Polyunsaturated Fat:
1
g
Monounsaturated Fat:
1
g
Trans Fat:
1
g
Cholesterol:
74
mg
Sodium:
36
mg
Potassium:
106
mg
Fiber:
2
g
Sugar:
1
g
Vitamin A:
108
IU
Vitamin C:
1
mg
Calcium:
18
mg
Iron:
1
mg