Vanilla extract is an ingredient in most sweet treats. However, is vanilla extract gluten-free? There are a lot of people across the globe who follow gluten-free diets.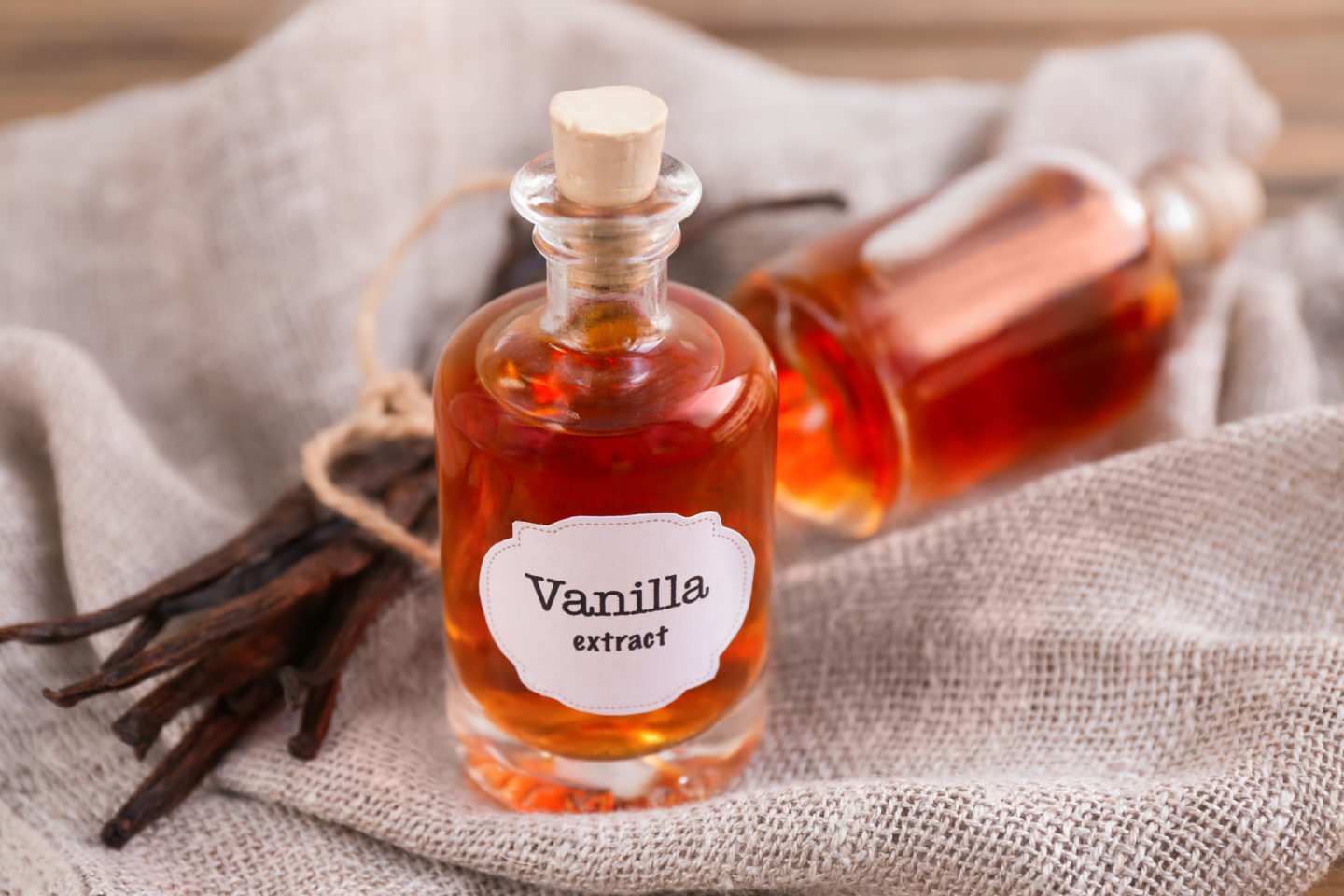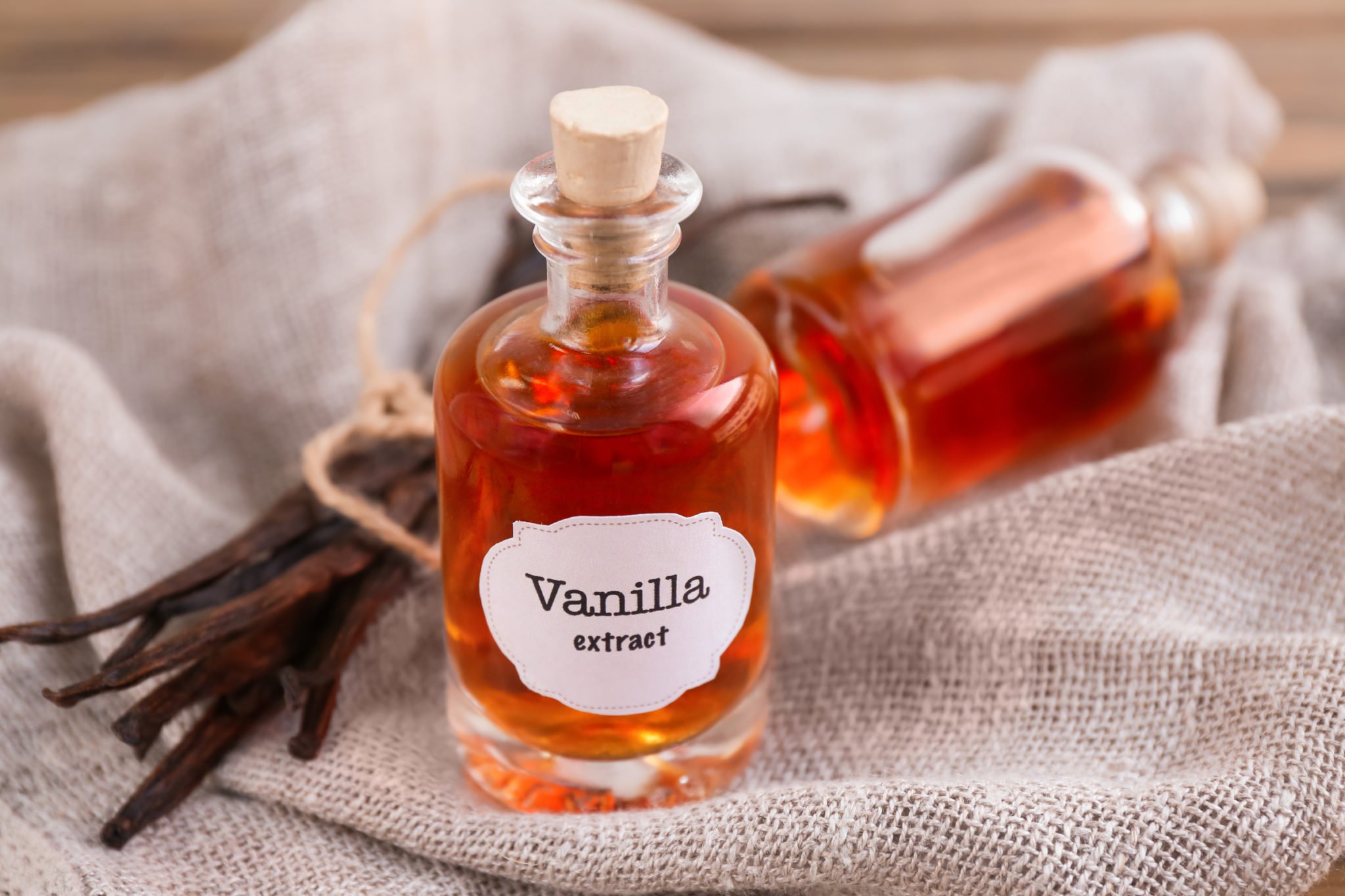 So, if you are on a strict gluten-free diet or are cooking for someone who is, you must know that vanilla extract is generally gluten-free. There are also imitation vanilla extracts available, which are typically gluten-free. However, it is important to check ingredients for gluten before using them!
Vanilla extract adds a unique taste and aroma to baked treats. That is why it is essential to determine whether it is gluten free or not. So dive in to learn more!
Table of Contents
What Is Vanilla Extract?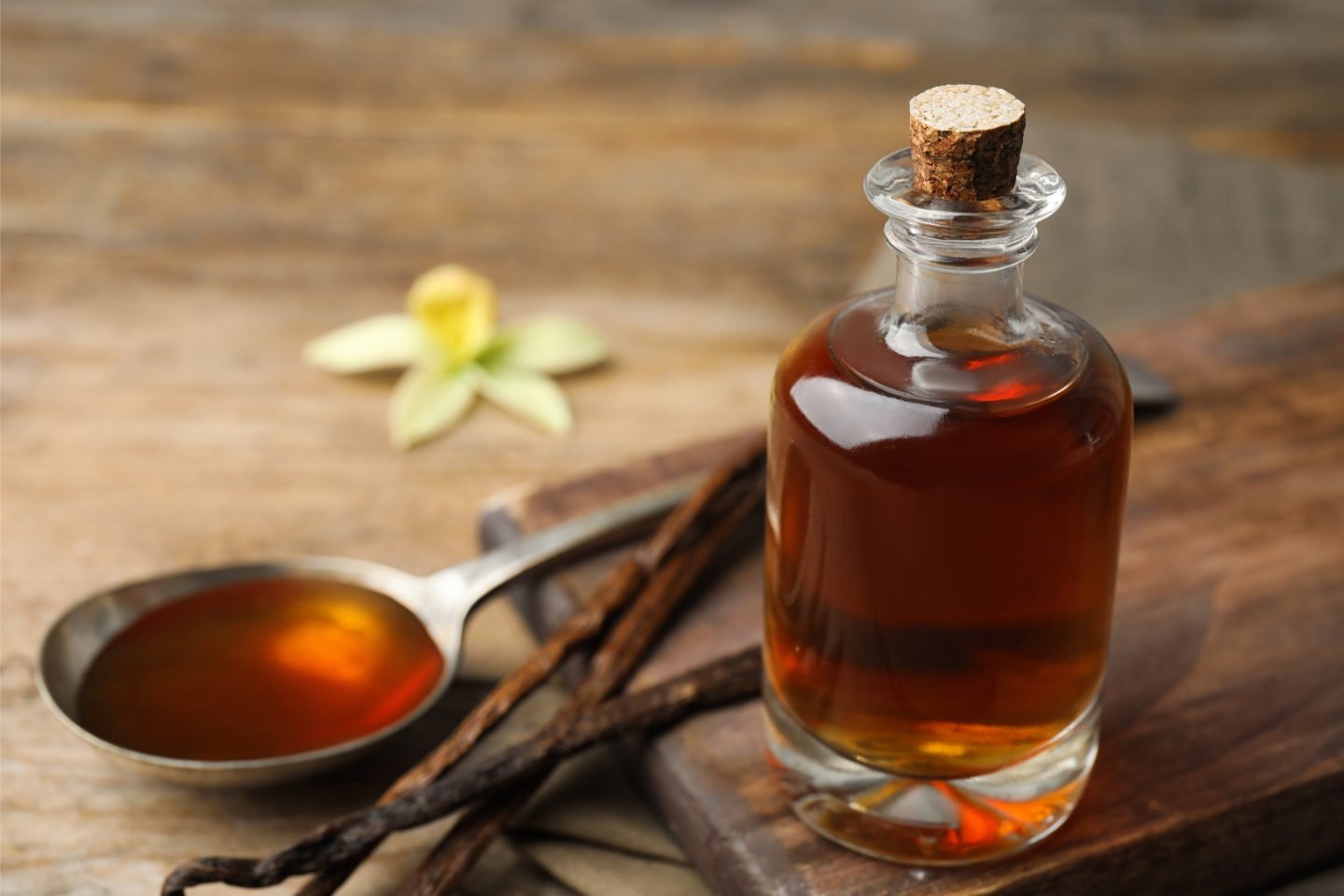 Pure vanilla extract is created by soaking vanilla beans in alcohol to extract the vanilla-flavored compounds. The process, as mentioned above, results in a dark amber-colored liquid, which adds a ton of richness, aroma, and warmth to baked treats.
There must be 13.35 ounces of vanilla beans per gallon of alcohol for vanilla extract to qualify as pure vanilla extract. In addition, the alcohol content must be at least 35% alcohol by volume.
Is There Gluten In Vanilla Extract?
Vanilla extract can be divided into two types: pure vanilla extract and imitation vanilla extract.
1. Pure Vanilla Extract
When it comes to pure vanilla extract, the alcohol distillation process successfully removes almost all traces of gluten. As a result, the gluten content comes below 20ppm, which qualifies as gluten-free.
2. Imitation Vanilla Extract
Generally, imitation vanilla extract is gluten-free. However, it is recommended that people on gluten-free diets check imitation vanilla flavoring ingredients and allergen statements for gluten before buying it.
Many people avoid using imitation vanilla extract due to artificial flavors or color, as it may contain barley malt syrup. But new studies have shown that none of the above products contain gluten unless wheat or barley is listed as a grain source or in the allergen statement.
Does the Alcohol in Vanilla Extract Contain Gluten?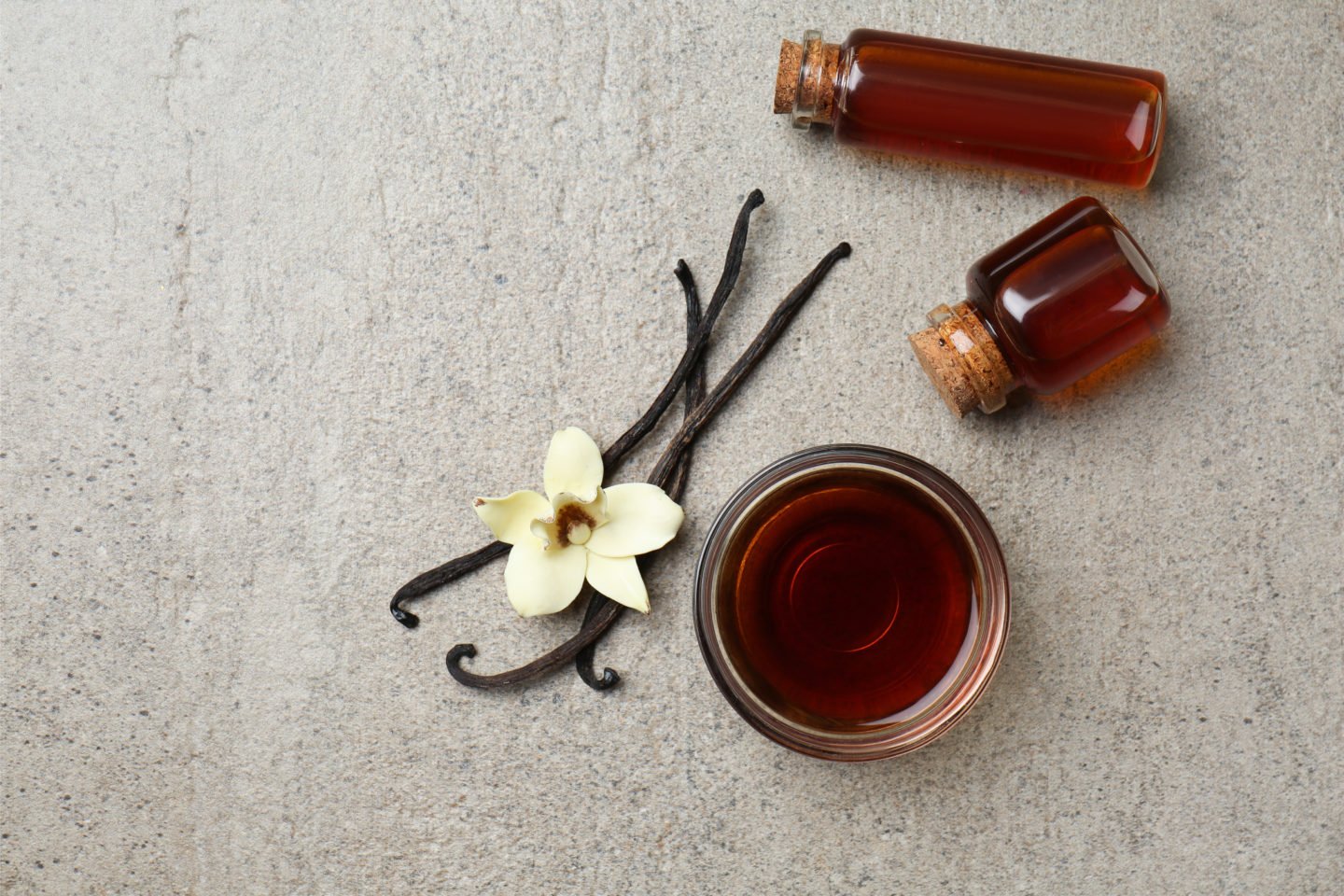 Vanilla extract is generally made with grain-based alcohol or sugarcane-based alcohol. The latter is entirely devoid of gluten. When it comes to vanilla extract made with grain-based alcohol, the alcohol undergoes a distillation process wherein it loses all traces of gluten, thus making it safe for consumption.
Following distillation, the gluten level goes below 20ppm, which qualifies as gluten-free. However, certain people out there can have an adverse reaction to gluten levels well below 20ppm.
Nowadays, there are several alcohol brands out there that utilize corn, potato, sugarcane, etc.
Which Brands Sell Gluten-Free Vanilla Extract?
Here are some vanilla extract brands that gluten-sensitive people can go for.
1. Nielsen-Massey
This is a globally popular brand known for its gluten-free range of vanilla extract, which has been certified by the GFCO.
Nielsen-Massey Madagascar Bourbon Pure Vanilla Powder, with Gift Box, 2.5 ounces
Nielsen-Massey Madagascar Bourbon Pure Vanilla Powder offers true-to-bean vanilla flavor that is highly versatile and ideal for dry baking mixes, beverages, sauces, or color-sensitive recipes.
Certified Kosher and Gluten-Free, Non-GMO Project Verified, All-Natural, Allergen-Free
1 Tbsp. vanilla powder = 1 Tbsp. vanilla extract = 1 whole vanilla bean = 1 Tbsp. vanilla bean paste
2. McCormick
McCormick encourages consumers to check the label to see if their products contain gluten. The brand also uses correct labeling, thorough cleaning, and other production methods to make sure that no ingredients come into contact with each other.
3. Watkins
Watkins claims that all their vanilla extract-based products are gluten-free.
4. Rodelle
According to the brand, all their vanilla extract-based products are gluten-free.
Rodelle Gourmet Pure Vanilla Extract, 8 Oz
Made with only three ingredients and contains zero sugar
Supports sustainable living in vanilla-growing regions
Gluten-free and Kosher certified
Made in a facility powered by the winds of Northern Colorado
Substitutes for Vanilla Extract Containing Gluten
If your vanilla extract isn't gluten-free (typically rare), then you can substitute it for the below-mentioned options.
Maple Syrup
Pure maple syrup does not contain any gluten and is an extremely tasty alternative to vanilla extract.
Nut Milk or Soy Milk Containing Vanilla Flavoring
Most nut milk or soy milk brands do not contain any gluten and can be used as an alternative to vanilla extract. However, it is important to check the labels for gluten as certain preservatives may not be gluten free.
Homemade Vanilla Extract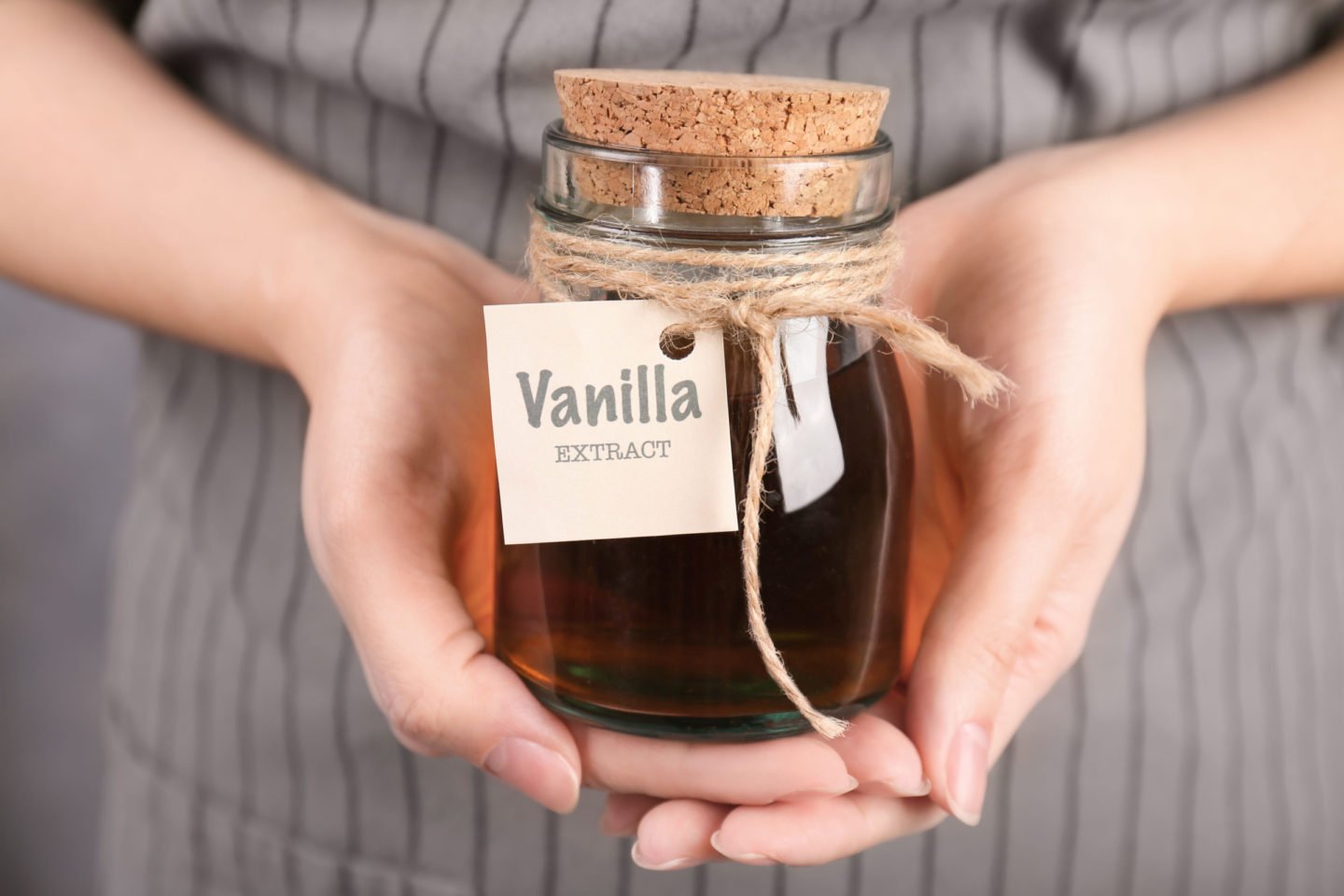 Gluten-sensitive people can make their own versions of vanilla extract with the help of beans readily available on the market and some inexpensive alcohol. These are the beans that you can use for your very own homemade vanilla extract.
| | |
| --- | --- |
| Type of Bean | Description |
| Madagascar Vanilla Beans | Store-bought vanilla extract is usually made from this type of vanilla bean. However, if you are hoping to achieve the pure taste of vanilla extract you are so used to, bring home Madagascar vanilla beans! |
| Tahitian Vanilla Beans | Tahitian vanilla beans are on the sweet, floral side and exude hints of ripe fruit and a deep, rich flavor of cherry chocolate, licorice, and caramel. |
| Mexican Vanilla Beans | Mexican vanilla beans' taste and aroma are similar to clove or nutmeg. They have sweet and woody undertones with deep and spicy notes. |
Vanilla Extract vs. Vanilla Bean Paste vs. Vanilla Essence
Vanilla extract, vanilla bean paste, and vanilla essence are three different things. Vanilla extract is made by extracting natural flavor from vanillin and other compounds from vanilla pods submerged in water and distilled alcohol for several months. On the other hand, vanilla essence is another term for imitation vanilla flavor. In contrast, vanilla bean paste is made by mixing sugar, gum paste, and vanilla beans to make a sticky substance.
Is Vanilla Extract Safe for Celiacs?
Celiac disease is an autoimmune disease that damages the small intestines and causes constant digestive dysfunction in the presence of gluten. Celiac disease prevents your body from absorbing nutrients from your food, resulting in long-lasting digestive issues.
However, pure vanilla extract, as well as imitation vanilla extract, do not contain gluten, making them safe for people with celiac disease, as well as those with gluten sensitivity.
Final Thoughts
If you are a fan of baking but are on a strict gluten-free diet, you can still use vanilla extract. Gluten-sensitive people can use this ingredient to prepare their favorite cakes, cookies, brownies, ice cream recipes, and more.
Let the rich taste and aroma of vanilla extract jazz up your taste buds and fill you with warmth!