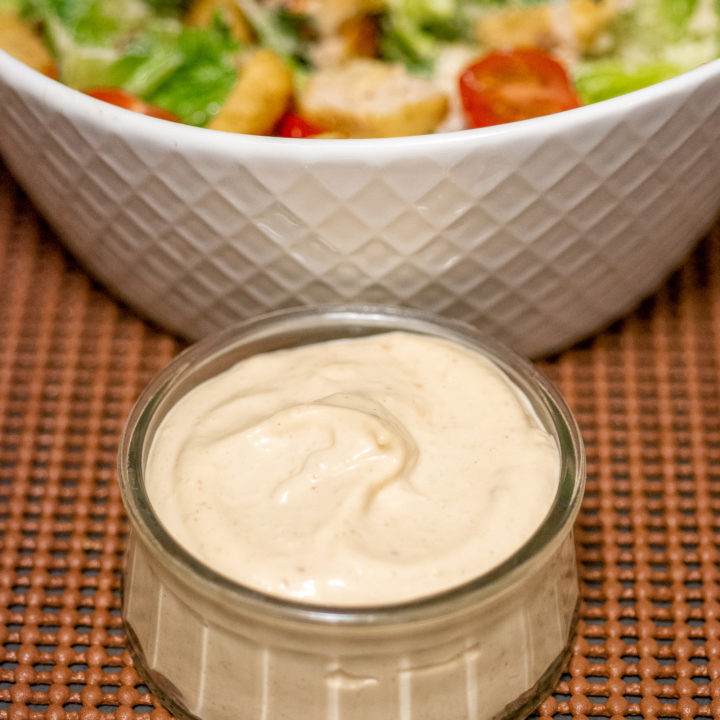 This keto Caesar dressing recipe will make your taste buds go crazy. This salad dressing is impossibly creamy and loaded with lemon-garlicky and rich umami flavor. And the best thing about it is that you don't need a blender to make it (this means less cleanup and faster results!).
If you try this creamy, keto Caesar dressing at least once, you'll be shocked to realize how delicious it is. Moreover, it tastes very close to the traditional Caesar dressing (but without raw egg yolks and anchovy fillets).
You can use this keto caesar dressing both for the salad or even as a dip for vegetables—it goes perfectly with almost anything. With this dressing recipe, you'll be able to enjoy your favorite grilled chicken Caesar salad at any time of the day (or even night) and without any regrets.
Table of Contents
Here's What You Need
There are two variations for the keto Caesar dressing recipe. But since I like to simplify everything, I went the easier road, which is why this recipe doesn't include raw eggs and anchovy fillets. But even though this recipe is easier, there is no reason to think that it's not as tasty as the traditional Caesar salad dressing.
Here are the ingredients that you should prepare for this low carb Caesar dressing:
Mayonnaise. This is the basis for this salad dressing. This ingredient makes everything less messy and much simpler. You can use any type of mayo that you prefer: original, avocado, olive oil, etc.
Lemon juice. If you think that using just the juice won't be enough for you and you want even a stronger lemon taste, then you can also add some lemon zest to this Caesar dressing.
Garlic. I strongly advise you to use freshly minced garlic instead of garlic powder since it offers a stronger flavor.
Anchovy paste. Instead of having to use anchovy fillets and needing to blender the dressing together, I chose to use anchovy paste. It gives the needed taste and simplifies the cooking process. And after squeezing the required amount of the paste, you can store the rest in your refrigerator for the next time.
Salt. You don't need much, so it's best to adjust the amount as you wish.
Worcestershire sauce. For the Caesar dressing to acquire that umami flavor, it is a must to add some Worcestershire sauce.
Stoneground dijon mustard. It's up to you to choose whether you want to add some or not. But I recommend adding this ingredient (you'll see how much better the dressing will taste with it).
Milk or water. Usually, this low-carb Caesar dressing turns out too thick. So, in such a case, you can add some keto milk or water into the dressing to get the needed consistency.
Grated parmesan cheese. I think there's no need to explain why adding this ingredient is a must.
That's it! You'll need only 9 simple ingredients to make this unbelievably delicious keto Caesar dressing.
How to Make Keto Caesar Dressing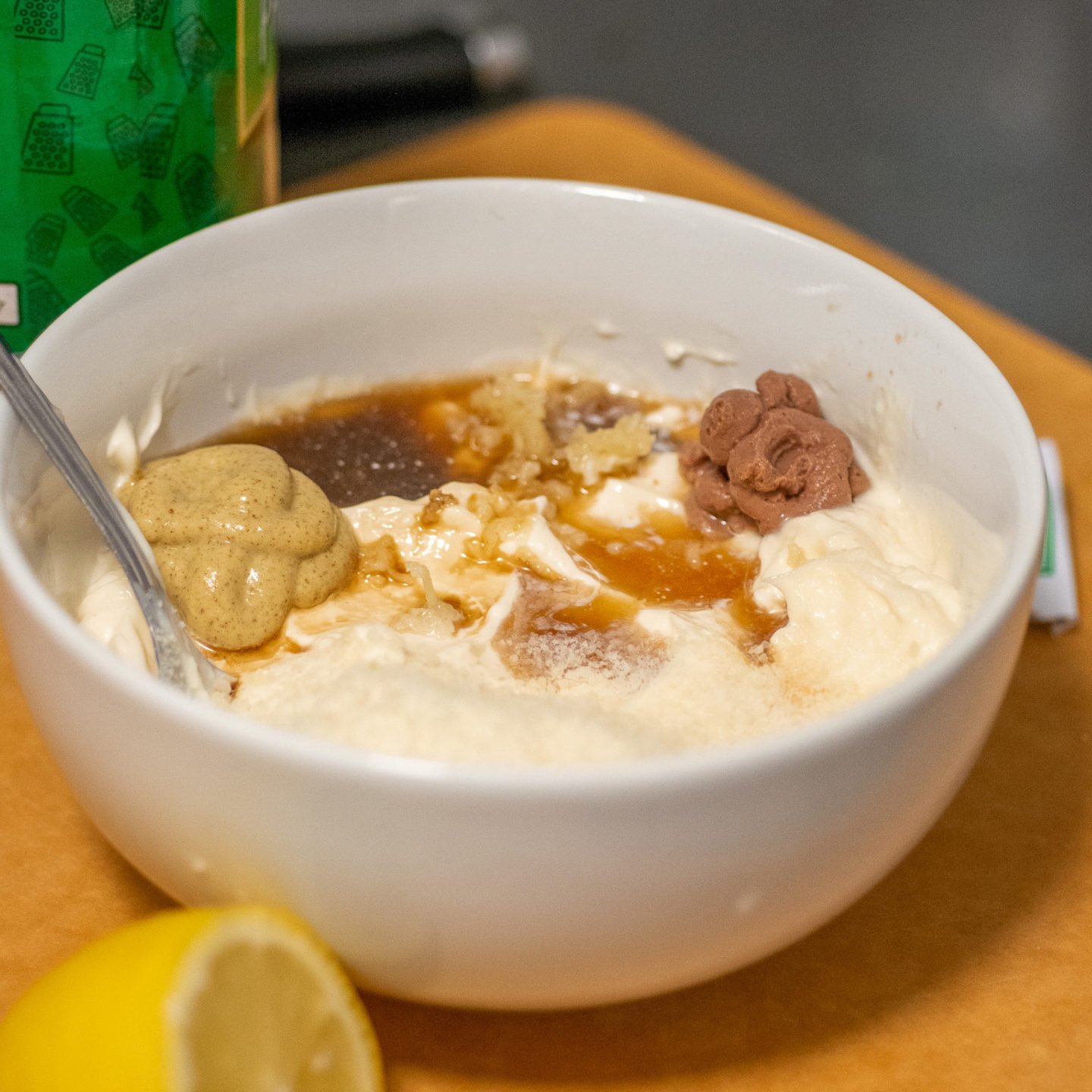 Making this low-carb Caesar dressing is as easy as 1-2-3. Once you've gathered all of the needed ingredients, you should do the following:
Take a medium bowl.
Measure the needed amount of each ingredient into the bowl.
Mix it all together.
See? There's nothing complicated in making this keto Caesar salad dressing. So please don't leave this recipe for later and do it now to enjoy a perfect, homemade, and low-carb Caesar salad.
The Best Keto Caesar Salad Recipe
Now, for the most important question: How to make keto Caesar salad?
There are lots of variations, but here's which ingredients I prefer to use:
Romaine lettuce
Grilled chicken
Cherry tomatoes
Parmesan
Avocado
Fried and chopped bacon
Sometimes I also prefer to add chopped hard-boiled eggs to this salad.
And since croutons are not an option when on keto, you can add some toasted nuts and seeds to replace that crunch. Or even add some kale chips-they'll taste insanely delicious in this recipe.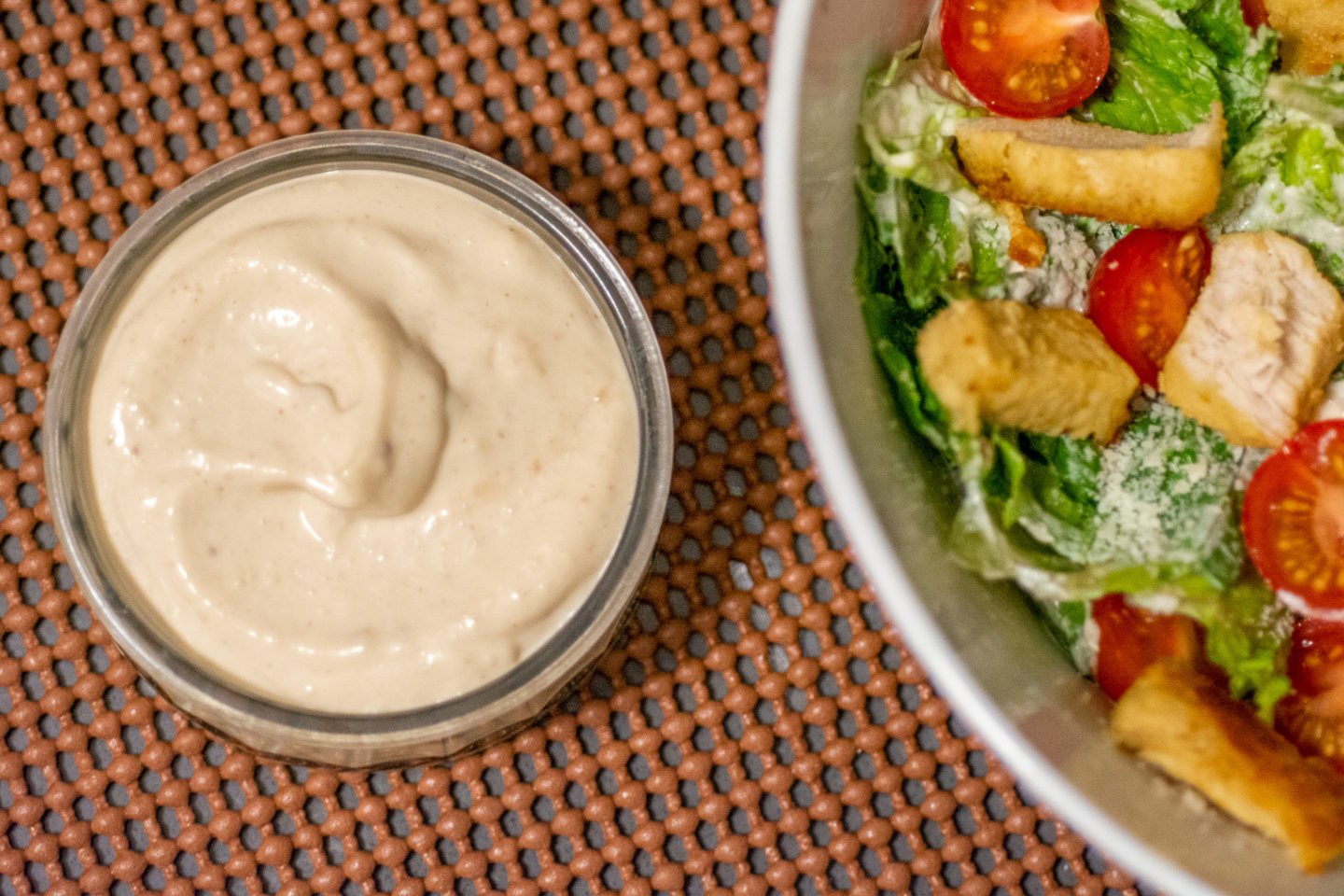 Storing Instructions
You should store your low-carb Caesar dressing in your refrigerator. Just place the dressing in a tightly closed container and move it to the fridge. This way, you'll be able to store the Caesar dressing for up to 2-3 days.
If you wish, you can also freeze this keto Caesar salad dressing. The best way to do it is to place the ready salad dressing in a zipper bag and then freeze it. You can store the salad dressing in your freezer for up to 2-3 months.
Whenever you wish to serve the keto salad dressing, place it in your refrigerator to thaw overnight.
Recipe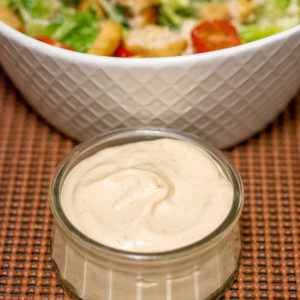 Keto Caesar Dressing
This salad dressing is impossibly creamy and loaded with lemon-garlicky and rich umami flavor. And the best thing about it is that you don't need a blender to make it (this means less cleanup and faster results!).
Ingredients
½

cup

mayonnaise

2

tbsp

lemon juice

2

garlic cloves

minced

1

tsp

anchovy paste

¼

tsp

salt

1

tsp

Worcestershire sauce

1

tsp

dijon mustard

stone ground

2

tbsp

milk

or water

2

tbsp

parmesan cheese

grated
Instructions
In a bowl, place the mayonnaise, lemon juice, minced garlic, anchovy paste, salt, Worcestershire sauce, dijon mustard, milk, and grated parmesan.

Using a spoon or a whisk, combine all of the ingredients in the bowl together.
Nutrition
Calories:
171
kcal
Carbohydrates:
2
g
Protein:
2
g
Fat:
18
g
Saturated Fat:
3
g
Polyunsaturated Fat:
10
g
Monounsaturated Fat:
4
g
Trans Fat:
1
g
Cholesterol:
12
mg
Sodium:
361
mg
Potassium:
43
mg
Fiber:
1
g
Sugar:
1
g
Vitamin A:
43
IU
Vitamin C:
3
mg
Calcium:
40
mg
Iron:
1
mg