This is the best keto coleslaw recipe that you've ever tried. It consists of just 4 ingredients and a delicious sugar-free no mayo dressing. And trust me, it tastes even better than the traditional salad version.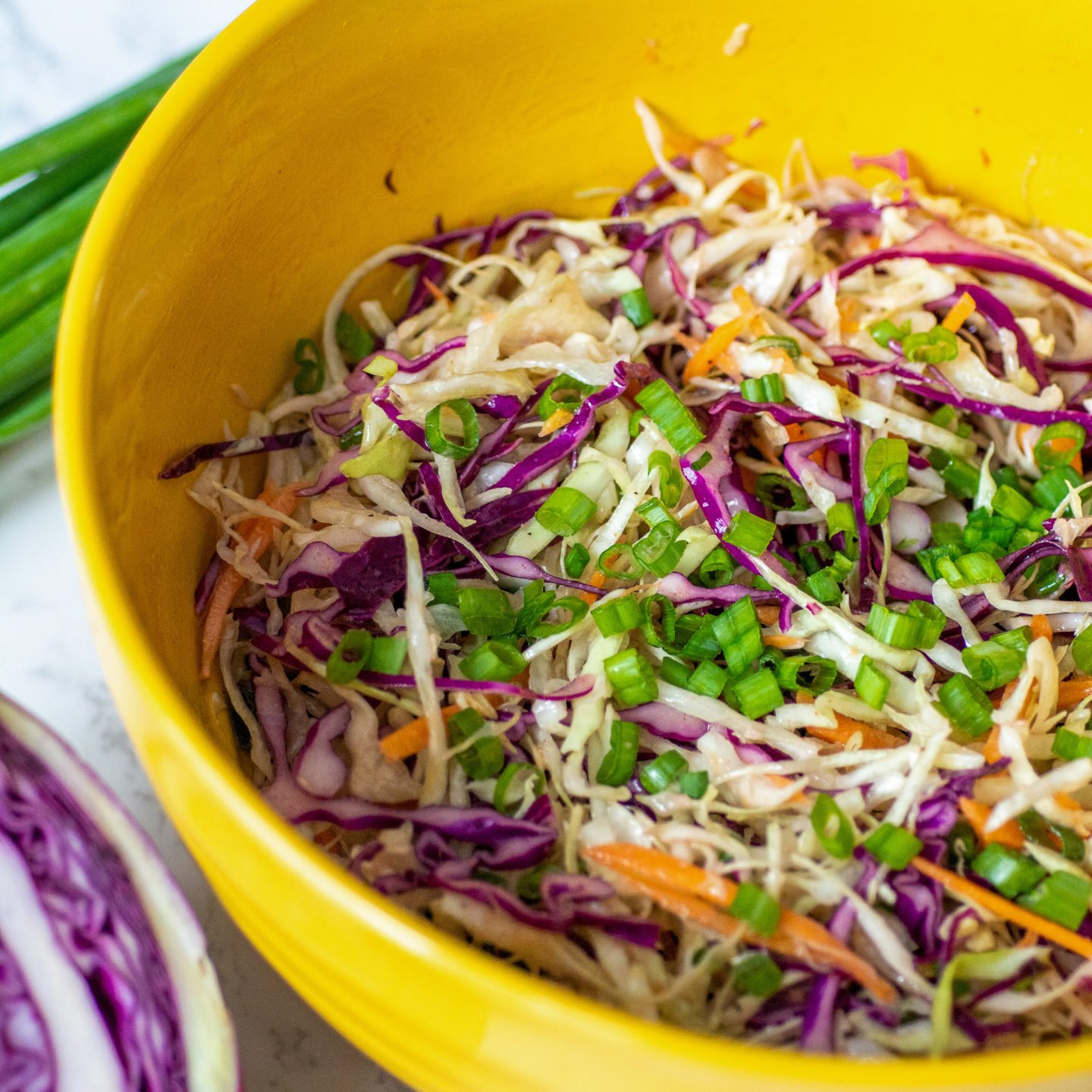 It actually takes just 10 minutes to make this salad, which is why it's a perfect option for a quick and delicious side dish for both lunch and dinner. Moreover, it's impossible to come up with a tastier no mayo salad dressing that is both keto-friendly and sugar-free.
Besides being unbelievably tasty, this keto coleslaw salad recipe can also be used for meal prep. Just prepare all the vegetables and place them in one container and make the salad dressing and keep it in a separate one (you'll be able to store it that way up to a week).
Table of Contents
Can You Eat Coleslaw on Keto?
There is nothing keto-friendly in the traditional coleslaw salad. Almost always, this salad is served with a sweet dressing. And for a dressing to be sweet, sugar is used. So such a salad is definitely not keto compatible.
Also, you must know that cabbage and carrots are quite high in carbs. So even if you make a low-carb and keto-friendly salad dressing, you won't be able to eat too much coleslaw.
Keto Coleslaw Ingredients
Almost all coleslaw salads are made of similar ingredients. But when making a keto coleslaw, you must adjust a few things. Here are the ingredients that I used for this low carb coleslaw recipe:
Green cabbage
Red cabbage
Carrot
Green onions
If you want, you can make coleslaw just out of green cabbage or just out of red cabbage. But it tastes to me better when I use both of the cabbages. Or, if you're in a hurry, you can just grab a coleslaw mix and use it for your salad.
However, the only huge difference between the traditional salad and this one is that you won't be able to add too many grated carrots. One medium carrot contains around 6 g of carbs. So it's better to minimize the amount of grated carrot that you add to this salad.
Well, and of course, like in any other coleslaw version, you should also add onions. Personally, I love how green onions taste here, which is why I always add them.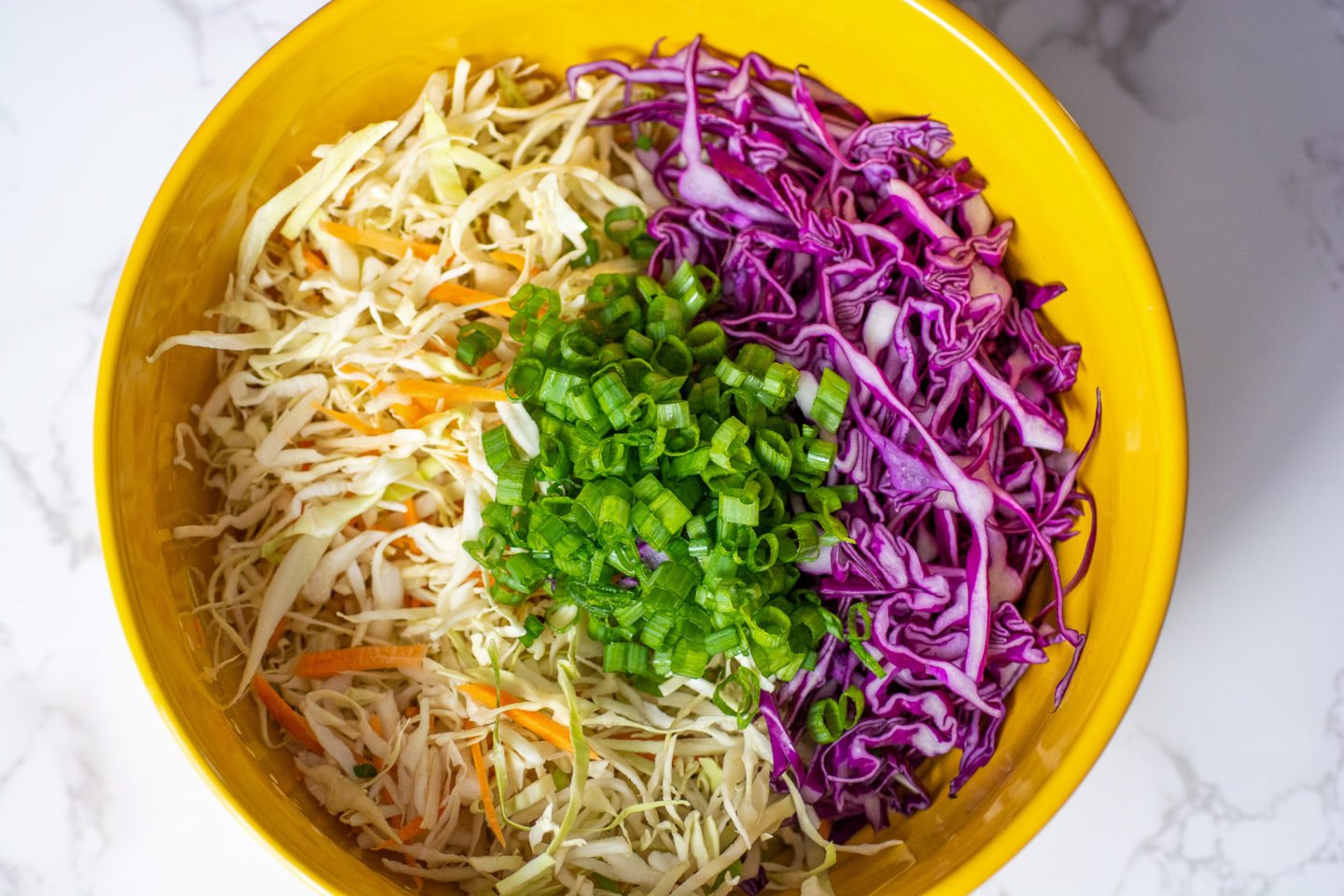 No Mayo Keto Coleslaw Dressing Recipe
So here is my favorite keto coleslaw salad dressing recipe. What I like most about it is that it's incredibly quick to make and requires only 4 simple ingredients. Here's what you'll need to make this sugar free, no mayo dressing:
Oil - I used avocado oil, but if you have olive oil, you can use it instead;
Vinegar - either the traditional vinegar or apple cider vinegar works fine here. If you don't like any kind of vinegar, you can substitute it with lemon juice or lime juice;
Dijon mustard - this is what gives the most flavor to this salad dressing, so don't even think of skipping this ingredient;
Sweetener - I used one monk fruit sweetener, but you can use any other sugar substitute that you prefer;
It's completely optional, but if you like, you can also add some spices to your coleslaw salad. For example, you can add garlic powder, fresh dill, onion powder, or celery salt.
Now that you've gathered all the needed ingredients, just place the required amount of each of them in a small bowl, and combine everything.
If you like a mayonnaise-based coleslaw dressing more, then you can use this recipe to make it. Instead of using oil, add some mayonnaise to this dressing recipe.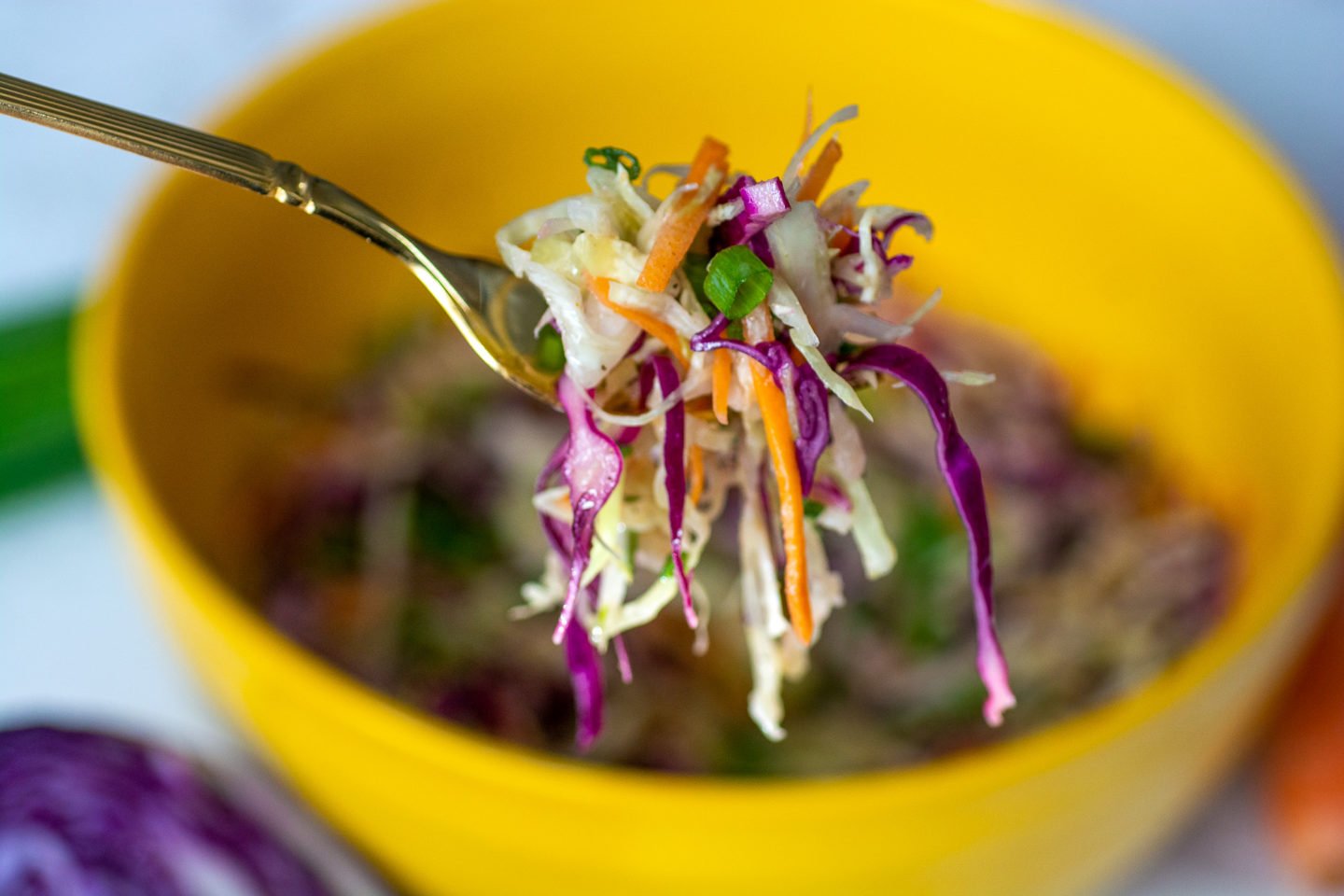 Storing Instructions
You can store the ready coleslaw salad in your refrigerator in an airtight container for up to two days. However, I don't recommend keeping it for longer than that since it will get watery, and there will be no crunch.
However, it's pretty easy to use this recipe for meal prep. So if you know that you're going to need to store this low carb coleslaw for longer, do the following:
Prepare all the vegetables. Get your shredded cabbage, grate the carrot, and chop up the green onions. Then place all of your ingredients into a food container or even a zipper bag.
Make the dressing. Do everything as described in the recipe and place the dressing into a glass mason jar or any other container.
The main part about prepping this salad is not to mix the veggies with the dressing up until you're ready to serve it. Separately, this low-carb coleslaw salad can be kept in your refrigerator even for up to a week.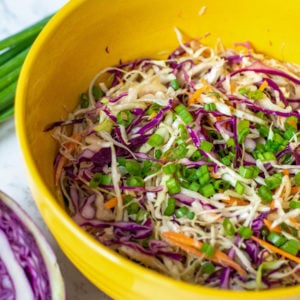 Keto Coleslaw with No-Mayo Dressing
This is the best keto coleslaw recipe that you've ever tried. It consists of just 4 ingredients and a delicious sugar-free no mayo dressing. And trust me, it tastes even better than the traditional salad version.
Ingredients
For the salad:
½

medium-sized green cabbage

thinly sliced

½

medium-sized red cabbage

thinly sliced

1

small carrot

grated

3

green onions

chopped
For the dressing:
3

tbsp

avocado oil

1

tbsp

vinegar

2

tsp

dijon mustard

½

tsp

monkfruit sweetener

salt and ground black pepper to taste
Instructions
In a small bowl, make the dressing. Combine the avocado oil, vinegar, mustard, salt, and pepper.

Take a large bowl, and place the green cabbage, red cabbage, shredded carrot, and green onions inside.

Pour the dressing into the large bowl and stir the salad. Serve immediately.
Nutrition
Calories:
83
kcal
Carbohydrates:
8
g
Protein:
2
g
Fat:
5
g
Saturated Fat:
1
g
Polyunsaturated Fat:
1
g
Monounsaturated Fat:
4
g
Sodium:
45
mg
Potassium:
262
mg
Fiber:
3
g
Sugar:
4
g
Vitamin A:
1960
IU
Vitamin C:
52
mg
Calcium:
53
mg
Iron:
1
mg