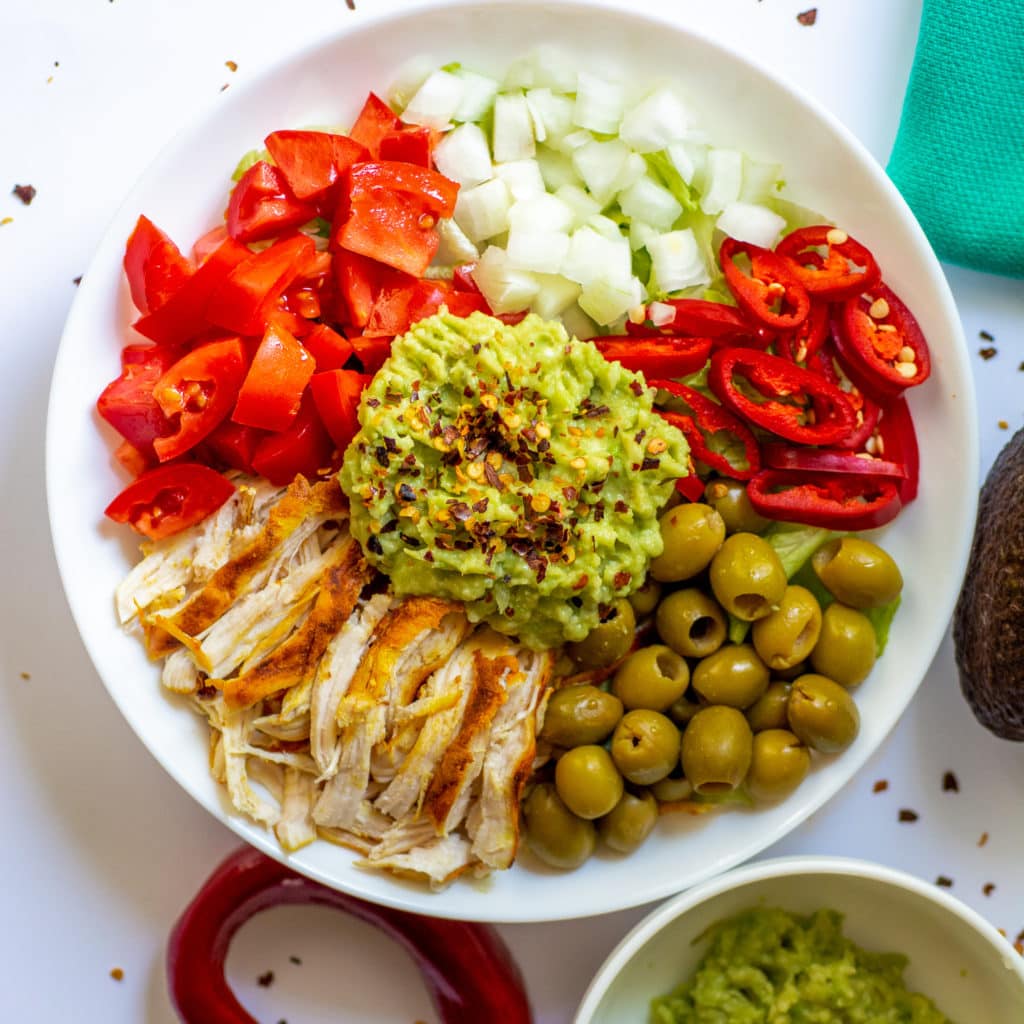 If you're looking for a quick and healthy low-carb burrito bowl recipe, then you've come to the right place. This keto meal can be eaten either warm or cold, and it's perfect for a quick dinner or lunch. Also, it's not just keto-friendly, but also paleo and Whole30.
You can put practically anything you want in this burrito bowl (just be careful not to exceed your carb limit). I'll walk you through all the possible ingredients so that you'll be able to choose the ones that you like the most.
This keto burrito bowl can also be prepared in advance. If you know that you'll be having an insanely busy day, you can make this bowl a day before, store it in your fridge, and then take it with you to work.
Table of Contents
What Can You Put in a Keto Burrito Bowl?
If you've ever tried a burrito bowl, then you know how delicious they can get. The good thing is that low-carb burrito bowls are also insanely tasty. But to make such a bowl, you must be aware of the ingredients that you can use.
So here is a list of all possible ingredients that you can use for a keto burrito bowl:
Lettuce. You'll need something for the base of your bowl. A traditional burrito bowl usually starts with lettuce or rice. However, when following the keto diet, you're not allowed to eat rice. So your best choice is to add either romaine lettuce or, if you want rice, then you can add some cauliflower rice.
Meat. Adding some meat to your burrito bowl is a must. It adds plenty of protein and will keep you full until your next meal. I prefer to use chicken. You can either grill it, bake it, or even use rotisserie chicken leftovers. But honestly, you can use any other kind of meat — whether it's beef or pork, it suits a burrito bowl perfectly. Oh, and you definitely must try adding ground beef into your bowl!
Fresh veggies. You must be careful when choosing the vegetables for your burrito bowl since many of them are pretty high in carbs. Here's what you can choose from: avocado, tomatoes, chili pepper, bell pepper, onion, spinach, iceberg lettuce, white mushroom, etc.
Fajita veggies. If you don't want to add fresh vegetables, you can definitely add some fajita veggies.
Cheese. If you want, you can also add shredded cheese to your burrito bowl. Either shredded mozzarella or cheddar would work perfectly for this recipe.
Guacamole. This is my favorite burrito bowl ingredient. However, I recommend using homemade guacamole since you'll be able to make a keto-friendly version. But if you choose to use store-bought guac, then just read the label and check the number of carbs in it.
Sour cream. From time to time, I also like to add sour cream into my keto burrito bowl.
Olives. Since olives are a great source of fat, I love to add them to burrito bowls. Both green and black olives will taste perfectly in this dish.
Lime juice. You can add some lemon juice to enhance the overall flavor of your keto burrito bowl.
Taco seasoning. To make your keto burrito bowl taste even better, you can add some taco seasoning.
Cilantro. Just chop up some fresh cilantro and sprinkle it over your bowl.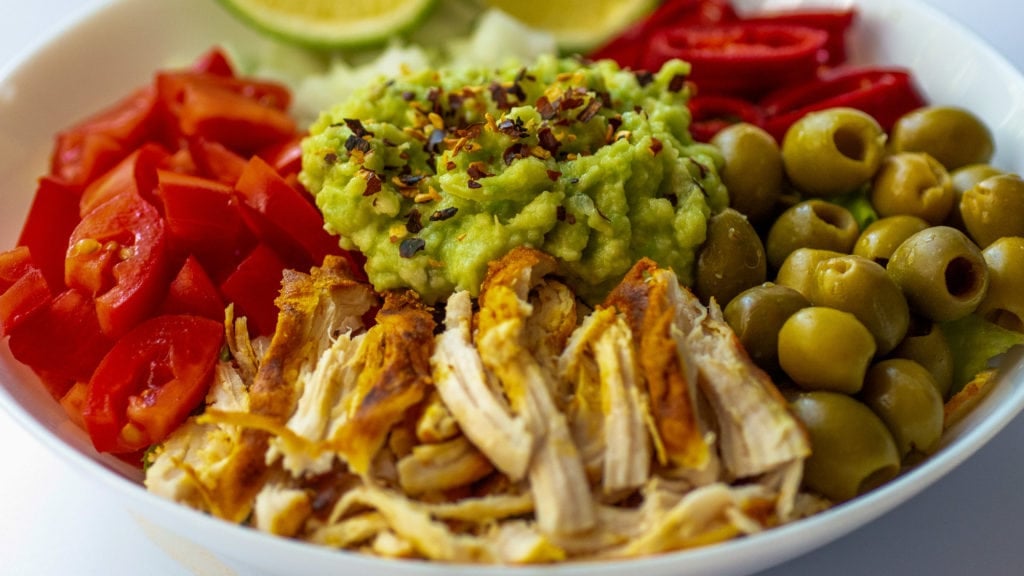 For this recipe, I chose to use grilled shredded chicken, green olives, onion, tomato, lettuce, chili pepper, homemade guacamole, and lime juice. And truth be told, I don't like cauliflower rice in my burrito bowl. But if you plan on adding it into your burrito bowl, here is a perfect recipe for cauliflower rice that you can use.
Burrito Bowl Spices
If you want, you can add some extra flavor to your low-carb burrito bowl by adding some seasoning or spices. You can use garlic powder, chili powder, onion powder, ground black pepper, red pepper flakes, granulated garlic, pink salt, dried basil, etc.
I prefer to keep things simple when it comes to burrito bowl seasoning, so I usually add some red pepper flakes and salt.
How to Use It For Meal Prep
I like to use the keto burrito bowl recipe for meal prep. And you won't believe how easy it is to do!
To prepare a low-carb burrito bowl in advance, you'll need a few food containers. I like to place each ingredient for the burrito bowl separately and then, when needed, combine it into one bowl. This way, I'll have all the needed ingredients ready for three or even four days.
But sometimes my husband likes to take lunch with him to work. In such a case, I would assemble the whole burrito bowl the day before.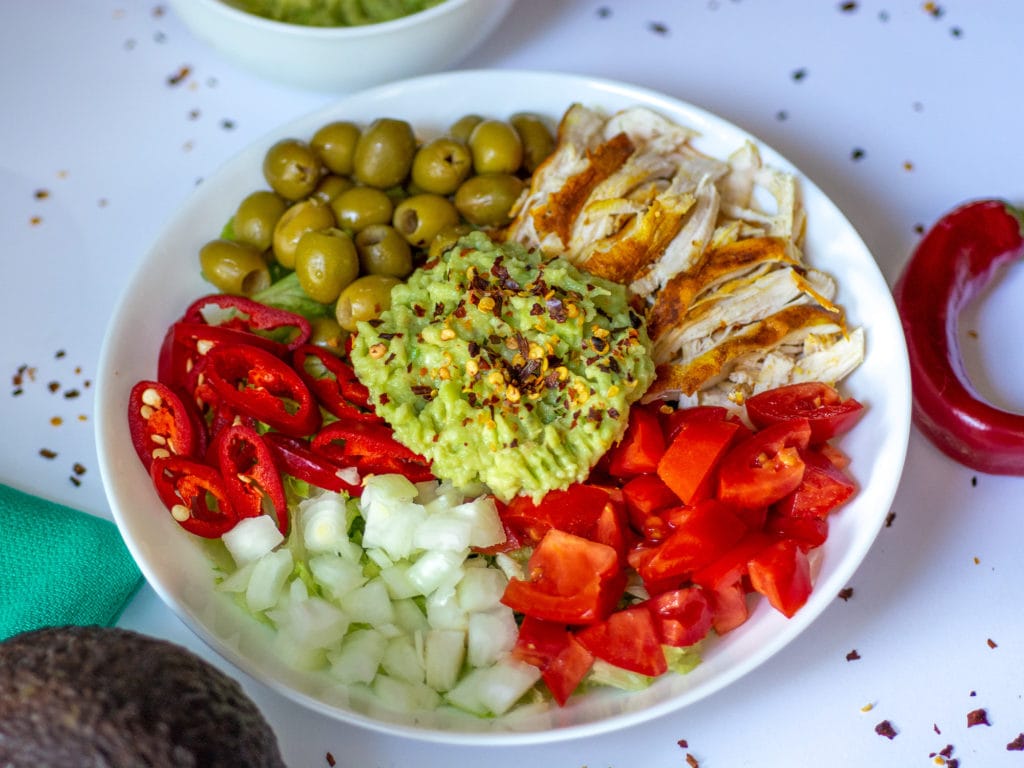 Storing Instructions
If you store the burrito bowl ingredients separately in different containers, it's safe to eat them for up to 4 days. But, keeping prepped burrito bowls in your fridge will last you up to 2-3 days (depending on the ingredients you're using). For example, adding tomatoes into your bowl can release moisture, which will influence the texture of other ingredients (so it's best to consume such a bowl as soon as possible).
Recipe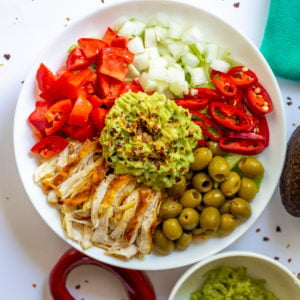 Healthy Keto Burrito Bowl
If you're looking for a quick and healthy, low-carb burrito bowl recipe, then you've come to the right place. This keto meal can be eaten either warm or cold, and it's perfect for a quick dinner or lunch. Also, it's not just keto-friendly, but also paleo and Whole30.
Ingredients
½

chicken breast

grilled and shredded

⅓

cup

green olives

½

onion

diced

½

chili pepper

sliced

1

medium

tomato

chopped

3

tbsp

guacamole

1

cup

romaine lettuce

shredded

lime

for garnish

salt and pepper

to taste
Instructions
Grill the chicken and shred it.

Assemble the bowl. Place the romaine lettuce on the bottom of the bowl, then put all other ingredients in a circle: shredded chicken, olives, onion, chili pepper, and tomato.

Top everything off with guacamole.
Nutrition
Calories:
330
kcal
Carbohydrates:
19
g
Protein:
28
g
Fat:
17
g
Saturated Fat:
3
g
Polyunsaturated Fat:
2
g
Monounsaturated Fat:
11
g
Trans Fat:
1
g
Cholesterol:
72
mg
Sodium:
849
mg
Potassium:
1223
mg
Fiber:
8
g
Sugar:
8
g
Vitamin A:
5612
IU
Vitamin C:
61
mg
Calcium:
78
mg
Iron:
2
mg