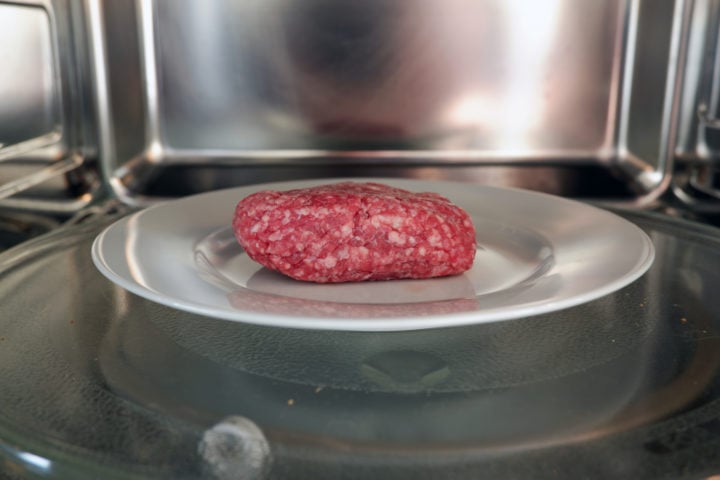 Ground beef is a ubiquitous beef cut due to its versatility. The possibilities are practically boundless, from nacho toppings, tacos, spaghetti meatballs, stroganoff, burrito stuffings, and burger patties. Its propensity to freezing also makes it convenient to stow. Naturally, you will want to know the proper ways of defrosting ground beef.
While defrosting ground beef in a microwave is not ideal, it can save you in a pinch. But because it is suboptimal, following the proper steps is critical. In a nutshell, the appropriate way to defrost ground beef in a microwave follows these steps:
Wash hands and put the ground beef in a non-toxic container.
Place the container in the microwave. Set the microwave's power to the lowest possible setting.
Start the timer at 45-second intervals. Continuously monitor your ground beef and make sure it isn't cooking.
Flip over to the other side.
Repeat steps 3 and 4 until it thoroughly defrosts.
Defrosting ground beef using a microwave is the quickest alternative. Also, microwave defrosting prohibits the refreezing of your uncooked ground beef. This means you should only defrost as much as you intend to cook. The process is simple but nevertheless important. Let's go through each step in more detail.
Table of Contents
Step 1: Wash Your Hands
The CDC mentions washing hands as a crucial step to food preparation. Scrubbing with soap and water should take at least 20 seconds. This step is multifunctional. Not only does it prevent the transfer of microbes from our hands to our food, but it also keeps you safe from microbes found in uncooked meat.
Bacteria
Some of the common pathogenic bacteria present in uncooked ground beef are Escherichia coli or E. coli, Salmonella, Staphylococcus aureus, and Listeria monocytogenes. Although these infectious organisms can be eliminated during the cooking process or at 160 degrees Fahrenheit, washing hands is still advisable.
Non-Toxic Containers
When your hands are clean, take the frozen ground beef out of the freezer. Remove your minced beef from its original packaging.
Store-bought frozen meat is usually packed in toxic materials like plastic wraps or foam trays. When you forget to remove your ground beef from these harmful materials, they may leak into your food, causing sicknesses.
Needless to say, transferring frozen ground beef into non-toxic containers like a microwave-safe plate is crucial. The US Department of Agriculture, or USDA, identifies safe materials for microwave use.
Make sure your non-toxic container has vents. The small openings allow steam to escape, thereby ensuring you avoid disproportionately cooking the outer portion of your ground beef.
Step 2: Setting the Microwave
The microwave's power capacity clearly impacts the time your ground beef needs to thaw. On average, a pound of meat needs at least seven minutes to thaw. Of course, microwaves with higher wattages may require less time to defrost a pound of meat, so adjust your settings accordingly.
In fact, not every microwave will have built-in thawing options. For these microwaves, it is likely better to set the power to its lowest capacity. Typically, this is 20% to 30% of the microwave's maximum capacity.
Danger Zone and Bacteria Growth
There are two main reasons why we do not want to use the microwave's maximum heat settings when thawing ground beef. The first is because too much heat worsens uneven thawing. You will likely have more hot spots when the temperature is set on high.
The second reason is you risk having your ground beef fall into the "danger zone" at high temperatures. USDA defines the danger zone as the range of temperatures where bacteria growth and multiplication are optimal. This zone is between 40 and 140 degrees Fahrenheit.
Water Activity and Bacteria Growth
One more reason we do not want to set our microwaves on high is the natural level of water activity for raw meat. On a scale of 0 to 1 for the level of water activity, raw meat is at 0.99 — it has lots of water. When raw meat is placed in the freezer, this water activity is suspended and only activates when the thawing process starts.
Because the thawing process involves turning ice into liquid, the water level of ground beef rises. Ground beef then reabsorbs the water, and moisture is intrinsically conducive to bacterial growth. Setting the microwave on high hastens the transformation, from ice to water, to levels beyond the efficient reabsorption rate of ground beef. And the excess moisture encourages bacterial growth.
Steps 3 to 5: Heat in Intervals and Continuously Monitor
As you heat the ground beef, you may want to avoid hot spots or unequal thawing. Yes, unequal thawing is more common with large cuts of meat. But large chunks of ground beef can also be susceptible to uneven thawing.
The best practice is to pause defrosting in 45 to 60-minute intervals. Check your ground beef and, if necessary, flip onto its other side. Repeat this process until the thawing process is complete.
Refreezing Thawed Ground Meat
Unfortunately, you cannot refreeze ground beef defrosted using a microwave. With a microwave, the ground beef likely reaches what the USDA defines as its danger zone, a state optimized for bacterial growth. For microwave-defrosted ground beef, you will have to cook it regardless — even if you plan on storing them back into the freezer.
The Preferred and Slow Method of Thawing
Microwave thawing is a convenient way of defrosting ground beef. But the process is susceptible to potentially harmful chemical changes.
According to the FDA, the safest way to thaw ground beef is through a process called slacking. Slacking is the slowest method, often taking a whole day to defrost frozen ground beef. You also have to time it appropriately, so the meat is ready in time for cooking. But when you do thaw through slacking, refreezing isn't an issue.
Slacking Frozen Goods
The FDA, according to its Food Code 2017, defines slacking as "the process of moderating the temperature of food such as allowing (it) to gradually increase from (the) temperature of -10 degrees Fahrenheit to 25 degrees Fahrenheit in preparation… of previously block-frozen food."
This means placing frozen ground beef in the fridge first to start the thawing process. The slight temperature change delays the condensation process, allowing slow and efficient water reabsorption.
Defrosting Meat With Cold Water
A third way of defrosting ground beef is with a bowl of cold water. While the intuitive way is to defrost with warm or hot water, doing so will heat the outer layers too quickly. The warmness creates an environment conducive to bacterial growth.
Should You Defrost Ground Beef in the Microwave?
There are pros and cons to defrosting ground beef in a microwave. Its biggest advantage, though, is speed. While the alternative ways to defrost ground meat take an hour to a day, a microwave allows you to defrost ground beef in five minutes.
When you follow the steps laid out, thawing ground beef can be both quick and safe. Just make sure to cook microwave-defrosted ground beef, whether you intend to eat them right away or not.