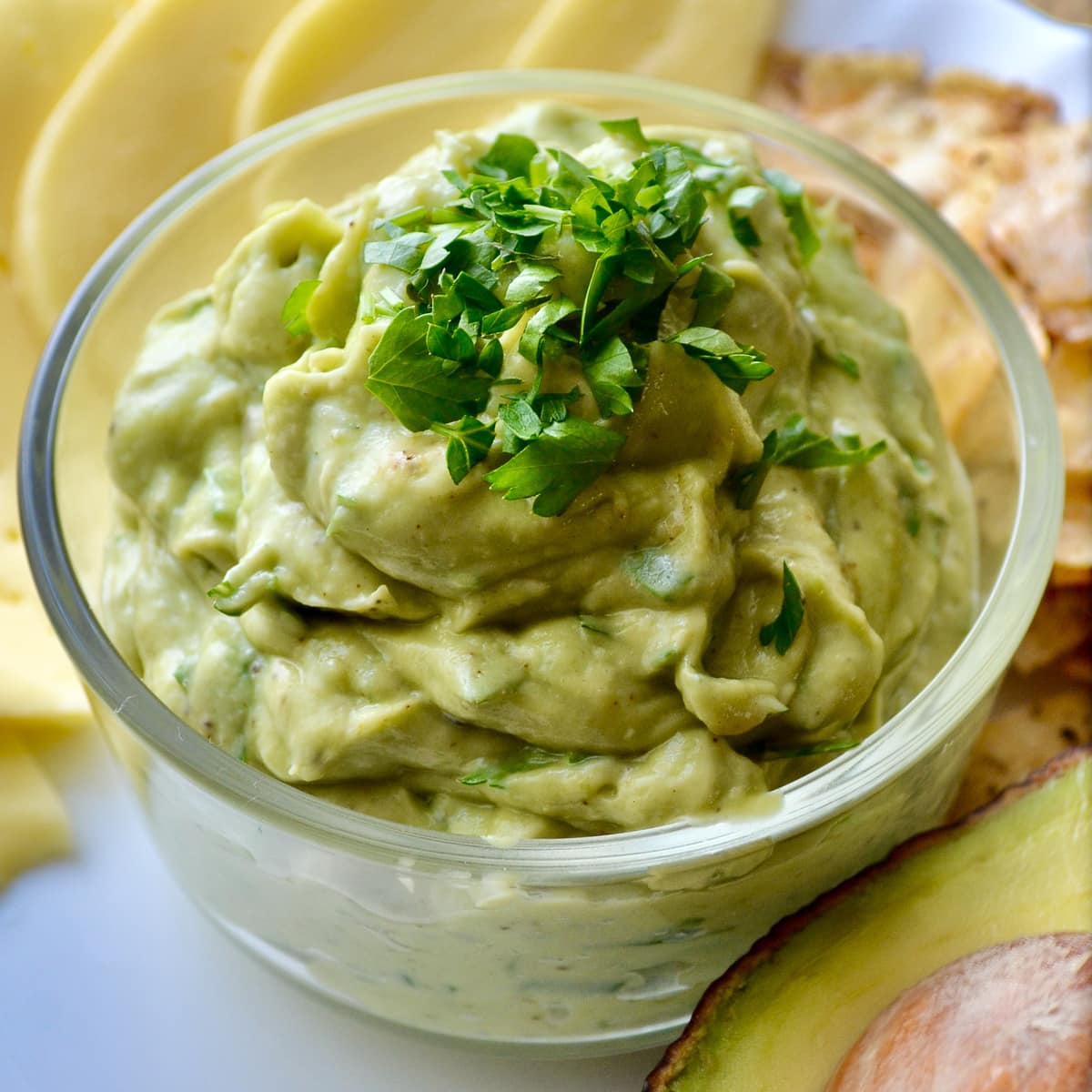 When it comes to choosing a side dish, this keto guacamole is my favorite option. It is low-carb, freezer-friendly, and an insanely quick and easy recipe. The traditional guacamole recipe is quite high in carbs, but after changing some of the ingredients, this recipe turned out perfect for those leading a high-fat, low-carb life.
I have no idea how many times I've made this keto guacamole dip, but trust me, whenever I open my fridge, it's always there. For this guac, you'll need only seven simple ingredients and about ten minutes of your time.
If this is your first time making a guacamole dip, read on to discover step-by-step instructions on making this recipe, including my tips on how to prevent the guacamole dip from turning brownish.
Table of Contents
How to Make Low-Carb Guacamole
As I already mentioned, this keto homemade guacamole dip requires only seven ingredients: avocado, lime juice, fresh parsley, green onions, garlic powder, paprika powder, and keto mayonnaise. Well, and, of course, some salt and pepper. You can find out the exact amount of each ingredient needed for this recipe in the recipe card at the bottom of the page.
I love when the avocado in the guac is perfectly smooth. This is why I use a hand blender to get the needed texture. If you don't have one, you can use a fork to mash the avocados; however, you won't be able to get the same texture as with a hand blender.
If you want to, you can use the hand blender to blend all of the guacamole ingredients for an even smoother texture. Personally, I blend only the avocados since I like the crunch that the fresh chopped green onions give.
You might also be surprised that I chose to use parsley instead of cilantro. The reason for this is quite simple—I hate cilantro. So if you prefer cilantro over parsley and like how it tastes in guacamole, you can easily swap the parsley for cilantro.
Also, not many guacamole recipes include mayonnaise. Personally, I feel like it's a great addition here. But just be careful with the mayonnaise that you choose and make sure that it is a keto-friendly one.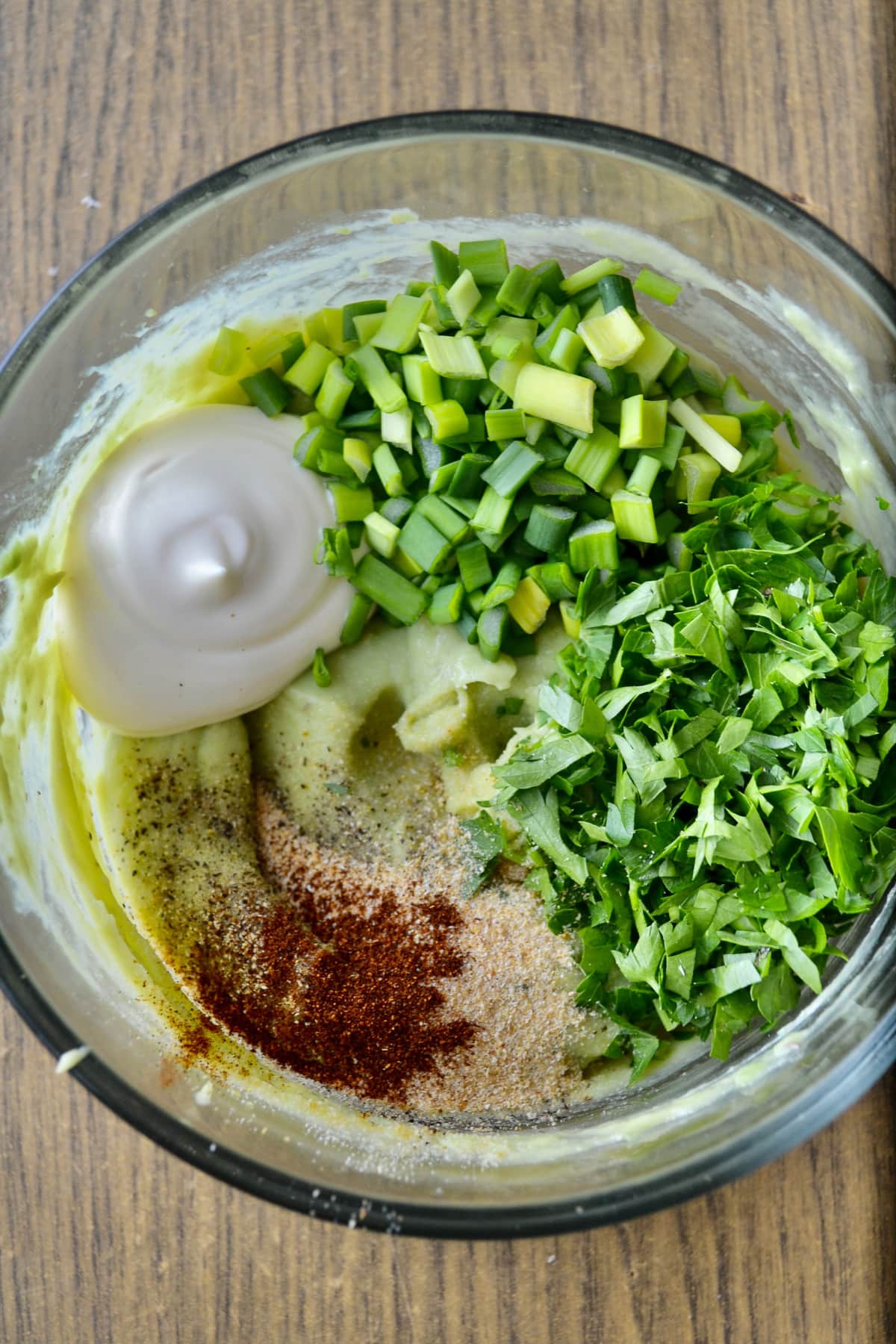 Optional Ingredients
There are many other ingredients that you can add to this keto guacamole recipe. For me, the ones that I included in the recipe card are more than enough. But if there is a particular ingredient that you like to add to guacamole, you can definitely do that. However, ensure that the additional ingredients are low-carb, and don't forget to include their nutritional values in the recipe.
Here are some of the ingredients that you can also add to this keto guacamole dip:
Jalapeno
Red onion
Tomatoes
Cilantro
Sun-dried tomatoes
Bell pepper
Cream cheese
Smoked paprika
You can even add fried bacon into the keto guacamole, and it will taste incredibly delicious.
Storing and Freezing Tips
Since this keto guacamole dip is homemade, it contains no preservatives. So, it won't last long in the refrigerator. Of course, you can store it for a day or two; it'll still be okay to consume. But it is best to eat the guac fresh.
If you've made too much of this low-carb guacamole dip, you can easily freeze the leftovers. Simply place it in a freezer bag, push out any air, and seal the bag. This way, you can store the keto guacamole in the freezer for up to 3 months. Whenever you plan on serving it, place the bag with the guac in the fridge to thaw overnight.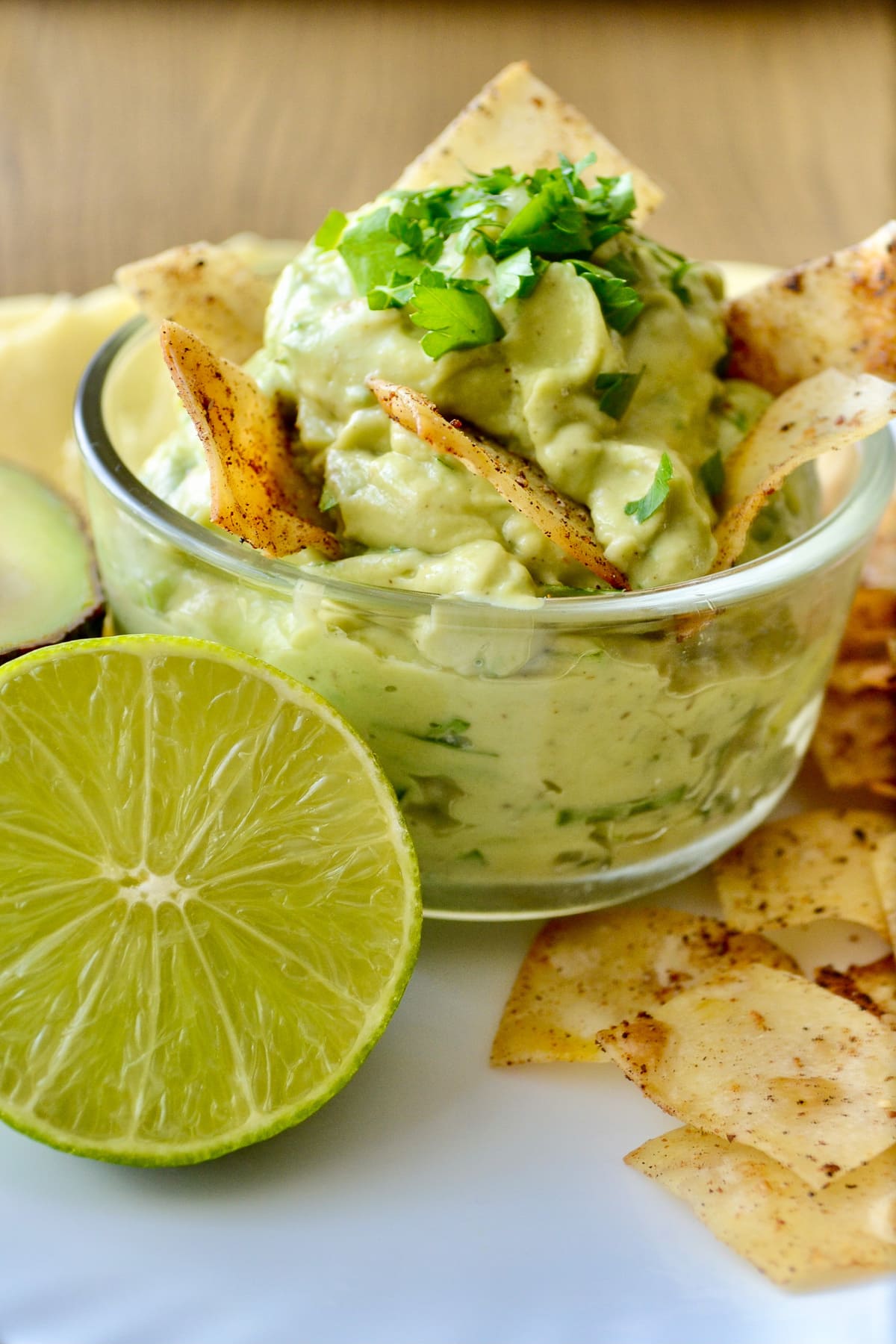 How to Keep It From Turning Brown
The worst part of any guacamole recipe is the fact that it turns brown at an insane speed. And there is not much that you can do about it. So it is best to serve the guacamole immediately after making it.
One thing I've noticed that helps is to squeeze some extra lime juice over the top of the guac. This will help for a couple of hours, but it's not a miracle fix.
Another way to keep the guacamole green is to cover it with some oil and then cover it with plastic food wrap. Before serving, you should pour off the oil and stir the keto guacamole. However, there is a chance that after this, the guacamole will be a bit oilier than it should be.
Serving Options
This is where you'll realize the versatility that this recipe brings—there are numerous ways to serve this keto guacamole. Here are some of the low-carb options that you can try:
Recipe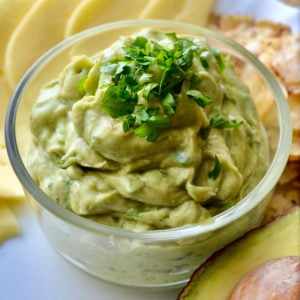 Keto Homemade Guacamole Dip
This keto guacamole is low-carb, freezer-friendly, and it's insanely quick and easy to make. Although the traditional guacamole recipe is quite high in carbs, this recipe is perfect for those leading a high-fat, low-carb life.
Ingredients
2

medium

avocados

1

tbsp

keto mayonnaise

1

tbsp

lime juice

2

tbsp

fresh parsley

chopped

2

tbsp

fresh green onions

chopped

1

tsp

garlic powder

½

tsp

paprika

salt and pepper

to taste
Instructions
Cut the avocados in half, remove the pits, and scoop out the avocado.

Place the avocado in a bowl and mix it with a hand blender until you get the perfectly smooth texture.

Add the keto mayonnaise, lime juice, parsley, green onions, garlic powder, paprika, salt, and pepper. Stir everything together, then serve.
Nutrition
Calories:
146
kcal
Carbohydrates:
6.2
g
Protein:
1.6
g
Fat:
13.7
g
Saturated Fat:
2
g
Sodium:
9
mg
Potassium:
513
mg
Fiber:
7
g
Sugar:
1
g
Vitamin A:
336
IU
Vitamin C:
15
mg
Calcium:
16
mg
Iron:
1
mg